Heads Up: Our posts may contain affiliate links! If you buy/book something through one of these links, you will not pay an extra penny, but we'll get a small commission, which keeps this blog up & running. Thank you!
First of all WHY travel to Lake Baikal in winter?!
Every time we happened to mention to our friends and family that we are going to Siberia in the mid of winter they all had the same reaction… «are you crazy?» Well, that 's no entirely true , most of our friends were adding the F* word in between! If you have already read the previous posts regarding Siberia you already know that the temperature at the moment is between -25℃ to -40℃ depending on the place so I can't realy blame them! I wouldn't change a thing though, especially after our excursion to Olkhon island, a frozen diamond in the middle of Lake Baikal! A trip in the deepest and oldest lake in the world, Baikal in winter can be indescribably beautiful and at the same time unbelievably harsh. It is crusial that you have to be prepared mentally and of course practically! There are so many reasons of why to visit this part of the world in wintertime… but only if you come well-prepared!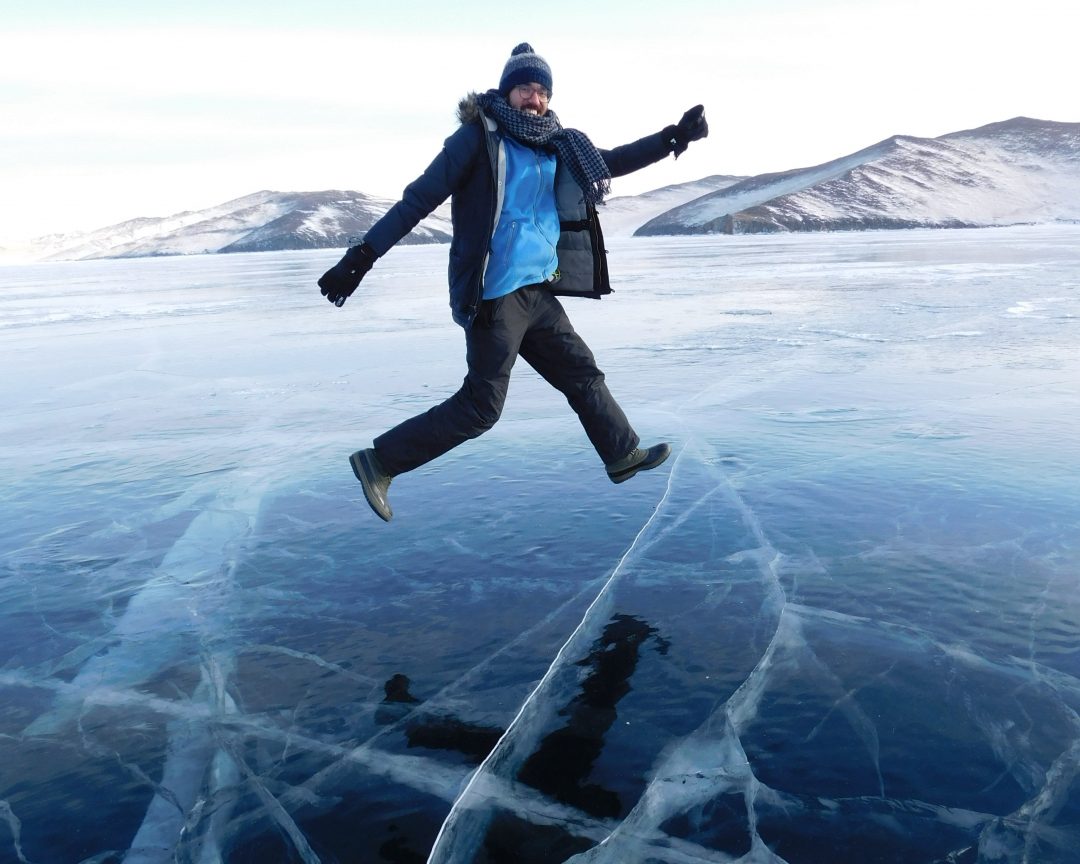 Let's talk about Olkhon Island first
Olkhon island is the biggest island in lake Baikal and is inhabited by around 1,500 Buryats. Buryats is an ethnic group originally from the Northern Mongolia that arrived in this area many centuries ago; just for reference, in Ulan-Ude ( a Siberian city eastern of lake Baikal) more than 20% of the locals are Buryats, hence the region is called Buryatia. The island is special mainly for two reasons: extraordinary natural beauty especially in wintertime and shamanism practices and sacred places.
Do you need a tour for Olkhon in the wintertime?
Well, if you have followed my travel journal for some time now, you should know that I avoid organized tours. I love travelling individually and exploring each place at my own pace. Even if we kept the same travelling style for some Siberian villages around Baikal we decided to look for a tour guide for Olkhon island. The reasons? Primarily because of the driving on the ice / snow / frozen lake experience! You have to be a trained driver for this part of the world- not officially "certified" but even the tiniest mistake can be proved life threatening. Just to give you an idea our guide Jack, who was born and raised in Lake Baikal, hires a specific driver for the tour van!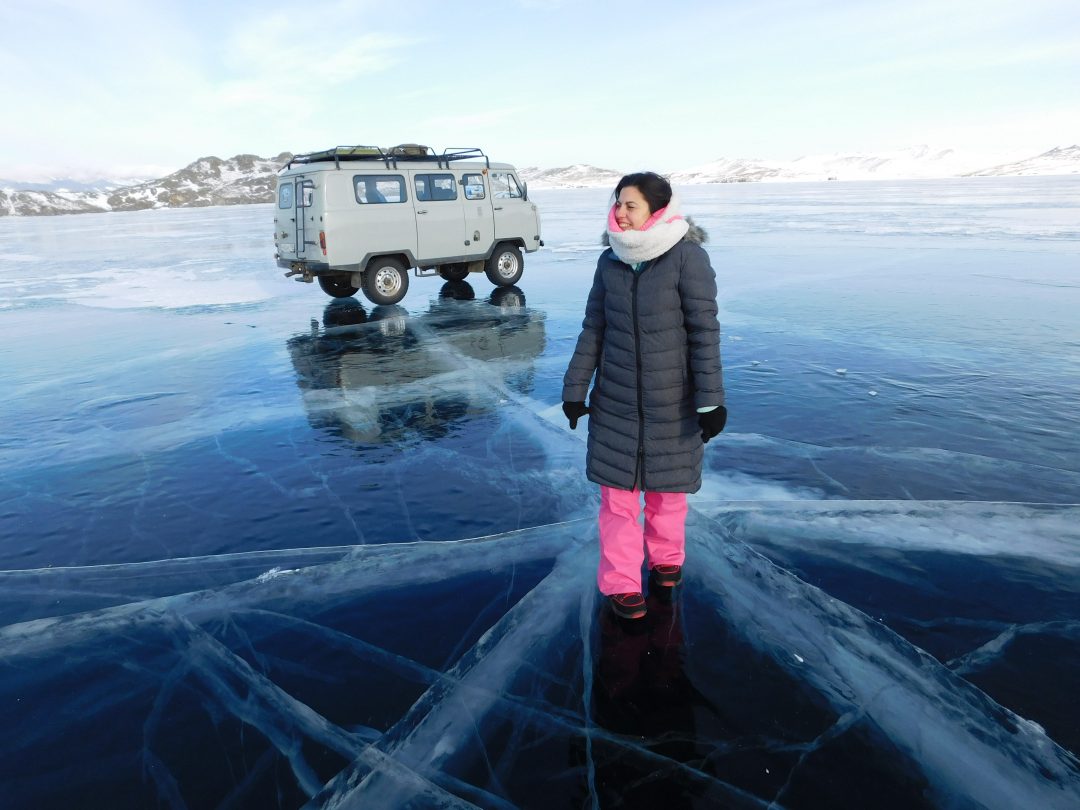 Our 2-day tour was planned through Baikaler.com which we picked due to the great reviews online and we didn't regret it at all! Jack, is extremely knowledgeable regarding the island, the history, the people and the culture, he shared funny stories with us and even convinced Igor, our before-mentioned driver, to drive through tricky snowy/iced paths (I wouldn't consider these «roads»!) in order for us to enjoy inaccessible parts of the island!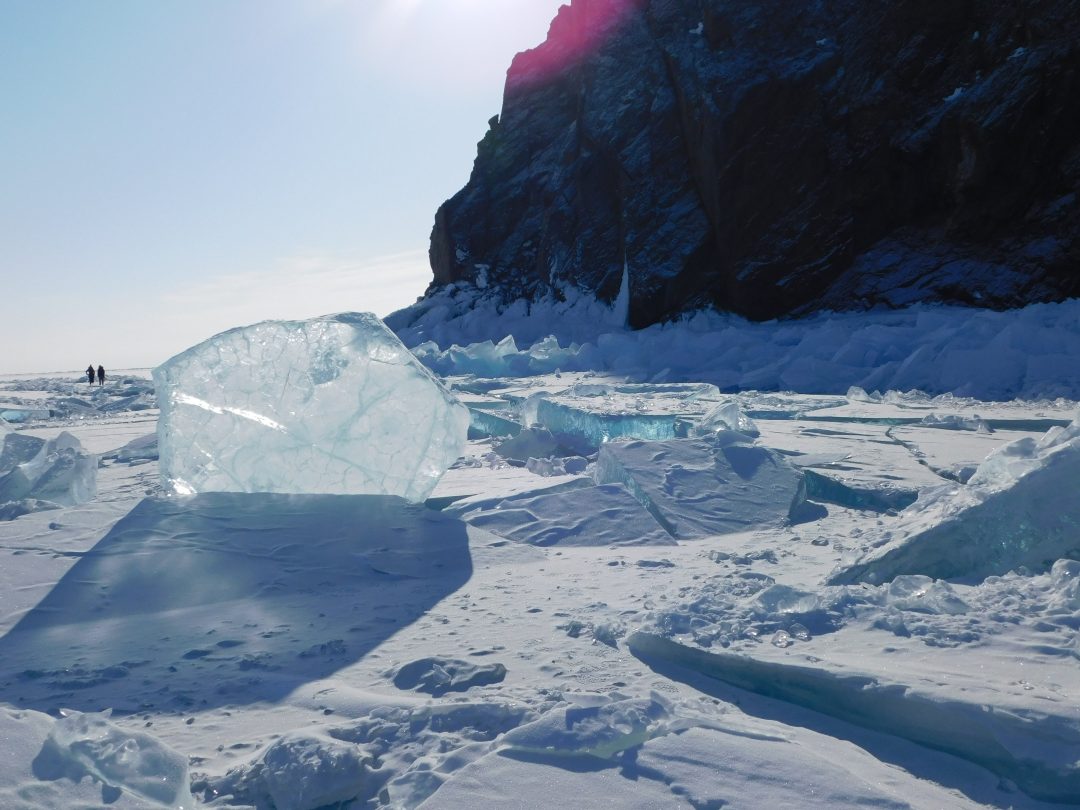 Which is the perfect month for visiting the frozen Baikal?
Even if the lake is usually already frozen since December onward it is not advisable to travel here that "early" as the ice has yet to be solid and thick so driving on the ice is officially forbidden (some citizens ignore this though, therefor some fatal accidents have happened). January is a bit risky too as the ice might still be unsuitable for driving. You don't want to do all of this trip and not being able to experience it at its fullest, right? Usually end of January to end of February is the ideal month for visiting the island, as the ice is formed in amazing shapes, the cracks have created an incredibly beautiful scenery and (of course!) the lake is totally frozen! You can walk and drive on it and in fact, as obviously there is no winter ferry, the locals drive from the MRS village of the mainland to reach the island all the time!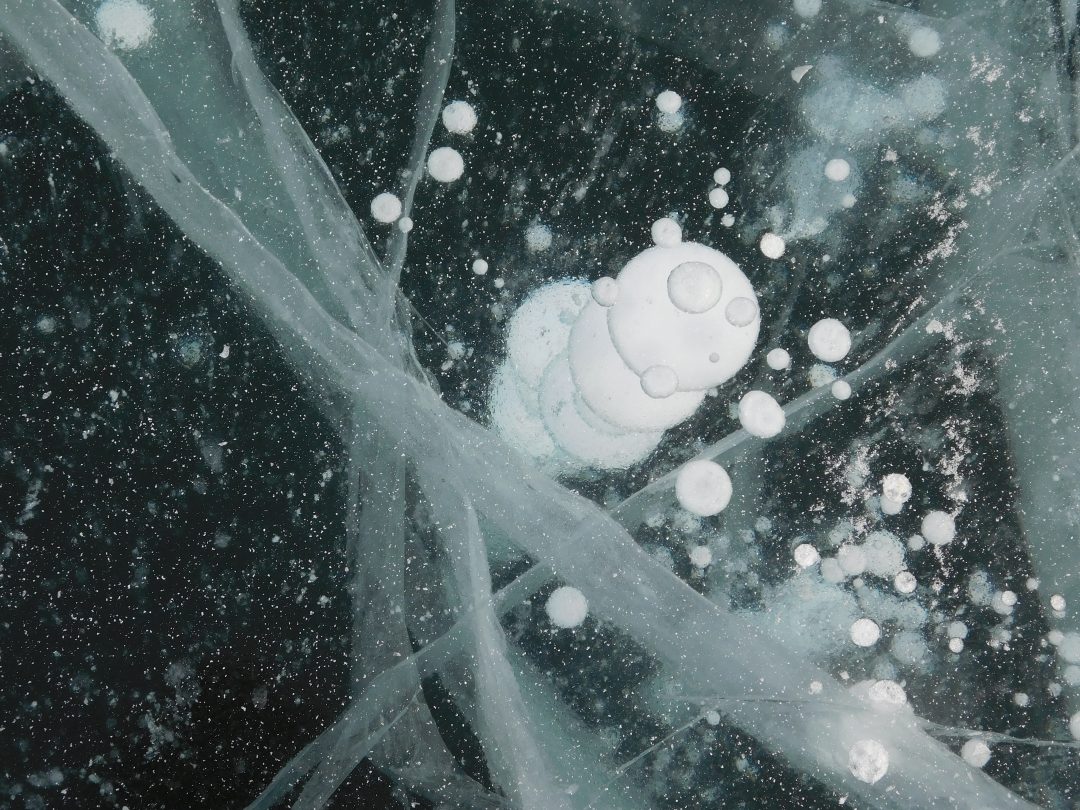 On the other hand, in March some parts of the ice are already dirty (we, humans!) or too cracked and possibly unsafe. Conclusively, you have a time frame of about one month in wintertime to visit this fabulous place! We were here end of January- beginning on February and as you can see from the photos some parts of the ice are so clear that you can even observe the seabed – hmmm not very accurate description as Baikal is the deepest lake of the world! Well, I think the photos speak for themselves anyway!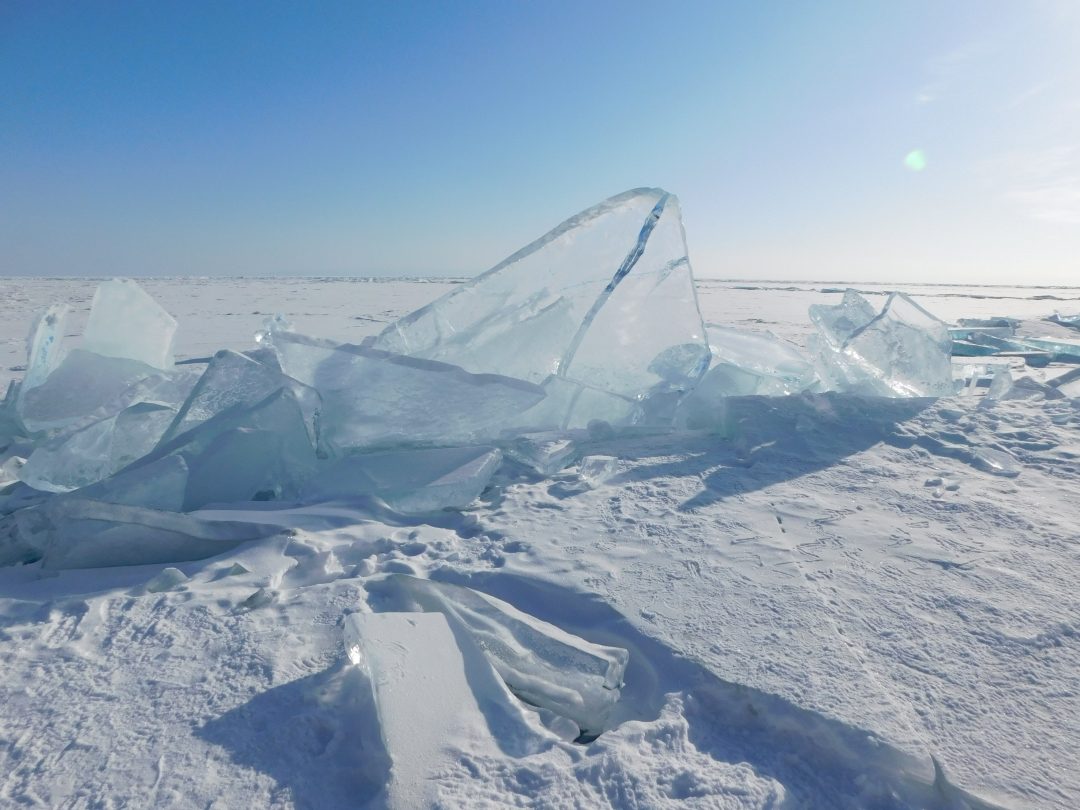 And what about Olkhon island itself?
Jack took us also for a walk around the main village of the island – Khuzir- and showed us the main holy shamanism places. People's primary income used to come from the local fish factory but, since it has shut down, tourism has (tried to) replaced the gap. Tourists are mainly from China, Thailand, Korea and way less from Europe and America. Other things to do in the frozen lake Baikal and in Olkhon island this time of the year are : swimming (!), fishing, biking, hiking, camping etc… However, do not expect luxurious hotels, resorts, crazy nightlife, western chains etc in winter, the houses are very warm- I promise!- but plain. Even better if you ask me!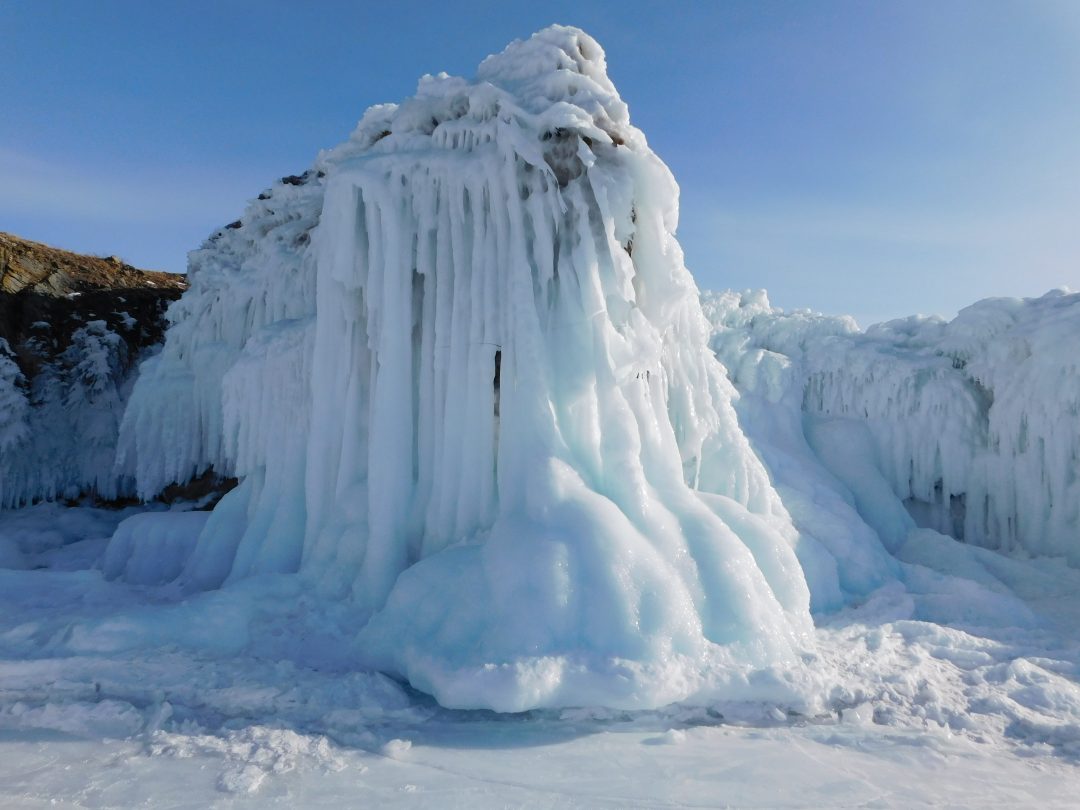 Next to the main village is also located one of the nine Asian most sacred places, the Shamanka, Shaman's rock – Shamans still consider Olkhon island as the shamanism center of the North Hemisphere. Also driving to the northern part of the island you can find the ruins of a gulag (=forced labour prison/ camp during the Soviet Era) along with some tourists facilities for summer, run by an old couple! The area is considered haunted by the locals due to the sad history of the prisoners who were sent here basically to die… who can survive under these harsh conditions? The island has such a controversial and fascinating history!
How to reach Olkon Island
It is not that difficult to reach the island and in general lake Baikal. The closest city , Irkutsk , has an international airport and a Trans-Siberian Railway stop and the island is located approximately 4 hours away by car / local buses. An alternative route is the one we did, from Ulan-Ude (which has an international but smaller airport) we caught the trans-Siberian railway and after some stops we got to Irktsuk. This route is way longer but, for me, much more interesting as you can read on my travel notes while on the train!
Leaving behind this amazing place you can only think about the tribes that lived here, the shamanism theories which leaded people's life perception and how extreme beliefs can cause terrible crimes against humanity. On the other hand, you are also magnetized by the unbeaten beauty of the nature that, even in such severe conditions, can surprise everyone… this tour is once a lifetime experience! I am unsure of which feeling is the most powerful but I do not have to pick up one, right? I will just consider this a traveller's internal parallel battle.
So, are you brave enough to add on your bucket list a visit in Olkhon island and lake Baikal in wintertime?