Heads Up: Our posts may contain affiliate links! If you buy/book something through one of these links, you will not pay an extra penny, but we'll get a small commission, which keeps this blog up & running. Thank you!
Is Little Petra in Jordan Worth Visiting?
Little Petra, as Al Beida / Siq al-Barid is widely known, is an often overlooked historical site approximately 15 minutes by car north of the main entrance ( = Visitors Centre/ Wadi Musa village ) of Petra in Jordan. Built in around 1st century C.E. by the Nabataeans (the same tribe that built Petra) Little Petra is considered Petra's suburb and it is thought to have served as an extra stop of the caravans on the Silk Road just before reaching Petra, the main town. Petra and Little Petra complex is considered one of the modern seven wonders. Both towns are built behind/ around a natural canyon consisted of rose-red sandstones. Undoubtedly, the area here is less impressive than its glorious sibling but there are still at least 5 valid reasons of why Little Petra in Jordan is worth visiting anyway regardless a visit or not to the main landmark.
1. Little Petra Entrance Fee
Unlike Petra which has a very expensive ticket ( 50JD/ approximately £56 for 1 day!) Little Petra is completely free (having or not a Jordan Pass already -as for 2019) and no admission fee is required! Cool, right? Of course Petra is magical, enormous and it rocks in almost every category, but if you just need a quick taste of what it looks like before paying the entrance (if you don't have a Jordan Pass that already includes Petra ticket anyway) then Little Petra is an ideal "taster"! If you are on a tight budget it is good to remember that even the accommodation options around it (mainly some Bedouins camps!) are far cheaper than in Wadi Musa; Wadi Musa is the village next to Petra where you can find pricey accommodation in comparison with the rest of Jordan. As a result, some travellers decide to stay around Little Petra even if they plan to visit primarily Petra because of the prices and the more authentic experience (being away from the crowds comes with some perks) ! One of the most iconic places to stay in the area is the Little Petra Heritage Village.
2. Little Petra has No crowds (so far!) and a Relaxed Vibe
Since we mentioned about the crowds… this is something extremely important! I don't enjoy visiting a destination just to find out hundreds of tourists around trying to take the best selfie / yelling/ throwing rubbish/ being disrespectful etc etc (as it happened extensively in the Phi Phi islands). Yes, I know, I am one of them and they think the same for me too! Yet, don't get me wrong, Petra deserves 100% its popularity and the authorities try hard to protect the area from bad/ illegal practices and exploitation and to be frank they have done a great job so far! It is definitely expectable for Petra to be super busy but this "hectic" atmosphere can take away something of the entire experience. In Little Petra you won't find countless vendors trying to sell you stuff and souvenirs, rides, guidance etc. There are vendors and guides here too, sure, but the difference is chaotic – I would say just a 5% of what you will encounter with in Petra! Having said that I must add that the majority of local sellers (in both areas) are not pushy and step back immediately if you are not interested in their services. Moreover, the tourists visiting Little Petra are enormously less so this undoubtedly affects the entire experience in some extend as well. A relaxing atmosphere and a "time hasn't affected this historical place" vibe is way more possible to be experienced and enjoyed here rather than in Petra.
3. Less Demanding Main Hiking Path
Maybe you don't feel like walking 5-6 hours to reach Petra's Monastery and return back. Or your body energy levels are low these days/ you are sick/ bored/ injured/ on your period or with very young kids that won't be able to make it etc. Many reasons of why you are not keen on hiking all the way up but you still want to experience a bit of Petra since you are very close by! Fair enough! Little Petra is way less demanding and the main points can be reached within 30-45 minutes (depending on your walking speed) only. Even if arriving at the first buildings in Petra requires pretty much the same effort (you don't have to go up to Monastery if you don't want to!)  yet the entire route is way more demanding than Little Petra in general.
4. An Alternative Way to enter Petra
On the other hand from here (with the valuable help of an experienced guide) you can reach Petra on foot through a 6km long – and hard!- path. People who have done this route describe it as a fantastic experience so if you are up for even more hiking and a hint of adventure this may be a good choice for you. To be honest, after having done Petra, if I had to choose my route from scratch I would have started from Little Petra to get to Petra as I wouldn't have to walk through the main Petra pathway twice (which happens when you visit Petra and then return to the visitors centre through the one and only pathway that serves as the entrance and the exit point at the same time). Since we are talking about it, it is useful to know that the main pathway is by far the busiest part of Petra: full of tourists going in and out, tours and loud guides, horses, donkeys, carriages and locals who constantly ask you for a ride back or farther. Hence, if you want to avoid crossing this hustling road twice, Little Petra footpath could be ideal! Be aware though that entering Petra without a valid ticket is illegal so you need to buy it in advance! Moreover, the passage from Little Petra is not completely marked, I can't stress it enough: you need a guide!! You can find one through your accommodation especially if you stay around Little Petra. There are guides available around the Little Petra parking lot too (just off the entrance you will be approached by them as soon as you arrive) but make sure you hire a licenced one! More information regarding the available trails / hiking paths and the difficulty levels of each one can be found on the official website.
5. You can interact with Bedouins on a more personal level
This is totally related to the previous points. Over half of a million tourists visit Petra every year and just a few of them actually decide to pay a visit to Little Petra! So the local sellers/ Bedouins around little Petra have much more time to talk to you/ answer questions/help you etc IF they want it to. Don't be surprised if you might be offered tea in someone's cave!
In our case, a lovely young Bedouin, who has settled his shop at the peak of Little Petra (follow the sign of the "best view in the world" to find him!) not only applied black kohl at our eyes for free and explained how he hand-makes it from the trees but took the extra mile to show us how to tie/ wrap the traditional Jordanian headscarf ( keffiyeh / shemagh mhadab). By the way, it has so many ways to be wrapped around the head- and of course it is different for women and men! Oh yes, we have yet to redo it properly!
Some travellers do not find it important but for me (as you can see!) this is so vital; a journey with little or no interaction with locals is considered semi-successful by default! Generally speaking, Jordanians are so hospitable and friendly anyway that you will find it difficult to not interact with them!
Planning your Jordan itinerary? Maybe you need to know about 30 Places & Things to Do in Jordan that are ideal for your bucket list (Little Petra is worth it so of course it has its place there!). Also find out when it is the best time to visit Jordan to get the most out of your trip!
Curious about how to wrap the headscarf during your trip?
Watch our video below!
Can I stay around Little Petra?
Yes of course! As I beforementioned even though most people who visit Petra opt to stay at Wadi Musa, the village next to Petra main entrance, there are some (significantly fewer though) who prefer to stay around Little Petra. There are just few options available, including camping, hostels, homestays etc. No restaurants and other facilities around (it's worth checking in advance if the accommodation has its own restaurant/ coffee shop), hence, most of the accommodations provide a shuttle service to/from Wadi Musa and Petra.

What to NOT expect in Little Petra
-To spend many hours here. You need max of 2 hours if you have a guide / stop in every building to take photos/ climb in every corner around! A visit here can be easily combined either with a visit to the nearby Shobak Castle or with a second half-day in Petra or to make a decent stop throughout a road trip etc. We spent around 100+ minutes mainly because of chatting with Bedouins!
-To be impressed as much as you will be/ were in Petra. Little Petra has its own character, just avoid comparing them! For example, the buildings are smaller here, the main path really narrow in some parts etc.

-To have unlimited choices for souvenir shopping- unlike Petra. As abovementioned, there are just a few Bedouins' shops around. Shop now or regret it later!
-To find donkeys/ horses/ camels to ride. As for 2019, no rides are offered around Little Petra unless you pre-organize them. The distances are very short, as I already wrote, but if you find them too difficult for you please plan accordingly in advance.
-To find western food or even…food at all! There are a few small cafes just outside the main entrance that are plain and serve/ offer basic things. Be well-prepared or just go with the flow. It is nice to have a seat here anyway!
Extra Tip which may help you to decide: Because of the narrow path and the high rocks formations Little Petra offers a much better sunshade overall. Petra has wider streets and less sunshade available so choose to visit it on a colder day and leave the hottest day for Little Petra!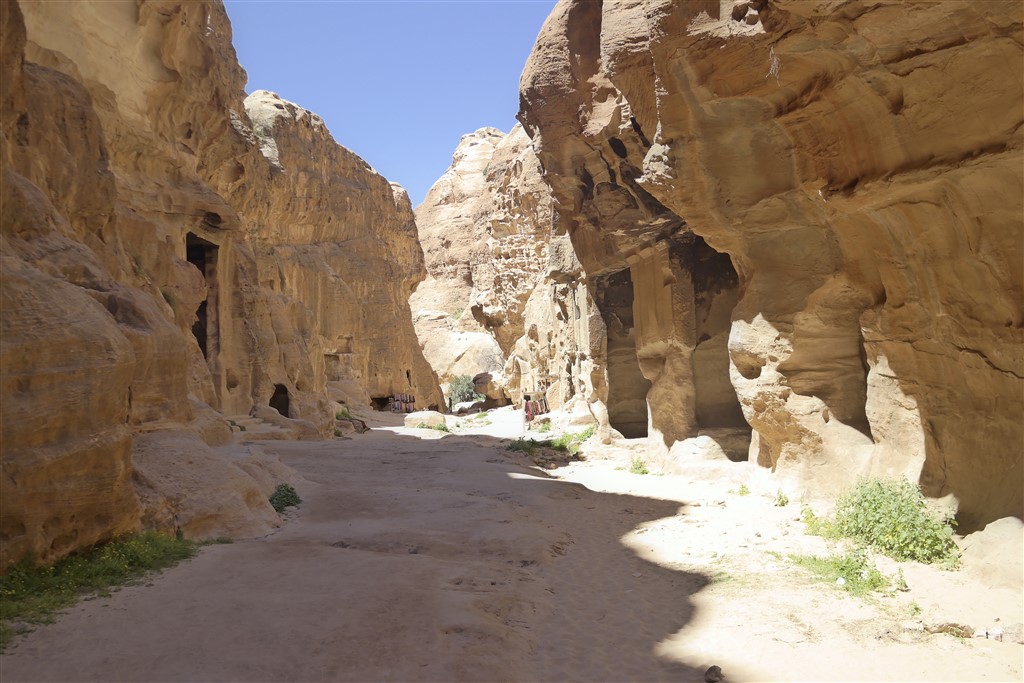 Last but not least, some of the must-see Little Petra monuments are:
The Painted House, Triclinium, Siq Al Barid Temple etc. You can even climb/ have a seat (and a photo!) in some of them, very respectfully though please!
So what are your thoughts? Would you spend few hours exploring Little Petra or you will just stick with Petra?