Heads Up: Our posts may contain affiliate links! If you buy/book something through one of these links, you will not pay an extra penny, but we'll get a small commission, which keeps this blog up & running. Thank you!
How to experience Athens like a local… by a local!
This travel journal is about to celebrate its 2nd birthday but I have yet to write anything about my hometown. Oh yes, I am Athenian and I feel guilty I have posted nothing about my beloved and sooo controversial Athens! But, in my defence, there is a reason for that. I have noticed that there are 2 types of tourists in Athens : the tourists who loved the city and wish they could have spent more time but they didn't know in advance that they would like it and the tourists who advice against Athens with phrases like "Skip Athens", "good for 1 day only" etc. Of course every opinion is subjective and personal but I sometimes feel that the later opinion affects negatively the wannabe visitors in Athens. Oh and Athens beyond Acropolis has so much to offer! This is the reason I decided to write down 5+1 cool things to do in Athens (hidden gems!) super convenient to be done from the city centre (that you will be probably based anyway) which are definitely missed by the "one day in Athens" rush visitors. No ancient ruins and museums this time, let's experience Athens like a local and have some fun!
1.Visit the authentic neighbourhood of Pagrati and experience it like a local
Pagrati is one of the older neighbourhoods in Athens, it belongs to the Athens council and it has super old (and a bit.. ugly!) houses and almost no parking spaces! So why to pay a visit here? Keep reading! Pagrati is easily reachable by bus, trolley or on foot as it is located just behind the Panathenaic Stadium (or Kallimarmaro) which is definitely on your Athens must-do list, isn't it? I would recommend you to visit the area for an afternoon drink/ coffee or food as you can find excellent local choices here for both and stay till late to enjoy the different aspects of the Athenian nightlife. Pagrati deserves a post on its own but for now I just suggest you to put on the map the multi-choice place Αρbarοριζα (less than 10' on foot from the stadium, just copy paste the name from here if you haven't downloaded the Greek alphabet) where you can find food, coffee, local inspired cocktails (try them all!) and drinks till 3AM. Menus available in English too and some vegan options! Since you are here you can check out the rest of the area where you can eat souvlakia (Elvis souvlakia) , have a coffee on a traditional old coffee style place such as Pournarousa, listen to the Greek music (not touristic Zorbas as in places around Plaka!) while eating at Penelope & Mnistires, visit a tiny tiny bar (Briki), eat in local places like Vyrinis and Ep'aule or listen to the rock music at the small Domahar Rock bar. If you are a newbie in Athens you can easily spend hours wandering around Pagrati for experiencing Athens like a local!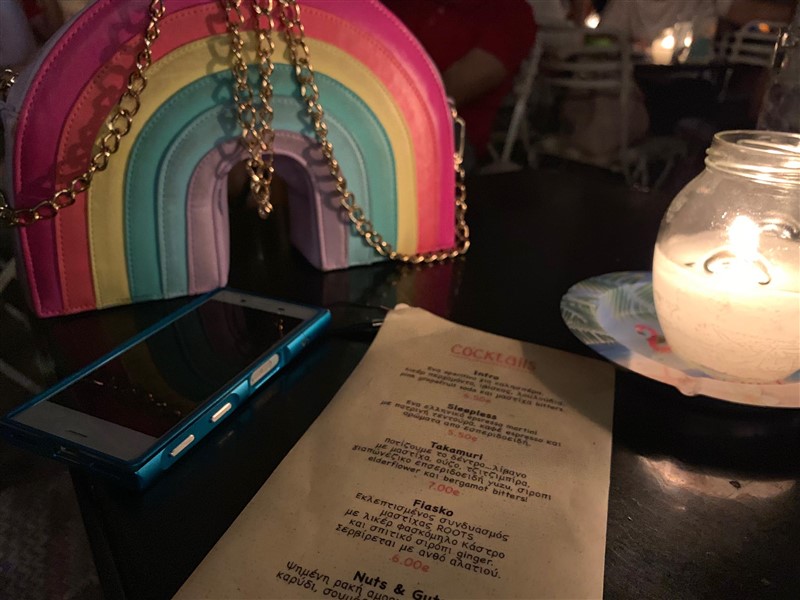 2. Swim in Athens Riviera & Visit Lake Vouliagmeni
Look at any map! Athens is surrounded by the sea, you don't even have to go to the islands to swim! Most of the beaches and seas around Athens are decent and clean and I know people who swim even at the nearest ones ( Alimos, Pireus and Faliro beaches) but personally I wouldn't do it! For sunbathing/ beach bars/ beach parties are excellent but for the cleanest seawater near the city centre (and easy to be reached on public transport ) you need to head to the ones towards the Cape Sounio. How? Take the red line of the metro to Elliniko Station (which is the last stop anyway) and then hop on the bus 171 to Varkiza (Βάρκιζα) and hop off at the last stop after about 30 minutes. Varkiza has a well organised beach with restaurants, coffee shops, changing rooms, beach bars etc but you need to pay a small fee to enter the place.
If you rather enjoy observing more of the coastal line then from Elliniko metro station take the bus 122 to Saronida (Σαρωνίδα). This bus goes hand in hand with the coastal line (after a while) so you can just choose randomly which beach you want to swim, some are rocky, some are sandy, some are easily accessible and some a bit trickier! Most of them are open to the public (apart from the ones in Voula area and some in Vouliagmenis – very popular ones though) and the entire route is way more interesting (take a seat on the right side windows!). This bus needs 1 hour to reach its final destination (which is further down than Varkiza where the previous bus 171 terminates) and it also stops at Lake Vouliagmeni, a small lake fed by sea-underwater currents. If you don't want to pay the 15€ entrance fee for the lake you can just swim for free in the sea on the other side of the motorway!
Tip: in the summertime both buses are packed and a bit… smelly, avoid the weekends at all costs (trust me  ??) and start VERY early! Even if you rent a car do not drive this route on weekends unless you want to risk to do a half an hour route in 2+ hours!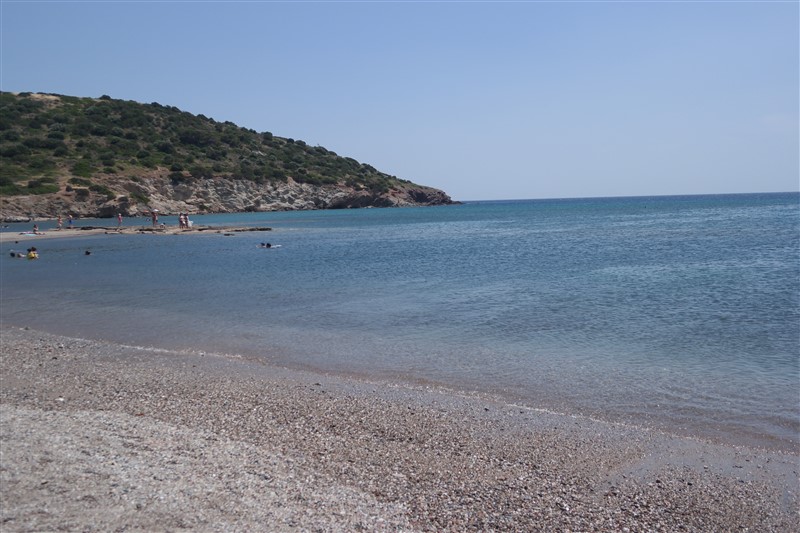 3. Visit a Locals' Favourite Rooftop Bar to observe Acropolis
Yes I know, A for Athens is a very famous rooftop bar as it is located on the city center (Monastiraki square) but there are many more terraces/rooftop bars scattered across Athens which overlook Acropolis. Unfortunately my first and most favourite choice shut down few years ago so I would recommend my second (but almost equally beautiful) choice which is a place called BIOS. Hidden in an area not touristic but super central BIOS (Piraios street 84 / Πειραιώς 84) can be missed easily as it is located on the terrace of an old Athenian house. Arty feeling, cool vibes, nice chilled music, great view, canvas deck chairs, barrels for tables/stools and nice drinks BIOS is a place that mainly Athenians hang out. Tricky to find out its entrance as it looks like any other apartment main door but a quick walk here from Thiseio Train station (less than 10 minutes) or from Kerameikos Metro station (a bit more but recommended at night as it is busier than the other side). Beers are more pricey than other places around Athens though but they have English menus and they do a pop-up brunch project from time to time (check their site/ fb page) where they add some vegan choices. Enjoy!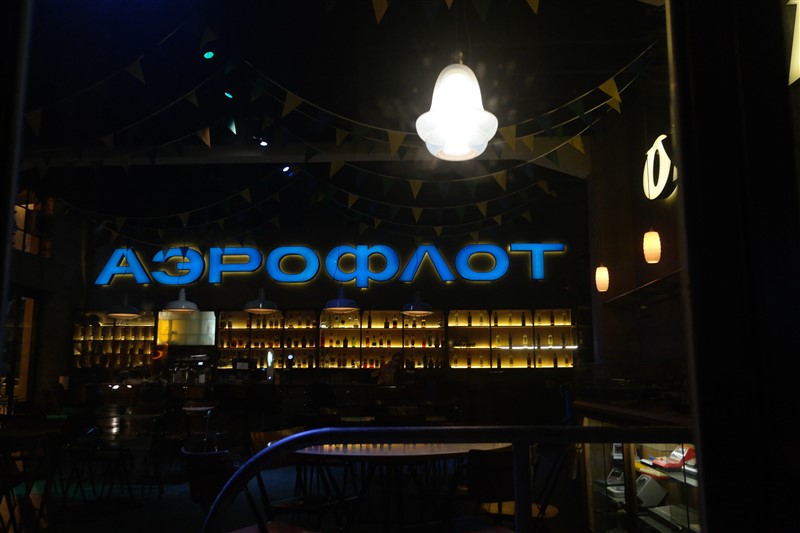 4. Don't be afraid to Step into a Stoa
Stoa (στοά, plural stoes/ στοές) was a covered walkaway / alley in ancient Greek architecture, built for public use. We still use the same word to describe something similar in modern Greece. A stoa can hide anything inside it, a coffee shop (καφενείο), a printing or any other students relevant shop, taverns, small offices and businesses, retail shops, bakeries, crafty shops etc. There are a lot of them in Athens especially in and around the historical centre and most of them are totally safe during the day (in the night some of them might be used by homeless or drug-addicted people as stoes provide a shelter by default). One of my favourite ones is the Στοά του Βιβλίου (the books stoa) a cultural centre focused on –what else- books! Unfortunately most of the events, classes and books in here are in Greek language however, you can visit the café/ bar which is hidden in it Polis Art Café and enjoy the place as much as possible – they usually hold tango nights on Saturdays too! Other stoes have well kept secrets as well , try to discover them!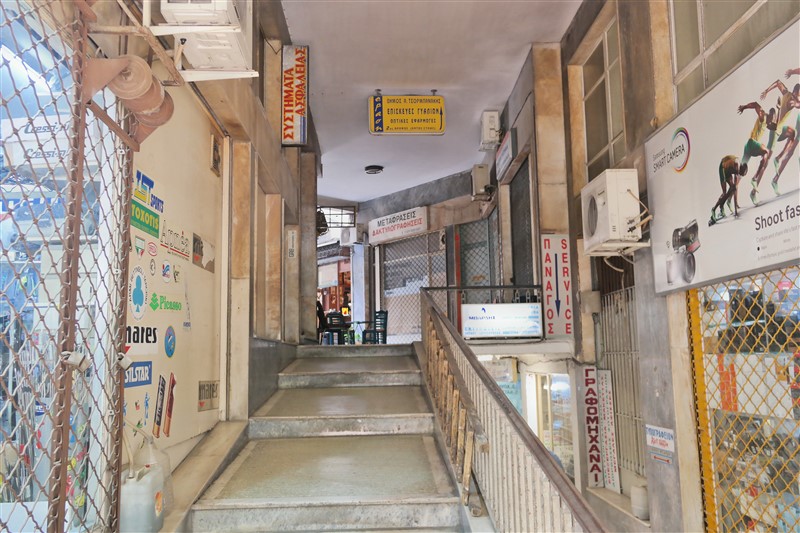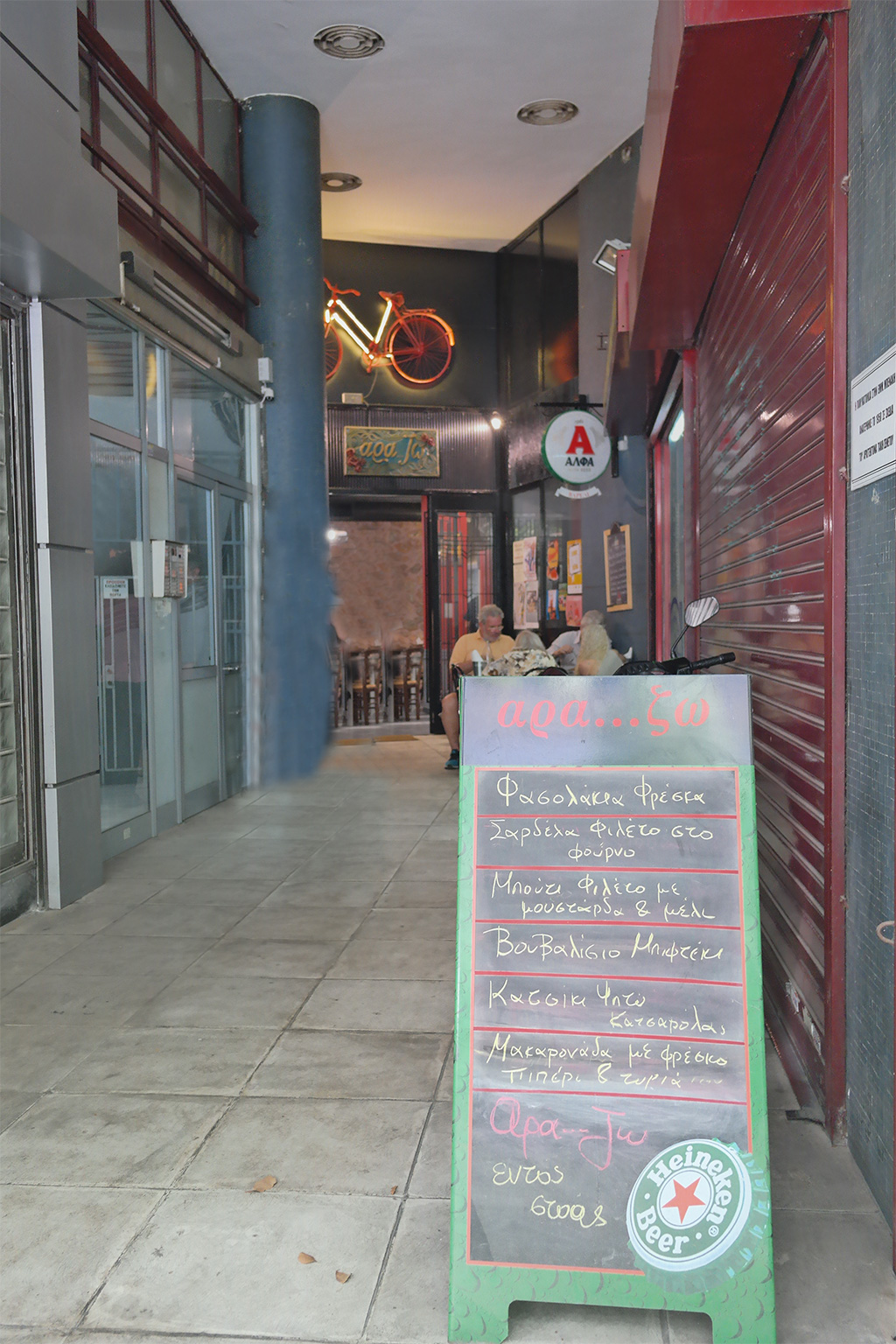 5. Take your time to appreciate (or to understand) the street art
Athens has been described as one of the dirtiest European capitals. I don't deny that it looks dirty indeed and in some areas even worse, abandoned. Even if I am one of those people who don't find graffiti filthy, unfortunately, lots of Athenian neighbourhoods face problems with unwanted or… ugly graffiti that are far from being considered "street art". But let's dig deeper. Athens has been affected by the financial crisis which has been running over the country for a bit over a decade, young people are either angry or detached observers of the situation, the public schools have been losing their funding for so long that the quality of the education has dropped (on the other hand some progress in other aspects of the education has been noticed). Graffiti and "wall pollution" in Athens have become a statement with not always pleasant results but you asked for alternative things to do, right?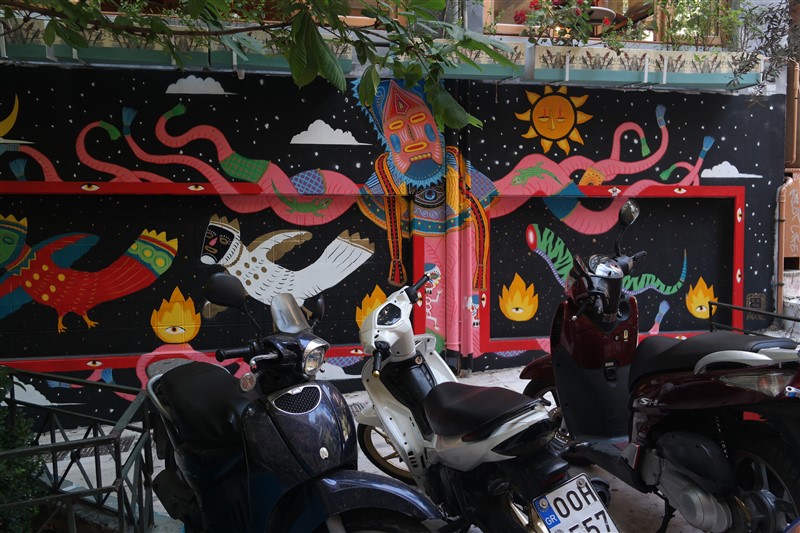 As a traveller here you might want to observe this phenomenon and decide for yourself if it is just dirty, a sign of despair or of a tired generation, a political message, a boring night action, an uneducated youngster scream or pure vandalism. My opinion is that it is a bit of everything – we used to have wall tags and graffiti before crisis anyway and I strongly disagree that graffiti has "destroyed the beauty of Athens" but in fact it is a sign of (not so) hidden problems and more complicated underlying causes.
Street art (and ugly tags/ spray messages) can be found almost anywhere so you won't have difficulties spotting them. Some places to start are around Kerameikos/ Votanikos area, Exarcheia, Psurri, Thiseio, Monastiraki etc. Lots of graffiti are excellent and raise awareness for sensitive topics such as the refugees, the unemployment rate, the lack of dreams, the social media flood etc. We are alive and we have a message to spread. How do you feel about that as a visitor?
5+1. Visit the weirdest café in Athens
Ok, this is a bonus hidden gem and way happier that the no.5! A fairy tale café with dream kawaii desserts and colourful shakes is waiting for you in a local area! I haven't posted many photos for a reason! Reaching the Neverland Sweet Bar requires a bit of effort but it is definitely worth visiting! Take the red metro line towards Elliniko and stop at Dafni Metro Station. From here you can either walk for approximately 15 minutes (safe but a bit boring walk) or take one of the buses 206 or 218 or 232 or 212 or 237 waiting at the bus stops opposite of the Strigari (Στριγγάρη) metro exit and hop off at Πλατεία Ηρώων (Platea Heroon) bus stop -this is a quick, less than 5 minutes ride and you don't have to buy a new ticket coming from the metro. The café is only 1 minute walking from here at Ηλιουπόλεως 186 (186 Ilioupoleos street). The vegans might feel a bit uncomfortable in this place though because of the aquarium tables; also at the moment they don't serve vegan options but they do have vegetarian ones. If you travel in Athens with kids this is a must as you can have fantastic photos and a well-spent afternoon with your little ones away from the crowds and the tourists!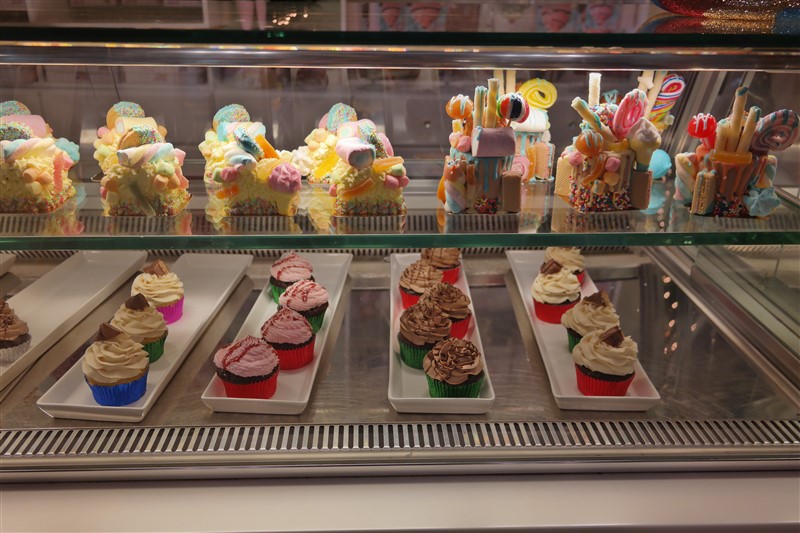 Visiting Athens like a local is not that difficult as the city seems unfriendly at first (at least this is a feedback I often get) but it is super easy to follow its vibe if you want to! I admit it, I'm biased but these alternative/ cool things to do in Athens should have convinced you that there are more points of interest in Athens beyond Acropolis, right? Or not? Please leave your comments below but in any case this is that the beginning of the Athenian series!