Heads Up: Our posts may contain affiliate links! If you buy/book something through one of these links, you will not pay an extra penny, but we'll get a small commission, which keeps this blog up & running. Thank you!
Things to do in Irakleia island, Greece (or Herakleia or Iraklia!)
Irakleia is a tiny island in Greece named by the famous ancient… super-hero Hercules! An unspoiled, hidden gem located on the eastern part of Cyclades Islands region (the most famous island of this region is, undoubtedly, Santorini ) , in between the bigger Naxos and Ios islands. Less than  150 people live in this small piece of land and , since the island is still undiscovered, the tourism industry is yet to be developed. Mainly Greeks spend their holiday here – lots of them are free campers as the island in fact is known for its tolerance for free camping which is illegal in Greece! Things to do in Irakleia island include, but not limited to , swimming, relaxing, walking, observing/ interacting with locals, eating… let's see in detail!
The island has few sandy and pebbles beaches (Agios Georgios, Livadi Beach, Tourkopigado, Karvounolakos, Alimia, Vorini Spilia, Xilobatis, Tribounas etc.) suitable for swimming.  The port is also one of the most popular beaches of the island, just in the front of the Aghios Georgios village (=St George) ! Don't be discouraged by the term "port"- the water is crystal clear and many people (including local kids) swim here. St George has few taverns, cafes and bars where you can relax for hours and enjoy the view. Irakleia has only one more village called Panagia (=Virgin Maria) which is actually the "Chora" of the island (=the central village of each island in Cyclades Region is called like that)! If you can bear the hot Greek sun and the uphill landscape you don't need a car / motorbike or any other method of transportation apart from your feet and the local boats that can take you to the hidden beaches around!
Livadi beach is the unofficial beach for free campers. Only 1,5 km away from the port many happy campers have their tents onto the area surrounding the sandy beach and they spend their days in the local canteen eating , socializing, partying and playing tavli. Unfortunately, as abovementioned, free camping is not allowed in Greece but, in few areas around the country(including Irakleia) locals are sympathetic to this situation as it is the main source of tourism.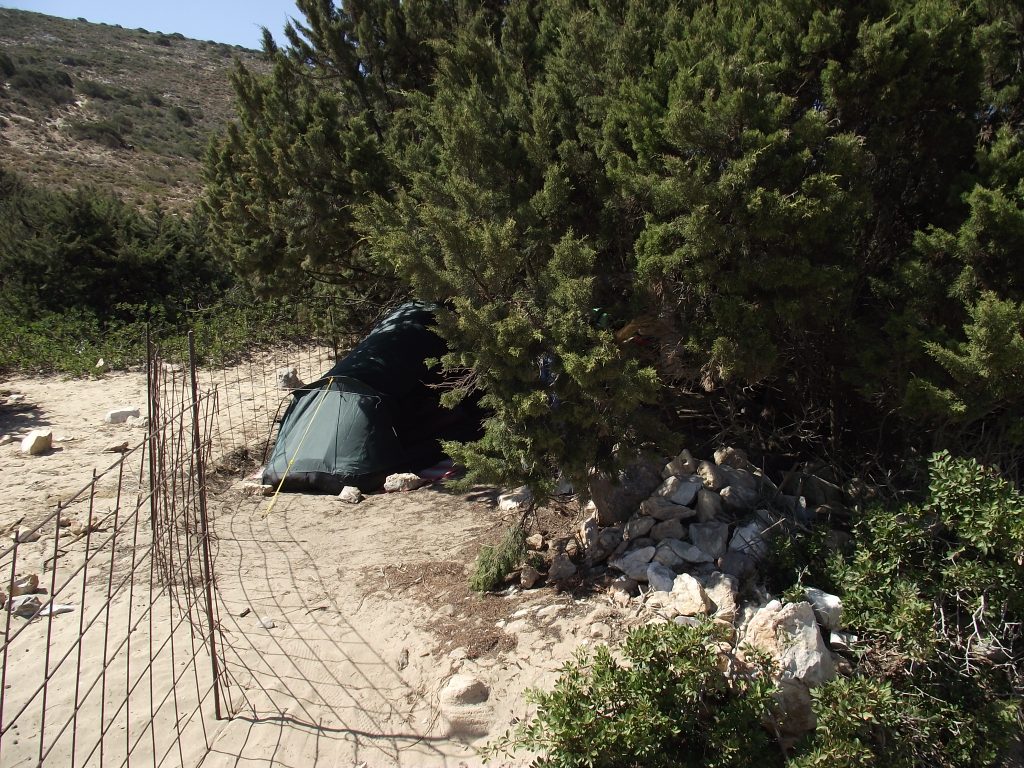 A well-hidden secret of the island is an hydroplane that plunged into Irakleia sea during the World War II. Arado Ar196 is situated at the bottom of Alikias area really close to the beach. It can be observed even if you do not scuba-dive as it is located only 9-11m below the sea level, hence a favourite spot for snorkelling too! Alikias beach is accessible by boat only and during high season (July – August) there are definitely daily trips to this and other small beaches around that can not be reached on foot.
One of the main attractions in Irakleia is the biggest cave in Cyclades region Aghios Ioannis. A medium-difficulty hiking (start early if you visit throughout the hot months!) that lasts from Panagia village at least 1 hour. Stalactites and stalagmites can be found in the different rooms of the cave- you can hire a local guide to help you find the way (there are signs though) and to explain you more about the cave. Last but not least, I have heard from locals that on the 28th of August they light candles in the first room of the cave and then a traditional Christian Orthodox ceremony is taking place (open for everyone) but unfortunately I arrived in the island a bit later and missed it!
The island belongs to the prefecture of Naxos & Small Cyclades region. As an undiscovered island, overlooked even for Greeks, Irakleia offers a privacy rarely found in the surrounding famous Greek islands. It can be considered an "upcoming trend" for people who want a quiet, relaxing place as our life (not that private anymore) has been affected dramatically by the modern lifestyle … Do not expect clubs and crazy life but instead , you may wear your comfort shoes and explore a small paradise!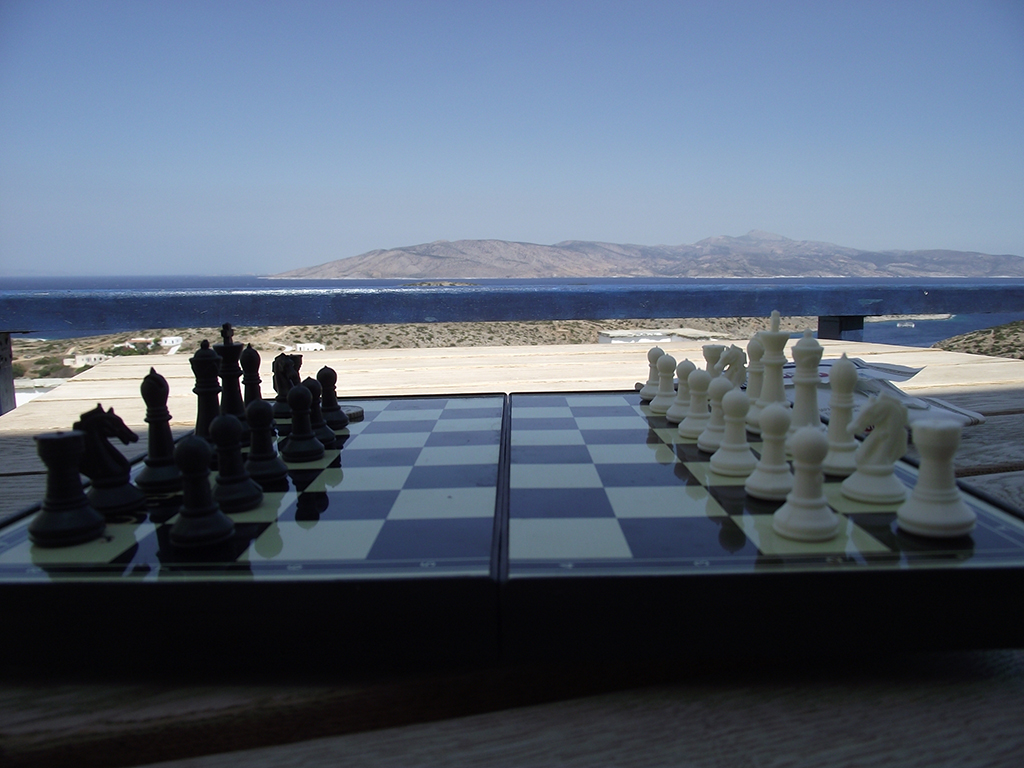 And now… the tricky part! How to get to Irakleia?
One can assume that there is no airport here, the island is accessible only by ferry from Naxos island, Athens or other surrounding islands. Naxos has indeed an airport so you can fly directly from Athens (and few more Greek cities) and then catch the small ferry. Alternatively, you can simply take the non-daily-ferry from Piraeus (Athens port ) and… enjoy the 7-8 hour trip; for 2019 the route is offered by Blue Star Ferries and Small Cyclades Lines , the latest is a legendary ferry called Skopelitis that started its history back in 1956 and never stopped since then to connect these little islands even in wintertime, even when bigger ferries could not travel! An important detail: the vessels have changed during the years though, don't worry!
I always suggest travellers in Greece to step out of the ferry internal cabins in every port reached (even if it's not their final destination) so they can observe and experience how VITAL these routes are for the islands population and, especially in the tiny islands like Irakleia, how passionately the locals expect the ferry to bring goods, people, news, medicine etc. Believe me, this is the best way to travel around Greece if you really want to feel the country's vibe for the islands part- I know from personal experience, the trip sometimes lasts for ever but what is a trip without a bit of hassle?!
Sooo, what do you think? Would you consider visiting such a peaceful and not famous island?