Heads Up: Our posts may contain affiliate links! If you buy/book something through one of these links, you will not pay an extra penny, but we'll get a small commission, which keeps this blog up & running. Thank you!
Kastoria, a picturesque, lesser-known town in Greece
Kastoria is the 65th biggest city in Greece; located in the northern part of the country and, more specifically, in the West Macedonia region. It has a unique geographical position since it is built inside the Orestiada lake while technically not being an island but a peninsula! The town is famous for its history, the natural beauty – the lake has been enlisted in the Natura 2000 protected areas network- and the open-air museum of a Neolithic-era lakeshore settlement (I write about everything below in detail!). If these were not enough… there are even more valid reasons for why Kastoria is worth visiting!
I reckon that Kastoria is unknown for the majority of travellers (beyond Greeks and probably Balkanian people). This is a shame because the town has lots to offer all-year-round and, to be frank, I find this quite impressive. Kastoria is one of the coldest cities in Greece (the winter the temperature can seldom reach even -15C!) having also very "welcoming" summers (temperature can only occasionally overpass 30C which is considered low for the Greek summers) and as a result a very friendly climate all year round. One can observe the four seasons in full; from the snow and the frozen lake all the way to the blooming season and from the warm summer months till the golden hues of the rainy autumns.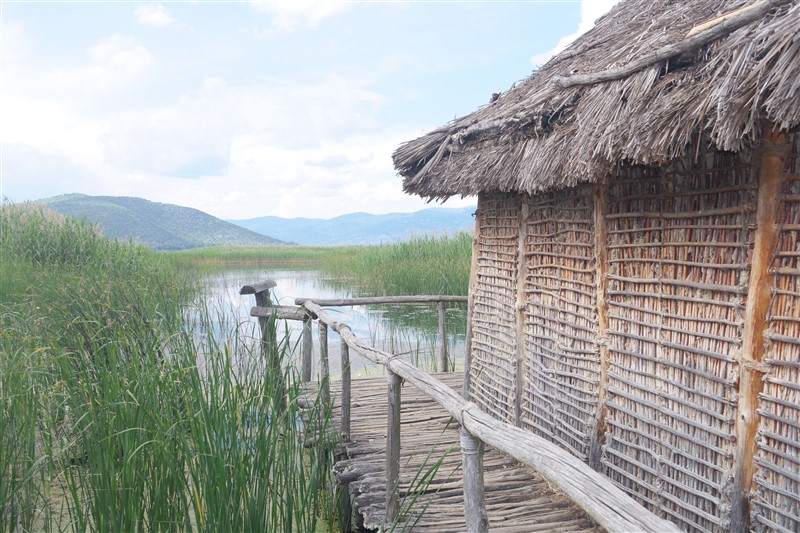 Things to do in Kastoria
Undoubtedly, the town no 1 spot is the lake itself. The entire place gives you the sense of an island without the hassle and the bustle of any tourists (as it happens in many Greek islands)! It is full of life, birds, greenery and relaxing vibes. The serene and one-of-a-kind landscape will make you drive (or even hike!) around the lake to enjoy it at its fullest at your own pace. Moreover, if you visit Kastoria in the summer (or you just want to swim) ask the locals to show you the "Plaz" (beach) where they usually swim too!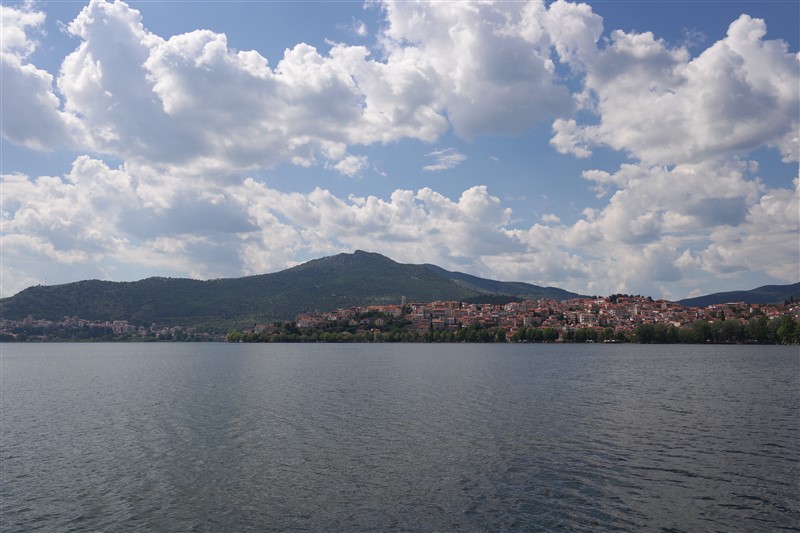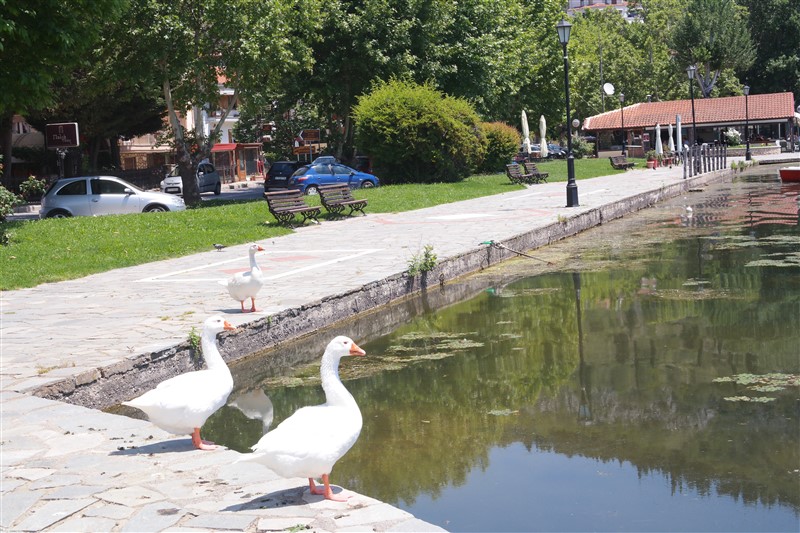 Besides the lake experience, Kastoria offers a great mixture of interesting tourist attractions which are basically… not meant for tourists and this is the best for anyone loving off-the-beaten-track destinations! The town on its own is a typical example of a local, laid-back Greek town, slightly hilly with small squares and lots of restaurants, coffee shops, taverns and traditional street-food places- especially along the lakeshore.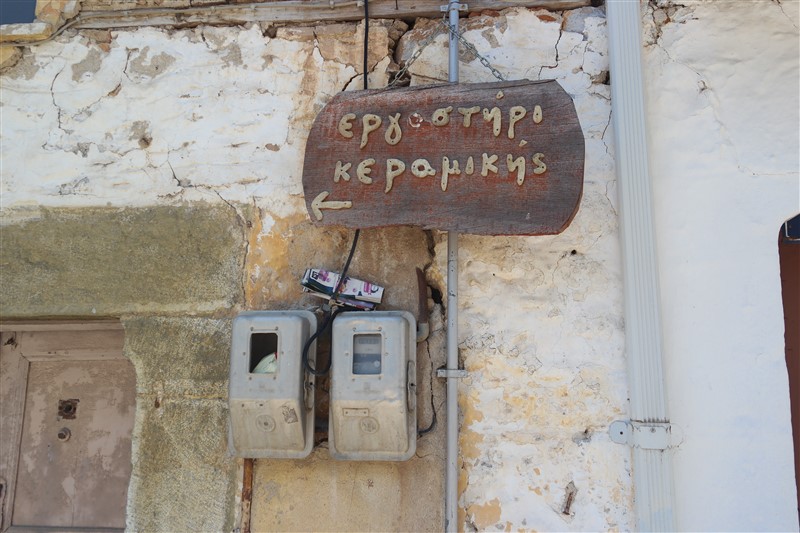 Very close to the centre and next to the lakeside road, there is the Cave of the Dragon, a small but intriguing spot. The recently-discovered and even more recently-opened-to-the-public cave has 7 underground lakes and 10 rooms but only 300m are accessible for us. I found it beautiful, its history fascinating and the 6€ ticket well-spent. Understandably, photos are not allowed so you need to pay a visit to form your own opinion!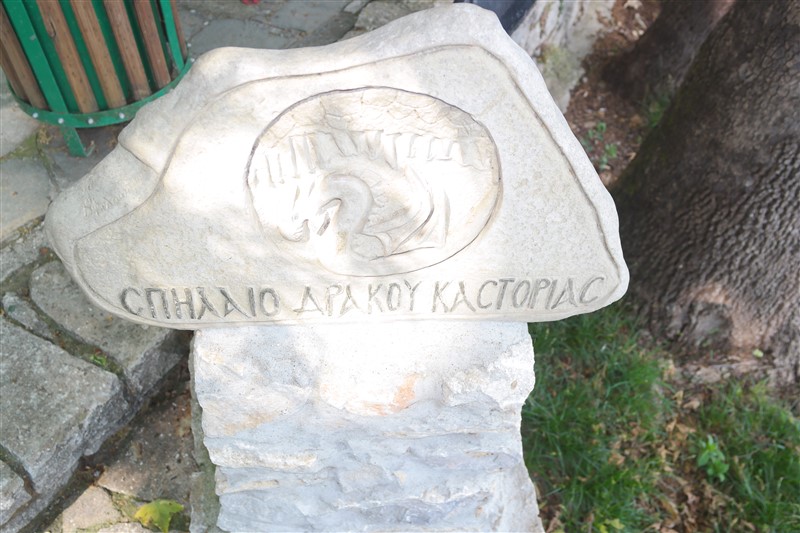 The old part of Kastoria: Doltso and Apozari are the last two remaining quarters of the Ottoman period Greek citizens. These quaint neighbourhoods are characterized by beautiful mansions overlooking the lake and cobbled streets- some accessible only on foot. Unfortunately, most of them are not professionally preserved, hence the quarters were added to the 7 Most Endangered Programme in Europe in 2014. Fingers crossed the authorities will step in and do what it takes. Consider walking around here a must-see in Kastoria and do not skip it!
Paradoxically (or not!), many Byzantine chapels and churches have been preserved and are scattered across the town- you can spot them relatively easy even if you are not familiar with the Byzantine architecture. On the other hand, while Kastoria used to have at least 7 mosques as well, nowadays only one still stands -the Koursoum mosque– in very bad shape and poor conditions though. Thankfully, there have been few students (of surrounding Universities) who asked for research (and restoration?) permission in 2019. Lastly, some visitors may wish to visit the 1000-year-old Monastery of Panagia (Virgin Mary) Mavriotissa which is located very close to the Cave of the Dragon.
Things to do around Kastoria
Skiing!
Oh yes, if you wonder where you could go skiing in Greece look no further! Kastoria is surrounded by the mountains Grammos and Vitsi. Throughout winter one can find a small ski centre approximately only 24km away from Kastoria operating usually December/January till March. It doesn't come as a surprise that the area is one of the most popular touristic winter destinations in Greece, right? Since skiing doesn't tickle my fancy I have no first-hand experience but I know for sure that the Greek snow-season is limited! Consider contacting directly the friendly team behind the Ski Center Vitsiou before planning your visit.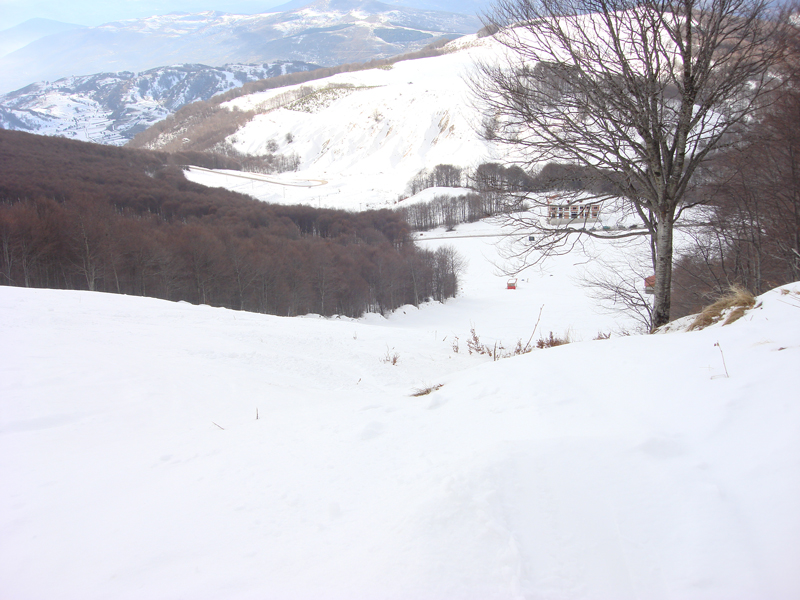 Agia Anna Waterfalls
If you prefer hiking on the outskirts of the town, these small waterfalls can fit the bill for a quick excursion. You can find them 20 km off Kastoria and, season depending, they have or not water! There is also an old chapel on top of the waterfalls, called Taxiarhes (Μονή Ταξιαρχών). The path starting point is at the main Kastoria-Nestorio road, 850m off the Agia Anna village turn and the waterfall is 2300m away! The hiking path is relatively easy, taking approximately 50-70 minutes one way and there are few wooden benches/ stools along the way. The only…adventurous point is when you need to cross a small river with the help of a metallic wire! It's remarkable that the path has been cleared and marked by volunteers, not authorities; thank you, folks! Bear in mind that there are no English signs so it's wise to remember at least the word "waterfall" in greek καταρράκτης (see photo below!) so you won't get lost.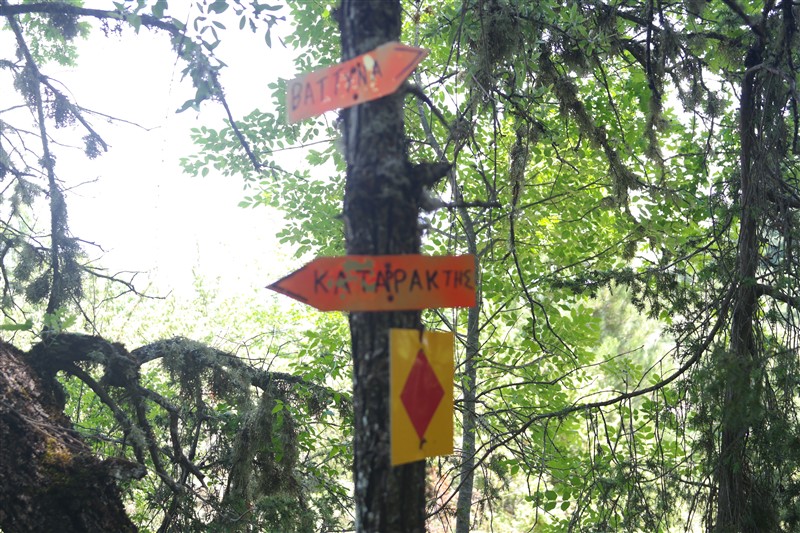 The Neolithic Lakeshore Settlement / Dispilio
My favourite one besides Kastoria! Near the Dispilio village, we can wander around the remains of a Neolithic settlement that was discovered, thanks to a dry winter, in 1932. Although the houses and the utensils are not the original ones (but they have been reconstructed identically as they were supposed to be after thoughtful archaeological and historical research) the feeling while being in the middle of the extremely old village is awkward and mesmerizing at the same time. Trying to picture how people 7000 years ago used to live… how would you feel? The historical landmark is very very small so you don't need much time here. Moreover, it's only 8 km away from the city centre and there is a nice, local restaurant next to it should you get hungry!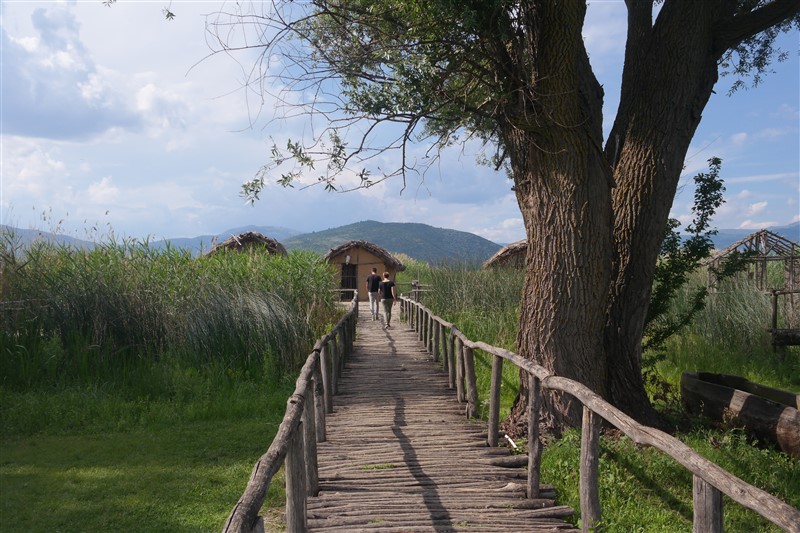 Where to stay in Kastoria, Greece
In the city center if you have no car/ bike! Alternatively, either in the villages or on the mountain if you prefer to unwind completely.
How many days to spend in Kastoria
I have been to Kastoria twice, in winter and summer. The first time I just stayed overnight and the second time for 6 days. While it's not the bustling city you might expect there are so many things to do and see that I would suggest at least 3-4 days especially if you'd like to explore the entire region, to do some outdoor activities (hiking, skiing, canoeing etc.) and to relax a bit. If time is an issue I would say 2 full days would be sufficient to get an idea and to do the "basics".
Annual Events
I want to recommend two annual events that I had been trying to go for a long time but since I moved abroad I haven't managed to do so. They are the perfect excuse for planning your Kastoria trip around them- one for wintertime and one for summertime!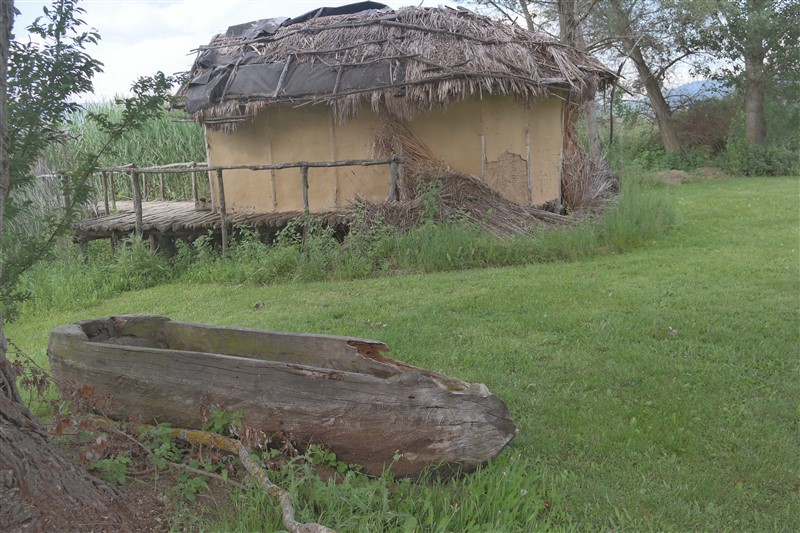 Ragkoutsaria
Every year from 6th to 8th of January the town experiences its own… carnival! "Ragkoutsaria" is a revival of the ancient Dionysian celebrations with a lot of wine (as expected!), dance, dressing ups, competitions, parades, masquerades, live bands all around etc! You need to book your accommodation in advance and to wear as comfortable shoes as possible!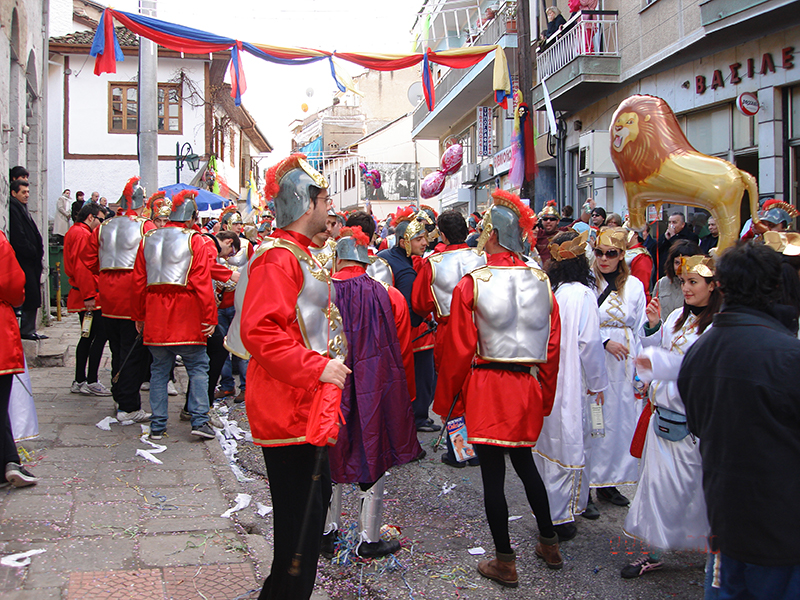 Nestorio River Festival Party
Approximately 28km off Kastoria there is a village called Nestorio which is built on the banks of Haliacmon -the longest river of Greece. Less than 1500 citizens live here but every summer, thousands of people flooding the place for 5 days while a unique music festival takes place. Camping next to the river, music, gigs, yoga, activities, parties… the list goes on! Although it is a festival hosting mainly Greek musicians and bands, occasionally some foreign ones are invited too. If you fancy a totally local experience this is the place to be next summer-the 2020 version has been cancelled- and I might be there as well! You can browse their website but since it is only in greek it may be better to email them directly for info and tickets at info@nestorio-riverparty.gr!
How to reach Kastoria
By Car: this is the ideal solution especially if you are planning to explore everything! A visit to Kastoria can also be combined with Thessaloniki (the 2nd biggest Greek city and airport so you can easily rent a car there) which is approximately 200km away and/ or with the famous Meteora which are only 135km away.
By Plane: Kastoria has a small domestic airport (Aristotelis Airport) with flights mainly to/ from Athens. This is the perfect match if you are in a hurry or you don't want to drive.
By public transport: There is no train station but there are intercity coaches (KTEL/ ΚΤΕΛ) connecting daily Kastoria with many major cities and smaller local villages. The journey duration from Athens by bus takes roughly 7 hours and it costs almost 45€. For the buses timetables you can check this page out but for the time being no English version is available so try your best with the google translate!
I think I covered most of the crucial things to do and see in Kastoria, Greece, especially as a first-time visitor, hooray! Overall, the town is an overlooked but very beautiful place to be and I can't wait to come back! I am sure you haven't heard of Kastoria till now…am I right? Let me know what do you think and if you would like to spend some days exploring the region!