"The ship is about to depart!"
We had booked our accommodation just beside to the eye-catching Symi harbour and we could see, from the small balcony there, that "Poseidon" was ready to depart… without us! I rushed as much as possible forgetting my sunscreen on the chair – the next day we would have to return back to London so I simply could not miss that tour around Symi island, Greece!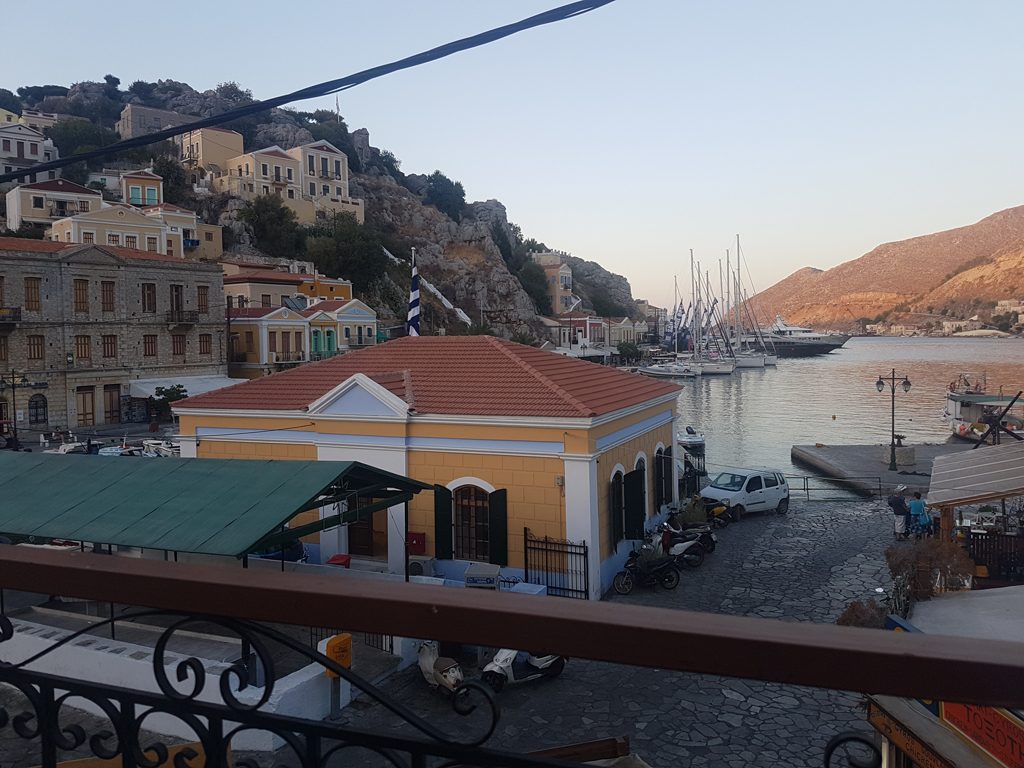 Let s pretend that this never happened so I can start from scratch:
You may have heard about Rhodes Island but hands up if you know about Symi Island as well! This small beautiful island in the Aegean sea, not accessible by air but just 1-2 hours from Rhodes by ferry, has one of the most picturesque harbours in Dodecanese (=group of Greek islands located South East of the country).  We decided to take an one day cruise around Symi as we didn't want to rent a motorbike and drive under the hot sun – it was our last day-off after all!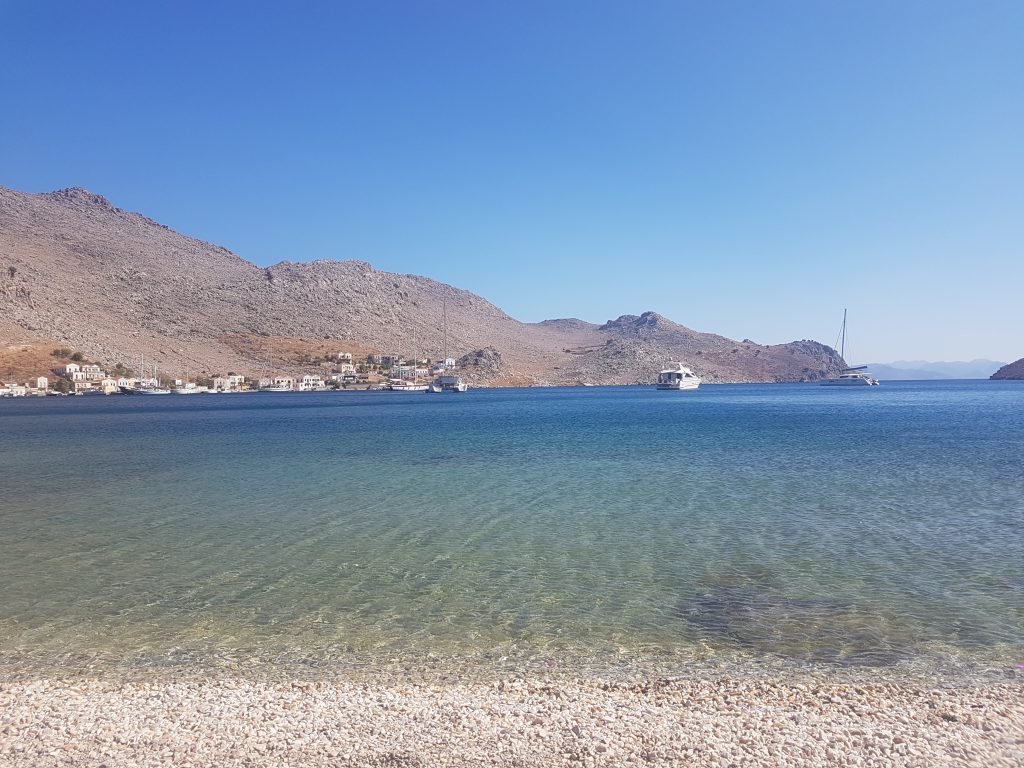 We had already spent few days in Symi and, having our research done, "Poseidon Excursion" seemed the best option for what we were looking for: inaccessible-by-road beaches, a visit to an uninhabited southern island, spectacular views around Symi and good quality Greek unlimited food. And now having no sunscreen and being under the Greek sun, which can be inexorable, I had to stay into the sea as much as possible in order to avoid sunburn! Such bad luck!!  #not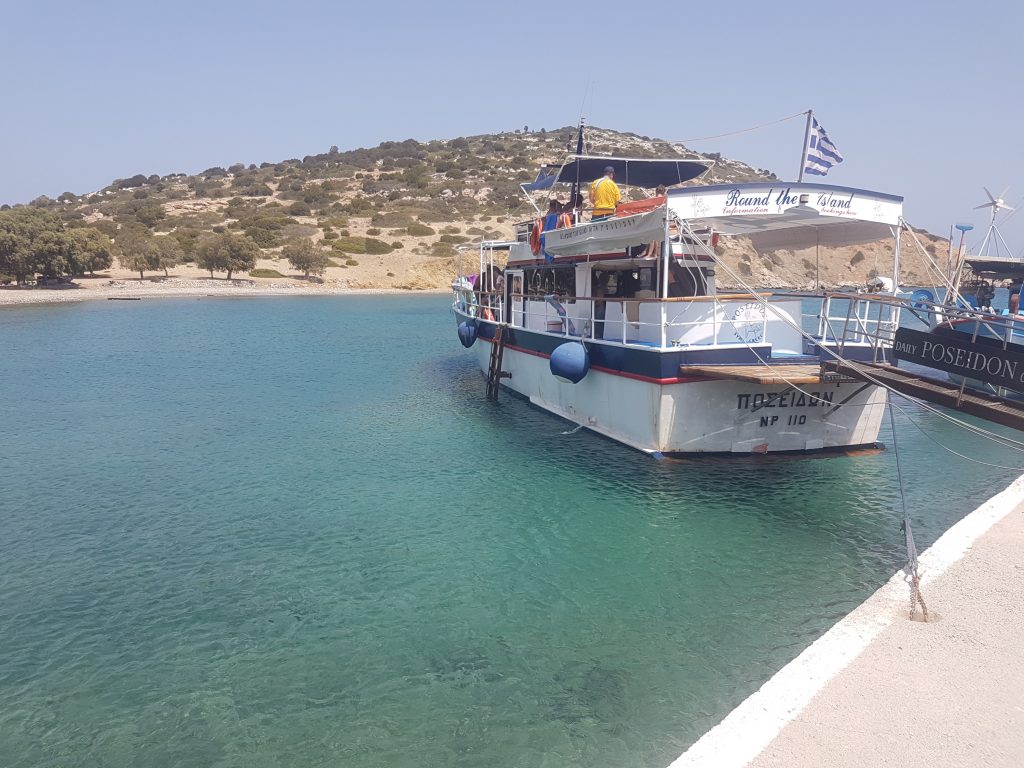 The cruise lasted about 7 hours in total and we visited the highlights of the island – apart from the Monastery of Archangel Michael Panormitis as we are Greeks and we have been to countless orthodox monasteries and churches so far! We found the last empty corner on board, while the crew was offering coffee and fresh fruits, and we sailed west, towards the first stops, Maroni bay and seal cave. The weather was amazing, not too hot (early September) and we enjoyed a bit of sunbathing. As expected, we didn't see any seal as the cave is quite small (for the seals swimming along with a bunch of noisy people!) but the water was clear and we had a great time playing with the underwater action camera!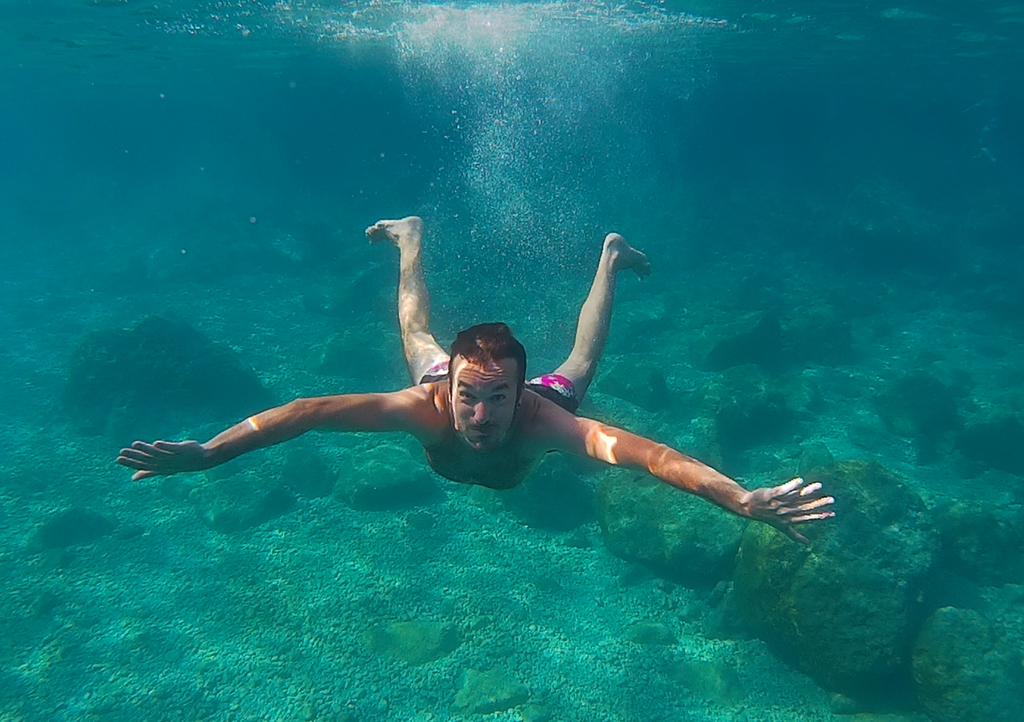 Then , we sailed to Diavates islet, at the western point of Symi, where we had one more stop for swimming and sea observing. The staff gave us a few information regarding the islets and then they started preparing our food… did I mention that we are having a BBQ at our next stop on the uninhabited island?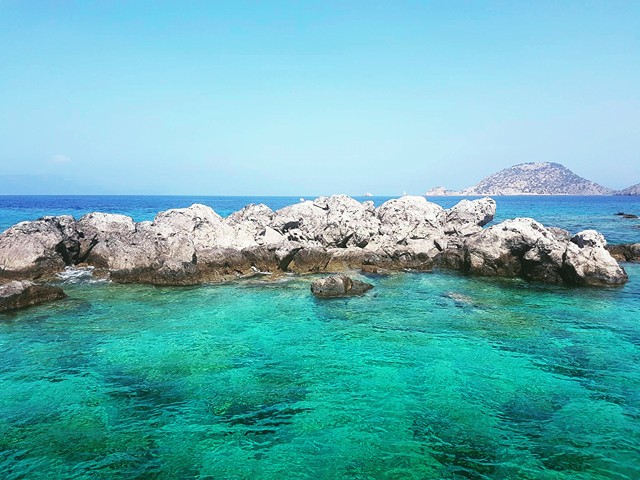 We headed to Seskli island, south of Symi, hungry but excited and we decided to explore on foot the island before our BBQ-lunch. Followed by some sheep we soon after stumbled on a chapel, one of the millions in Greek islands, and then we followed the path which runs around the tiny island.  Only few shepherds were there, 1-2 boats and LOTS of friendly sheep!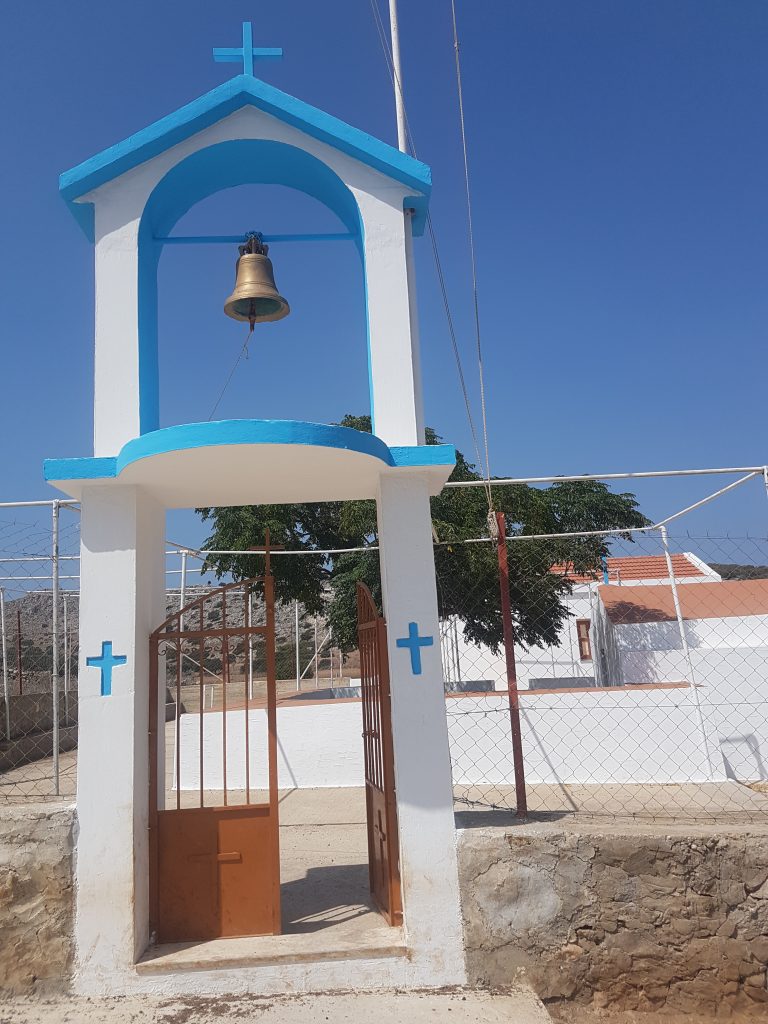 We came back just on lunch time and we were not disappointed at all! Huge bowls of salads, amazing pasta, Greek cooked dishes, wine and refreshments – all free and unlimited! Most of these were vegetarian/ vegan so as a vegetarian myself I couldn't complain!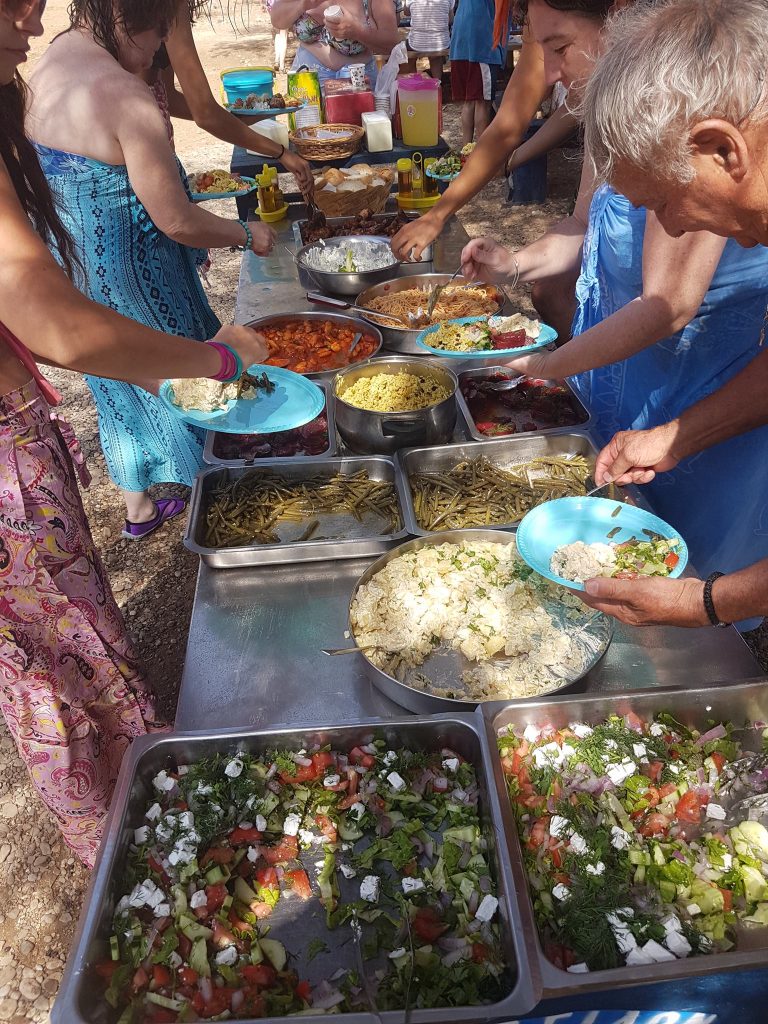 Don't look at my tummy… this photo was taken after the third food refill! Pure happiness!
We were given free time after and, of course, I could not do anything but sleeping under a tree in the small beach next to our cruise boat, praying for a quick digestion! The last stop would be at the most iconic beach of Symi so I had to be able to swim!
The bay of Saint George Dysalona has magnificent scenery due to the 300 meters high rock that overlooks the small beach. Many sailing boats anchor here to enjoy the landscape and to swim under the imposing rock shadow – there is room for everyone but it may be better to avoid peak season (mid July – August).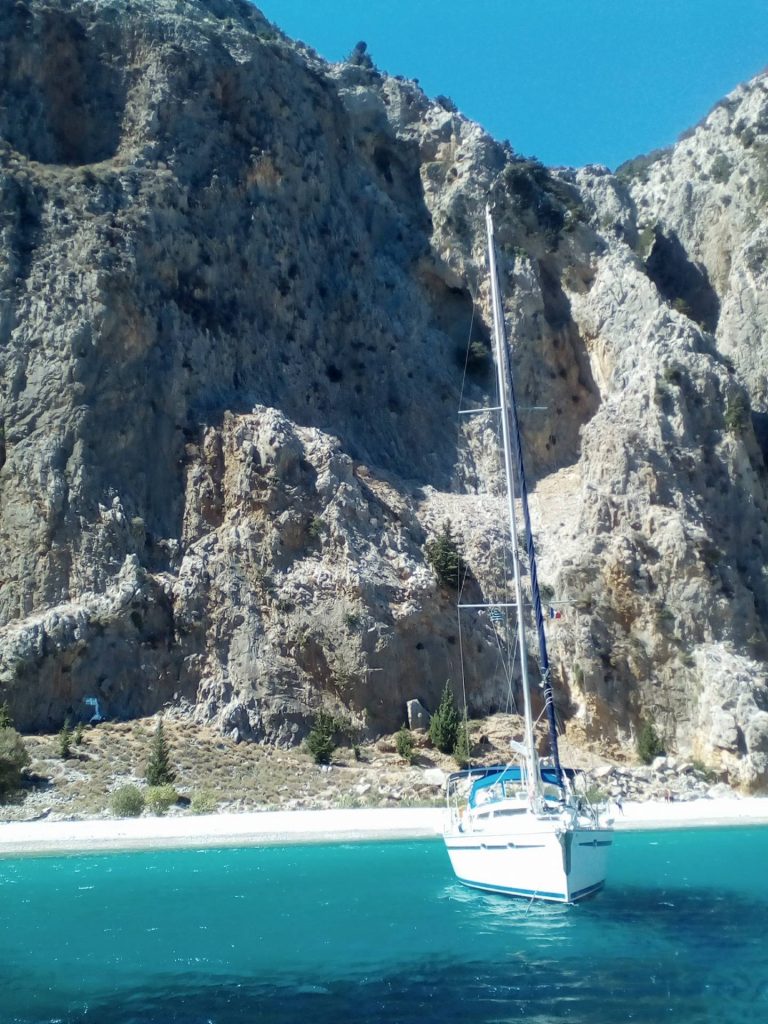 The best Symi harbour views were presented to us on the way back, the warm sunset turned impressively the sky colour and the remaining sunlight was reflecting on the vivid local houses – what a pleasure for our eyes!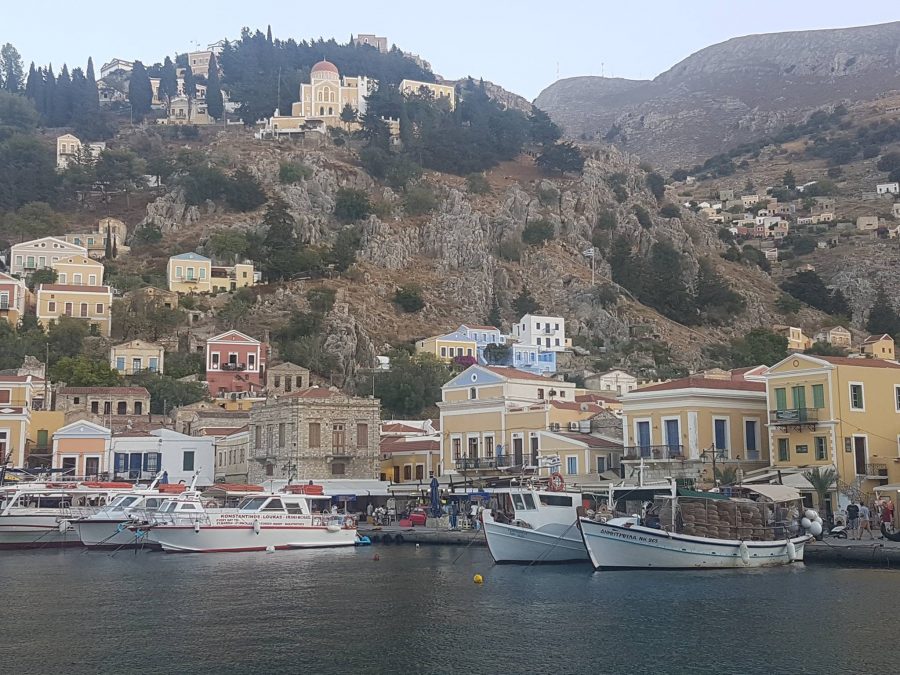 For that trip we could not have asked for more! It was an excellent day cruise, relaxing, blissful and value for money! Thanks to Poseidon Excursions we had an amazing time and hopefully, we will be back one day!
As always, all opinions and photos are my own.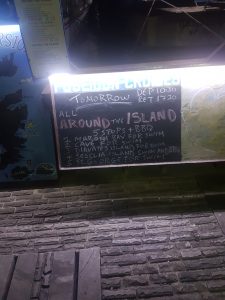 How to reach Symi: Fly to Kos or Rhodes for the shortest ferry ride (frequent service)
Up for a challenge? Fly to Athens and hop on the ferry from Piraeus (Athens port) and be prepared for a looong trip (16-17 hours)!
Have you been to a similar trip that you can recommend? I would love to learn about, please comment!