Heads Up: Our posts may contain affiliate links! If you buy/book something through one of these links, you will not pay an extra penny, but we'll get a small commission, which keeps this blog up & running. Thank you!
Living in London for too long? How is it?
For "too long"?! Well, I didn't mean to say that but I had to keep the title as *short* as possible! The first time I visited London was in February 2012 and I felt in love immediately with this cold and rainy city! I was convinced that I will live here one day! This happened much much sooner than expected as I was lucky enough (or too… determined!) to be offered a place in the University of Arts London few months later and along with my postgraduate studies, my London Life chapter had just started! Fast forward 6 years later and I think it is about time to write about these signs that indicate that I have been living in London for more than the…original plan! Hopefully, my 100 + 1 list will be used by travellers and tourists not as the typical things-to-do guide for London (so boring…) but, more importantly, as a how-to-experience-London helping hand from a friend!
1. You can finally catch the British (and the cockney!) accent. Don't get me wrong, I love it and it is sad that I will never be able to «mimic» it properly! It just takes a while (=ages) to be fully understood!
2. Did you expect to use «Please» more often than any other word? Me neither!
3. Additionally, you say "sorry" even if someone else stumbled upon you or bothered you!
4. You can identify the difference between Greenwich and Green-which! Don't get your knickers in a twist, you still can't pronounce it; on the other hand, you may be able to finally pronounce Walthamstow which, surprisingly, has lots to offer – find out things to do in Walthamstow!
5. So, a small, quick test: which witch is w(h)ich?
6. Waterloo Bridge is the perfect spot for enjoying the entire London as it is located just on the peak «curve» of Thames. On the right-hand side (when facing North) the new London lays (skyscrapers, non-stop development, National Theatre, etc.) and on the left the old one ( Westminster Abbey, Big Ben…) but people often overlook this spot!
7. And few steps off the bridge… Southbank, the Londoners' river walk that can take either 20 minutes (from one tube station to the other) or over 3 hours- starting from the London eye and ending just after Tower Bridge. (fancy to stay at Southbank? Check the most recent accommodation deals below!)
8. If the 3-hour timeframe sounds too much for such a short-distance walk please consider the alleys, the historic paths, the hidden gems, the book bazaar, the train stations, the different bridges (Millennium being the newest addition), Belfast that operates as a museum in nowadays, the unusual high buildings (triangled or curvy, I love them!) in between the Tower and the London Bridge (try to find the map here so you won't miss them!), the National Theatre, the Tate Modern & Shakespeare Museum and many more points of interests! The list is pretty much endless. In fact, I still discover new things to do every time I decide to take a stroll here!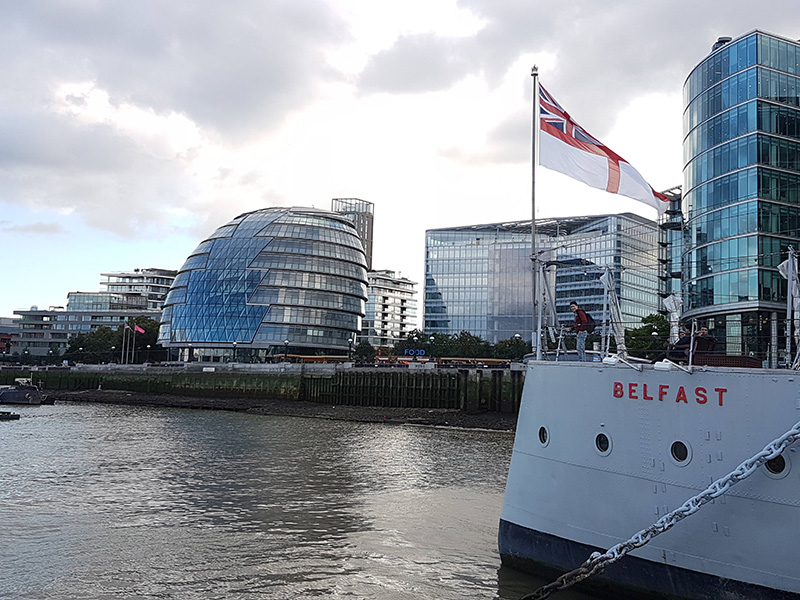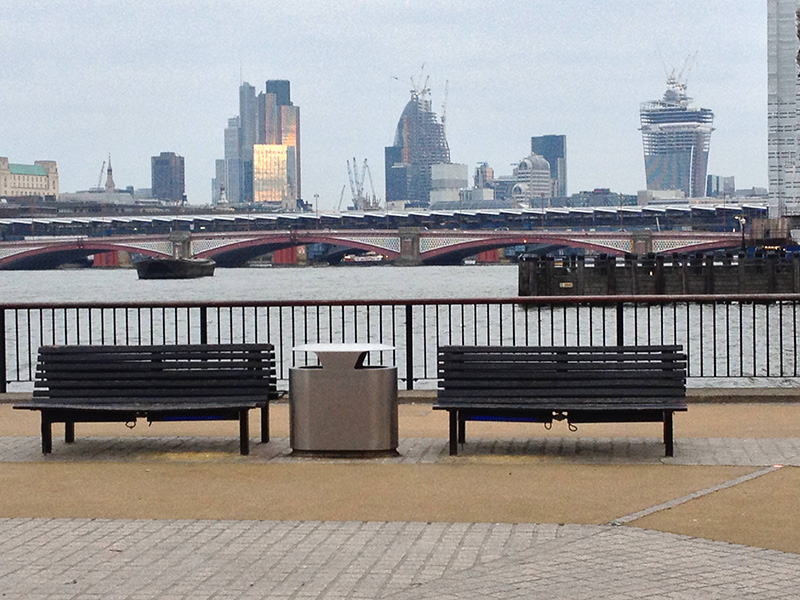 9. «Drizzle» is different than «showers»! Well, I am talking about the weather- find the difference!
10. You do not notice the lack of sun anymore as you expected to do so. Strange!
11. You almost never need an umbrella. The typical London weather, a combination of showers and annoying and moody drizzling rain, has a great advantage: a (semi) rainproof coat is all that you need!
12. And definitely you don't need wellies (boots) for this weather! Unless you fall for fashionable (?) items.
13. By the way, the word «Boots» does not mean JUST «a pair of winter shoes» but it represents the British… sense for a pharmacy/ cosmetic store! Tourists can even find (affordable!) snacks/ food here- thank me later!
14. Coffee break in a public toilet? You don't deem it weird anymore!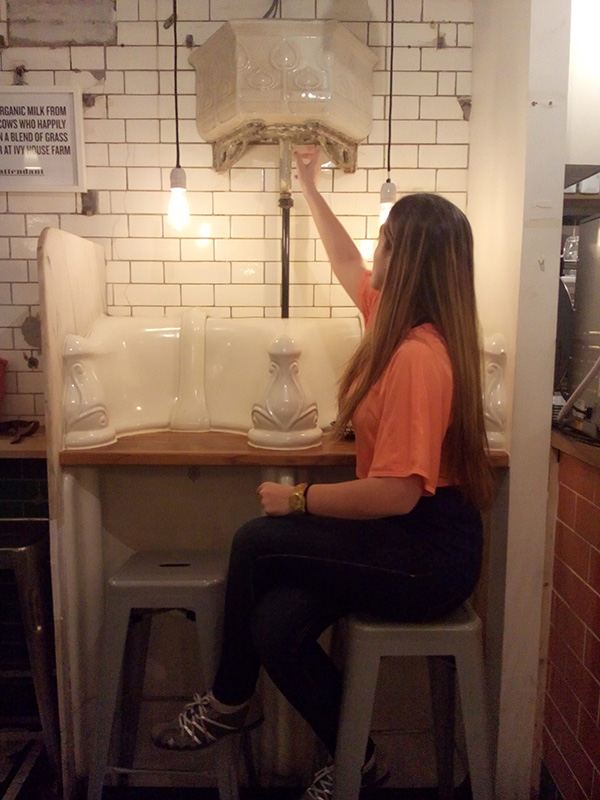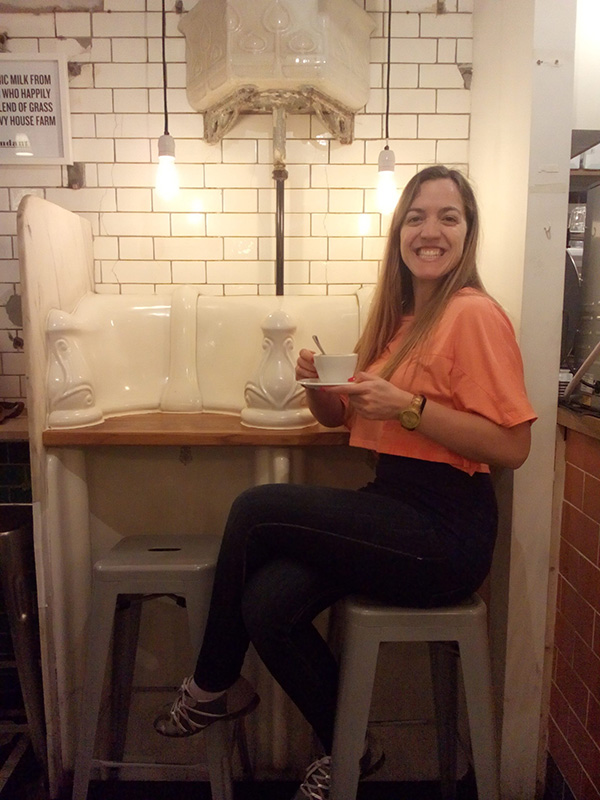 15. You should have learned how to queue by now. Doesn't matter where you are coming from (I am Greek and we have absolutely no queuing skills!) in London you will perfect this skill, in tubes, buses, clubs, restaurants even cafes!
16. Hence, you know how to be proactive when it comes to booking a table/ reserve a seat etc.
17. Because you have already realized that "book in advance to avoid disappointment" is 100% accurate with a pinch of British sarcasm!
18. So, you are not surprised when it is August and many "book your Xmas table now" signs are popping out of restaurants and bars.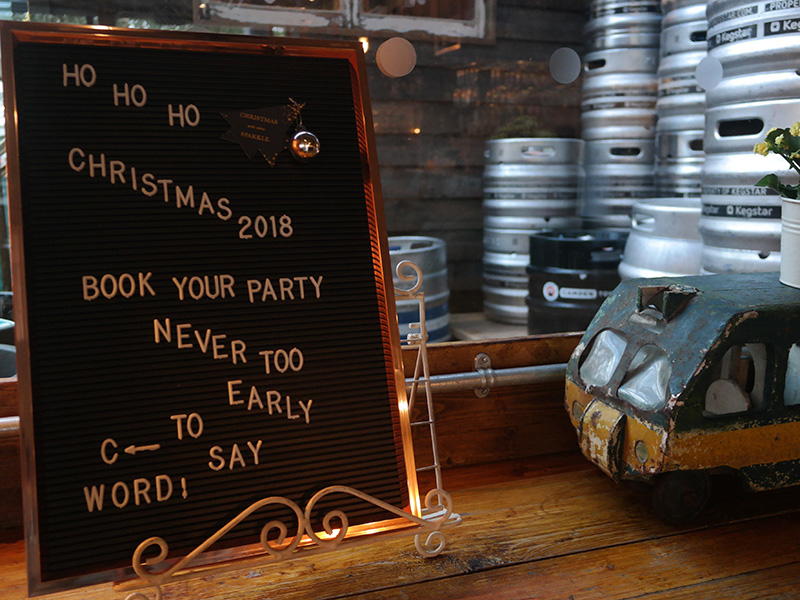 19. Even if you have improved your queuing skills (or because of that?) you hate anyone that consumes more than 1 nanosecond to tap their Oyster (in the tube stations, in the bus, in the tram EVERYWHERE! ) How they dare?!
20. London is HUGE and you need a decent amount of time to travel from one side to the other. For example, the longest line (Central, the red one ) covers more than 70km and has 49 stations! And of course, we (the immigrants!) consider anyone living out zone 2 as a 'non-proper Londoner'! Oxymoron, right?
21. In our defense, if you work in Central London but live beyond Zone 2-3 you are scattered across hours of commute time on a daily basis. This is a hard-learnt lesson!
22. By the way, you are proud (?!) that London tube is the oldest metro of the world and it has 9 zones full of underground and overground connections (not even mentioning the trains!). Tip for tourists: please do not stand on the left side of the escalators! Londoners will hate you!
23. You have started organizing coffee tea meetings with your friends at least 10 days in advance.
24. However, even in central London the cafes close SO early for us, the poor Mediterranean people! I still do not get it!!
25. Anyway, you appreciate the afternoon tea ceremony – even if it is impossible to be on time for that! One great and affordable afternoon tea (less than £10!!)  can be found in the Fan museum in Greenwich!
26. You are getting picky about which ethnic cuisine you will eat every day. Who can blame us? So many choices from all over the world! My latest favourite is the Ethiopian food!
27. Having said that, you know where to go for each one as London can be highly ghettoized and entire areas / suburbs have specific cultural groups.
28. You start considering as British food the… Indian food. Brick lane is an OK starting point for tasting it.
29. You have tried at least 3 different types of the Shepherd's pies! (I die for the wild mushroom one!)
30. However, multiculturalism is not limited to the food cultures!
31. You are not surprised anymore by the English punctuality.
32. On the other hand (or maybe because of that…)  you can't remain calm when the tube delays for more than 30'' – THIS IS UNACCEPTABLE!!
33. You know that it is much more affordable and…peaceful for you to take 1 month off from your job during September in the unfortunate event that you have nowhere to stay than trying to rent even a…tent at that time of the year. Contrariwise, end of June- beginning of August is the ideal season for the best offers…
34. …this means 1-2% off the normal rental price but in London terms this percentage is equivalent to a lot of pounds annually!
35. Pounds £ ? Oh yes, Queen's face is depicted on EVERY SINGLE ONE!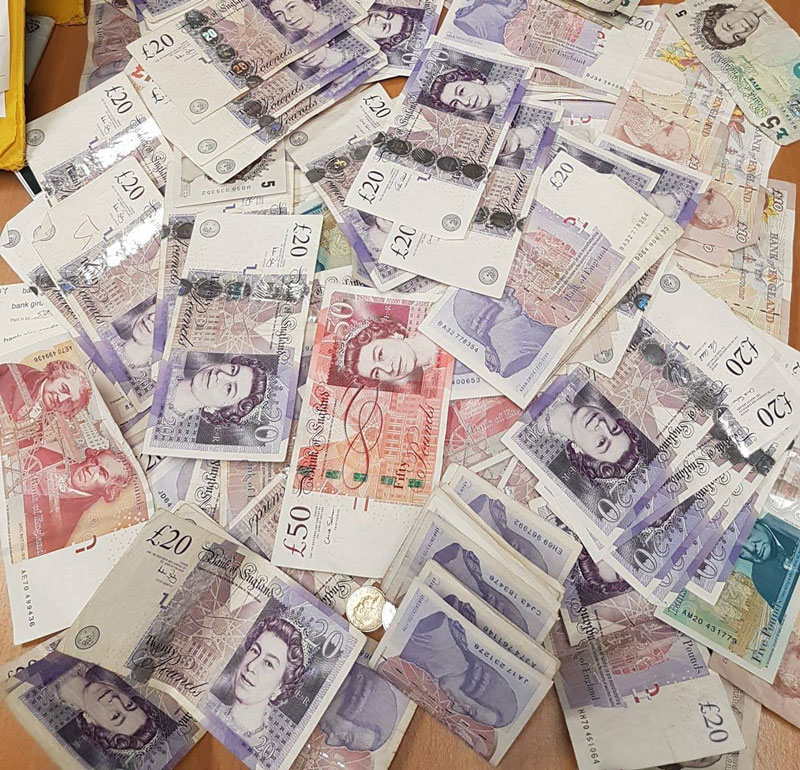 36. And now you have already realised that Londoners have a love-hate relationship with the Royal family. But everybody is talking about the big incidents (weddings, births, deaths, an inappropriate dress, a tiny protocol change….you get the point!).
37. However, thanks to the Royal family, some of the best Chocolate tours are taking place around London- I admit that London was not amongst European cities being considered as chocolate paradise by my chocoholic-self but I changed my mind!
38. Sorry to reveal that, but the most boring attraction when our friends are visiting us is the Buckingham Palace. Queuing outside the tall fence (that additionally blocks the insight view) for one photo AGAIN?!
;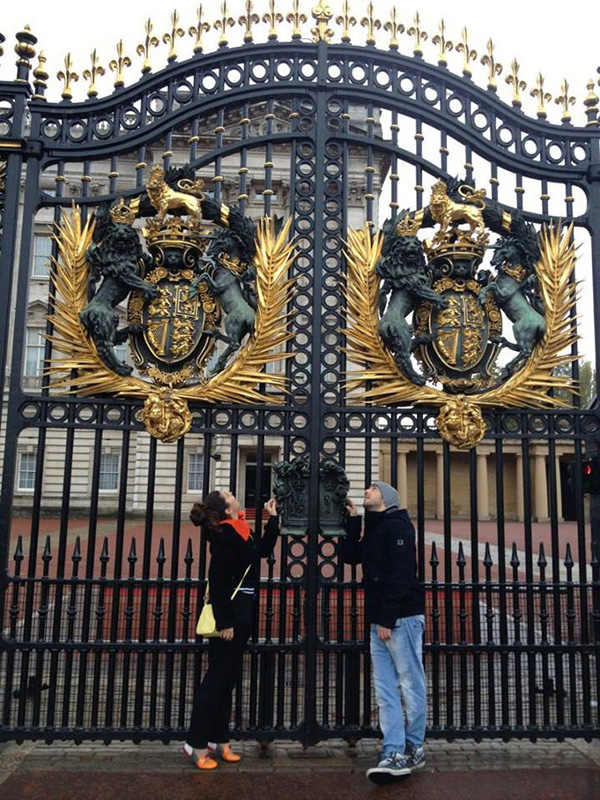 39. You know where to buy cheese and other local products directly from the producers (Borough Market)…
40. …and where to find a flower market to unwind yourself on a moody Sunday (Columbia Road Flower Market in East London!)
41. You like Notting hill on Saturday mornings antique / retro / vintage market even if it's too touristy.
42. You have taken a rest at these wooden handmade benches/ chairs/ artworks that are sold in Gabriel's Wharf during a night walk in the Southbank. I keep repeating myself but Southbank is a must (and colder than the rest Central London – come prepared!!)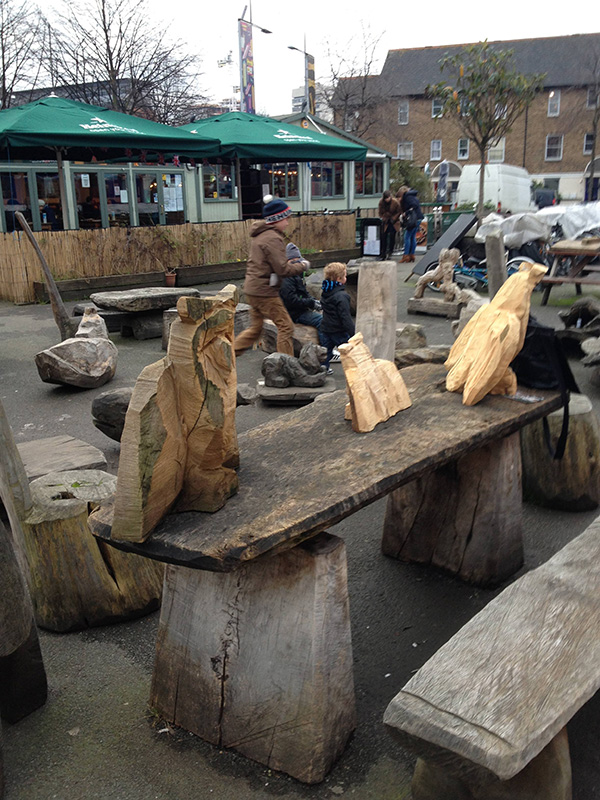 43. Hanging out in vibrant and gay-friendly Soho (great sex shops here too!) is always an option but you rather go to places that not many tourists are aware of (Exmouth Market and Angel we love you!).
44. However, even in the most touristic central areas you know where to find a quiet patch- St. Christopher place for example is located just behind the extremely busy Bond street tube station but you do not find SO many tourists here.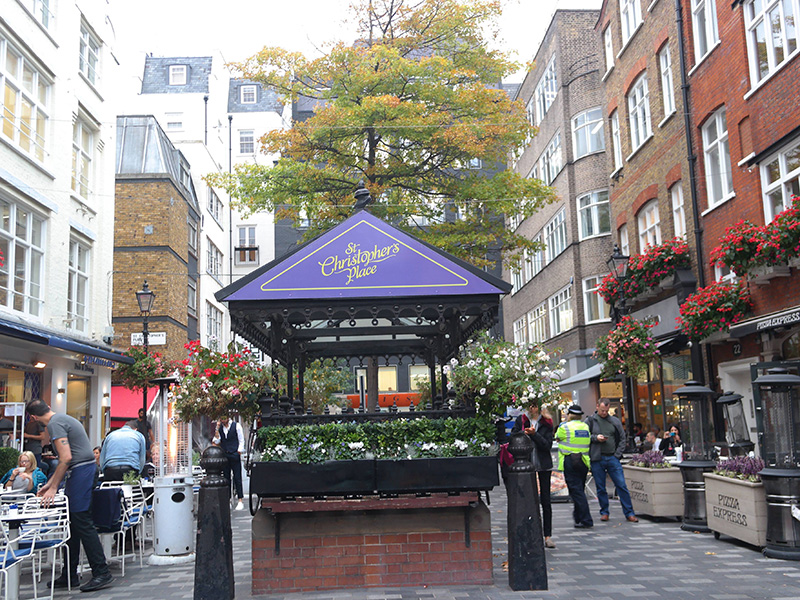 45. On the other hand, even if you know it is tricky to find a quiet spot around Covent Garden, yet you can't resist to the colourful Neal's Yard!
46. This area is called Seven Dials and many independent brands/ designers have their small shops here! Non commercial T-shirts for you? Shaving products and unique perfumes for your boyfriend? You know that super special items are all around!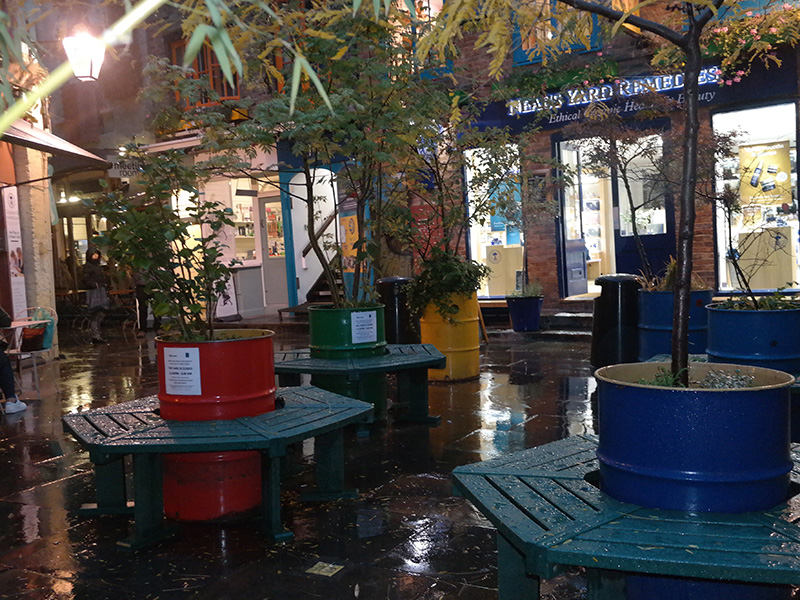 47. Many new cafes / healthy-eating/ vegan restaurants are popping up all the time (not budget-friendly though, remember you are in Central London!)! A similar area (popular especially among younger people) is Carnaby street– 5 minutes walking distance from Oxford Circus.
48. When you come here you can't resist on eating some of the most delicious cupcakes in central London – inside Kingly court of course!
49. Back to the cupcakes (food is life!) the best VEGAN ones can be found in Brixton! We all know this place is a heaven on earth!
50. Well, Brixton is not the dodgy place that used to be- yet some alleys have maintained that feeling but in general it has turned into a vibe, hip and multicultural place with some great nightlife.
51. More nightlife? Vauxhall is one more great choice! Disco venues and clubbing are beating Soho!
52. Dalston has many hidden bars and you go there for the underground scene, game parties, non-binary parties… London is such an inclusive and open minded city!
53. And in general, East London offers countless hidden corners for food/ drinks and entertainment- UV light mini golf anyone?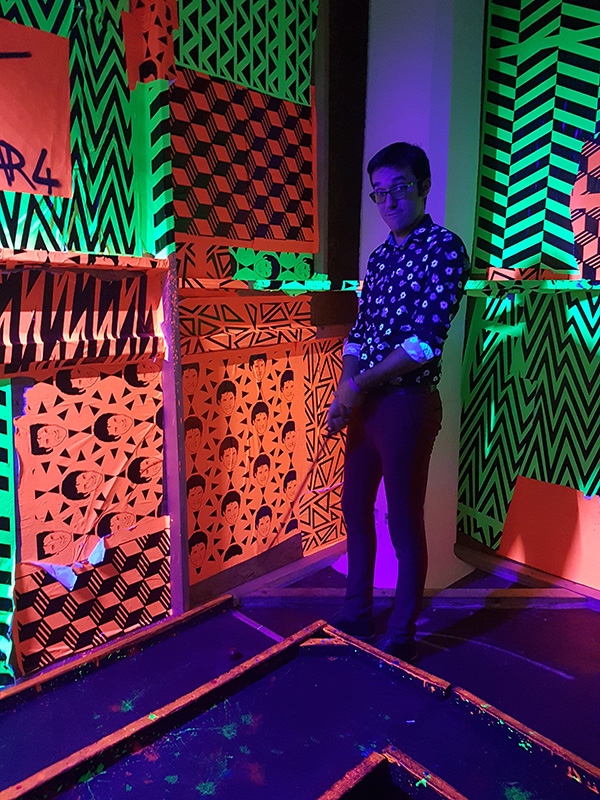 54. Greenwich is much more than a place with a museum for the…time!
55. You can easily spend one day here wandering around the (free or not) museums and the hill with the spectacular view.
56. During weekends also a local small market can be found here – many Londoners visit the suburb for that!
57. Cutty Shark is not a…branded whiskey anymore and it has such a fascinating story!
58. And since we are talking about ships, the biggest ship INSIDE a bottle in the world is here!
59. You try to convince your friends and family to visit you early autumn as the nature is very beautiful, many things cheaper and the weather still bearable but you know that they will opt for the summer or Xmas period! Tip for convincing: if you are up for West End theatre plays this is the period with the most/cheapest offers!
60. Having said that, Xmas decoration becomes a thing straight after Halloween (end of October!)
61. But, in case you miss it, Harrods is the place that sells Xmas teddy bears all year round!
62. And of course you know that you can buy Xmas theme ornaments/ stupid stuff in ridiculous prices off the season – because even ASOS sells old Xmas stock all year round too!
63. Since we are talking about Christmas you have at least 2 Xmas jumpers to wear in the festive party of your workplace and you hate that half of your wardrobe is full because of them- but this is a tradition!
64. And you once hated the festive sweet(!) mince pies because you thought it is disgusting but you now love them as they symbolize the Xmas period – and they are vegetarian! By the way are you celebrating Christmas in London? This is all you need to know!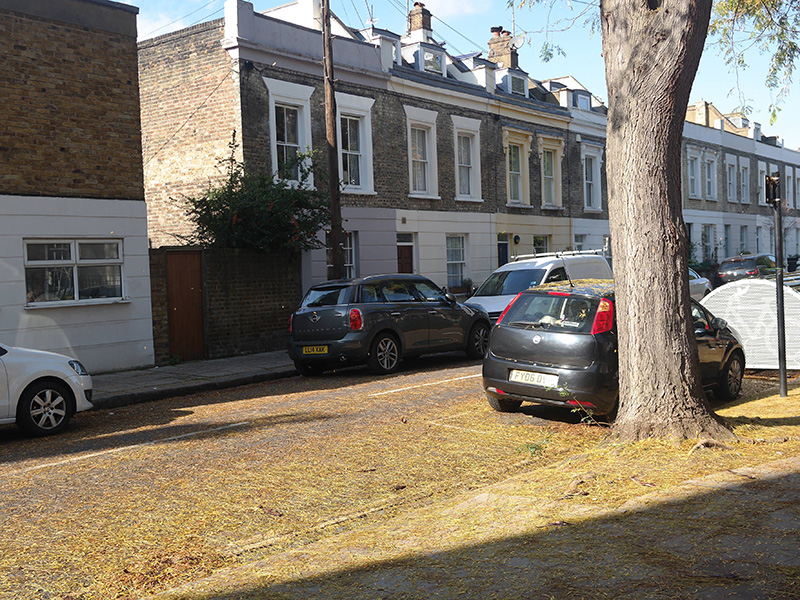 65. If you are a shopaholic , the 26th of December (Boxing Day) is your favourite day of the year as the insane sales period starts!
66. However, you prefer to shop later as the best offers run the first 15 days of January!
67. On the other hand Xmas Day can be an absolute nightmare as literally NOTHING WORKS! Tube? NO! Buses? NO! Trams? NO! You can find some bicycles and cabs …eh hmmm you already know that everybody will be relying on them too, right?
68. Down on your luck? Here is the perfect solution: charity stores! Endless bargains and branded items on crazy prices– you have been living in London for long enough to know where the best charities are hidden!
69. If the charity stores are not your cup of tea , head to your closest (American!) TkMAxx, the UK's biggest bargain/ outlet chain stores!
70. No matter what, you would never wear a Harrods's plastic tote bag as many tourists do; not cool/ posh/ fashionable/ whatever!
71. As a…proper Londoner (always on a budget !) you know that you live in the capital of the Designer sample Sales events/ Pop Up stores so you are always prepared for the next one!
72. Shopping anyone? The Shoe Lane and the Love Lane do not really represent their names but it's cool to have a photo from here!
73. You know that London has not one, not two, not four but SIX airports! Technically, apart from the City Airport, everything else is in the suburbs: Heathrow, Gatwick, Luton, Stansted (it became popular and doubled-size thanks to Ryanair!) and Southend (almost in an other country)! The enticing thing is that the flights from London cost next to nothing if you know how/ when/ where to find them!
74. We still cant believe that authorities dismissed the sitting vespas from Camden (to build…what? One more shopping mall? Still waiting to see…)
75. But even if Camden consistently changes you can't be lost in the…labyrinths anymore!
76. However, we all hate how much more expensive it becomes year by year- £9 for a street (food) burger?!
77. One of the best viewpoint-terraces in a museum is located on the top of the Tate Modern museum – overlooking St. Paul's Cathedral and the river Thames!
78. London is the home of the free museums: Science museum (my favourite!), Natural History (next to the previous one, both are ENORMOUS avoid them during half terms/ school and public holidays!), British museum (not exactly British history in it but anyway!), Tate and Tate Modern museum (not all the exhibitions are free here) etc.
79. Museums can also be great for a night-out, oh yes «Nights in Museum» events are held every month in different museums across the country! There is even a British website dedicated to that!
80. But it is not all about the past, London has a great cultural and contemporary art scene that can be enjoyed all year round- not to worry, some artworks are permanent and some temporary so you will always find something new! Shoreditch, Camden are undoubtedly zone 1 are good places to start exploring!
81. Street art is also a huge thing- for example you can find a lot of Banksy artworks in different locations around London since he is British! Generally speaking, you can't be bored as one can stumble upon street art miracles anywhere – even in the most unexpected neighbourhoods! If you are looking for the most instagrammable places in London for your next viral photos look no further!
82. Want to know how a Londoner's life looks alike during working days? Just head around st. Paul Cathedral and Bank area (best known as «The City») at lunchtime – completely different feeling than visiting it throughout weekends! A London's urban legend warns you to be prepared for not being able to find the exit of the Bank tube station!
83. Keep your strolling rhythm up for the next stop, the tiny atmospheric Victorian  Leadenhall Market built in 1811. Harry Potter's fan? Some of the Diagon Alley scenes were filmed here!
84. The Gherkin (or 30 St Mary Axe) is very close too and it really deserves a visit – one of the most recognizable and iconic skyscrapers in the city!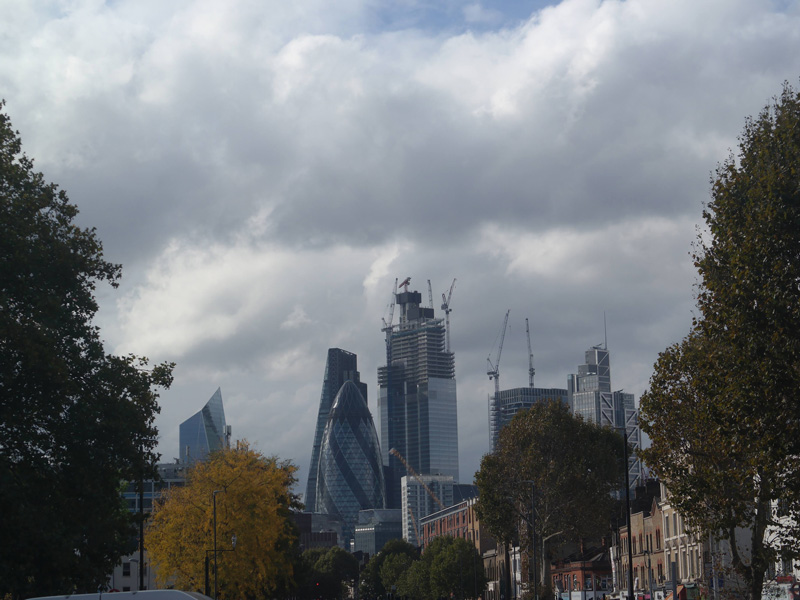 85. Up for more skyscrapers and viewpoints? Great, many choices in London: Skygardens (make sure you have booked your free tickets way in advance), The Shard (not free), Bishopgate that has an expensive but gorgeous 24/7 restaurant on the 40th floor (Duck & Waffle, requires dress code!), Vertigo 42 for champagne/ wine (book in advance to avoid disappointed as we mentioned before!!) where each sitting table is named after the point of interest in front of (or below!) them..
86. After a pricey view, what about a famous cookie? Ben cookies (with the famous label of a young boy) unexpectedly are not named after the Big Ben! Highly recommended the double chocolate, the praline and the dark chocolate ones! Enjoy!
87. And for cheap food? Surprisingly many choices- apart from the supermarkets! But I will stick to ITSU that offers almost everything half price every night, half an hour before its closing! Act as British and be there on time if you do not want to starve (yes, it gets very busy)!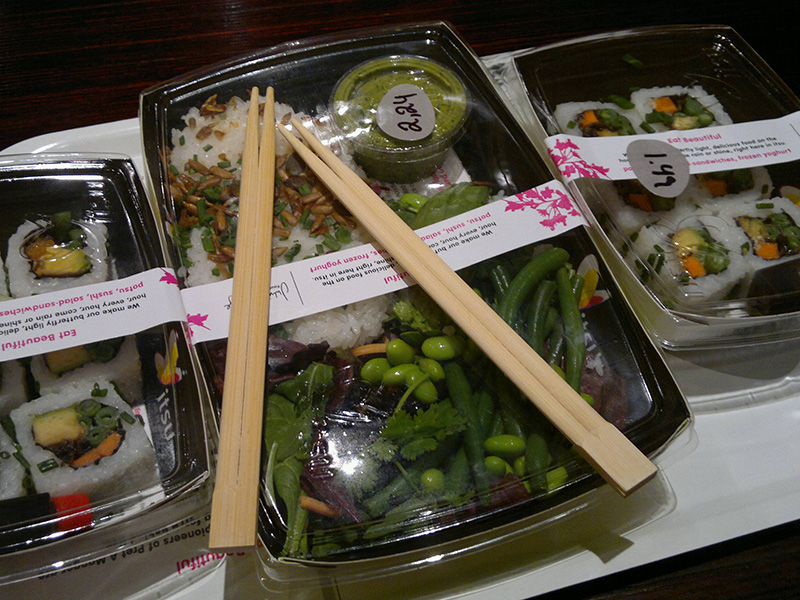 88. You understand how to use oyster efficiently – well this cannot be taken for granted as people even after years in London do not know many things about it, for example that overground can be almost half price the tube for the same destinations if the overground does not cross zone 1! Now, you know 😉
89. DLR trains can be so enjoyable! If you catch the train from Bank station try to sit at the FIRST seat of the first coach! Thank me later!
90. By the way, West India Quay is a great DLR stop (or by tube easily accessible on foot from the Canary Wharf stop) where the Docklands Museum is located on a small river bank, hidden in between the skyscrapers.
91. From here, a 5 minute walk will lead to you to the Thames main riverside. After the sunset, you can observe the «New York» side of London – this place is ideal for first/ romantic dates!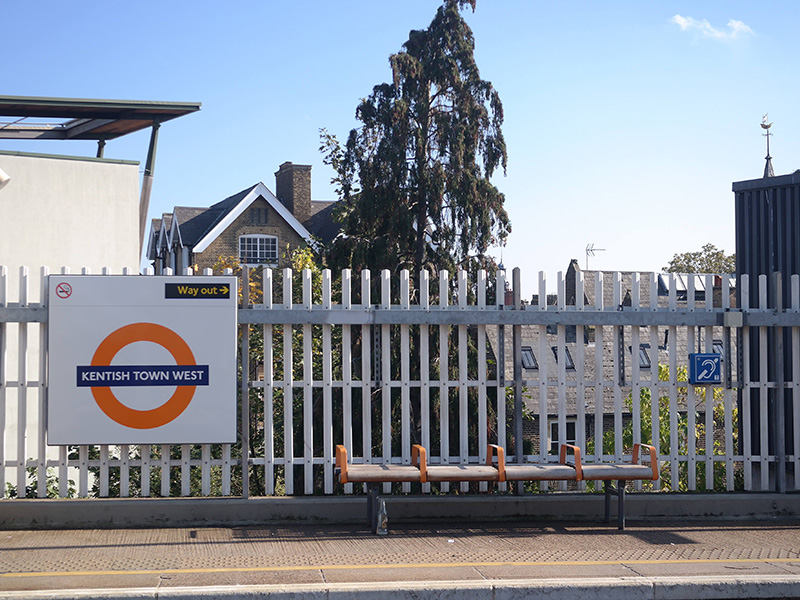 92. The street/ city planning is simply absent! As an old city but also a very modern one that changes rapidly, we expect to find many dead ends, alleys that turn back again, promising paths that lead nowhere or tiny "trespasses" that transfer you to a new exciting place!
93. The paradox is that you can't get lost in London – I arrived here with no smartphone whatsoever and thanks to the city maps below that are extremely detailed and useful you can not only find your way anywhere in the city (even in the farthest zones!) but also to discover hidden gems! Trust them more than your google maps! You are here after all!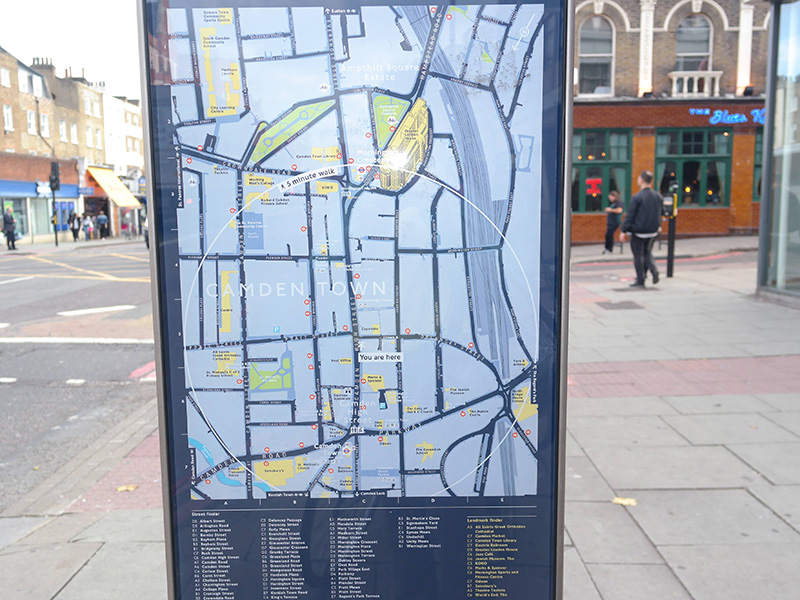 94. For example this is how I discovered Valentine's Park– I just stumbled upon it while I was looking at a neighbouring street map! By the way, the park itself is not extremely special (and it is out of the zones 1-2 maybe not suitable for first time visitors in London!) but I was just happy to have a park for my name!
95. Talking about parks, yes everyone knows Hyde Park! It is huge and packed with things-to-do (and people!) however, I prefer its smaller neighbour St. James Park…
96. …that, through the Imperial War Museums, leads to Big Ben, Palace of Westminster and Houses of Parliament. Do not skip the Horse Guards Parade too!
97. You do not confuse Clapton and Clapham anymore and you even know that Clapton has a…famous pond that you can walk around it in less than 5 minutes!
98. In fact there are so many ponds and lidos in London that we doubt we will be able to visit all during this life! One of the best ones? Ruislip lido with a small sandy «beach» – yes you can swim here!!!!
99.  One more awkward thing? There are farms in London! Yes, normal farms with cows, pigs, horses, chickens, ponies etc. just next to the railways/ motorways or just your house!
100. As a Harry Potter's fan, I cant forget that I am in Harry Potter's homeland!  Signs such as the platform 9&3/4 in St Pancras where you can take photos pushing your trolley in the…wall keep appearing in front of you! I lived 3 years just behind the Warner Bros small studios in Holborn and every day I was watching parts of the movies while waiting for my bus! However, the highlight was the visit at the Making of Harry Potter – take a sneak peak below!
Having fun with a broomstick designed for kids!!
100+1. If I had just one advice to give to the newbies / travellers/ tourists this would be to WALK as much as you can! London can not be enjoyed/ discovered otherwise. Of course the tourists attractions are important but try to spend some time to visit/ observe/ feel/ try at least few of the abovementioned recommendations or you will find yourself just overwhelmed / disappointed from this huge, friendly but , at the same time, outlandish and wonderful city!
So, please comment below what you are up for when you visit London! If you live(d) here when did you realise that you have been in London for too long?