Heads Up: Our posts may contain affiliate links! If you buy/book something through one of these links, you will not pay an extra penny, but we'll get a small commission, which keeps this blog up & running. Thank you!
Gozo Itinerary and why the island is worth visiting
Living in Malta comes with some perks- one of them being Gozo island and its proximity from everywhere! Gozo is the sister island of Malta and the only one in the Maltese archipelago (besides Malta of course!) that is inhabited- well, to be frank, one family lives in Comino too! A bit over 30.000 people call Gozo "home" but the number nearly triples during the summer/ peak months (you will read the word "crowded" many times!). And, while the vast majority of visitors opt for a daily trip only, I will do my best to put a Gozo itinerary together and to convince you why the island is worth visiting even for more than a day!
How many days to spend in Gozo?
This is a very good question. The Gozo itinerary I have created below is for 2 full days and 1 night considering that you have your own transport. Yes, it is doable even without a rented vehicle (by using local transport and taxis) since buses go to most of the listed places but you will run short in time; in that case, you may wish to extend your stay for one more day to allow plenty of time for everything on the list or to alter the itinerary altogether. However, for me, the ideal length of stay is 3 days 2 nights especially if you are up for museums and some hiking. If you prefer to relax on the beach/ in the sea please add at least one more day!
I know that this comes on contrary to what tourist guides/ blogs usually suggest but I believe even a 2D1N stay is short for Gozo. I have been here over ten times for 1-2 days each time, plus twice (one in summer and one in winter) when I stayed for 3-4 full days. I have tried boat tours, rental cars, and buses but, most of the time, I have travelled around the island independently along with Dimitris and a scooter. Hence, my recommendations are a mix of everything; including some secret places in Gozo that you definitely need extra time for!
Let's start unconventionally. Visiting Gozo for one day…what could possibly go wrong?
As I mentioned, since Gozo day trips are a "must" for any Malta itinerary I am kicking off from this! If you have limited time to spend in Malta you will consider a day-tour, fair enough I get it! But please keep in mind things that can go wrong… for example:
-to book an organized tour starting from Sliema to Comino AND Gozo islands for the same day
Why: first of all, Sliema is quite south of Gozo; consequently, you will waste a good portion of your time on the go. If you want to do Comino and Gozo on the same day, you may take a tour starting from Bugibba / Mellieha towns which are closer (especially the latter) to Gozo. Should you cannot reach these towns make sure at least that the tour you are about to book from Sliema has NO extra stops in between Sliema and Comino/ Gozo.
In any case, these tours feel "rushed" and cover the super basics/ touristic attractions of Gozo if any-I am talking from experience! You will have almost no time to explore the island on your own but, on the other hand, you will take a glimpse of what Gozo looks like and may wish to come back one day to enjoy it at your own pace!
-to spend too much money on the daily tour itself
Why: this boils down to how easy (and cheap!) Is to reach Gozo from Malta on your own even without a car. Please refer to the end of this post for how to get to Gozo in detail but for the time being just keep in mind that spending 25€+ for a day trip to Gozo is too much. There are party boats and all-inclusive boats (with buffet and free-flowing drinks all day long) which might cost more than this price but I am strictly talking about the plain boat day tours which offer commuting in between the islands and some sight-seeing only.
Recommendation: If you visit Gozo for one day my recommendation is to skip completely the boat tours. Just reach the island by the local (cheap!) ferry; then you can either rent a car at the port (there are motorbikes too but the roads are quite bumpy so if you are a newbie driver I wouldn't suggest it) or join one of the famous ATV/ quad bike guided tours than can take you around in a fun way. The local buses are decent but tend to stop early and to be infrequent so I would advise against fully relying on them if you have only one day unless you just want to visit Victoria (the capital) and probably one more village/beach.
Gozo Itinerary for 2 days 1 night – finally!
Day 1
Mġarr: As we are approaching Gozo, its port Mġarr looks small but busy and charming. Here one can find restaurants, cafes, tiny bars, some hotels, and the much-needed rent-a-car offices. The fishing boats scattered around supply the island with fresh fish while some travellers have already slopped upwards the main, steep road of Mgarr. You can wander here for a while and visit the Lourdes Chapel while enjoying the view or rush directly to the capital!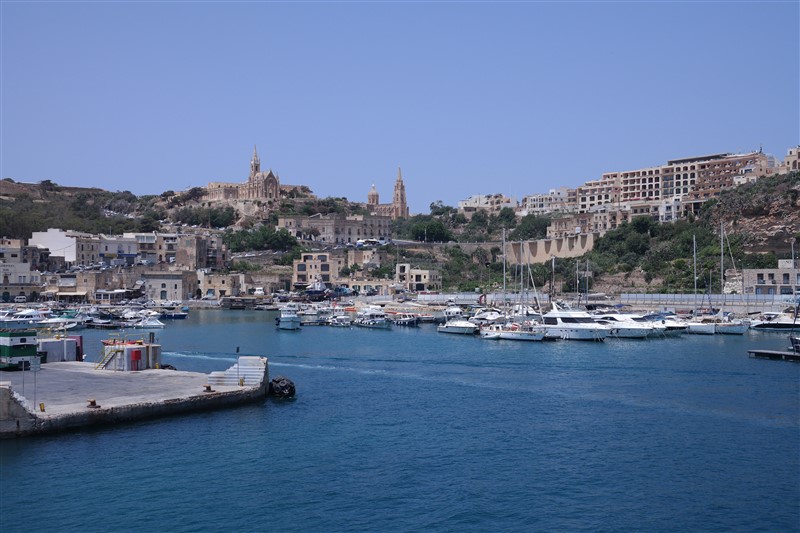 Victoria: I deem Victoria or Rabat (Gozo's capital) to be the ideal first-day stop in Gozo. This bustling town is the heart of the island where most of the restaurants, cafes, shops, markets, and services are. Trendy cafes and old-fashioned taverns, souvenir shops and second-hand/charity places, art studios and fruit markets, chapels and small quaint squares, museums, and cathedrals go hand by hand, hidden in the small alleys and the cobbled streets of the capital. In some parts, Victoria reminded me of the must-see Three Cities in Malta.
Citadel: But Victoria is more than that. The old, fortified town named Citadel (or Citadella) overtops at the heart of the modern town. Citadel is the acropolis fortress of the area consisting of the Cathedral, old prisons, craft shops, historical houses, museums, and labyrinths-like streets. Settled since ancient times, Romans made it the administrative center of Gozo, and in 2016 Citadel opened to the public again after an enormous renovation.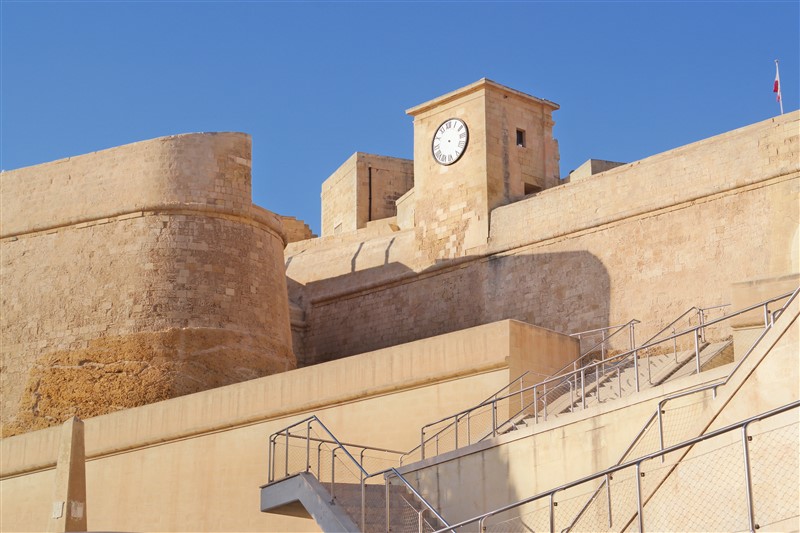 One can spend either one or two hours simply wandering around and taking photos (when in rush) or the entire day visiting the museums (there are four: Folklore, Gozo Nature, Cathedral, and Archaeology) the exhibitions, the battery, the prisons, etc. Panoramic views and medieval atmosphere granted!
A Gozo hidden gem? Romantic Sunset in Victoria!  If you find yourself still here around dusk please pay a visit to the traditional Maltese restaurant Ta' Rikardu and head to their cute terrace. You will enjoy some local delicacies (try the soup with the Gozitan cheeselet Gbejna) along with the fabulous view and colours.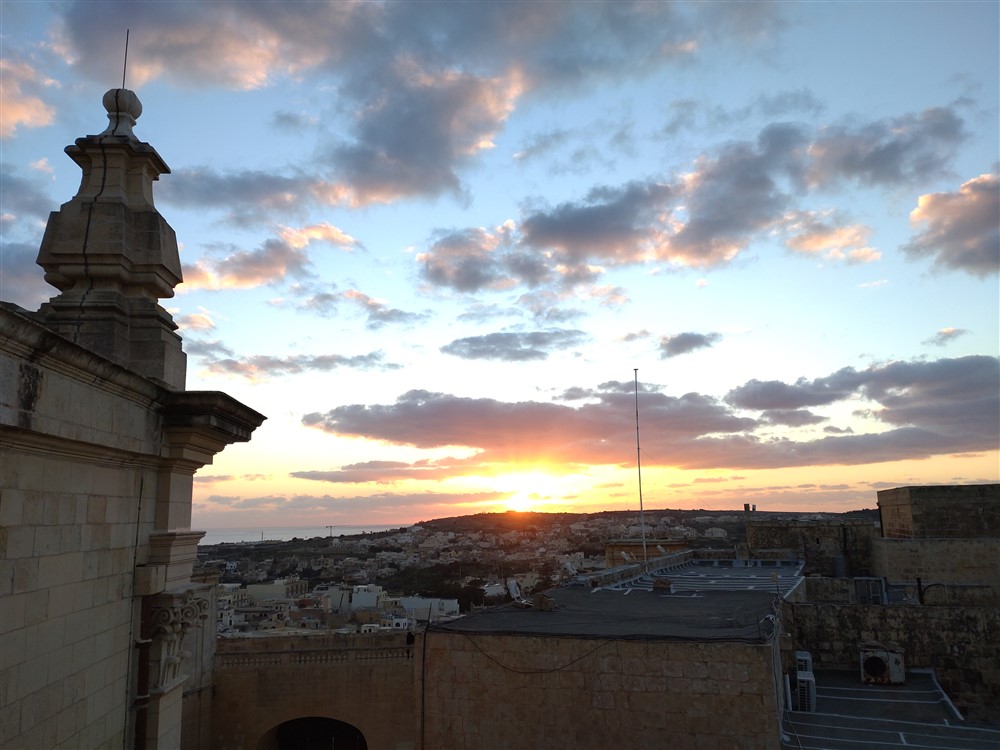 Dwejra, Inland sea & Blue Hole: If there is any time left, head west for a beautiful sunset; 6km away from Citadel to the place where the Blue (Azzure) window used to be. The first time I visited Gozo was in November 2016 and I was lucky enough to see the Blue Window which unfortunately collapsed less than 4 months later! (there is a hidden small "azzure window" in a neighbouring area, refer to the list towards the end of the post!)
The area is still very beautiful and the rock formations are worth the short ride. In the warmer months, people swim into the Inland sea (it looks like a lake but it is not!) which is connected to the sea through a tunnel, or dive into the Blue Hole which is a natural limestone cave. Generally speaking, Dwejra (the west coast of Gozo) is an excellent spot for sunsets, diving and exploring as it has many hiking paths and lots off-the-beaten-path places to visit.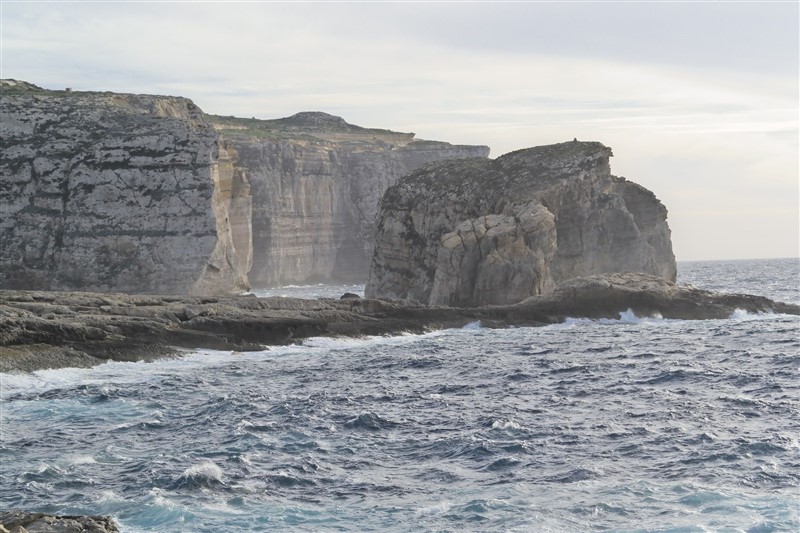 Day 2
Ramla Bay: Time to head north! Ramla is the longest sandy beach in Gozo and its sand is reddish! If this was not enough, Ramla Bay was the place where Calypso lived and Odysseus joined her for 7 years according to the legend. Yes, you guessed right, Ogygia mythical island might be Gozo! Ramla is one of my favourite places to swim in Malta but before going downhill don't forget to visit the viewpoint (look for the "Calypso Cave" on the map) to enjoy the bay at its fullest. In the summer the parking lot is always full and the beach can be crowded so be mentally prepared!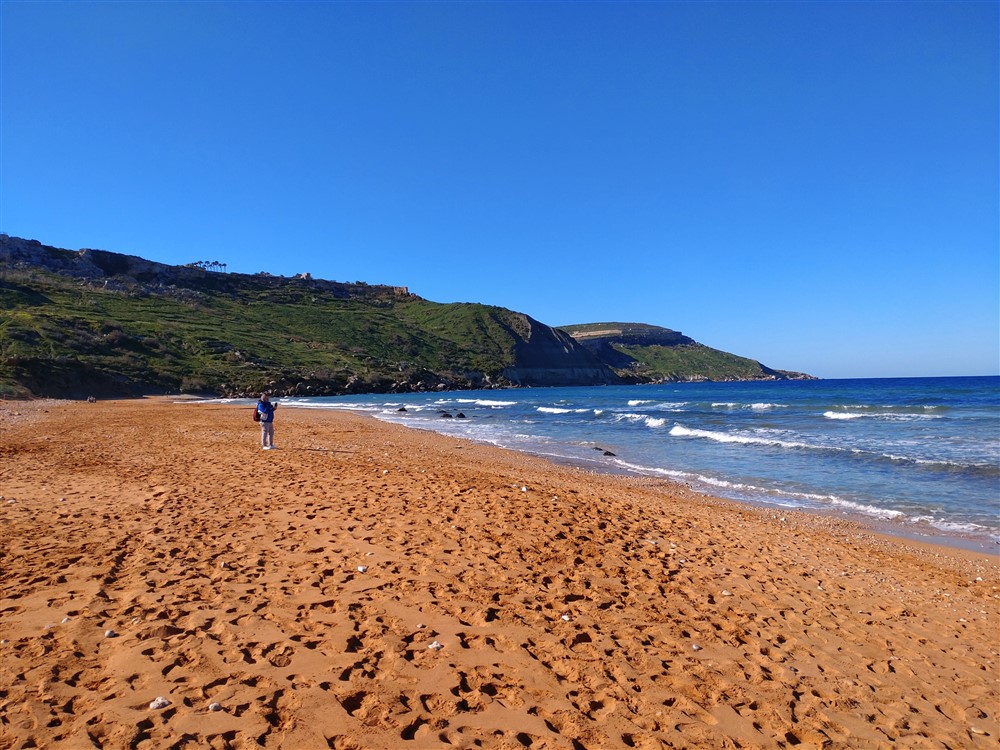 Cave Tax-Mixta: the iconic cave is about 20′ uphill from Ramla Bay, you can walk it easily but I would say DO NOT attempt it in the summer! First of all, it will be too hot and secondly, too many people will be doing the same! It is not a "hidden gem"; it has even been featured on DJs settings. Even in wintertime, when the weather is nice it is tricky to find it empty as the cave is quite famous. If you don't wish to walk uphill then there is a road coming from Nadur, where you can "park" at the end of the road and walk towards the cave.
Marsalfornn: That's the food bell! Marsalfornn fishing village is one of the busiest holiday spots in Gozo and a great base for diving lovers. The village is not as pretty as Xlendi (see below) but it is much bigger and even in the peak months you can still find relatively quiet places to hang around. The tourist area stretches for about 2kilometers along the coastal line and there are plenty of restaurants, cafes and accommodation options, from guesthouses and Airbnb to hotels.
Salt Pans: my favourite place in Gozo! The area is surreal and I highly recommend you to do it on foot and to not rush to pass it by car/ bus only. Allow some time to enjoy the place especially at this time of the day where the light is softer and playful across the formations. You can park at pebbled Xwejni Bay, where a weird conical shaped rock (some people call it "lunar hill") overlooks the area, and start from here.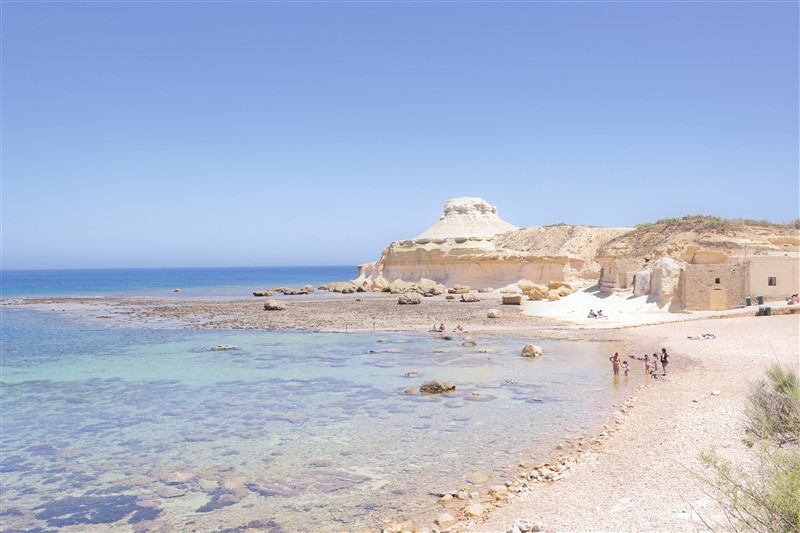 Keep walking towards the salt pans – it is not allowed to step on them (private property) but as soon as you pass them you will find few openings to get down to the public moonlike rocks and keep hiking from there. The entire scenic route is a bit less than 2 kilometres so it is very doable and usually peaceful. Some people might have tried to park their cars down here which is not ideal but fingers crossed you won't stumble across any!
The ultimate souvenir you can get from Gozo (or at least one of them!) is, of course, a bag of salt from here. Just contact the family-owned business (I got the details for you, look below!) and ask them about their stockists. They sometimes are open down here or else you can find their salt in shops across the island. Not to be missed!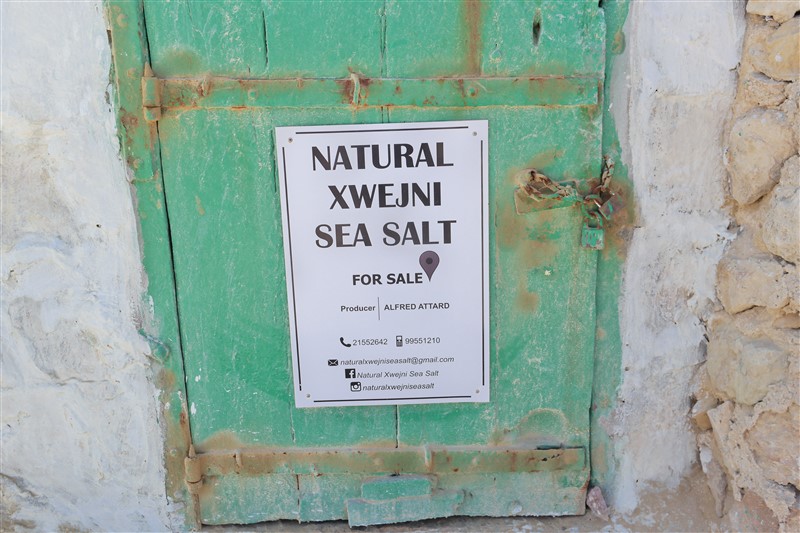 Wied il-Għasri: If you feel like walking a bit more this is a stunning place to visit before the days in Gozo come to an end. Approximately 30 minutes off the Salt Pans end, crossing the small valley which leads to a narrow gorge. Some steep, demanding stairs will take you down to the pebbly super small creek and this secluded piece of sea. We have swum here and it can sometimes be challenging to get into the sea (weather and jellyfishes permitted!) but it is totally rewarding! You can also drive towards Wied il-Għasri and park at the dead end just before the stairs.
Hondoq Bay: Before you head to the port consider adding an extra stop here for a photo or a quick swim- it's very close to the port! Reaching this bay one can enjoy marvellous views of the Blue Lagoon, Comino and Cominotto islets before the refreshing jump to the sea -weather permitted! Hondoq ir-Rummien is well-known among the locals for the crystal clear waters and the easy access to the seaside; however, this makes it extremely busy in the summer.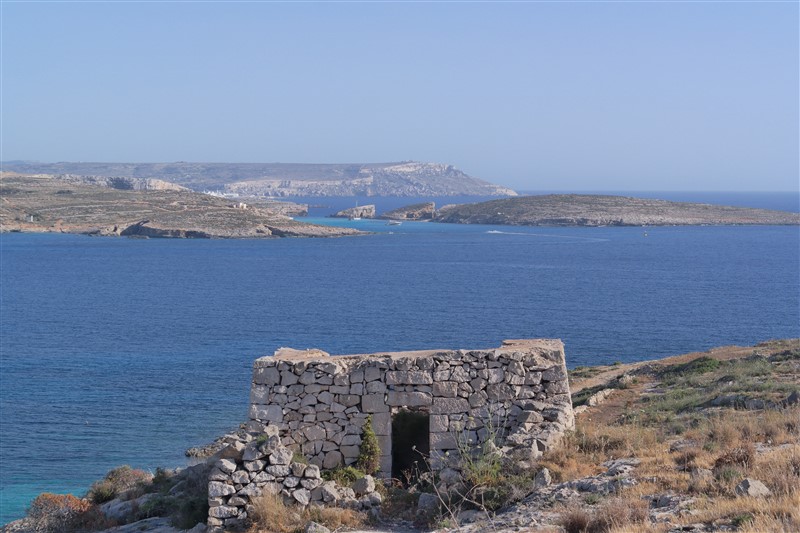 This video made by Dimitri presents most of the places we already wrote about and some of the upcoming ones- keep reading!
And what if I decide to stay one more day in Gozo (or more!)?
That's great! There are still lots to discover around the island; never-ending bucket list for your Gozo itinerary! Some ideas include:
-Ggantija Temples in Xaghra: Frankly, I would add this to the must Gozo Itinerary and I believe it's a vital thing to do in Gozo not only for the local but for the human history. I was tempted to! Coming from the Greek word for giants (Γίγαντες) these temples are the second oldest freestanding temples in the world. "Plain" but impressive they really worth a visit if you are a history lover! The admission fee costs 10€ and includes the entrance in the old windmill too (few meters away) which has been turned into a tiny museum.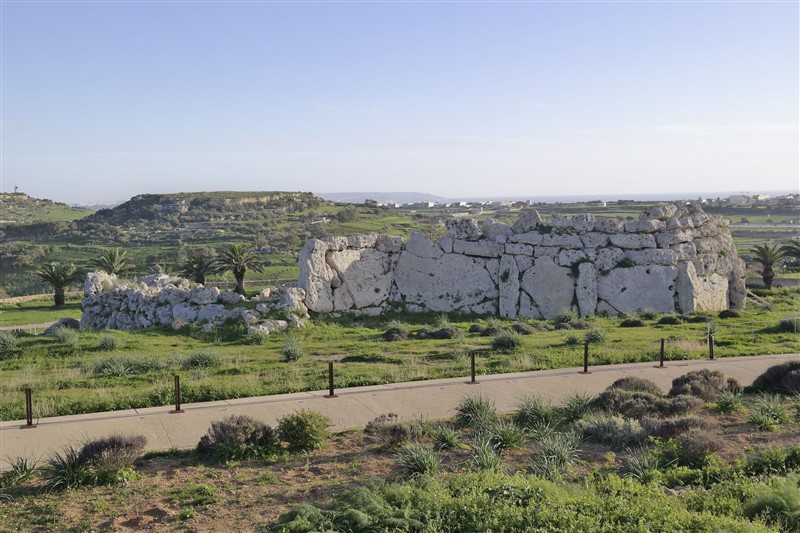 -Wied Il-Mielah: The alternative of the fallen Blue Window (much smaller though) is at the point of this area- northwest coast. It can be tricky to reach on foot (when it rains even by car) but you can use it as an"excuse" to hike around this area to discover some additional off-the-beaten-path Gozitan places. Next to Wied Il-Mielah there is a humanmade staircase leading to a little platform for diving- to be honest, it looks a biiit scary to swim here, I have yet to try it!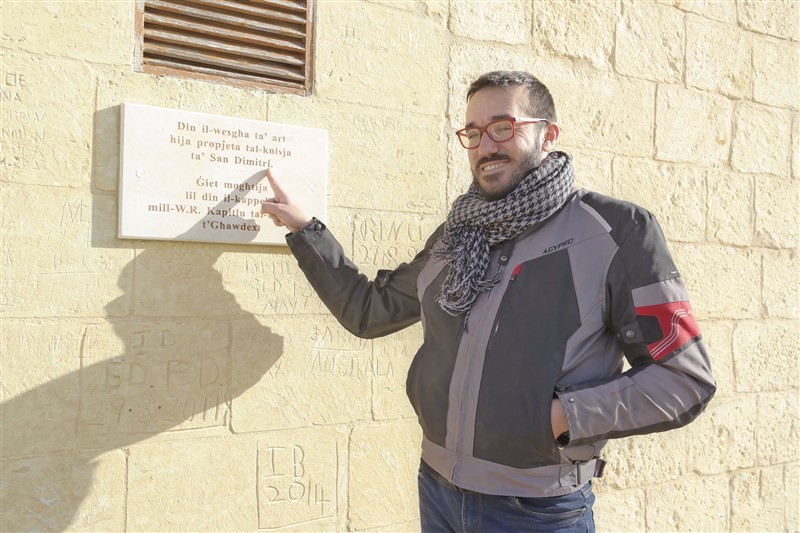 -Ta'Dbiegi Crafts Village: this.. self-explanatory place is the home to a variety of artisans and crafts. Glass, leather, stone, clay are only some of the materials used to create small souvenirs and beautiful ornaments and accessories. Undoubtedly, the traditional Maltese lace and the silver filigree jewellery couldn't be missed! Local pastries, sweets and drinks are all around too! The crafts village is a decent spot to support the local economy and Gozo-based artists so I highly recommend you to add it in any Gozo itinerary even when you run out of time!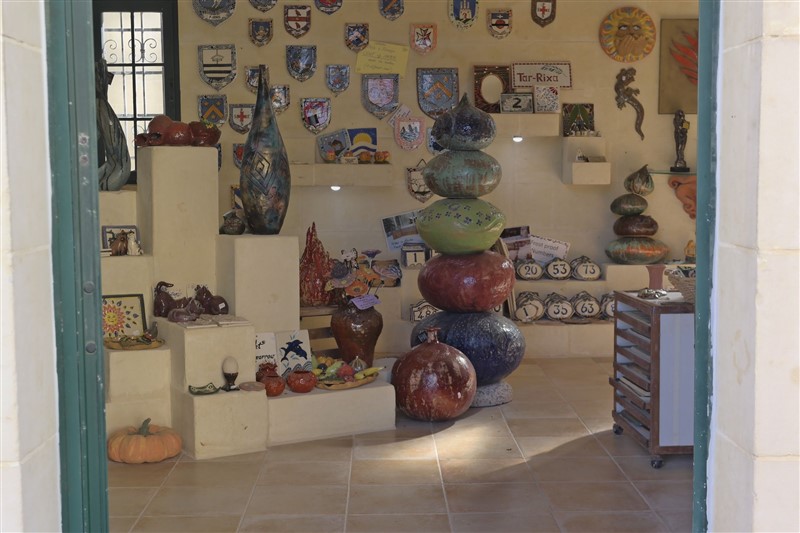 -Nadur: a traditional village that is the starting point for many hiking paths. If you start early you can enjoy mesmerizing sunrises- especially when you are heading eastbound. On the way back the fulfilling must-try is the traditional ftira aka the local looking-like-pizza-tasting-better bread which is stuffed with… stuff and can be found at the locals' favourite Maxokk Bakery! Good luck with choosing what to eat!
-Sopu Tower: this is one of the shortest walks one can take from Nadur. If you are running out of time but you still want to enjoy an endless seaview this is the place to be! The tower is temporally closed but you can walk around it with, an excellent viewpoint!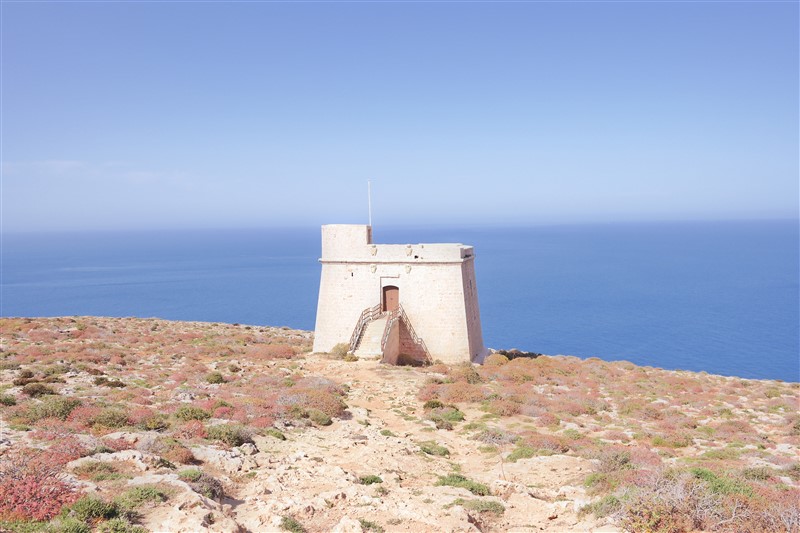 – Daħlet Qorrot beach: Talking about this area, here is a tiny picturesque bay full of the traditional Maltese boathouses scattered along the coastal line. Some people walk till here but the place is easily accessible by car too. The closest bus stop is approximately 2km away but the road is a bit steep at some points so it can take 30+ minutes to reach the bay. Next to it, there is the rocky (almost inaccessible) beach San Filep.
– Mġarr ix-Xini: Let's go southern! This popular spot does not only offer a nice scenic spot for swimming but the entire area is a popular hiking place too. You can either take the bus to Ta' Ċenċ and start your hiking adventure from here (there are many routes towards the cliffs, the valley, or the sea but be careful to not step on locals' farms/ land) or drive till the end of the roads and walk from there. For the Mġarr ix-Xini specifically, you can drive till the sea where there is a local parking lot but again, it can be very crowdy in the summertime.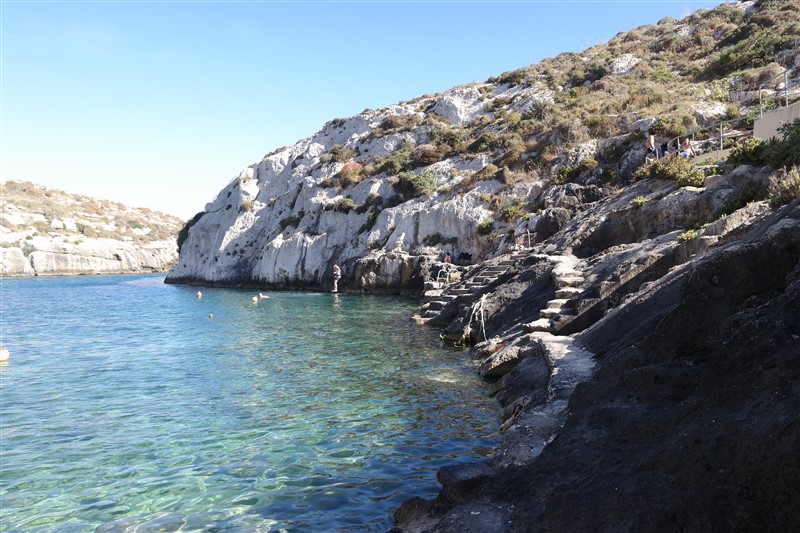 -Xlendi: the popular seaside village is undeniably beautiful but because of the construction and the hotels around it can be disappointing when it gets too packed- that's why I didn't include it in the "core" Gozo itinerary. The best season to visit it is May or September/ October if you want to take advantage of its magnificent sea. If you are not a keen swimmer Xlendi can be enjoyable even on sunny winter days! Do not forget to walk towards the Xlendi tower (rocky but manageable path) or to climb the stairs to see the view from the other side (on the right-hand side of the main Xlendi SUPER tiny beach). Don't get me wrong, Xlendi is so much better when it's peaceful! All of the photos I have attached here from the village are from my early-May visit.
How to reach Gozo:
Gozo has no airport so you need to arrive in Malta first either by plane or by ferry (from Sicily). Then you will have to reach the port which is in Ċirkewwa in the north of Malta. From the airport, you can catch the direct bus X1 which will take you there in approximately 70 minutes. Other buses stopping at Ċirkewwa (starting either from Valletta or other central areas) are 41,42,101,221,222 and X300. Bus tickets (for the non-express services) cost 1.5€ in the winter and 2€ in the summer -can be bought on board just make sure you have the exact amount for the driver- unless you buy a pre-paid Tallinja card that offers 12 journeys for 15€ -more information on the Maltese public transport website. By the way, do not chuck your tickets away! You can reuse them for as many buses as you wish for 2 hours!
The local ferries run 24/7, every half an hour during the summer (less frequent after midnight) and every 45-60' for the rest of the months. The journey lasts 20' and you can take a glimpse at the infamous Blue lagoon as the ferry passes almost next to it! The return ticket costs 4.65€ (as per 2021).
Fun fact: There is no such thing as a "one-way ticket"! You don't pay anything from Malta to Gozo, you just pay that amount on the way back! In other words, if you decide to stay in Gozo forever (or you swim your way back) you will never pay a cent for that trip!
Where to Stay in Gozo
Besides the obvious options, hotels and guesthouses, Gozo is also famous for its farmhouses and country-side style villas. Many of them have swimming pools and are ideal for bigger companies and relaxing holidays. However, Victoria remains the top place to stay in Gozo as all the buses start from here, it is the centre of the island and the town doesn't fade out after the sunset. Even in Victoria though do not expect crazy nightlife and clubbing!
If you want something on the high end then the 5-star Hotels of Gozo are the Ta'Cenc Hotel and the Kempinski Hotel San Lawrenz. The 4-star hotels are Grand Hotel Gozo (at the port with great views), Hotel Calypso (Marsalforn) and St. Patrick's Hotel (Xlendi). As you can notice from their prices they are in general more affordable than the respective hotels in Malta while equally luxurious! Maybe Gozo is the place you can spoil yourself a bit! 
If you are still with me (I know, such a long post, right?!) it's your turn now! What are your thoughts regarding this Gozo itinerary? Was it as fabulous as I promised it to be? Do you find Gozo worth visiting for more than one day? Which places would you definitely add to your bucket list? As always the comments section is yours!