Heads Up: Our posts may contain affiliate links! If you buy/book something through one of these links, you will not pay an extra penny, but we'll get a small commission, which keeps this blog up & running. Thank you!
Manggahan Guimaras mango Festival and how it all started!
We had been in the Philippines one week already when I realized that Mango festival Guimaras was about to take place 3 islands… ahead of us in less than a month! We were in Bohol at that time and I started researching more about things to do in Guimaras island and how to get there with not much of a success; the place seemed to be unpopular among the (Western) travellers in the Philippines and the only bloggers I could find online had spent there 1-2 days only. On the other hand, the literally few accommodation facilities were already fully booked due to the festival! Desperately looking for a place to stay, an itinerary, transport methods and other attractions in Guimaras I ended up booking the one and only available room I could find for a normal price… on facebook(!)- such a terrible mistake #not! But for the sweetest mangoes of the world (oh yes, Guimaras is well known for that!) I could do anything! Let's go deeper on why visit Guimaras, its mango festival and more things to do in the island!
How to Reach Guimaras Island from Negros Island
From Bohol, we had already planned to hop on Siquijor island and then Negros Oriental for visiting Dumaguette, Apo island and swim with free turtles. To reach Guimaras island from Negros is not that tricky, being able to find this info online though is a different story! You need to take the public bus from Dumaguete to Bacolod and stop at Pulupandan where a small ferry (RORO) will take you to Sibunag, the second port of Guimaras island (you may have to take a tricycle from the Pulupandan bus stop to the port though- always negotiate the price beforehand)! In fact, when we decided to visit Guimaras we realized that the Maldives of the Philippines were on the way to Pulupandan so the original plan changed one more time to include this gorgeous place too!
Sibunag port is on the other side of the island (the main port of Guimaras is Jordan Wharf, you can read about that at the end of the post) and after our arrival there we could not find any jeepney to take us to the capital, Jordan. Having said that, a tricycle was our only chance and (after a good negotiation as the distance was over 45 minutes) we managed to arrive at the place I had booked- which looked a bit unreal! The "Mountain Biker's Hub" is owned by an amazing family that offers adventurous mountain Bike tours, a gym and 2-3 basic rooms for guests. Did I mention the phrase "terrible mistake" before? Yes, I did! In this place we got spoiled by the Filipinos' hospitality and kindness and we had the best time ever!
A mountain-bike adventure like no other (one of the most amazing things to do in Guimaras)
But let s start from scratch! Tommy, the lovely owner, convinced us to take a mountain bike tour with him around the hilly Guimaras. Do I need to explain that we almost died that day as we hadn't biked for months (and London is considerably flat!) especially under the hot tropical sun? Poor Tommy had to… push us in many uphill roads and then to…throw us (literally!) on jeepneys for the way back! I think we have officially been the worst mountain bikers of his tours for 2018 or even for the entire decade!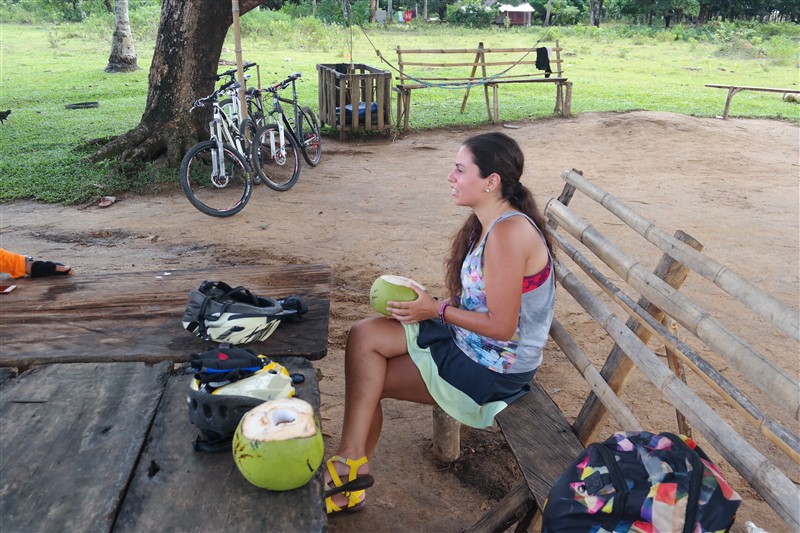 However, we enjoyed the hidden places, some old small churches, a secret little beach (where I swum with my underwear before my fainting!), the mangos plantation (SO beautiful!) and some fresh cut coconuts from a Filipino-tribe family in the mountains which is protected by the government! Throughout the tour we stopped multiple times to try fresh exotic fruits and it was the first time ever I ate fresh cashew fruit and drunk its juice, sooo weird and tasty! Such a great experience overall and, as Tommy said, we survived anyway!
Having Fun with Hospitable Locals
Afterwards, we got invited to Tommy's wife birthday party next to the sea where they have built a wooden platform/ kiosk with karaoke facilities! As they knew I am vegetarian they prepared so much Tortang Talong (eggplant omelette – paradise!) and other traditional local dishes that I wished I could eat moooore! Of course, we sung karaoke (we are in Asia after all!) and danced their music and Latin dances too– this warm Filipino company even insisted upon dancing some Greek dances so we put some Greek music too!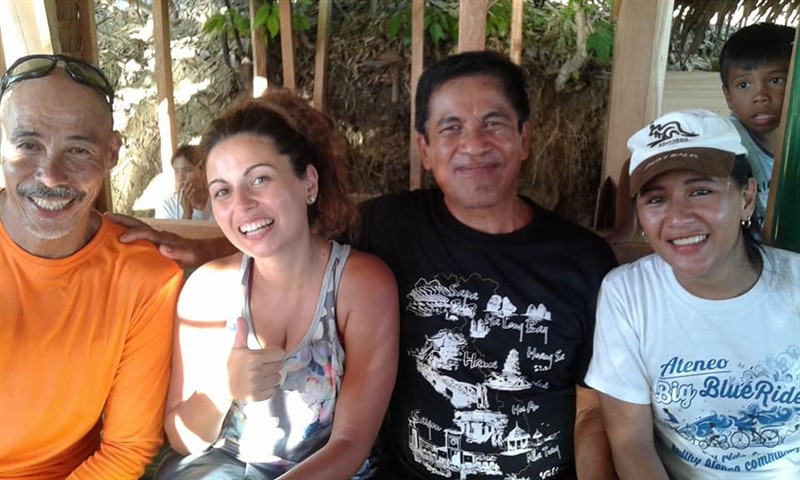 This actually was one of the best and most emotional night in my 6-month journey in Asia. The moment we heard our hosts and their friends yelling that "You are not as other Europeans who visit our place and seldom talk to us- you are like us" I felt a controversial feeling of happiness and embarrassment. Happiness because it is amazing when locals feel that foreigners can be "good" too and that we all are just.. humans but SO embarrassed and angry about some other travellers' behaviour towards the locals.
This sentiment undoubtedly came up as a result of travelling so many months in (mainly) developing countries. I had been encountered much unacceptable behaviour by tourists such as arrogance, white entitlement, ignorance, etc so I felt pissed off once more. And when a tipsy new friend came closer to me and, with a sorrowful tone of voice, complained "what did we do to them and they do not like us, they never talk to us or they just ignore us" I played the devil's advocate "they may feel a bit scared and out of their comfort zone, they are thousands of miles away from their homes after all" and I wished this to be the one and only truth one day… I am still wondering to this day if I ought to respond "they sound racists to me".
In Guimaras island where Nemo lives!
Our Guimaras adventure didn't end there. Tommy convinced us again to follow him to a secret place where you could snorkel and see the coral reef literally 20cm below sea level! This time we rented his motorbike (!) and after half an hour walking from the "parking" we reached a fantastic place where we managed to snorkel for hours and even watched Nemo fishes in their nests – just a few meters from the shore, watch our small video below! It was so much shallow so we had to float as horizontally as possible in order not to touch the coral reef at all. This place is a local secret and people are scared of this being ruined by tourists if it becomes famous- since I do not reveal secrets like these if you ever visit Guimaras you may ask Tommy to guide you!
More things to do in Guimaras
As was anticipated, we kept the rental motorbike for the rest of our stay; the island has many routes worth exploring, including a plaza that has once earned the title of the smallest plaza in the Guinness Book of World Records! There is a Trappist Monastery on the island too but, as usual, visiting religious places is not my cup of tea so I skipped it.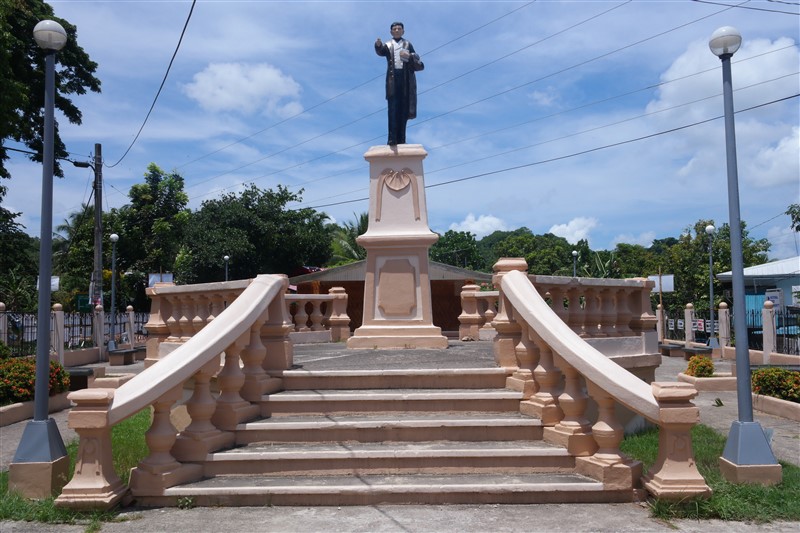 Jordan, the cute capital, has a well-informed Mango centre where you can learn more about mango plantation, preservation, harvest, etc. During the Guimaras mango Festival, they receive way more visitors than usual – plan accordingly!- as it is located very close to the main area of the festival, the Capitol Grounds.  And now the most important part: I beg you to visit the Pit Stop restaurant for their famous Mango–Cashew nuts Pizza; you have to taste it even once in your lifetime! I could eat it every day (oh gosh) and no, it is not like the pineapple pizza!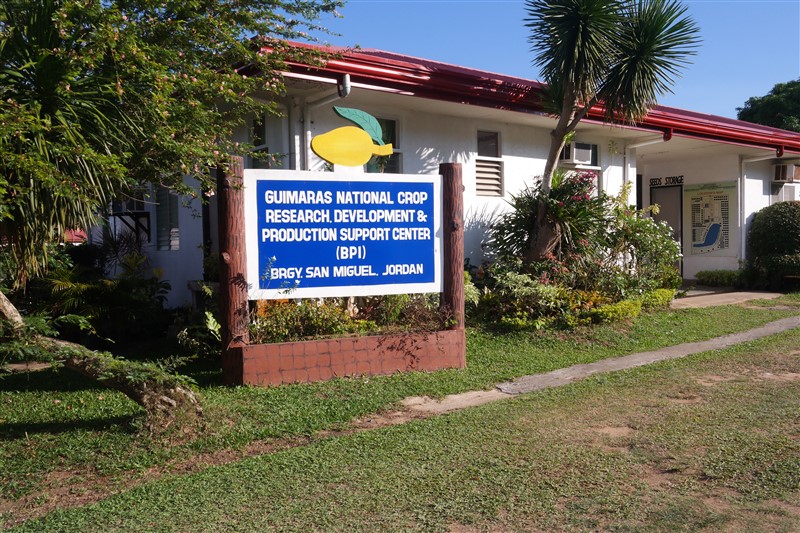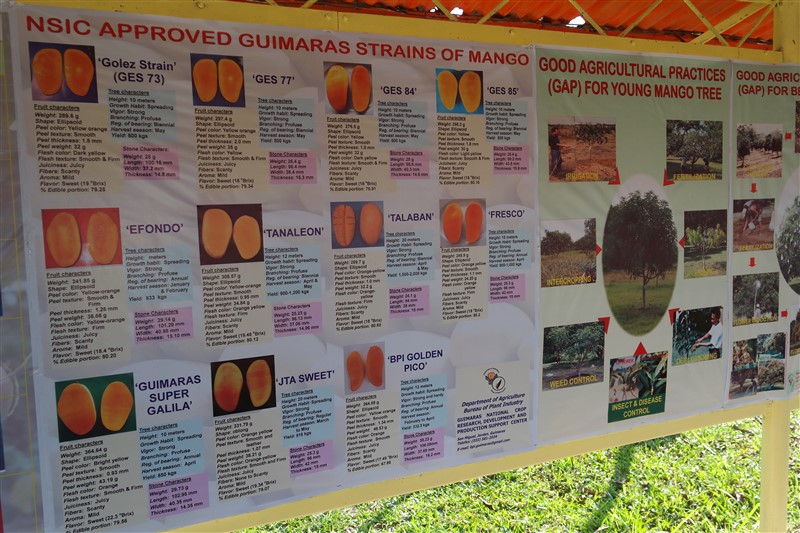 Finally, Let's Talk about the Guimaras mango festival!
After all these wonderful days in this hidden gem, I almost forgot the Manggahan ( Mango ) Festival -the primary reason we found out about this beloved island!- which takes place once per year usually 11th-22nd May. You can't go wrong here if you are mango-addicted like me! The festival lasts for about 2 weeks and it attracts people mostly from East and SE Asia. It is more like a fair-trade (with vendors and stalls) and a local celebration than a "western type" festival but that s why it is so special- it has preserved its authentic character and since it rarely receives Western visitors it's likely to remain as it is! "Eat as much as you can" competitions, prizes, dances, concerts and games are included in the schedule that is announced just a few weeks before the official first day! If you are sure you don't want to miss the fun please make sure that you will book one of the few accommodation options available in advance- don't risk missing the mango festival!
If you have read the entire post so far you won't be surprised if I mention that we were being asked by visitors to take selfies with them in front of the mangos! During the festival, we just saw one more person that looked foreigner and he was within a Philippino family; maybe there are more tourists now that the Mango Festival in Guimaras is gaining more and more attention. Hence, I felt like I was back in China (and once more I ate SO much- succulent mangoes are THE passion)!
Extra Tip for your Mango festival planning: Visit the organizers' cute Facebook page for news and updates- for 2022 the festival is taking place from 20-22 May!
Guimaras Beaches
On the other hand, if you are a beach hunter there are sandy and rocky beaches in Guimaras such as Natago, Alubihob, El Retiro, Baras (especially for sunset), Guisi lighthouse attraction that leads to a small beach, etc. There are a few daily boat tours you can book that combine many beaches and most of the travellers choose to do island hopping around in Ave Maria islet, turtles island, and other unspoiled places with crystal clear waters. Keep in mind that there is usually an entrance fee for the beaches in the Philippines which tends to be higher at weekends!
How to Reach Guimaras from Panay island / Iloilo city
Coming from Iloilo, Panay island (the north part of this big island is mainly known for its airports for… Boracay) to Guimaras/ Jordan Wharf is the most popular route and the small ferry connects the two islands consistently all day long. In contrast to Guimaras, Iloilo is a busy charming city with a well-connected airport (from here we took the flight to Manila…but this is another story) and you can easily fly to/from other islands such as Cebu, Palawan, Luzon, etc! There are long-distance ferries too from Iloilo to Cebu, Manila, and other islands if you do not mind the hassle -if only we had more time! I was ready to board the 25-hour ferry from Iloilo to Manila- no joke!
Why visit Guimaras?
Guimaras has indeed few resorts but in general non-Asian tourists are rare here – most of them come because Tommy's hub has been showcased on the Lonely Planet, so he was very surprised we stumbled upon him by mistake! Hence, you will visit this out-of-the-way island (such a long-haul journey!) because you are seeking for being immersed in the local culture and for experiencing the real life of Filipinas and Filipinos. Not for the pretty beaches (although there is no short of them), the nightlife, or the comfortable western-type facilities (unless you opt for a resort) but for the vibes, the (unbelievable!) hospitable people, the untouched nature, the tranquility, and the travel experience uniqueness.
Now it's time for me to ask… What do you think? Would you make the effort to travel to this off-the-beaten-path island and to attend its mango festival?