Heads Up: Our posts may contain affiliate links! If you buy/book something through one of these links, you will not pay an extra penny, but we'll get a small commission, which keeps this blog up & running. Thank you!
Where in the Philippines is Siquijor island
Oh my beloved island! I came here just for 2 days and I extended my stay to almost a week! It was not about the variety of tourist spots (Siquijor doesn't have a lot anyway) or the luxurious resorts but about its vibe, the energy and the fresh air you smell as soon as you step on it. It's considered to be the island of the witchcrafts and spirits after all! Of course, Siquijor beaches are some additional valid reasons to fall in love with this tiny island in the Central Visayas, in the Philippines, as it is famous for the white powdery sand, the countless palm trees, the idyllic scenery and the refreshing seawaters! Convinced? Perfect! Dumaguete to Siquijor, Bohol (Tagbilaran) to Siquijor and Cebu to Siquijor are the three main ferry routes that will take you here, at this tiny island which has the Spanish name "isla del fuego" (aka the"island of fire") but let's talk a bit more about it…
How to reach Siquijor in detail
Tucked in between Bohol and Negros Oriental, Siquijor doesn't have an airport (to be more pedantic there is an aerodrome for private charters and planes) so if you come from Manila or any other place from the Philippines (or abroad) you first need to reach one of the main abovementioned ports. Please keep in mind that Siquijor island has two ports: one in Larena town and one in Siquijor town so it is worth checking in which one your ferry will head to.
Dumaguete to Siquijor
The quickest and cheapest route as the ferry takes less than one hour to reach Siquijor (port) and it costs less than £9. Basically, this is the route we took to leave Siquijor and it is totally recommended! Dumaguete (and Negros island in general) is a bit overlooked destination by foreigners but as you can see from my posts about Apo islet/ swimming with free turtles and the Maldives of the Philippines (both located on Negros island) it is such a pity!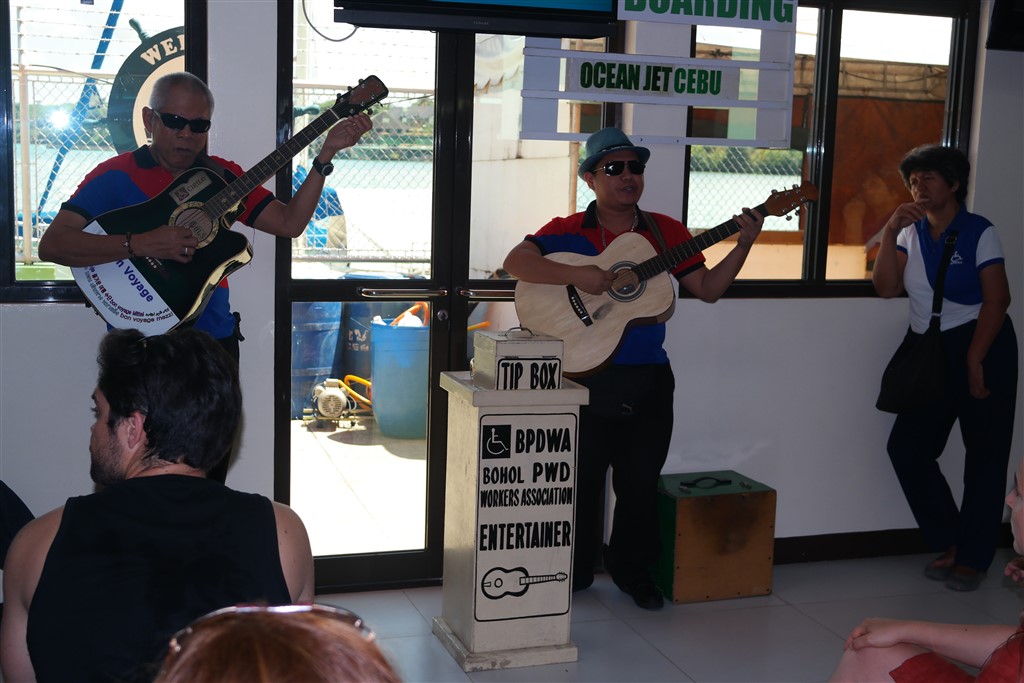 Cebu to Siquijor / Bohol to Siquijor
The most common route since Cebu has an international airport and it is one of the most visited islands in the Philippines. This route usually goes from Cebu to Bohol (Tagbilaran city) and then to Siquijor (Larena port). The tickets cost around £25 (from Cebu) or £12 ( from Bohol) and the ferry ride takes a max of 2 hours from Cebu to Bohol plus a 1.30 hour from Bohol to Larena. This is how we reached Siquijor after having spent 6 days at Bohol.
You can check the schedules here.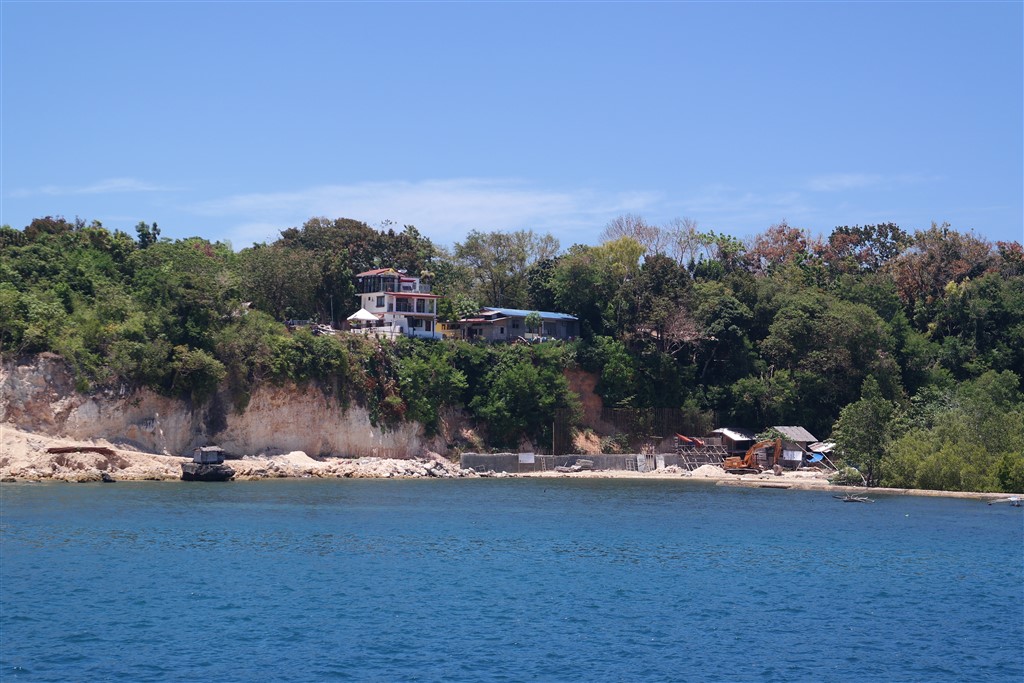 Why to visit Siquijor island
As I already mentioned there is something mysteriously wonderful about this island. Less touristy than its surroundings Bohol and Cebu but not undeveloped, Siquijor keeps its character and authenticity. It is not ruined (yet?) by tourism and there is a good mix of relaxation, nature, hiking opportunities and local life observation. Siquijor definitely worth a visit but let's be more specific!
1. For visiting some of Siquijor Beaches
Undoubtedly it is the No.1! There are many beaches in Siquijor, some are occupied by the resorts (you can visit them by paying a small fee), some others are completely free of charge, some are heavily affected by the tide, some are pretty much swimmable etc! But almost all of them are still pristine and beautiful at least for looking at them! Palm trees and relaxation are guaranteed and in most of the cases you will be able to swim in the sea if you be prepared!
Salagdoong beach is the most famous beach of Siquijor but it's rather small and you have to pay an entrance fee of 75P (£1.20!). The highlight here is the rock formations where you can jump from (if you have the guts of course!) and the moderate tide that makes it enjoyable for more time throughout the day than other Siquijor beaches. Good choice for families too!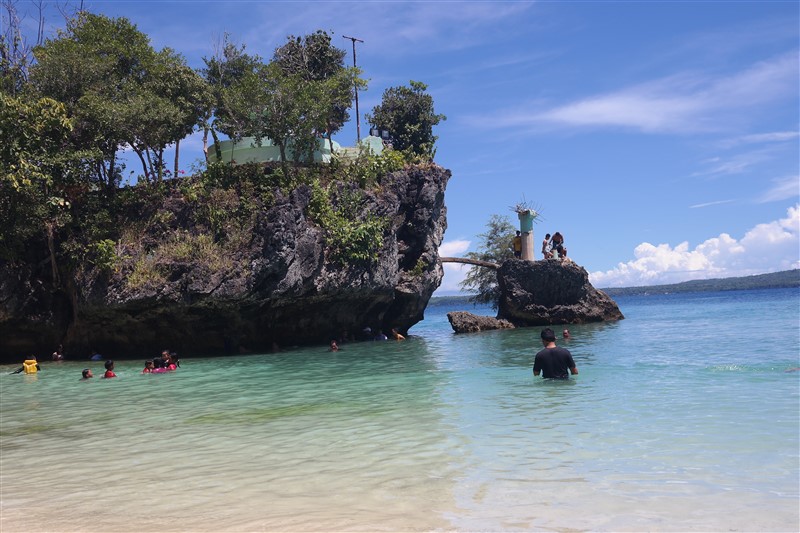 Pontod beach, Paliton beach, Little Boracay and Solangon / Coral Cay beaches are some of the entrance-free Siquijor beaches (as per 2019) but please check the tide schedule beforehand! On the other hand, Tudob beach/ Marine sanctuary has a 50P entrance fee and a beautiful marine life if you are up for snorkelling but be aware of the sea urchins!
2. For experiencing the cheapest Spa under a 400 years old tree
Oh yes you can do it here! The century old Balete tree used to be a place of mystical Shamans' rituals but in nowadays it is known for the fishes that started the trend of the "fish foot spas" in the Western world. Dip your feet in the pond and you will realise what I am talking about! It's more fun in the Philippines as their tourist campaign claims!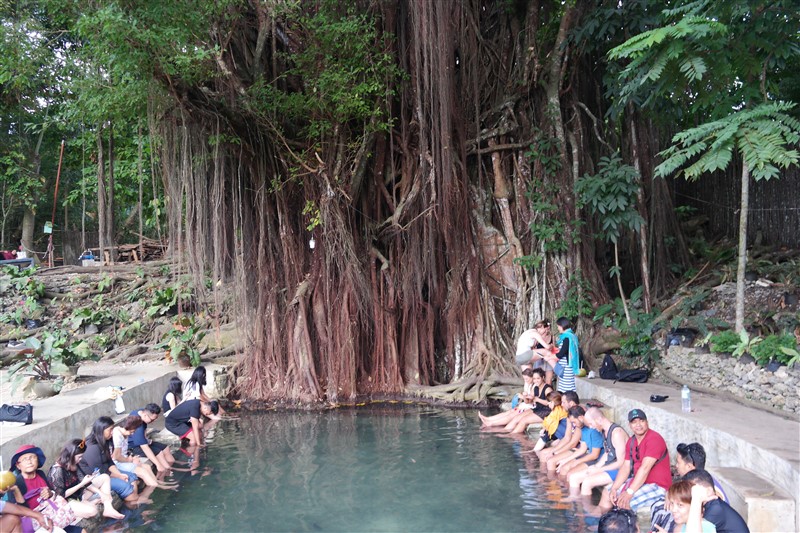 You can spend as much time as you wish here (is your dead skin considered "tasty" by the fishes? If so, they can eat it for hours! ) and you will pay only 10P (£0.18, I told you it is the cheapest spa ever!) plus the parking fee- if you don't reach the place by a tricycle. Not much to do in the surrounding area apart from some food & drink vendors and souvenir stalls.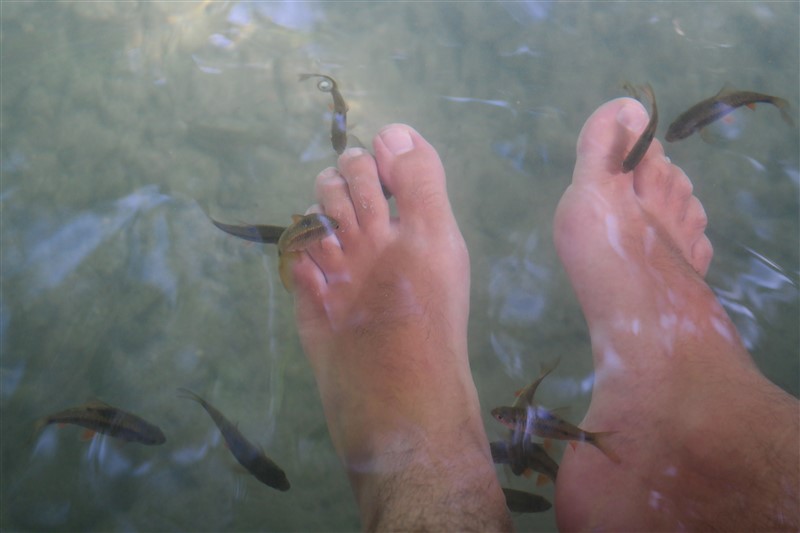 3. For the number of Waterfalls to choose from
Siquijor has waterfalls too! And not only in one place! The most famous are the Cambugahay Falls (you can combine them with the Balete tree as they are not far from each other) which are a bit commercialized but still worth the effort. They are not spectacular or huge but I enjoyed them a lot. Entrance fee is about 10P (plus extra parking fee which is not mandatory) and there is a rope swing which costs 20P for unlimited jumping trials and..fun!). There are a bit over 100 steep steps in between you and the waterfalls but other than that the walking path is relatively easy. One more choice is the Lugnasol falls which are smaller and dry up during the dry season so please keep this in mind and then, Lagaan and Kawasan are two more alternatives quite close to each other.
4. For Siquijor Sunsets
This is THE sunset. Siquijor is famous for its superb sunsets and there are many coffee shops, bars and restaurants along the western coastline where you can relax and enjoy them. San Juan seaside is ideal for observation but in my point of view just find a less visited point to admire the sun and the sky at your own pace.
My favourite spot was at a local vegetarian/ vegan – friendly canteen which opens just about 1 hour before sunset with homecooked delicious dishes, sells everything out quickly and remains open for a while after the sunset. Lovely food and locals , just ask your host where it sets up exactly (hint: west coastline)!
5. For the Local Fiestas
As always one of my favourite parts of travelling! If you happen to stumble upon a local fiesta here please do not skip it! It doesn't matter if it will be a religious celebration or a band you have never heard of it before, just don't hesitate to attend it! We were lucky enough to find out a celebration at Lorena's town small stadium where of course (once more!) we were the only foreigners. Fun and rewarding experience, thanks to the locals again!
6. Why not visiting some unusual museums?
…like Marelle seashells/ underwater world museum or the Butterfly sanctuary? The first one is basically a restaurant with a decent collection of sea creatures and shells neatly and nicely categorized – free entrance with the food orders! The butterfly sanctuary is small and some people are put off by the 100P entrance fee which is considered high for the Filipino standards.
7. To climb at Mt. Bandilaan National Park
Welcome to a real holy mountain and Siquijor highest point which is located less than 3km from the butterfly sanctuary! You can observe the jungle and the entire island from the tower (trees height permitted!) and there are more than one hiking paths to lead you here- from the parking lot the hiking is approximately 20 minutes. During the Easter it is said to have some celebrations around the area as many Christians visit the place and camp around. From time to time there are organised walking tours from Siquijor port to the highest point (10 km) and a visit here could be combined with the… adventurous Cantabon Cave!
Where to stay in Siquijor
Most of the tourists stay around San Juan town ( Coco Grove is a famous resort ) as it has many restaurants, some bars and hostels and it's close to Siquijor port. Some tourists stay in between Larena and Siquijor town where there are some resort choices as well but not as many things to do around as in San Juan though. However, here is quieter in general and you have equivalent access to both ports.
Last but not least the Salagdoong resort area (where there is a natural reserve and some other significant Siquijor tourist spots) and in general the region of Maria is one more alternative.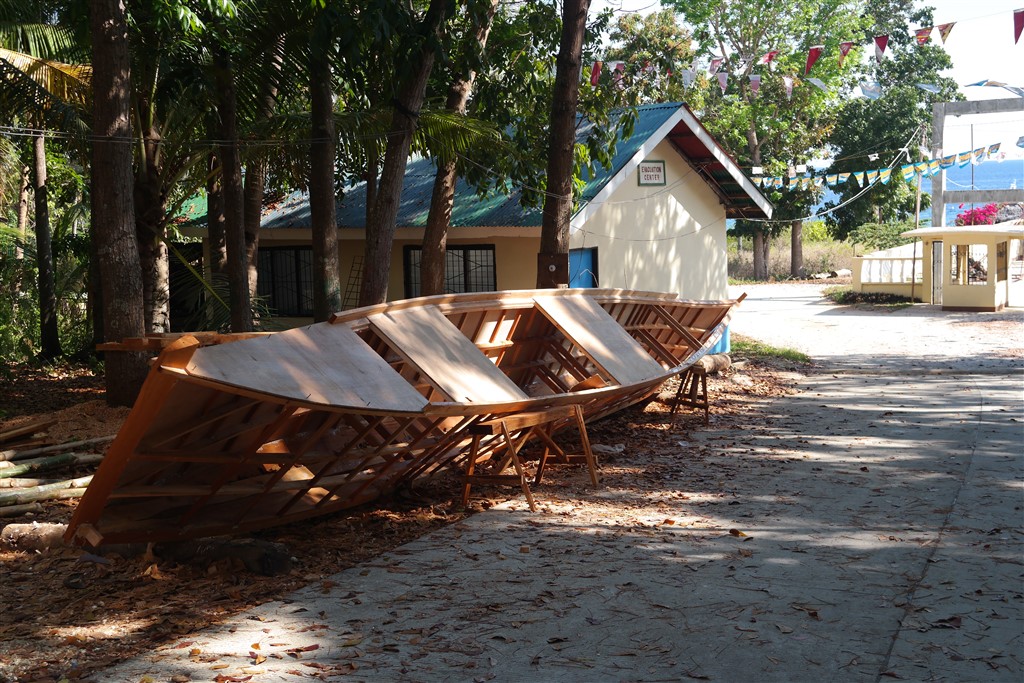 In our case we decided to stay in an "outsider" area, up to the mountains and we didn't regret it AT ALL! Much cheaper, a decent swimming pool, beautiful dogs and other farm animals around, peaceful and very hospitable locals made us extending our stay as I already wrote! You do need your own transport if you live here though – we rented a motorbike from them and we managed to visit almost every corner of the island!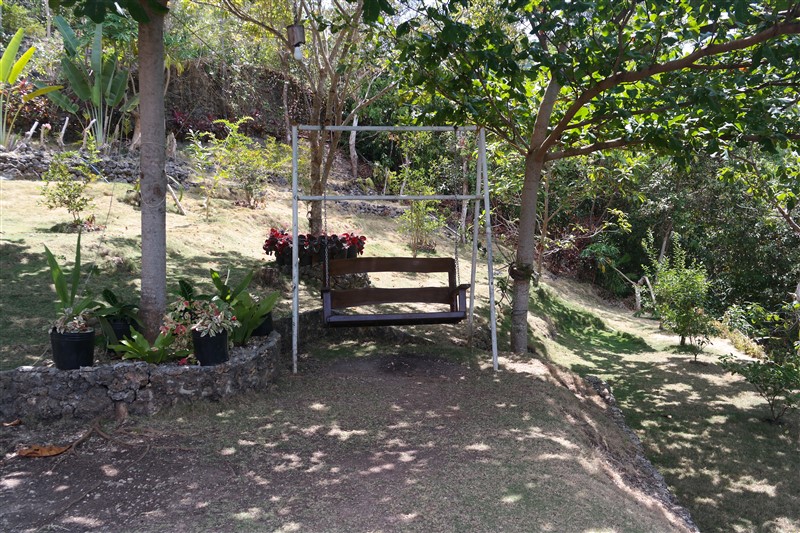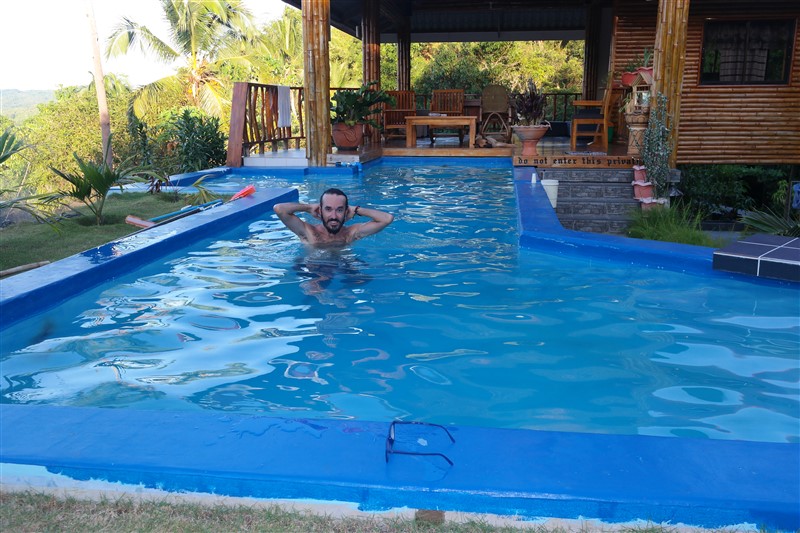 How long to stay in Siquijor island
That's a tricky one! I think 5 full days are ideal if you want to explore the island in depth and rent a motorbike too – as we did. If you want to unwind by spending full days next to the sea/ pool you might add a few days. Should you prefer to visit only few Siquijor points of interest or you are in a rush two full days (not including the travelling time!) are sufficient – as I already wrote we thought to do the same but we quickly realised we were wrong so we decided to stay longer! It's a matter of personal choice afterall!
These were some of Siquijor tourist spots and hopefully a decent start of your Siquijor itinerary planning! What do you think about the island? Would you spend more time at Siquijor beaches or in its nature? As always the comments are yours!