Heads Up: Our posts may contain affiliate links! If you buy/book something through one of these links, you will not pay an extra penny, but we'll get a small commission, which keeps this blog up & running. Thank you!
First of all… Where is Boa Vista?
Boa Vista is the second most famous and touristy island of Cape Verde, the small but diverse island country off the coast of West Africa. It was the fifth out of the six Cape Verdean islands we travelled to and it is significantly less touristic than Sal (important: Boa Vista is NOT in Sal!) but way more than other islands like Maio or Brava. Boa Vista main settlement is called Sal Rei– hence, the confusion with the island of Sal.  Boa Vista is the ideal island of Cape Verde if you want to get rid of (most of) the crowds but not to step too much out of your comfort zone. Well, let's explore some key points to consider when you plan your Boa Vista things to do Itinerary.
What is Boa Vista famous for?
Undoubtedly, for the dunes and the long sandy beaches! As most of them are either isolated or inaccessible (or both!) the tourism boom hasn't affected them negatively (yet) and you can find peaceful and wild nature spots all around! Although these are the must-sees in Boa Vista (and as a result, many companies organize quad tours there daily) I have to warn you that in most of the fantastic beaches swimming is super tricky -if not impossible- due to the currents and the constant winds! Of course, there are quiet spots where you can swim but don't expect a calm sea every day all day… we are in the middle of the ocean after all! Boa Vista is a characteristic desert-like island with a unique soul!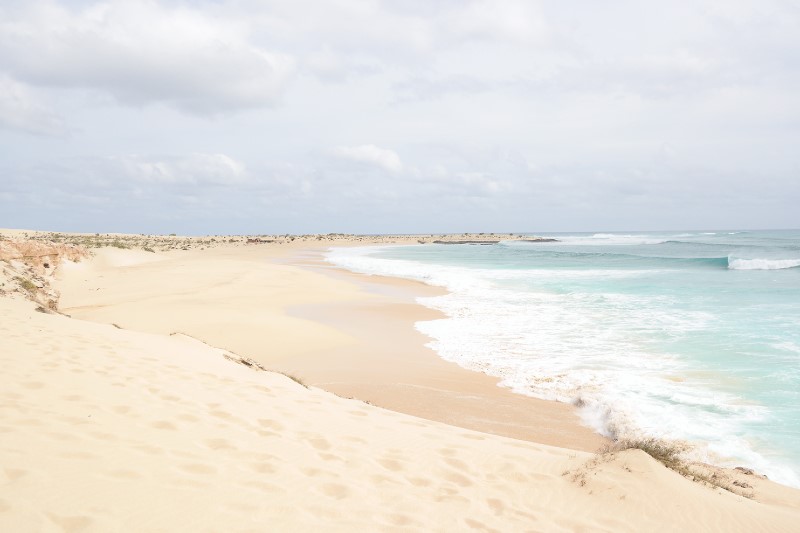 Some beaches are Praia de Chaves, Santa Monica, Praia de Curralinho, Praia de Varadinha, Boca, Curral Velho etc. For the majority of those beaches, there is not a proper road and even with quads or jeeps, the drive can be challenging! On the other hand, there are plans for big resorts to be built in the next few years and you might want to hurry up and enjoy the tranquillity of the places as soon as you can!
Closer to Sal Rei there are some more accessible beaches such as Carlota, Estoril, Diante and Praia de Cruz/ Cabral where one can practice kite surfing, swim, or just relax observing the nature and local life.
Related to the previous suggestions, one of the most common things to do in Boa Vista is learning about the sea turtles; the island is a great place for them to lay their eggs across its sandy stretches. You can easily find a few organised tours that you may at least observe the work the organisations/ foundations do and probably get to spend some time at nest handling. Taking or not a tour, please be extra careful while driving close to the sea; otherwise, it is likely for your car to ruin some nests. Even though volunteers place warning signs, these are either scattered across the lengthy beaches or easily unnoticeable (remember, there is no proper infrastructure, mainly pure nature!). If in doubt, please park off the coast and just walk!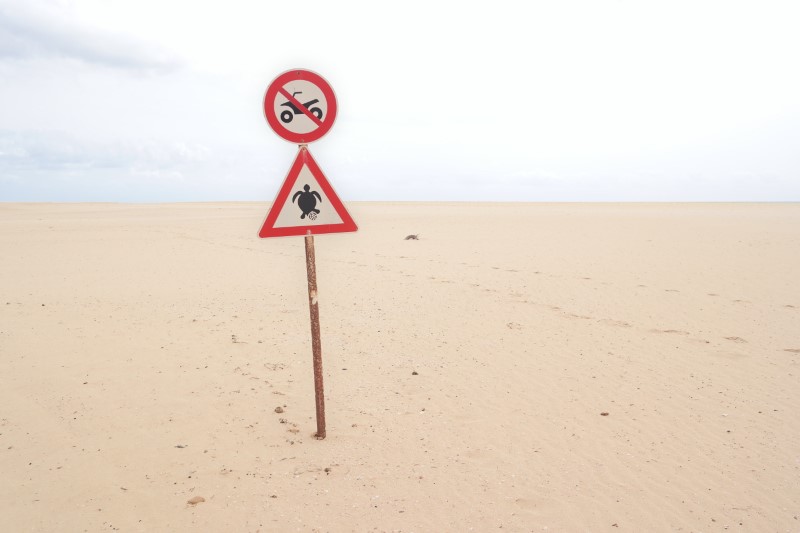 Can I rent a car/ ATV and drive around by myself?
Yes and… maybe! Sal Rei has a few rental places which are not cheap; for a car, one can expect to pay at least £40 per day. But, the primary problem is the infrastructure. Outside of the main villages, there are just a few roads available which are built mainly around the airport and Sal Rei. Also, there are some more towards the resorts (the construction is on-going though). Beyond those, you might need to drive through dunes, desert places and isolated paths while the Google maps are pretty much accurate but not sufficient enough for such conditions.
That's why most of the tourists either opt for guided tours or just go with the flow of the all-inclusive resorts. If you have read My Shoes Abroad for a while you can easily guess that we rented a car and drove around! The highlight? After hours of exploring, the car got stuck in the sandy, innocent-looking, mud close to Santa Monica beach in the middle of nowhere! Hooray! We spent 3+ hours trying to get unstuck using a variety of tricks with no success at all while it was getting darker and darker. By the time I was ready to give up (and to do what? Who knows… Probably to stay there forever!) I decided to call one of my favourite friends who is a pro at being stuck and unstuck (on purpose!) with his 4×4. He gave me some extra tips and I managed to unstick the car while Dimitris was pushing it! So, renting a car or not? I would be down for it again but it's up to you how much you want to risk it!
More Things to do in Boa Vista
-Visit the wreck of the Spanish cargo ship Cabo Santa Maria: Located at the Praia de Atalanta, north of the island, this place seems to be so close to Sal Rei when looking at the map (in fact, it's only about 6 kilometers away) but since there is NO road it can take more than half an hour driving to be reached! Most of the people book a guided tour- which is the wisest and safest choice- and combine it with the surrounding dunes but we decided to go there alone by our rental jeep. It took us a while but this time we didn't stick!
The ship has been here since 1968 and to be frank I can't believe how it has survived considering the harsh conditions surrounding it. The wind is very strong and the entire landscape is bizarre with an eerie feeling- I don't think I could sleep around here at night! Should you decide to visit the wreck independently start early (before the tours rush over in here) but I wouldn't recommend doing it completely solo as many things can go wrong (such as inaccurate GPS, being lost in the dunes etc.) unless you are a very experienced traveller?
-Drive towards the East villages: After visiting the shipwreck you can come back to the main road and turn left to drive to the end of this road (opposite of Sal Rei). You will pass through the tiny village of Bofarreira and then you will reach Joao Galego and Fundo de Figueiras villages. Both super small and at the latter you can find some local souvenirs shops and restaurants which are usually occupied by the resorts that bring their guests here.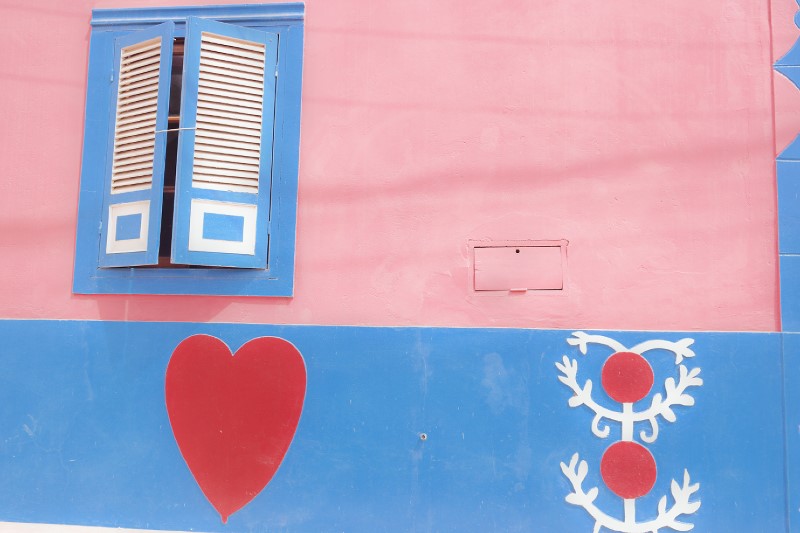 -Drive your way back through Rabil: I enjoyed this route more than the previous one. After visiting the East villages, on your way back to Sal Rei, take the route which ends up at Rabil. This seems an almost proper road construction while on your right-hand side, you can notice the edge of Viana Desert which is one of the most famous quad excursions at Boa Vista and one of the places you can enjoy the dunes. We stopped at Rabil village but didn't manage to find any shops other than some small markets; Google suggestions didn't help either so I can't recommend anything in particular.
– Spend time around Sal Rei: The town has an interesting local feeling blended with touristic places, cafes, guesthouses, small beaches, local markets and so on. It is one of the places you stay if you want to experience Boa Vista as a local. Sal Rei has a laid-back feeling that needs some time to be "absorbed" while its main square is small and vibrant day and night.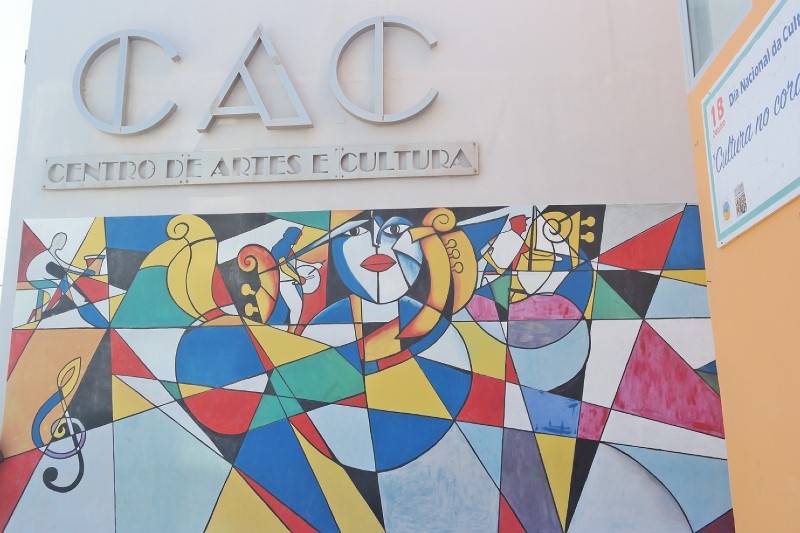 Besides these, not much going on here, but this is a good thing if you want to spend some time observing the locals and adapting the lifestyle at your own pace. Surprisingly, there are decent options for nightlife too! Some other places worth visiting are the local souvenirs market (just above the beach d'Diante), the interesting museum "Museu de naufragos" and the small centre for Arts & Culture (photo above). Next to the cultural centre, one can find the open-space second-hand/ thrift clothing market where the locals sell their stuff placed on huge barrels- pretty clever and creative display!
-Braid your hair: I had been falling for braiding my hair for a long time but the fact that my hair is really long (as you can see from the main photo of the post) had always put me off. I finally decided to give it a try at Boa Vista and I spent 6 hours non-stop sitting while an amazing lady was braiding my hair! If you ever decide to have your hair braided during your Boa Vista holidays contact me and I will pass you her details! The braids lasted for 3 months and I released them just because my hair had grown too much! Maybe not the usual thing-to-do in Boa Vista but well worth it if you are up for authentic braids!
–Watch traditional dances/a live show: This is the super touristy thing-to-do of the list! Some beach restaurants offer live dancing /traditional shows which are designed for the tourists but are quite fun to watch. The resorts bring their guests here but we managed to slip in at Morabeza Bar&Restaurant one of those nights. Even though the food was quite pricey (for the local standards) the show was very enjoyable. However, my favourite night was when we watched a local band at the Siroco bar, an authentically-spent night out!
How to Reach Boa Vista
By plane: The airport is an international airport with direct flights from/to the UK, Spain (Canary Islands) and Portugal with plans to extend further the destinations. Domestic direct flights are mainly to/from the capital Praia and Sal and from other Cape Verdean islands through (usually) Praia airport with short layovers. Binter CV and Cabo Verde airlines have the most routes in between the islands.
Be Ferry: The ferries are infrequent and they arrive at Boa Vista 2-3 times per week (season and weather dependent). The ferries look in good condition although we took only the Praia – Maio route. Different lines serve different islands and your best bet is to look through this website (the company has small stalls/ offices in the islands too if you don't want to book your tickets online). Last but not least, some companies offer boat trips from Sal to Boa Vista but it's quite pricey and not as close as it might look at the map. To give you an example we were asked for £130 each, one way on a sailing boat from Boa Vista to Sal that would last for 4-6 hours!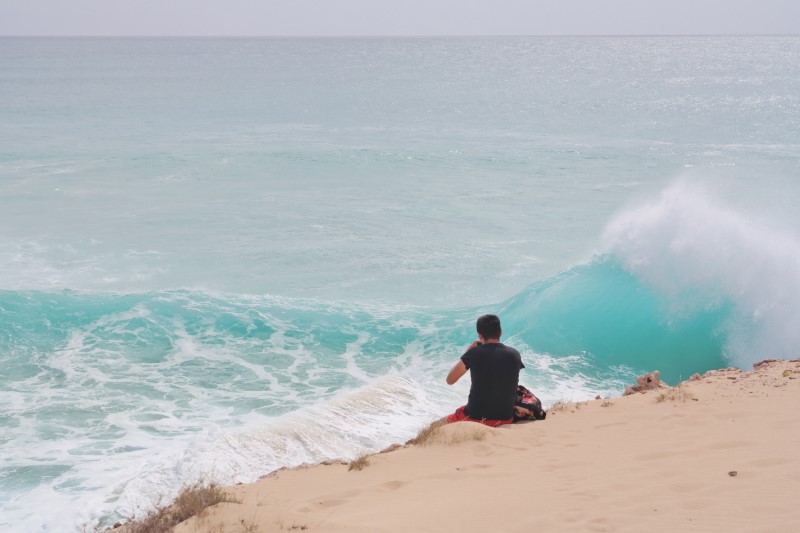 Where to stay
This heavily depends on your travel style. As abovementioned, Sal Rei is the centre of the island and you can easily find everything on your doorstep: markets, restaurants, excursions, a little bit of nightlife etc. These will bring you in contact with locals, you may make new friends, enjoy your time listening to their music and spend your money on local businesses and not foreign tourist companies. In our case, we stayed at this affordable, centrally located, hostel with a relaxed vibe, double ensuite rooms plus some… cats for petting!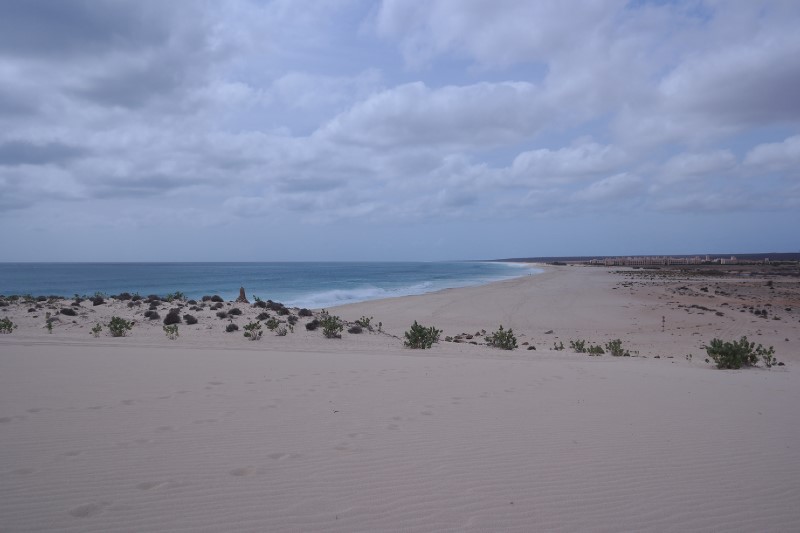 Contrarily, although there are some decent hotels here, you can't expect to find many (if any) all-inclusive or posh resorts. Having said that, these resorts are isolated, far from the capital Sal Rei, mainly on the south or south-west coast of the island, and you will either rely on the resorts' transportation or need to hire a guide/ rent a car. Overall, an all-inclusive resort will be a hassle-free and easier option, as always.

How many days to spend at Boa Vista
Since Boa Vista is an island with secluded posh resorts people usually spend 1 week in them while taking some default tours around. Besides this type of vacation, I found 4 days to be sufficient enough to get to know the island especially if you are down for some adventures.
You can easily mix N match some touristic places with less-visited ones and make the perfect Boa Vista itinerary without having to spend a fortune! If you are not interested in relaxing in the beach/ taking different types of tours around or if you are a fast-paced traveller anyway, 2 full days are also OK but, for me, this would feel a bit rushed.
Should you plan to visit more islands you can also read my posts about Santiago (the biggest Cape Verdean island) and for Praia, the capital of Cabo Verde.

When to visit the Island
Generally speaking, the weather is mild all year round. Visiting Cape Verde in November (as we did) is a wise choice because it is just in between the rainy season (ending in October) and the high season (Christmas). The flight tickets were super decent (less than £250 each for the route Malta-Portugal-Praia and then Sal-Rome-Malta) and the accommodation prices reasonable.  However, almost any season besides the rainy would be good- but, as usual, I advise against travelling at the peak season!
Let me know your thoughts! Do you think Boa Vista is worth visiting? Would you like to travel here and what would be your absolute favourite thing to do on the island first?