Heads Up: Our posts may contain affiliate links! If you buy/book something through one of these links, you will not pay an extra penny, but we'll get a small commission, which keeps this blog up & running. Thank you!
Santiago, Cape Verde
The largest island of Cape Verde, Santiago, is the home of the country's capital Praia. Since I have already written an entire post about Praia and our 4-day stay there today I want to focus on the rest of Santiago island and to dedicate an itinerary for it! What to do, eat,buy & see here especially if you have only one day!
Originally, we had plans to explore the entire Santiago Island for 2 full days. Thanks to the unreliable flights though (which got canceled last minute and left us stuck at Maio island- a story to tell another time!) we were left with one day only for the rest of Santiago. We actually managed to leave Maio for Santiago early morning but our next flight to Sao Vincente island was scheduled for the same evening! At first, this was so disappointing since we thought we won't get to see the rest of the island at all and for a moment we regretted to have spent so many days in Praia alone.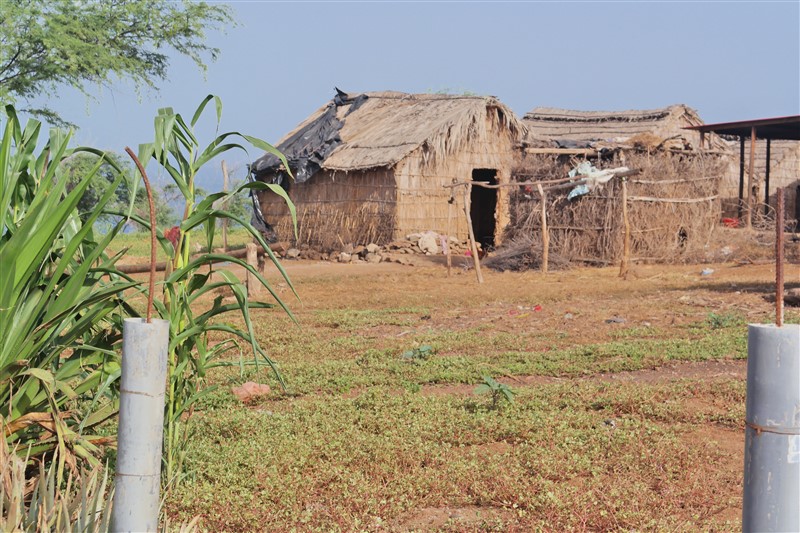 How big is Santiago?
Just to give you an idea from Praia (located on the southern part) to the north tip of the island there is a good ride of 67km, whilst from East to west approximately 45km (the island itself is 55km long and 29km wide). It is a mountainous island and so are the roads but the infrastructure for most of the main part is decent so driving around shouldn't be a problem. It is also the most forested island in Cape Verde.
If you have read my stories again you might already be familiar with my love for independent travelling and DIY itineraries but this time we had to opt for an organised tour – as you now know, Santiago island is really big and there was no way to get the most out of our (limited) time using the local buses or even by renting a car. So, while looking online, we managed to find the local-owned tour operators BU Country Tours who were kind enough to arrange a private day-tour for us while they agreed to pick up / drop us off at the airport. Finally, everything fell in place and we were ready to discover the entire Santiago!
A Local Cape Verdean Breakfast
Every tour should start with a traditional food/ breakfast tasting and our tour didn't disappoint! After a quick ride towards the middle of the island, we stopped at a local house where we were lucky to taste the typical Cape Verdean breakfast "Cuscuz" cooked by an amazing lady! Cuscuz is a steamed-cooked cake made by cornflour and mixed with water and sugar. On top, you can add butter, honey or goat cheese but it can be eaten plain as well.
The vital part of the recipe is the… utensil in which cuscuz is cooked! It's called "binde" and it is most likely to have Senegalese roots. You can find this ceramic container anywhere in Santiago island if you want to buy it as a souvenir; you may also stumble upon the "cuscuzeira", the metallic utensil that is the "modern" version of the binde; locals told us though that the taste of the original utensil is much better!
Santiago Points of interest
After that fulfilling breakfast, the guys took us around the island. We enjoyed various routes and viewpoints but I will mention two particular places here: Assomada town and the Natural Park of Serra Malagueta. Assomada is the second largest city of Santiago, having one of the biggest markets too. It is also interesting to see that the town has some controversial wealth – for example, one can observe many expensive cars around in contrast with other areas of the island! We were told that this is due to Cape Verdeans living abroad who either repatriate or return from time to time to support their communities.
Natural Park of Serra Malagueta
This is the basic mountain range and the highest point on the island. There are lots of hiking paths (not always clearly marked though) but it might be tricky to arrange a decent hike if you visit Santiago just for one day as we did. The place is notorious for its lust greenery and landscape. There have been incidents of locals trying either to harass tourists or to convince them to hire a guide but since we were already with locals we didn't encounter with any such behaviour. Just keep an eye but also don't forget that if you wish to do a long hike you may indeed need a knowledgable local guide with you.
Best Santiago Beaches
I have already written down about the beaches in the capital of Santiago, Praia so I won't focus on them here. Just to give you an idea, the island, in general, doesn't have as many beaches as the "Sahara-type" sandy Boa Vista island for example but it has definitely more than the rocky Santo Antao!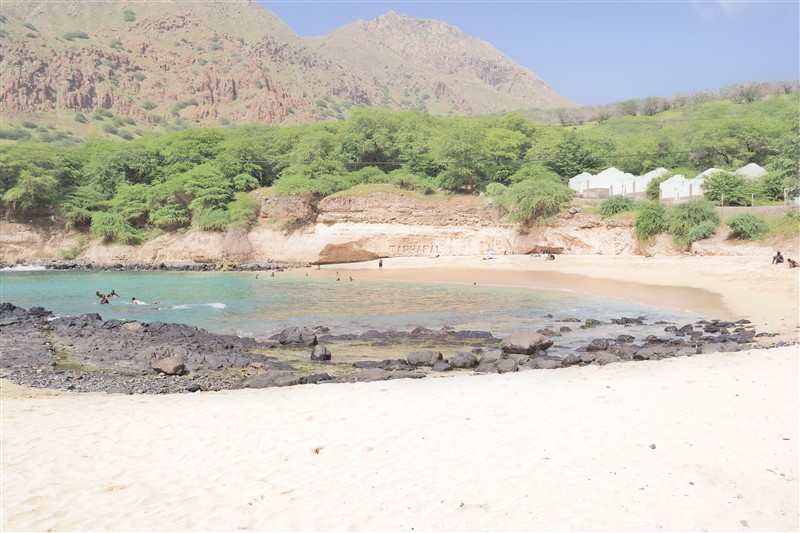 Tarrafal Beach: located on the northern part of the island, Tarrafal is considered the best beach in Santiago. It basically consists of the main bay and a smaller one separated by a low natural barrier with a restaurant/ bar on top. The entire beach can be walked from one side to the other within 10-15 minutes and it can get busy at times. Expect yellow sand, semi-tropical landscape and (bonus!) nice views. Moreover, the surrounded village of Tarrafal hasn't lost its charm yet despite being one of the main Santiago attractions.
As planned, we stopped at Tarrafal for swimming and lunch. The sea was nice and warm even though it was November and the restaurant was located in the middle of the village. It was cosy with beautifully hand-painted walls and very friendly environment. The rest of the company had a nice meal based on fish but my vegetarian pasta was so-so. I wish I had found a vegetarian cachupa (Cape Verde national dish) there!
Next to Tarrafal (on the left side looking at the main beach), there is a small, hidden cove with similar yellow sand where you can have a quieter beach-and-swim time. It's only 5 minutes on foot and it's called Mar di Baxu. Generally speaking, I liked the entire village and I would recommend it for a short, relaxing stay; you can find numerous accommodation options, restaurants and few bars here! It's an interesting-vibe place to observe the local life too. Tarrafal starts getting busier but since it is not ruined yet by the tourism industry it remains a quaint village to base yourself on the north of the island.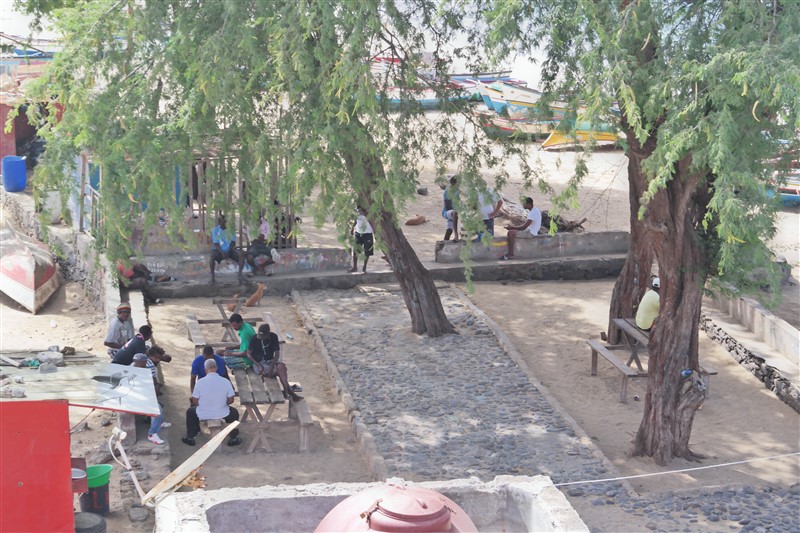 Other less popular or completely.. empty beaches in Santiago are: Silverbeach (west coast), Praia de Sao Francisco (south-east coast close to Praia), Praia Baixo and Praia de Mangue (both at the east coast, the latter with darker sand), the long beach of the Praia Clarinha etc. Finally, although technically not a beach, Ponta d'Atum has fantastic seawater and beautiful scenery that's worth visiting!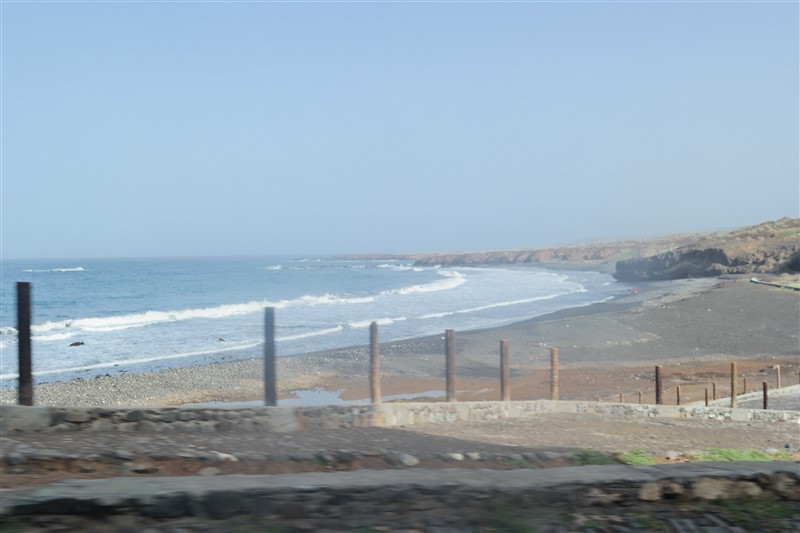 Visiting Rabelados tribe
Driving back through the east coast, we headed to our last stop, Espinho Branco, to visit the religious community Rabelados (Rebels). The community isolated itself from the rest of the population in the 40s when the Catholic Church tried (and managed) to pass some changes on the local religious ceremonies of the islands.
The people living here have a vibrant lifestyle based on community values. Some are artisans and the few visitors/ tourists can buy locally produced souvenirs. The tribe still lives in handmade houses made of straw enjoying a slow-paced daily life. The Rabelados community represents the core sense of Cape Verdean genuine culture and some traditions are still preserved by these people as we were told by our amazing guide.
A tad of history for Santiago, Cape Verde
Santiago was the first of the Cape Verdean islands to be settled. The island is believed to have been uninhabited prior to its "discovery" by the Genoese António de Noli in 1460 on behalf of the Portuguese Prince Henry the Navigator. Da Noli settled at Ribeira Grande (now Cidade Velha) which soon after became an important centre for the transcontinental slave trade. Cidade Velha was the first capital of Cape Verde and in 2009 it became a UNESCO World Heritage Site. Unfortunately, we run out of time and we didn't manage to visit it so I HAVE TO return hehe!
Overall, a well-spent day full of experiences and newly-learned things just reached its end. I can only highly recommend the team behind the BU Country Tours as they offered us such an informative and rich day despite the short time they had in their hands!

Undoubtedly, the island of Santiago, Cape Verde is not to be missed although not the typical tourist destination in the archipelago! It's your turn now! What do you think? Would you add Santiago to your Cabo Verde itinerary?