Heads Up: Our posts may contain affiliate links! If you buy/book something through one of these links, you will not pay an extra penny, but we'll get a small commission, which keeps this blog up & running. Thank you!
A Chocolate Tour in London? How come?
London is not the first European city you can think of when it comes to chocolate and furthermore, chocolate walking tours! Many cities in Belgium and Switzerland in general steal the spotlight for that, at least in my point of view! However, thanks to the royal family and its exclusive and expensive preferences, London city has become the home (or the host!) of many fine chocolate brands that are scattered across. This is one of the many new pieces of information I gathered throughout my latest excursion with Triple (use the link to get £25 discount on tours/ excursions), a booking platform for the best local tours across Europe! So, let's dip into my recent tasting chocolate tour London experience that is called «Explore the chocolatey side of London's Mayfair with a local guide»!
Tasting Chocolate Tour meeting point & first impressions
We met up very close to Oxford circus tube station, so it was easy for everyone (locals and tourists alike) to join, and we stepped into the extravagant Sketch. I visited this place for the first time back in 2012 where I felt in love with their egg-shaped colourful toilets and the mysterious atmosphere but this is my first time as a morning visitor! As a combination of a teahouse in the mornings/ a cocktail-bar in the evenings/ an awarded restaurant all day (etc!) I was excited to experience it in the daylight!
We were given a rich hot chocolate (and apple pies!) and we got to know each other and of course our guide Jennifer! She shared with us not only the basic knowledge of the cocoa process itself but also some interesting and funny stories –so important for the relaxing feeling a hot cup of chocolate requires!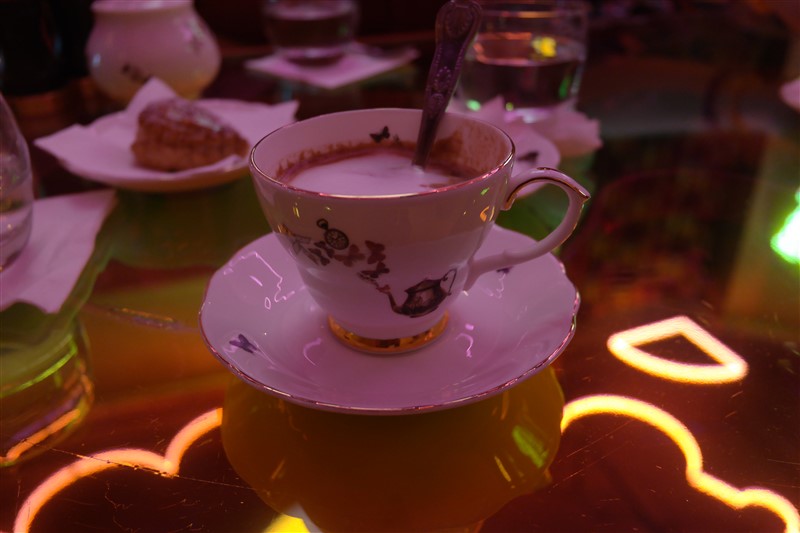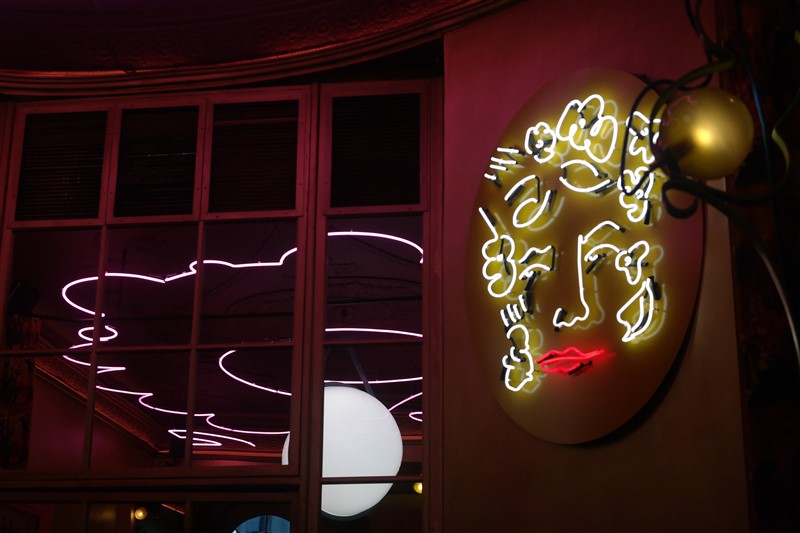 Mayfair Stops for London Best Chocolates!
After the first treat, Jennifer offered us to taste some real cocoa samples before we head to the second destination, one of the royal family's favourite chocolatiers, Charbonnel et Walker in Old Bond street! If you have never been to London let me help you regarding this street- it's the base of many luxurious fashion houses, high-end products, exclusive brands and so on.., you get the point, right? We tasted two flower-based fondants (flowers in my chocolate happiness? Not my cup of tea to be honest!) and then, we had the time to wander in this, famous for its chocolate boxes and the rich heritage, chocolaterie.
An unbeatable perk of this tour (apart from our guide of course!) is the 10% discount offered for that day in every place. When it comes to expensive fine chocolates in London this is something to consider, right? I used mine in our next stop (a chocolatier called Prestat) for the new invention of the chocolate world…the ruby chocolate! This new pink cocoa miracle couldn't have found a better home in London! Prestat is a very playful, full of colours chocolatier and it offers great truffles – we were offered one so I picked up the red velvet, you know I am colour-addicted!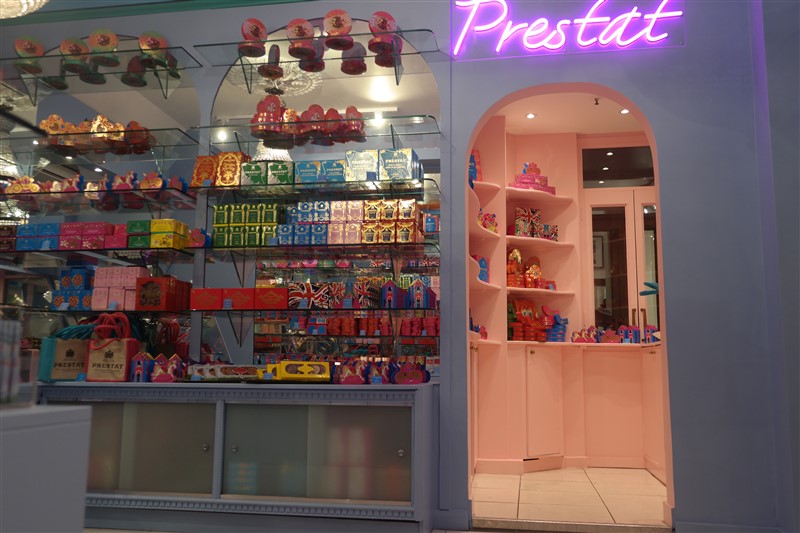 I can't stress enough how much information Jennifer shared with us, not limited to chocolates and cocoa though! Facts about London, historical references, humorous stories and thoughtful comments made the experience even fuller. The next place was, for me, the second one of the tour I had already visited before; I couldn't have missed it anyway as it is a Turkish place, called Kahve Dünyasi, and I love most of the Turkish (similar to Greek!) desserts. One more hot chocolate (prepared in a time-honoured way) for us before we take a sneak peek at their laboratory!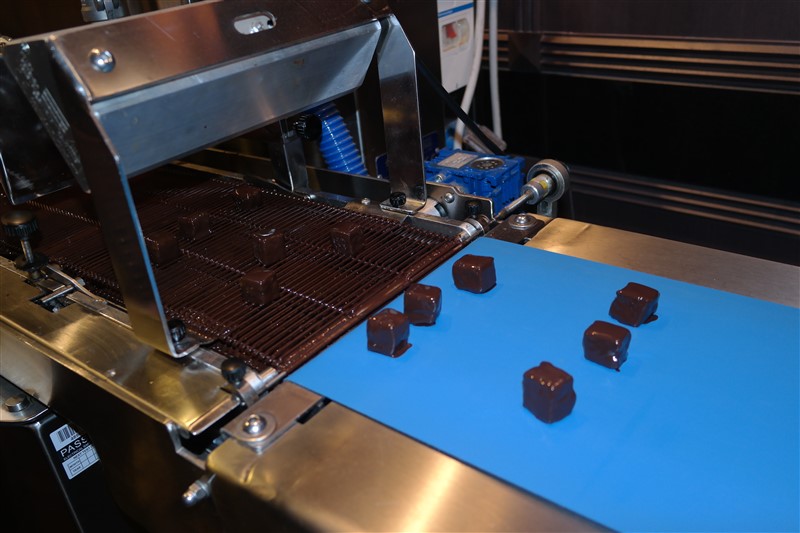 Time for Soho Chocolates!
Leaving Mayfair behind and getting closer to Soho, I feel this excitement every traveller has for a new place; it's a bit controversial though for me since I have been living here for 6 years! Well, before booking this chocolate tour I was pretty confident I had visited every corner of Soho but… I am doubting it more and more now! It turns out that yes I had never paid attention to this corner chocolatier, named after its founder Paul A. Young! This is a relatively new brand that has some of the most colourful and unique flavoured truffles I have ever seen! I could have never imagined that some of the controversial ingredients are matching so well! Mouth-watering!
As this is our last stop, I am spending my time watching the customers coming consistently in and out (and it is a Monday!) while being surprised by the variety of the fondants and the truffles. This place even sells Aztec hot chocolate on the go, I will definitely return to try this out as now I am pretty much full of chocolates and I can't taste any other cocoa related product! Jennifer shares her last tips on how to recognize good quality chocolate and she mentions again the crucial stages of the cocoa process along with new information; oh gosh, she is both a chocolate legend and a cocoa library!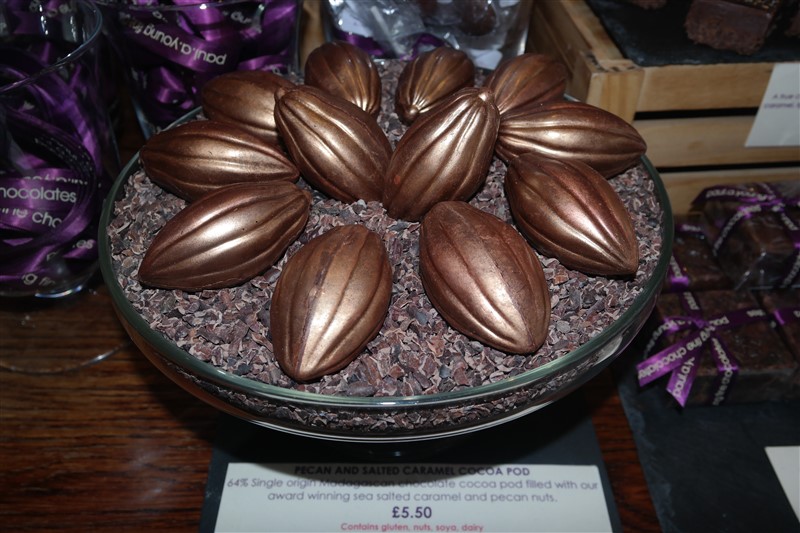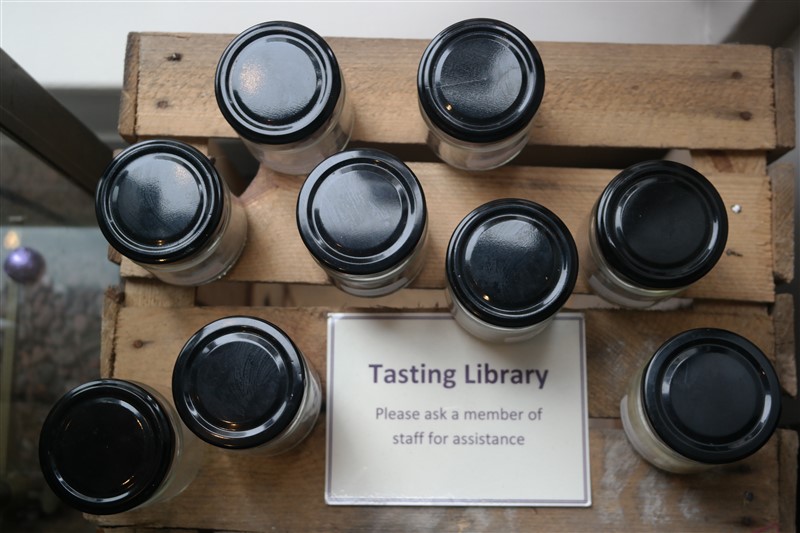 Everybody is happy but unfortunately, our London Chocolate tour is coming to an end. Three hours have already flown by! I decided to mention only some vital (and exciting!) points from this tour, held by Ecstasy Chocolate tours, as I do not want to spoil the chocolate experience in case you decide to join it! Undoubtedly, I have to give credits again to our excellent guide Jennifer who has a vast chocolatey knowledge and to the local experiences provider Triple (do you want a 25£ discount for your next experience?)  for their professional help while I was looking for (among so many options) an outstanding tour like this; believe it or not, I hadn't taken part in any similar chocolate tour all of these years in London! 
Even if I was sceptical beforehand (there are so many food tours in London after all!)  I strongly believe this is a well-spent half-day tour and even an excellent Xmas or birthday gift (since it comes with so many perks!). And believe me, I have done many tours the years I have spent in London! If you are up for tasting hot chocolates in Europe, Amy-Aed is on the mission to find the best ones of the continent!
Well, what do you think? Would you try this out? Have you been to any tasting chocolate tour in London / UK/ anywhere else that you can recommend? Eager (and hungry!) to know about so please comment below!
PS. As always all of the opinions and photos are my own!