Heads Up: Our posts may contain affiliate links! If you buy/book something through one of these links, you will not pay an extra penny, but we'll get a small commission, which keeps this blog up & running. Thank you!
Travelling to Nuremberg Christmas Market
Since Christmas is not really my favourite time of the year I don't actively chase Christmas Markets. But when I get the chance … undoubtedly I will go for it! Especially when we are talking about one of the oldest markets in Germany, the Xmas Markets Hub of Europe! Nuremberg Christmas Market dates back to the 16th century and, although it has changed its location and character a few times throughout the centuries, it has retained the Xmas magic pretty well! This is just one of the reasons why to visit Nuremberg Christmas Market, let's talk about the rest!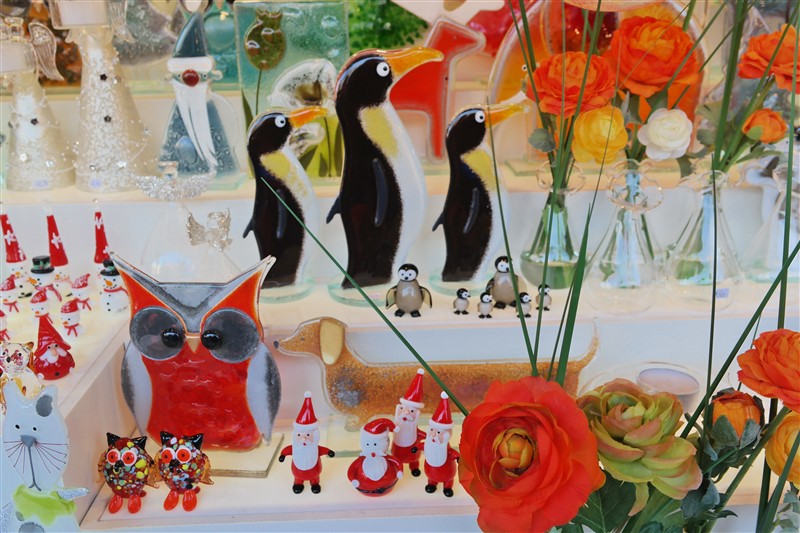 How old is Nuremberg Christmas market?
Thanks to the official website and their thorough research we can learn interesting historical facts about the market. For example the first available records of the market date back at 1530! This makes Nuremberg Christmas Market (or Christkindlesmarkt) almost 500 years old; curious to see what they will do to celebrate this in 10 years time! One more fact: 140 stalls were selling goods in the market during the 18th century, a pretty impressive number, right? The Old Town, which is the home of the market till nowadays, was destroyed during World War II but in 1948 it again hosted the first market after the end of the war. Honestly, I loved that there is so much history behind!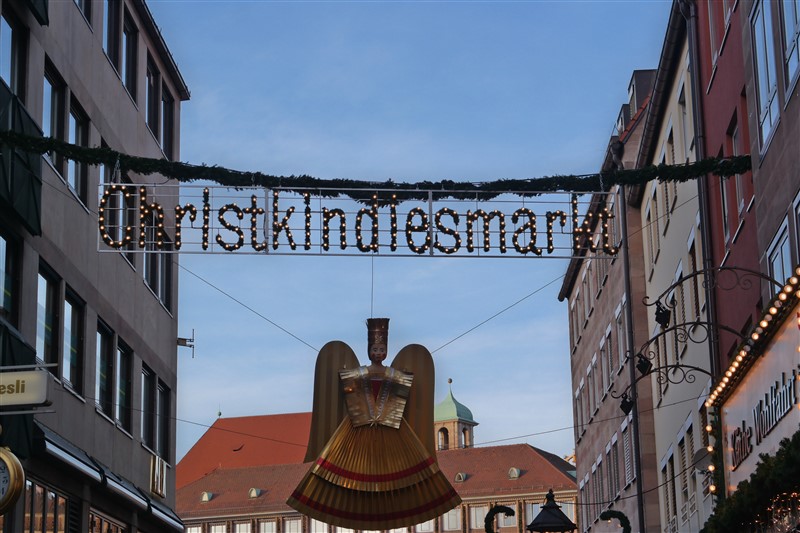 Where is Nuremberg Christmas market located?
As before mentioned, Christkindlesmarkt is located at the Old Town. However, it is not standing there alone! Other Xmas markets surround the main one and are worth visiting! As you wander around you may miss which market is which but who cares? Every single market in Nuremberg is fabulous! A special mention reserved for the Sisters' Cities Market which has 24 booths representing each one city that Nuremberg has been partnered with. A hidden gem located next to the Old City Hall offering international treats from China to the North Macedonia and beyond. And by the way, the Greek sister city of Nuremberg is Kavala!
When does the market start?
The markets every year start popping out around the end of November. For 2019 the exact dates are 29th November – 24th December. Attending the opening ceremony is highly recommended but if you miss it do not worry! There are plenty of events, concerts, festive surprises, exhibitions etc taking place within this period and you won't be disappointed at all! The decorations of the city are splendid (there are even lanterns are scattered across!) and the feeling is one of its kind!
What to buy at Nuremberg Xmas markets / Germany Souvenirs
Now we are talking! The ornaments, the handmade objects, the local souvenirs, the decorative pieces and pretty much everything in the markets is unique and wonderful! Even if you plan to buy nothing you will be tempted to spend lots of money- the tree decorations, for example, are magical! Since one picture is worth one thousand words… just take a look below!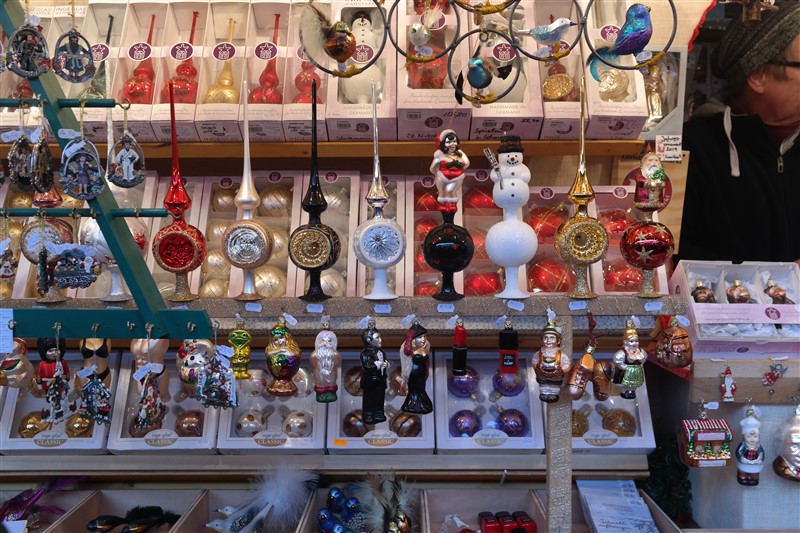 A special, not-to-be-missed souvenir of the area is the Prune Men, figures actually made from (oh yes!) prunes, walnuts and figs! We bumped into at least 5 stalls where these creatures were made and sold and, trust me, they are super cute! Unfortunately, I hesitated to ask if they are edible – should you happen to know please comment below as I am ultra curious to know!
What to eat at the Markets
Traditionally, this is heaven for anyone having a sweet tooth! Let's explore only some of the options.
-Lebkuchenherzen: Gingerbread hearts, they're super popular as presents and normally have something written on them
-Lebkuchen: Gingerbread plain or with coatings such as sugar, strawberry, chocolate etc!
-Schneeballen: a sort of cake with powdered sugar from Frankonia.
It means "Snowball"!
-Dominosteine: Marzipan "Domino pieces"

-Mutzen: Fried dough balls 
-Stollen: also called "Christstollen", it's a super popular Christmas cake that you have to bake two weeks before eating it!
-Kräuterbonbons / Glühweinbonbons: "Herb / Glühwein hard candies
-Gerostete Mandeln: Almonds in Roasted Caramel
-Krummeltorte / Apfelkrumel: German Apples Crumbles everywhere, of course!
And what about savoury?
Lots of options as well such as the (Käse-) Spätzle (A type of egg pasta usually covered in cheese and served with lentils and sausage), the all-time-classic Currywurst (Bratwurst, a type of sausage in a Curry-tomato sauce) and the Flammkuchen (or the "Flame cake", kind of a pizza but instead of the "regular toppings" it usually is a crispy dough with cream, onions and bacon) but unfortunately not many vegetarian/ vegan alternatives. I managed to find a stall selling pots of freshly-prepared mushrooms and one other offering bread covered with broccoli, melted cheese, onions etc. but that's it! Roasted corn and chestnuts can also be found around but, generally speaking, being vegan on a Xmas market in Germany didn't look very easy!
What to drink?
Once more, Nuremberg Christmas Market is a paradise for this! Well, I think pretty much every German Xmas Market is! Hot alcoholic-or-not drinks will keep you warm and this is SO vital for the body; so let's have a look at the list!
 -Glühwein: "Glowing wine" is a hot alcoholic drink with Christmassy spices and it probably is the most popular thing to buy at a Christmas market. It's called mulled wine in English and I have tried it in many European countries (in Denmark for example) during the season but I really enjoy the German version.
-Kinderpunsch: The "Kids punch" is the alcohol-free version – the little people deserve Christmassy drinks too!
-Eierpunsch: Liquor, made with eggs, usually served in a chocolate cup (not sure how I feel about this!)
Moreover, there are different wines and liquors available from across the country with somewhat unexpected flavours- most booths sell a decent variety of those!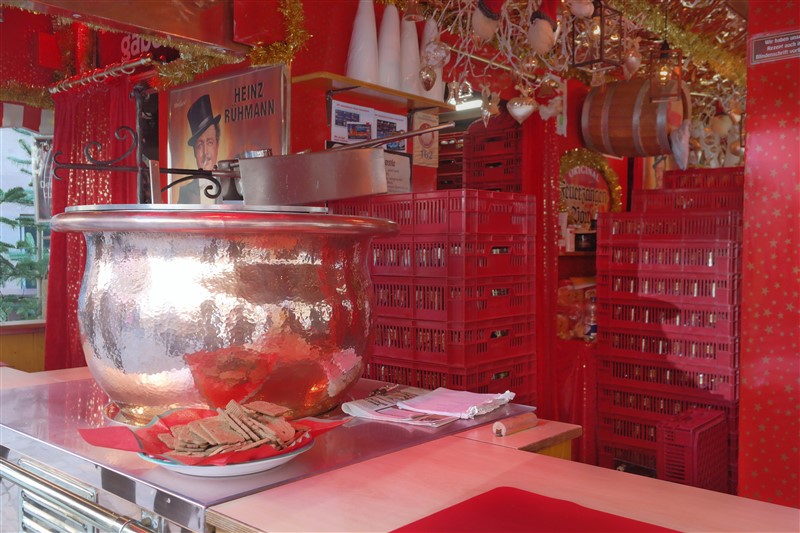 -Feuerzangenbowle: "Fire tweezers punch" is a very strong alcoholic drink that is made by soaking a chunk of sugar in rum and setting it on fire! It's very popular within the older generation*
*Kudos (and love ? ) to my German friend Annie who gave me all these amazingly useful information regarding the German Christmas Markets menus!  One more… local recommendation by her: before trying this drink consider watching an old, black & white, movie called 'Feuerzangenbowle'. It's basically just about four elderly professors getting ridiculously drunk (check the photo below!)! Maybe an inspiration? I don't know I haven't watched it yet!
Nuremberg Christmas market opening hours and what to wear!
Since the weather is very likely to be cold and windy let's be prepared! The markets run all day long; this year from 10AM till 9PM for example. Should you plan to stay out till late you will definitely need some layers! An umbrella could be proved handy because almost every market is located outdoors and there are not lots of shelters in the event of rain! You can always warm up yourself by drinking Glühwein though! Worst case scenario? To buy a scarf / a pair of gloves / a beanie etc from the local artisans! Oh yes, it can be snowy too!
What else to see in Nuremberg/ Other things to Do
Nuremberg Castle is a must-see! More than just a castle, it's rather a 1000 years medieval fortification overlooking the city (and the markets!). One can enjoy the view (and some of its parts) for free or pay to visit either the entire castle or significant parts of it (different prices apply accordingly). Tickets cost 3€-7€ and you can find all the necessary information here.
Der Hase (rabbit) is considered one of the ugliest public sculptures worldwide but I don't really agree with that! Located just below the castle and close to Tiergartentor, this awkward rabbit is inspired by the local artist Albrecht Dürer. The rabbit smashes a person beneath its foot while some  (way smaller) rabbits are trying to escape from their cage- I guess! Seriously, it's not that bad but I wouldn't be surprised if it comes alive at night!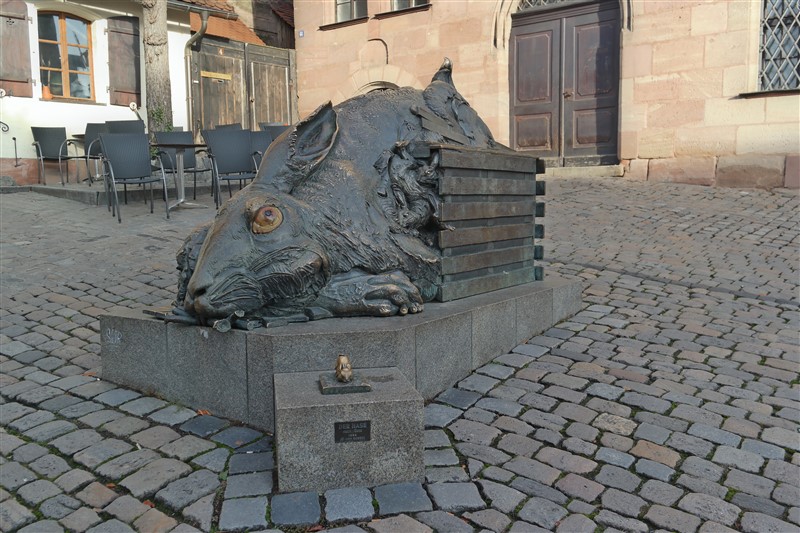 The centre is a proper shopping hub if you are up for spending some money and there are many beautiful buildings and landmarks around that are worth the stroll anyway. You can also take an informative historical tour; Nuremberg had been the Nazis' basis for a few years. Last but not least, since Nuremberg is located on the Pegnitz River you can not only wander across the bridges (Henkersteg, Maxbrücke and the footbridge Kettensteg) but also take a river cruise!
How to reach Nuremberg Christmas market area and where to park
By car or on foot? Nuremberg has you covered in both cases! Parking spaces are available around the centre along with good public transportation. The full list for either can be found here. The metro stops approximately 10 minutes away from the main area while the buses stop closer. Getting to Nuremberg from abroad is also convenient as the city airport has direct flights to/ from Italy, Romania, Denmark, Hungary, Malta, UK, Morocco, Greece, Portugal, Spain, Ukraine, Austria, Bulgaria, Poland etc.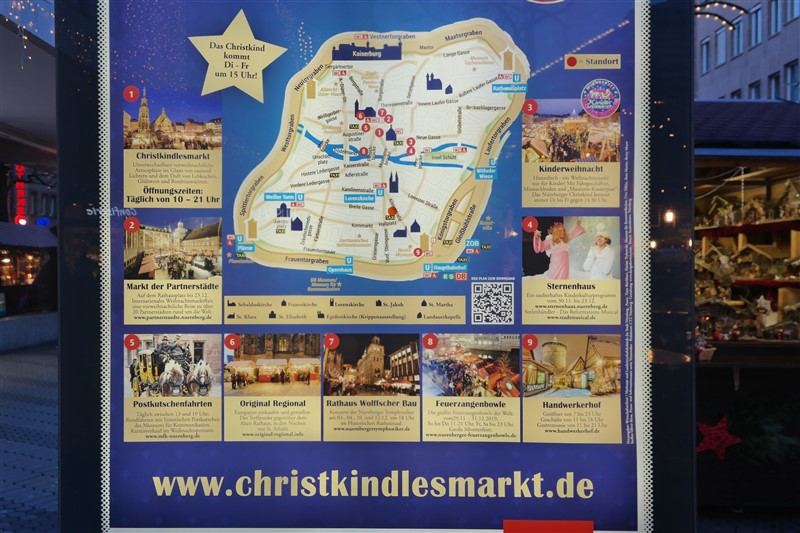 Layover / Stopover in Nuremberg
If you have a layover/ stopover in the city it's super easy to take a small tour. I would say you need at least 4/5 hours in between the flights; reaching the centre by metro is 20 minutes only and then, within 2-3 hours you can explore the castle and maybe a bit of the old town. There are quite affordable luggage lockers (3€-7€ according to the size for 24 hours!) just opposite of the main airport entrance in case you need them.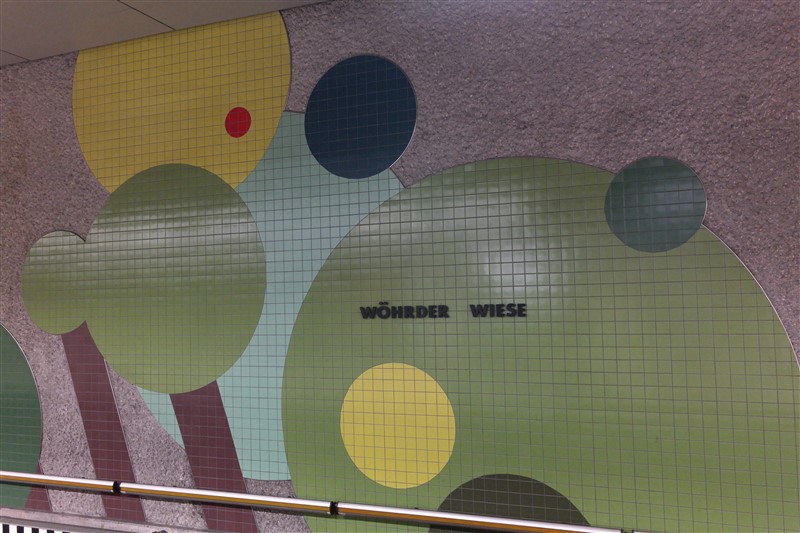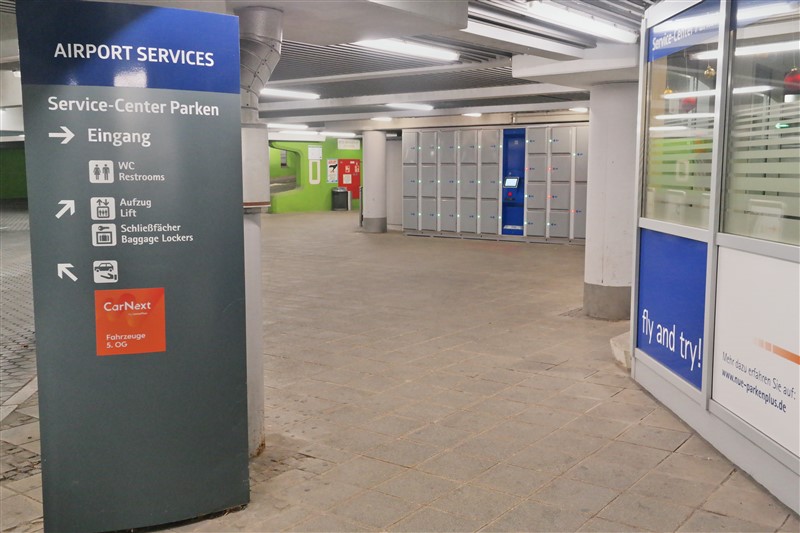 How many days to spend in Nuremberg?
During Christmas time, I would recommend definitely 3 days/ 2 nights! You need at least one full day for the markets and the Christmassy events (if not more), one day for the castle and other city landmarks and one for travel purposes/museums/ Nazi tour/ river cruise/shopping/relaxing or whatever extra you want to do! Nevertheless, this is a decent amount of time to immerse yourself in the Christmas spirit and to enjoy the entire festive feeling the city has to offer. I think a long weekend is ideal but I don't believe you will be bored if you stay more. Outside of the Xmas season, I would say 2 full days will be sufficient to scratch the surface of Nuremberg.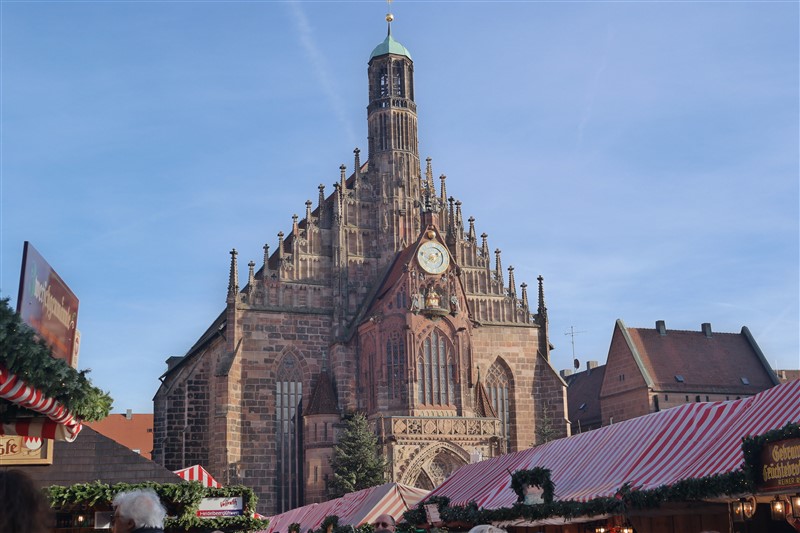 Where to stay in Nuremberg?
That's a no-brainer! Stay either in the old town or close to the castle. Just keep in mind that the Castle surrounding area is not as flat as the Old Town, in case you are easily fed up by uphill roads!
Tell me, tell me! Would you consider visiting Nuremberg Christmas Market if you had just one place to visit in Germany during the festive season? Don't forget that it's said to be one of the best European Xmas markets and it is probably the best German Christmas one! So, what do you think?