Heads Up: Our posts may contain affiliate links! If you buy/book something through one of these links, you will not pay an extra penny, but we'll get a small commission, which keeps this blog up & running. Thank you!
Why visit Copenhagen during Christmastime
Every festive season, since 2012, London has tried its best to convince me that it is one of the best cities in Europe to celebrate Christmas.  Don't get me wrong, it is. However, Copenhagen holds a special place in my heart when it comes to Xmas that's why I can convince you why visit Copenhagen during Christmas! This is the city where you will feel once more like a kid which falling asleep waiting for Santa Claus, eating sweets like hell (secretly!) and being fascinated enough by the mesmerizing decoration.  Copenhagen has a unique way to travel your memory back then and to transform your "adulthood" thoughts and feelings. Well, (let's make some fun here!) if you really want to maintain this feeling for the entire trip, you may have to skip my No. 3 of the Christmassy things to do in Copenhagen ! Why? Be patient!
1. Tivoli Gardens during Xmas time
Don't be misled by the name. Tivoli is one of the oldest amusements parks worldwide. Rumor has it that even Walt Disney was inspired by this park for his future Disneyland. Throughout Christmas season Tivoli is just magical! You can expect carefully designed decoration, gorgeous light design, classical music concerts and an impressive variety of events along with the traditional amusement parks facilities such as roller coasters, wheels, trains etc.! No doubt, Tivoli is worthy every penny- oh yes, the tickets can be pricey especially during the weekends. For 2019 the tickets start from £16 for a single weekday! However, I have been to Copenhagen twice, in summer and in Christmas time, and my day at Tivoli gardens was by far the most well-spent; don't overlook them! And if you have kids… even better!
2. A night walk from the centre to the Little Mermaid
This sounds like an outsider for Christmas season in cold Copenhagen but, in contrast to the Tivoli Gardens, here you will wander almost alone feeling the peaceful Christmas spirit that city can offer.  You will start on foot from the centre heading to the first stop, the Xmas Market in Nyhavn harbour (maybe the most traditional and beautiful one!) where you can drink Glogg (the Danish equivalent to the British mulled wine) and buy handmade local products. The buildings here are fantastic, right? Kastellet, the next stop, is located just 15 minutes on foot northern of Nyhavn. This is a nearly 400 years old star shaped(!) fortress which still serves army but it's also open to the public , consisting of a park and two museums.
Obviously throughout a night stroll everything will be shut but this place is really atmospheric at this time of the year… and maybe a bit scary! You can enter from the south gate and leave from the north one, where you will walk to the statue of the Little Mermaid… in the middle of nowhere! The mermaid is…little indeed and you may feel sorry reading her story as she has been vandalised in several cases! At the same time, you will admire her courage for standing here for over one century despite the hate actions against her. It's a little girl after all leaving in a patriarchal world as every one of us; wish her Merry Xmas please!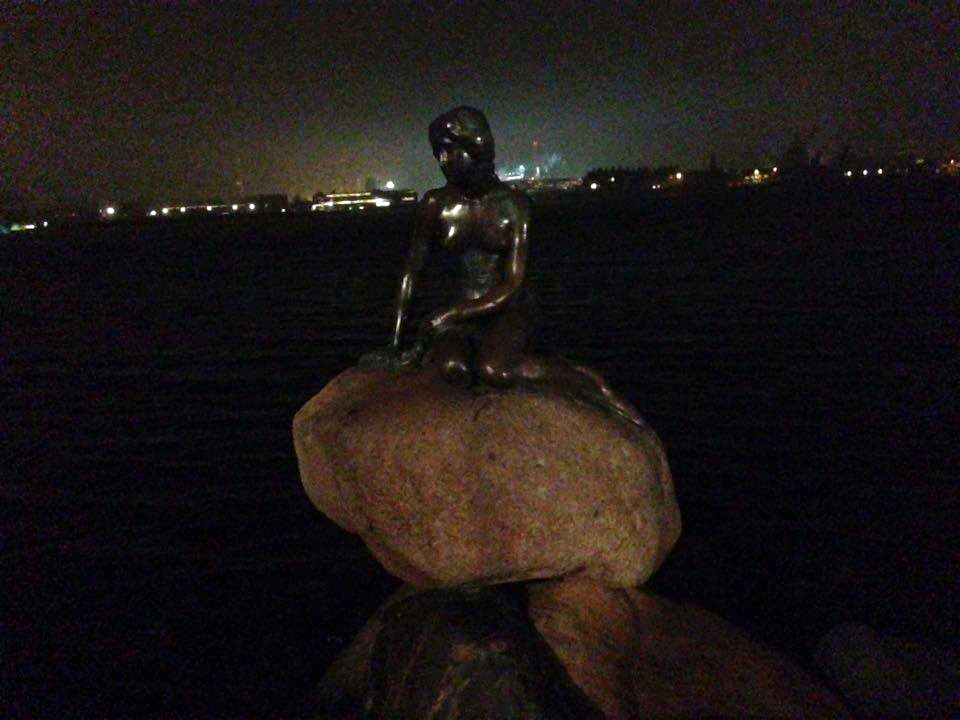 3. Christiania
Finally the No. 3! Despite the.. holy name, this is the least child-friendly Christmassy (or not!) activity you can do in Copenhagen. Let me explain! Freetown Christiania is one of the few (if any) self-proclaimed anarchist districts in Europe.  Self-governing, self-sustaining and autonomous, Christiania is an eccentric place to visit, even if you are not up for smoking weed! The main street has many cannabis stalls covered by camouflage military nets (an oxymoron reference to the previous usage of the area as a military basis, maybe?) and plenty of buildings where people live, work and exhibit / perform their work. Get the Xmas spirit by visiting the main Christiania Christmas Market and don't be afraid of popping in the (open-to-the-public) buildings in order to find out other smaller/ independent «stores» and exhibitions too. I am in love with this place, the freedom feeling that comes with it and the artists we met. I wish more Europeans cities could have something like Christiania even if, as any other social and economic system made by humans, it has many issues that have to be sorted out in some point. Try to read as much as you can beforehand for this distinctive place, the history, the ideas and the challenges behind it so you can understand not only its vital, for the city, importance but also the reality artists from all over the world have to deal with on a daily basis. After that, please visit Christiania with an open mind and I am pretty sure you will fancy it as much as I do!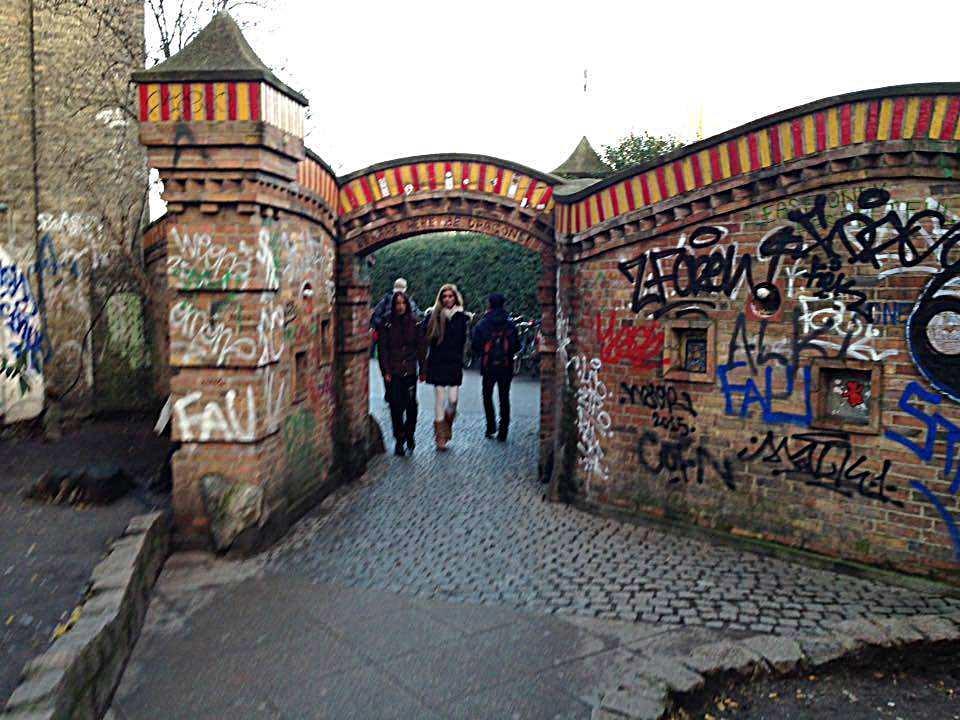 There are plenty other things to do in Copenhagen but I think this is a small taster of what city has to offer especially throughout the festive season. An essential advice? Dress up properly (for snow, wind AND rain!!)  otherwise you won't be able to enjoy it at its fullest -see Dimitri below! On the other hand, are you heading to Denmark in summer? Adapt your Copenhagen travel itinerary accordingly by adding other spots too! Worrying about having to pay too much while in here? Yes, Copenhagen is an expensive city but there are things you can do with less than $10! Give it a try!
Have you ever been to Copenhagen? Why would you visit Copenhagen during Christmas? What about your favourite places for Christmas holidays in Europe? Since we are on a Xmas mood let's make the most Christmassy playlist and please don't forget to comment below!