Heads Up: Our posts may contain affiliate links! If you buy/book something through one of these links, you will not pay an extra penny, but we'll get a small commission, which keeps this blog up & running. Thank you!
Street Food Markets in Beijing, what to expect?
In Beijing (as everywhere in China too!) people eat A LOT! I used to believe that we, Greeks, eat like hell but maybe Beijing people can beat us easily! They do not only eat a lot but they eat everything that can be eaten too (see below!)! The food is cheap, but not as cheap as in the rest of China. For example, a big bowl of rice may cost 50p – £2 depending on the area. Restaurants can be found everywhere but don't expect Western-type ones if you are away from the touristic areas/ shopping malls. Everything is in Chinese language so the menu photos and some catchy words will help you A LOT – don't forget that Google is banned here and having a VPN can take you a long way! There are many street food markets in Beijing ( including some night food markets too) that are worth exploring but I decided to focus on these 3 below (a touristic, a famous and a local one) that are the perfect size, with a decent variety of food and vendors and easily accessible by metro / on foot as they are located on Beijing center- believe me, this is so vital especially if you are a first time visitor in Beijing or China!
As we first visited lots of different hutongs (=neighbourhoods consisted of narrow streets and alleys that used to surround the Forbidden City where mainly locals shop and live) before the food markets, it was easier for us to understand the price and culture differences especially in the touristic ones! We realized that 100-200 grams of freshly made noodles cost less than 40p and of course this amount is enough for at least a 2-person meal! Wow! Also, one can assure that in restaurants (not the super touristic ones though) a side dish is a small dish but… NOPE! It is almost as decent as a…main course in the majority of British restaurants! Hence, ordering just rice can feed nearly two people!
Having said that let me introduce you in detail to the 3 Food Markets in Beijing I mentioned before:
The Famous : Wang Fu Jing Snack Street
Located in the city center, it looks exactly like the photos you might have already seen , a very busy street full of food (mainly based on meat) and noisy vendors. Noodles, rice, corn, chestnuts, baked peanuts, huge spring rolls are just few of the veggie options. Most of the dumplings (pronounced  jiǎozi ad written 餃子 ) have minced beef/ pork/ chicken/ seafood inside so if you are vegetarian please be aware! A snack highlight is the potato skewer (common in other Asian countries as well) that costs 10 CNY (£1.15) and this is the cheapest price we found amongst the Chinese street food markets we have been during our 1-month stay. Many restaurants are scattered around having decent (but not cheap for China) prices. I recommend combining it with a walk around Tienanmen Sq. as the street market is about 15 minutes walking distance from the north side of the square.
Nearest Metro station: Wangfujing
extra tip: always count the change you receive back!

The touristic : Dong Hua Men Night Market (open 17:00- 22:00 )
Basically located almost on the same area as the first one but even if both of the markets can be considered touristic, this one differs because of the food that some food vendors sell: tiny scorpions, big spiders, seahorses, small birds, grasshoppers, beetles, lizards and some…unidentified insects are offered in skewers. I call it touristic as we noticed that even Chinese tourists were shocked and were taking photos – if it was a very common thing for them they wouldn't do that, right? In general, I think, there is a misrepresentation regarding Chinese food- many Europeans believe that Chinese eat dogs for instance but this is not true for the entire country. China is huge and eating dogs is considered «normal» only in few provinces. Some Chinese judge this choice some not. However, even if it's undoubtedly a sad incident, at the end of the day what is the difference between a dog and a sheep, a cow, a pig or a chicken? For me, as vegetarian, the… difference is just a social construction that helps us minimizing the «value» of some animals in order to feel less guilty when eating them.
Nearest Metro station: Wangfujing
extra tip: Please note that in some stalls photos are not allowed!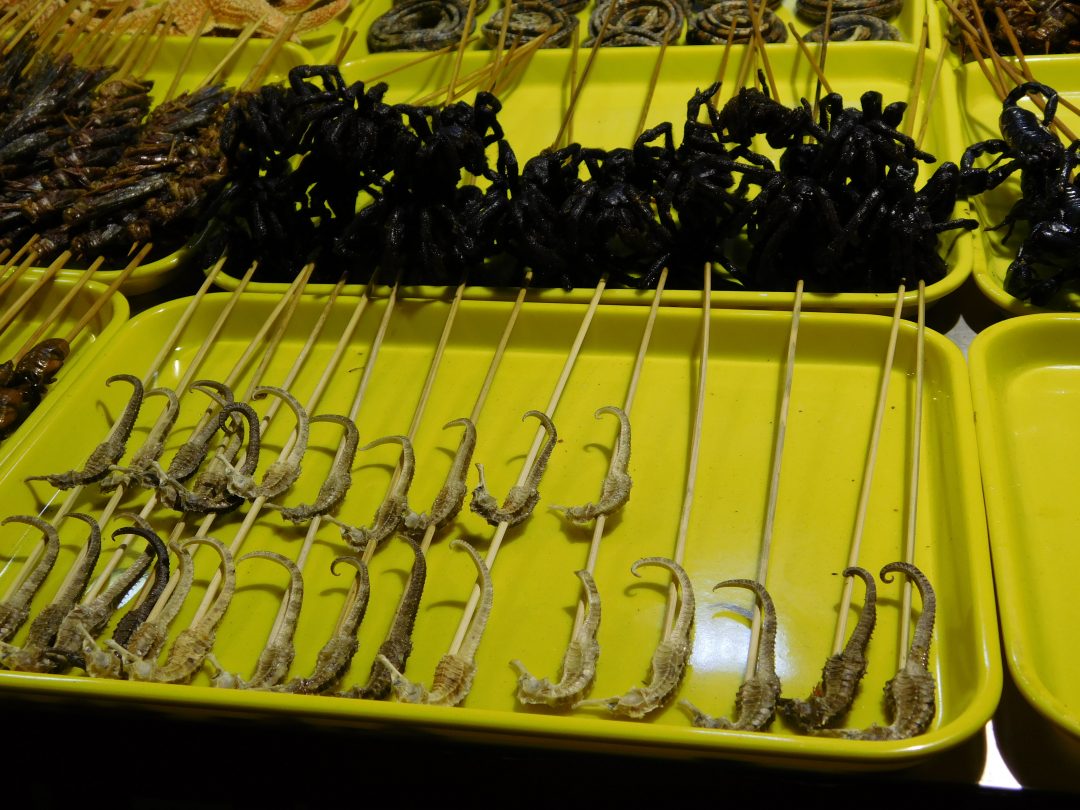 The Local : Nan Luo Gu Xiang
A narrow but long street that you can hardly see any foreigners even if it is on a very central location! We stumbled upon it by mistake and it became my favourite one! Very popular amongst young Chinese as it has nice and hip stores for shopping too. I loved the fruity tea, the «cone-shaped» waffles with ice cream (in London these cost at least £5 and here about £1.5!) and the vibrant vibe of this place! No English speakers here and you would be lucky if you find any English menus at all! Many…random doors lead to big rooms with lots of food stalls hidden inside- don't be afraid to step in! The metro station Nanluoguxiang is next to the south market entrance and the north end of the market leads to Gulou street where you can find some cool vintage stores! I couldn't ask for more and I think this authentic place should be at the top things to do in Beijing list!
Nearest Metro station: Nanluoguxiang
extra tip: some young Chinese may try to communicate with you as the young generations have started taking English classes, this can be the highlight of your visit!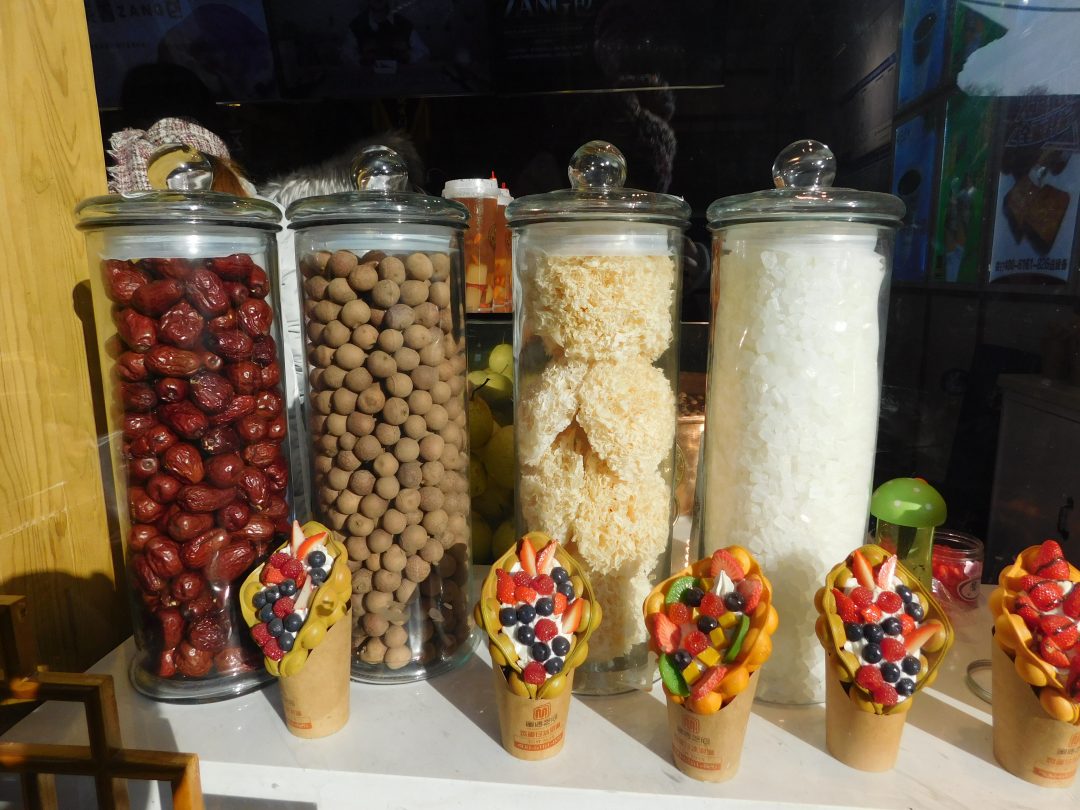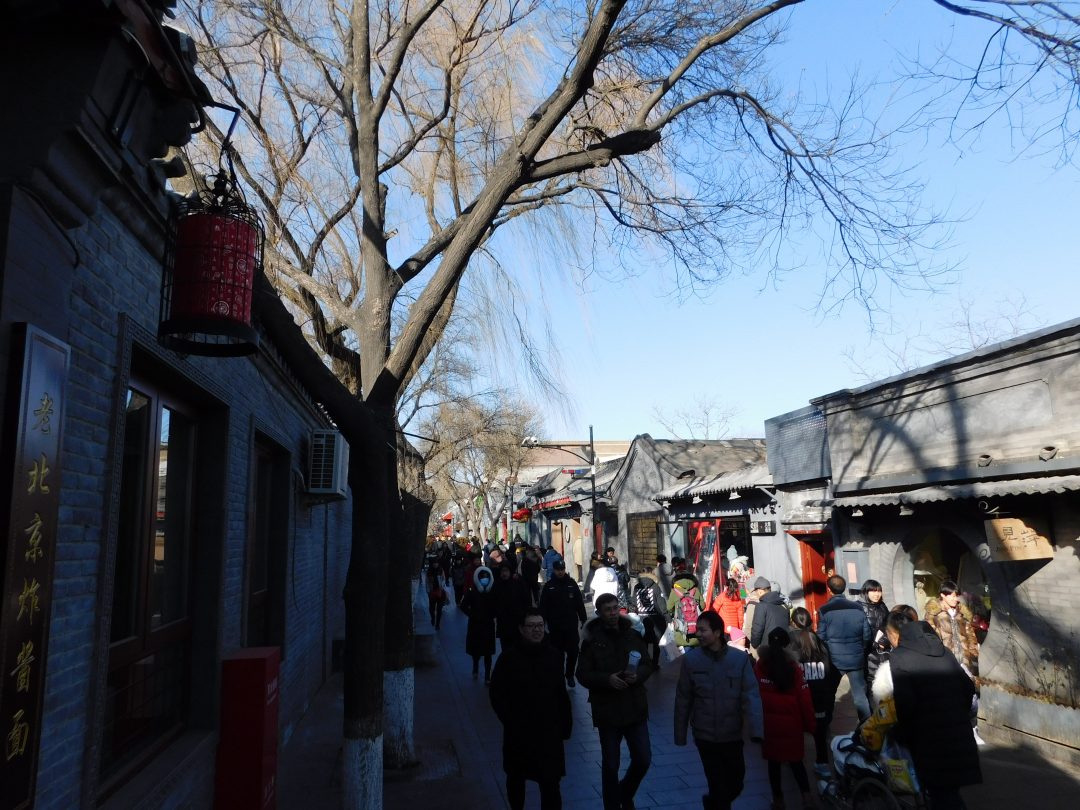 Here we spent some time watching this lady making these mysterious… meat (?) balls from scratch using a weird (for us!) technique! Later, we were told that this method came from Japan!
These are 3 must food markets in Beijing for your first time in China; of course there are way more especially if you decide to step out of the touristic areas completely! If you haven't find your accomondation yet you might consider reading an insight about where to stay in Beijing no matter your budget or checking out the best deals directly from booking:
As we stayed 1 week in Beijing we had the chance to explore more but… this is another story! So what do you think? Which one tickled your interest more? And what about the food and the snacks? Would you try them all?