Heads Up: Our posts may contain affiliate links! If you buy/book something through one of these links, you will not pay an extra penny, but we'll get a small commission, which keeps this blog up & running. Thank you!
First of all, where is Abruzzo & Why visit it?!
Abruzzo is a region in Central/Southern Italy, stretching from the Apennine mountains to the Adriatic sea, with a population of a bit over one million. Even if it's very close to the region of Lazio and the capital of Italy, Rome, Abruzzo does not attract many non-Italians visitors. Such a shame! Amalfi coast is more popular but here are some great reasons to visit Abruzzo instead; apart from the fact that it is way more budget-friendly than the traditional Italian touristic places there is a significant variety of different Abruzzo destinations that can catch one's interest and preferences!
But let's start from the basics:
How to get to Abruzzo!
By air:
Even though there are two airports in the region, only one of them hosts international flights, the airport with the self-explanatory name "Pescara or Abruzzo International Airport "! Located only 20 minutes by bus from Abbruzzo biggest city, Pescara, this is a tiny airport that offers low-cost routes to/ from a bunch of European cities. It is located also close to one more big (and important) town of the region, Chieti, which is one of the most ancient Italian cities and a splendid destination for a (long) weekend. If you stop/ stay here please pay a visit to a traditional (and-bonus!- very affordable!) Abruzzese trattoria such as La Tavernetta Da Ianni.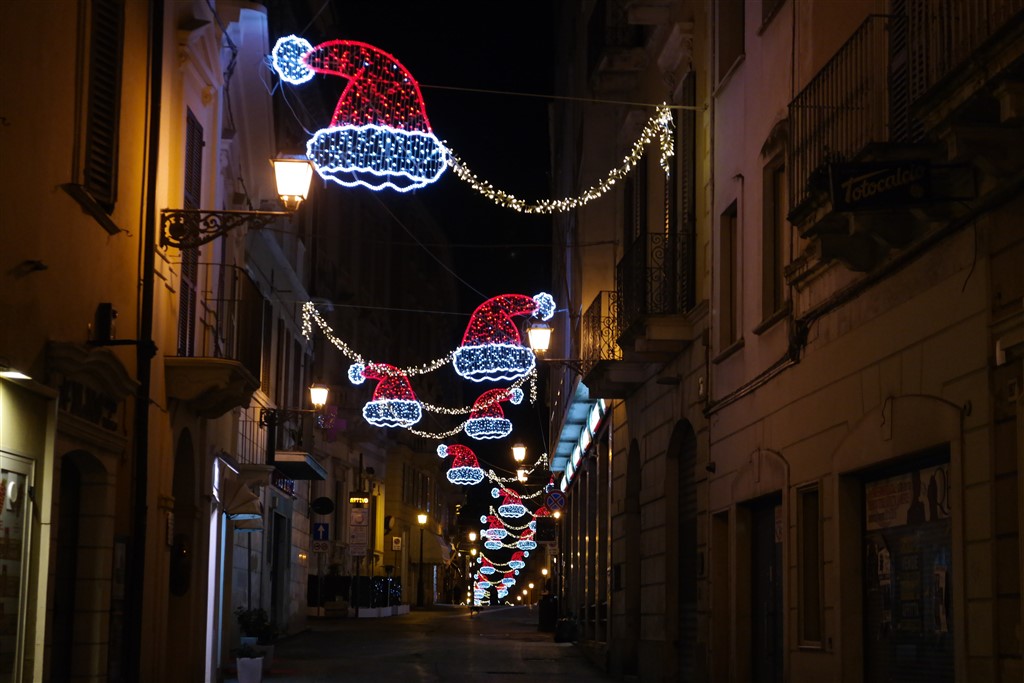 By train:
A railway connects Rome with Sulmona town which is a great base for exploring many hilltop villages, the Apennines mountains, the nearby ski resort etc. and Pescara. There is also a route connecting Bologna (one more overlooked beautiful Italian city)  and Bari multiply times per day that stops at Pescara too and many other smaller lines. The trains are a great way to travel from place to place in Italy but please check in advance for potential strikes!
By car:
Reaching Abruzzo via the highways is not a problem at all as there are 3 major ones serving the region. In my point of view, this part of Italy can be a fabulous road- trip destination; the mountainous area (which covers a large percentage of the entire region) is difficult to be explored by public transport but, on the other hand, it is a not-to-be-missed experience, so renting a car can be ideal! Nonetheless, a trip here is perfectly doable by buses/ trains entirely, in case you just want to enjoy the Adriatic sea and to do some daily excursions in the surrounding villages/towns.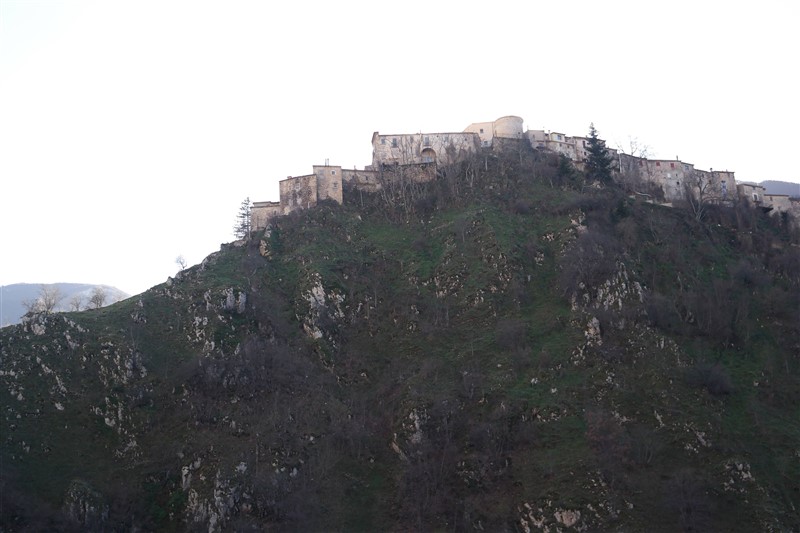 Tell us more about special Abruzzo destinations!
I had arrived in Pescara a few weeks before Christmas, thanks to Ryanair and the extremely cheap flights during wintertime. The road-trip around Abruzzo was a last-minute decision after a train-the-trainer course I attended in a city 2 hours south of the region where I met a local who suggested all those off-the-beaten-path Italian gems! Such a story! Anyway, Pescara has a beautiful small centre and a long coastline; the summertime is definitely a high season here! The same applies to other areas along the coastline which has been basically designed for tourists – heaps of accommodation and food options for any budget can be found all around!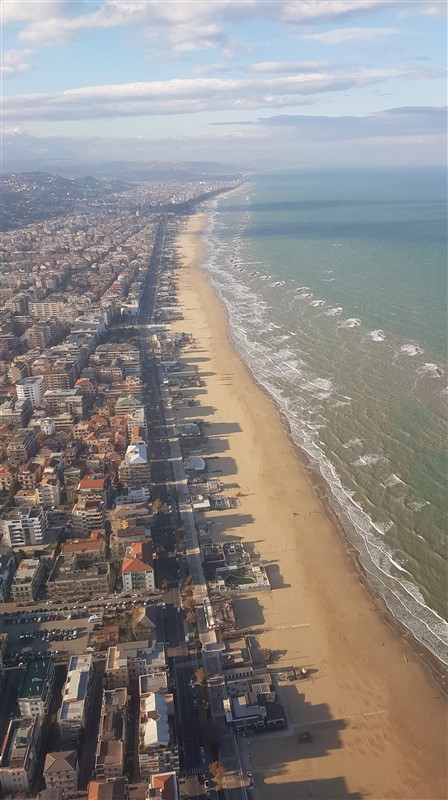 If you are up for shopping there is an outlet village called Citta Sant'Angelo next to Montesilvano town (and less than 20 minutes by car from Pescara centre) that offers mostly Italian brands and it is very beautifully designed. After some shopping, and as we had a bit over 3 days to explore all the Abruzzo destinations, we decided to rent a car and head to the mountains to have a break from the hustle and bustle of the city. Best decision ever!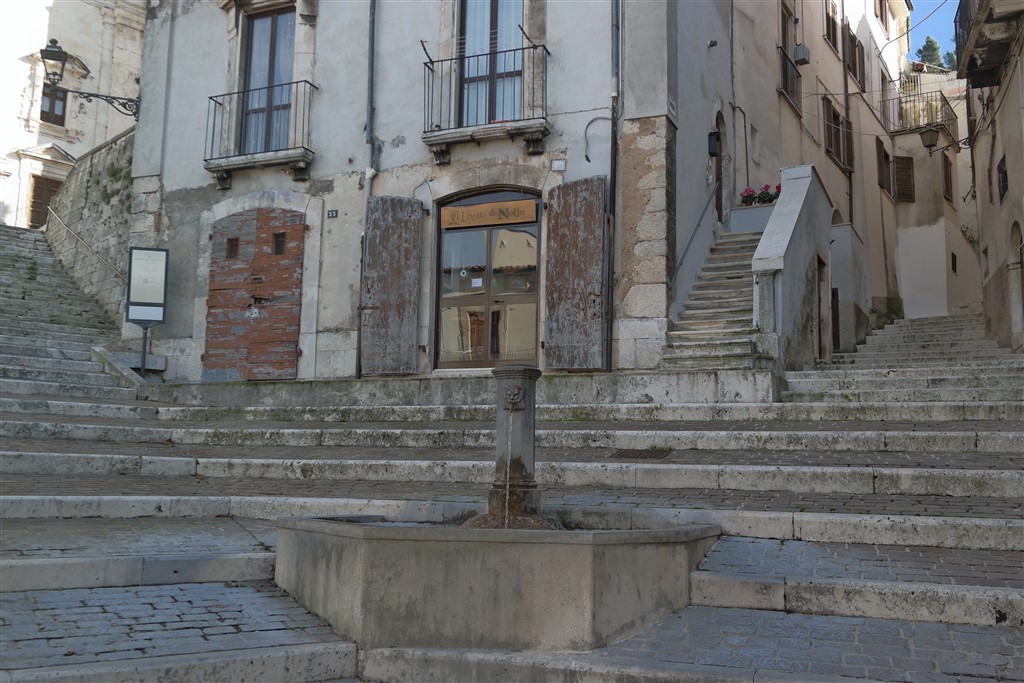 The highway is the quickest way to reach the mountainous area but, if you would rather avoid the (pricey) tolls, the "old" road is totally functional as well. Many small villages are scattered all over the region so you can stop anytime to check them out! Dont forget you are in Italy and you can find food till late (yeah!!) but not during the siesta hours; friendly reminder: the catnaps here are not that short! One more advantage of this part of Italy is that the driving hours won't be endless; everything is quite close to each other and in about one hour you can hit the first hilltop villages. But let me talk about 2 specific destinations in Abruzzo I especially loved!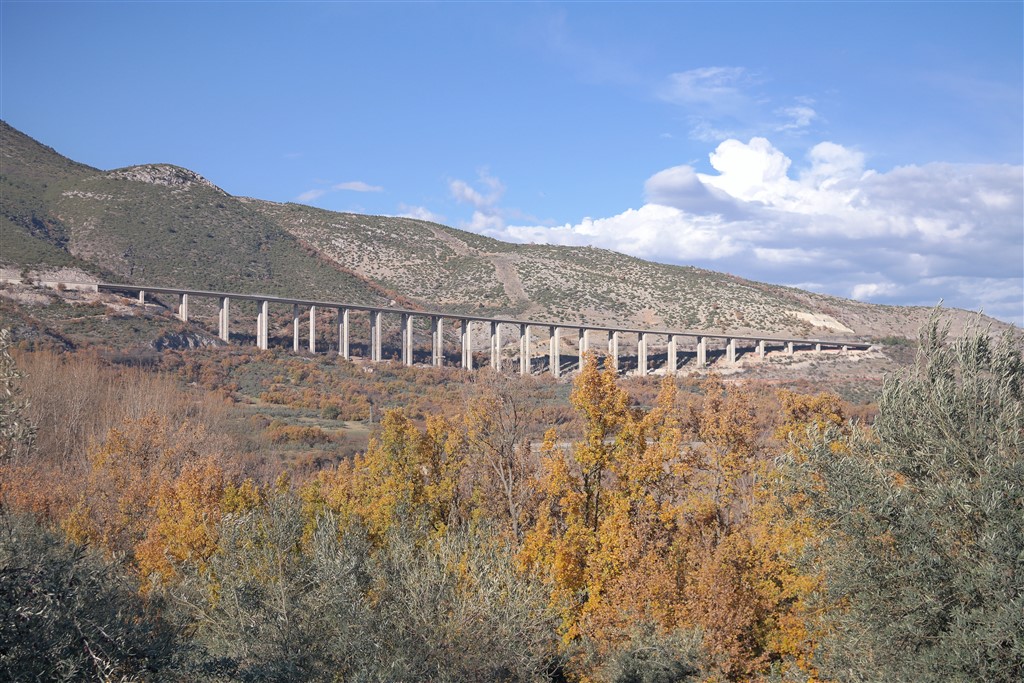 The Confetti Museum 
This can be confusing! Confetti is called either the colourful paper stuff thrown at carnivals and other celebrations (in Italy, Greece etc!) either the sugar-covered almonds, that are offered in weddings/ baptisms/ traditional ceremonies, with their unique history dated back to Romans. In Abruzzo you can find the museum of the latter! Why? Cause this typical confectionery actually has its roots in L'Aquila province in here where the oldest confetti manufacturer can be found as well! Sulmona town is the centre of confetti production and the main manufacturer founded in 1783 by B. Pelino.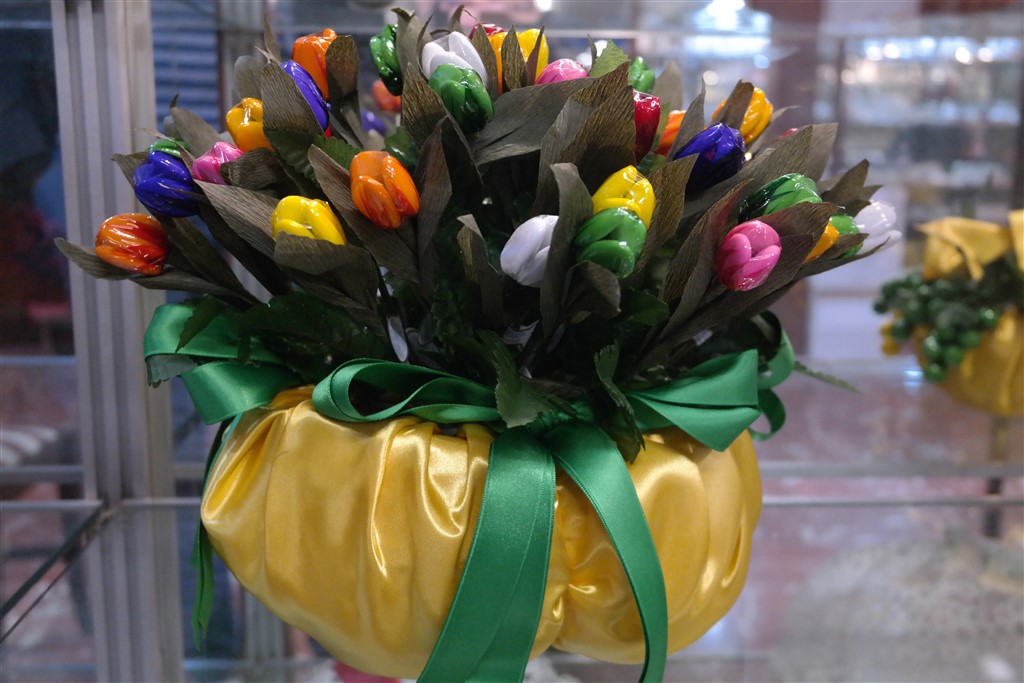 Well, if you have never received a bonbonniera (aka a gift with a pouch full of sugar-coated confetti given after ceremonies such as weddings, baptisms etc) you might have yet to understand what I am talking about! So, hopefully, the confetti museum will answer your questions! Should you are lucky enough you may even manage to watch their machinery working! I am not a big fan of confetti taste but their (still handmade nowadays!) designs stole my heart! The history behind them is also very interesting and you can taste some flavours for free- even if the confetti are widely used in Greece too I had never tried some of the unexpected flavours they produce here! Fancy a visit? I can't stress it enough: come prepared and double check the opening hours as they have a big… siesta for about 4 hours every afternoon before they open again!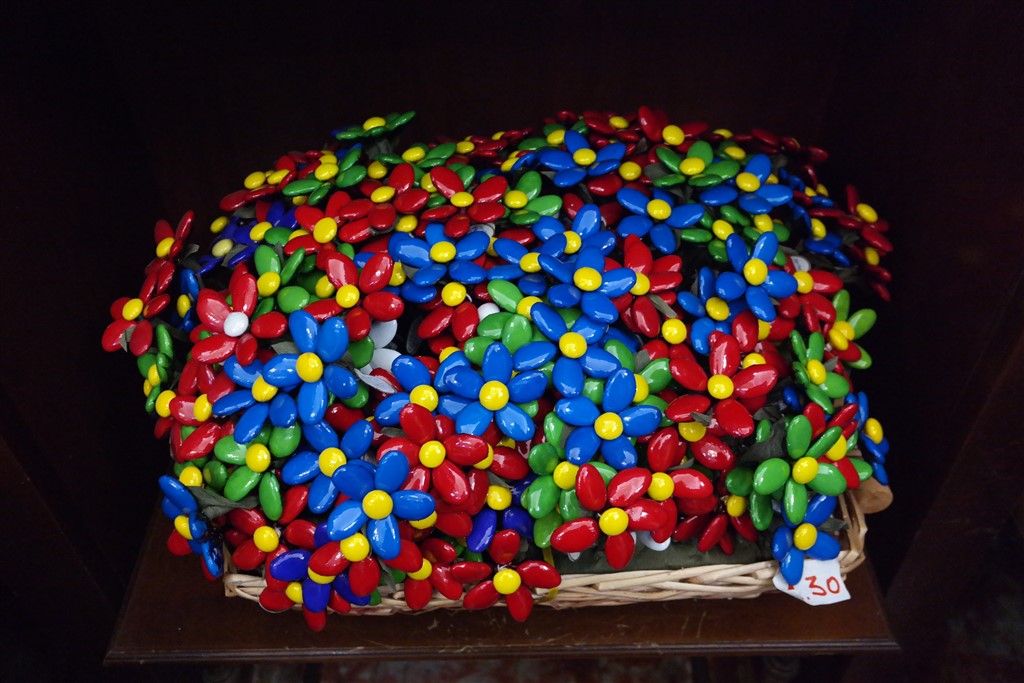 The heart-shaped lake
When you look at the map, lago di Scanno ( lake of Scanno ) looks almost nothing like a heart; unless you are gifted with rich fantasy. However, if you find the correct viewpoint, you will be fascinated by the shape of this hidden gem in Italy. Like any other… heart, the path leading to it is well hidden and special! Firstly, you need to park around here (see the pinned map below, there is a spacious parking lot) and secondly to find the beginning of the path "Sentiero del Cuore" that will take you to the right viewpoint (south of the lake) after an easy to moderate hiking of 40-50 minutes.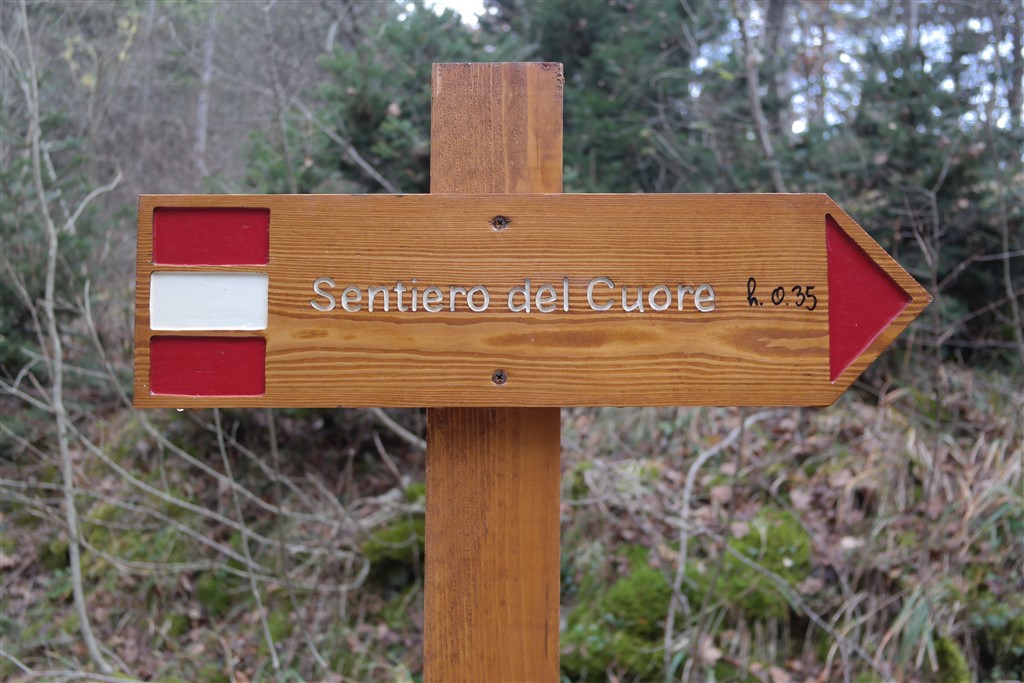 The path is well- signed and you can't miss it; however, the ending point is not 100% specific and it depends on the season as there are many trees around that usually hide the view from different angles from time to time. At some point, the path splits in two and the new trails lead pretty much to the same point, we followed the first and we came back from the second one! Apart from the spectacular shape (tricky to be captured by a camera though, if you have a drone here is your dream destination!) the lake itself offers swimming facilities, pedal-boats, many restaurants and hotels/ guesthouses/ camping etc. At the southern edge, the very old village Scanno is worth a visit too!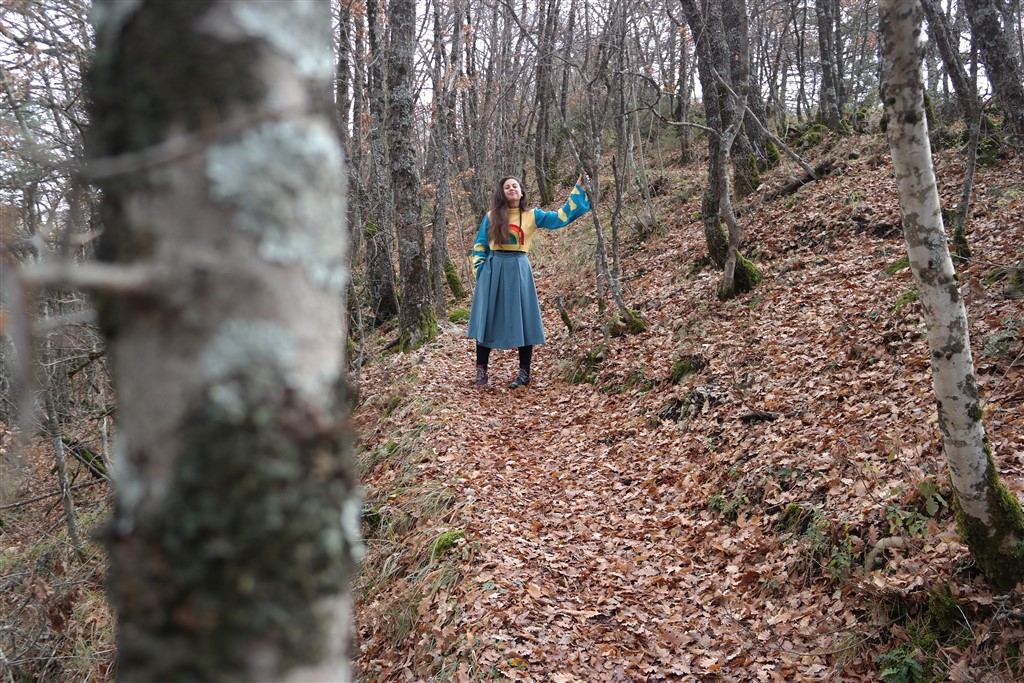 Other beautiful towns and villages in Abruzzo are: Popoli , Anversa degli Abruzzi (in the road to lago di Scanno), the stunning hilltop village Roccacasale (built on the slopes of the Monte della Rocca, very close to Sulmona and Popoli) etc. I stopped counting after a while, I would never have guessed that the unknown Abruzzo has so many gorgeous destinations!
A splendid spot is the overlooked lake San Domenico (close to Villalago village that is north of the heart-shaped lake Lago di Scanno I just mentioned) with the old chapel hanging on the bank, a place for a picnic, a hiking trail and the most wonderful small arched bridge I had ever seen! As if that was not enough, this tiny lake has crystal clear bluish water; here my memory recalled the superb Scottish Highlands landscape with the mirror-y waters! What do you think?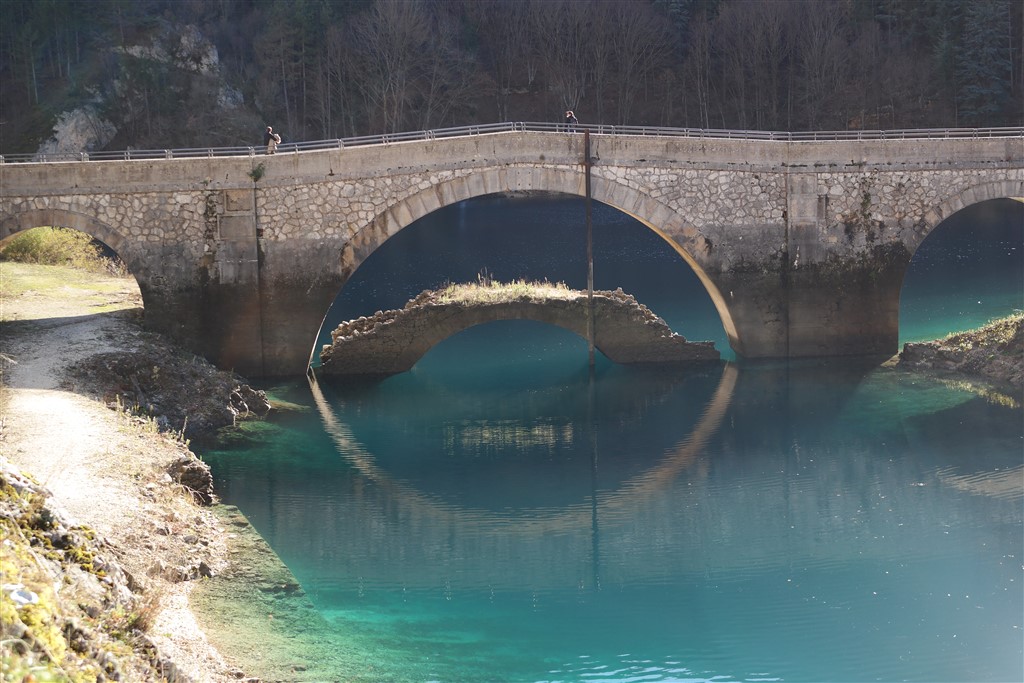 The Abruzzo road trip ended back at the airport in Pescara. After this Abruzzese sneak-peek, I am convinced I have to come back to this region at some point for further adventures! The breath-taking landscape and the friendly locals reminded me once more how much I love Italy (especially off the beaten path destinations) and why!
One more fantastic trip itinerary is Lake Garda – Lake Como which I did a few years back but I couldn't document it better than this blogger!
I would love to read your opinion! Would you make the effort to explore these lesser-known Abruzzo destinations?