Heads Up: Our posts may contain affiliate links! If you buy/book something through one of these links, you will not pay an extra penny, but we'll get a small commission, which keeps this blog up & running. Thank you!
Tropea, Calabria, an overlooked, lesser-known beauty of Italy
Tropea has been a bittersweet trip for me. I loved every minute of this place so much so I dreamt of bringing my then-boyfriend here next spring as a surprise, although I don't visit places twice especially in such a short period. Little I knew, as soon as I got back from Tropea we suddenly (but not out of the blue) broke up, and that immediately made me uncomfortable writing or even thinking of Tropea. I didn't even want to have a look at the beautiful photos me and my friend Ioanna had taken. After some months I realized it was about time for me to write about this trip, things to do in Tropea, and why it is worth visiting, so here we are trying to exorcise the negative feelings!
What's the hype about?
Tropea belongs to the Calabria region, southwest of Italy. It is a half-hilltop half-coastal town, overlooking the Tyrrhenian Sea, characterized by a dramatic landscape. Cobbled streets, breathtaking views, traditional Italian food, nice hikes, houses at the edge of the cliffs, romantic vibes, and a very welcoming sea are completing this wonderful mosaic!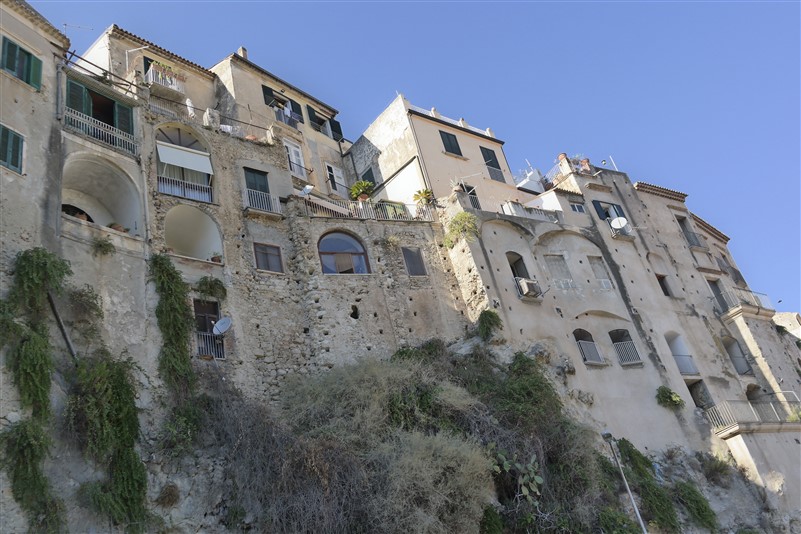 Although not as famous as other coastal areas of Italy (Cinque Terre I am talking about you!) Tropea receives lots of local visitors camping around during the summertime or taking short breaks in the wintertime (which is characteristically quieter than summer). There is a fair amount of foreigners but I truly believe Tropea deserves more!

How to reach Tropea
The easiest and quickest way (should you haven't rented a car) is by train. Tropea doesn't have any airports; the closest one is Lamezia Terme approximately one and a half-hour away with direct flights from Milan, Bologna, Genoa, and other major Italian cities and some international connections, especially during the high season (UK, Malta, France, Poland, Switzerland, Belgium etc. ). As soon as you land, you catch the bus to Lamezia Terme Centrale Train station (10 minutes away) and then you hop on the direct train to Tropea (a one-way ticket is a bit over 3€).
Additionally, there are trains to/ from Naples, Rome, Catania, etc. but usually not direct ones, most likely you will need to change at Lamezia Terme for the last branch of the trip. Some coaches also pass through Lamezia Terme Train station, from Naples, Rome, etc. and this might be the cheapest option (but not the fastest) if you are already in Italy.


How many days to spend in Tropea
Considering how small this picturesque town is I would say 2 full days are enough. If you want to relax next to the sea and explore more beaches around you are likely to need more days. Winter is way quieter and less touristy; however, the sea is so inviting and this emerald-green water so mesmerizing that it is really worth a summer/shoulder season trip. We were here beginning of October and we swam just fine (the beach had many people though, despite being a random Monday/ Tuesday! I can't imagine how crowdy it will be in the summer!).
Tropea Beaches
Since the entire, over 2 miles, coastline is called "Costa degli Dei" (=The Gods' coast) one can easily guess that there are countless beautiful beaches scattered across. My favourite one was Spiaggia della Rotonda, a sandy beach under the palazzi/cliffs, tranquil water, amazing scenery, and next to the Santuario di Santa Maria dell'Isola. Other spots are Spiaggia della Contura, Lido Blanca, Spiaggia di Michelino and Oasi Beach. The good thing about Tropea's beaches is that once you walk down the coastline most of the beaches are easily accessible on foot (but they are distanced apart). Frankly, swimming in Tropea was one of the happiest moments of 2021.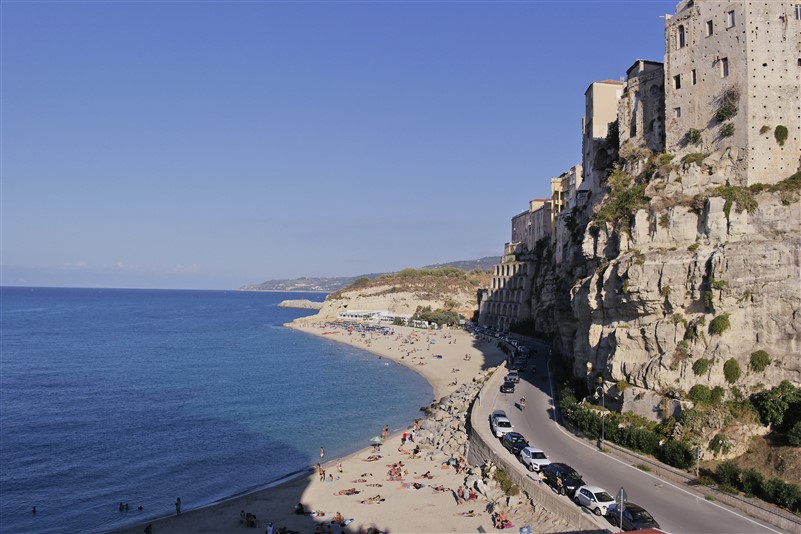 Besides swimming, what else to do and see in Tropea
–Stroll around (and probably get lost) the historic centre of Tropea. Corso Vittorio Emanuele (the main street), Piazzetta del Canone (Little Piazza of the Canon), the Norman Church, and Affaccio del Corso are some of the main spots.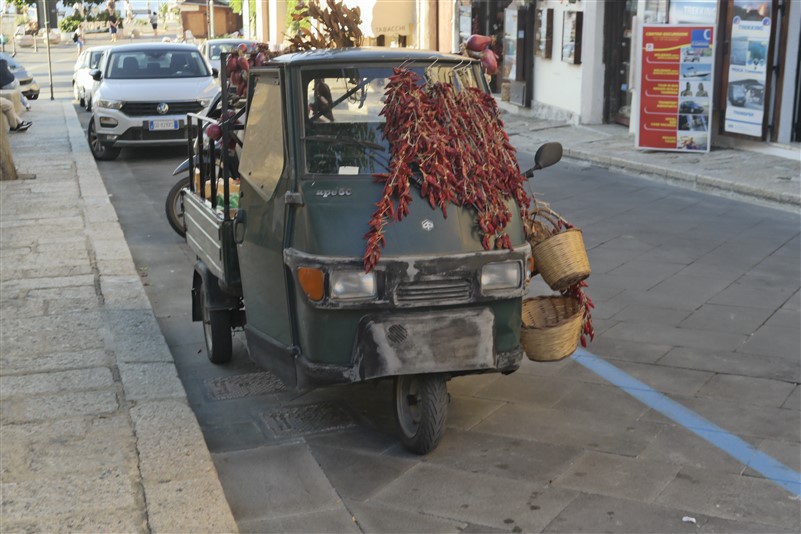 –Visit the Santuario di Santa Maria dell'Isola by climbing up the 300 steps leading to a 6th-century Benedictine monastery; one of the most photogenic and "postcard-friendly" Tropea's attractions.
–Enjoy the sunset from the top of the cliff as many locals and visitors do. I don't think you can miss it since about 30-45 minutes before sunset people start gathering at the end of the main street ready to take photos or simply watch it!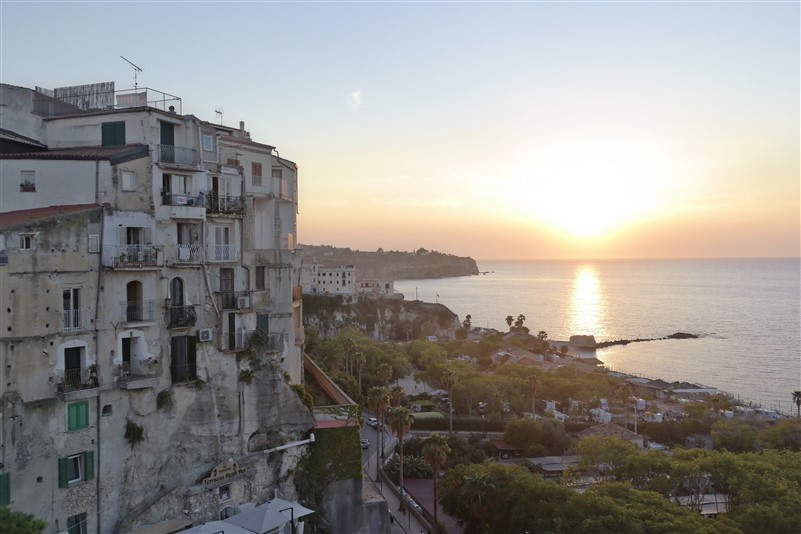 –Walk peripherally the town by following this path: Tropea Train station ›Contrada Marina Vescovado ›via Jerocades (to the port and back) ›Grotta di San Leonardo ›via Lungomare and then back to the town centre via the stairs next to Belvedere Piazza del Cannone.
The route can take 45′ or more -depending on how many times you will stop to take photos!- but there are some steep stairs on the way back (mind this in case you are here in the hot summer months!). Also, the first part (after leaving the centre) doesn't have an indicated pedestrian path so you basically walk next to the cars, fabulous views are guaranteed but pay attention cause the road is zig zag at some points!
-Visit some museums and/ or landmarks. The legend says Tropea was found by Hercules and since then it has been a passage for pirates, Normans, Greeks, Romans, Byzantines, etc. Remainings from all these "visitors" are blended with Renaissance and Baroque style houses and details across the old town; such an interesting place to visit!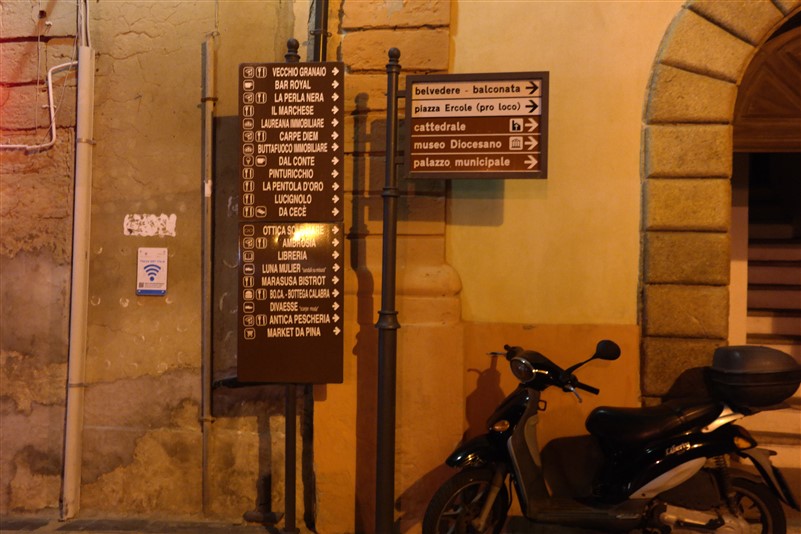 What to eat and buy in Tropea
Undoubtedly the No.1 to eat is the famous Tropean red/ purple onion (it's everywhere! You can not miss it) which is notorious for its sweetness. Believe it or not, this onion has even its own museum! The most popular dishes are Licurdia (Tropean onion and potato soup), 'Nghiambara (a type of flour-based frittata), and the Tropea onion jam. However, some restaurants make their own recipes (especially for starters) using the onion as a staple.
Other things to eat in Tropea include the local pasta fileja, the local peppers, and the (not vegetarian) salami 'nduja. Talking about souvenirs from Tropea, of course, food can be considered the main one! The old town has many shops where one can buy any kind of local delicacy and the prices are decent. Moreover, some infamous Italian brands have made their way here but there are also independent shops (my fave!) selling artists' and designers' artwork. Don't forget to sip an Italian coffee too!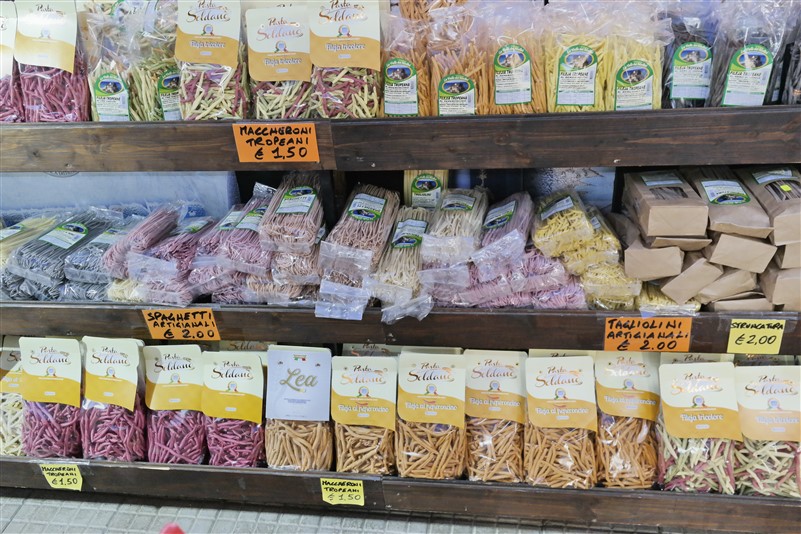 Where to stay in Tropea
Many visitors choose to stay closer to the sea so they won't have to climb up and down every time they want to swim/ go to the beach. On the other hand, some prefer to stay in the town centre as there is a greater variety of coffee shops, restaurants, things going on, better views, etc. and they don't want to reach the sea so often. To me, it really breaks down to your preference. Both have their pros and cons, choose wisely!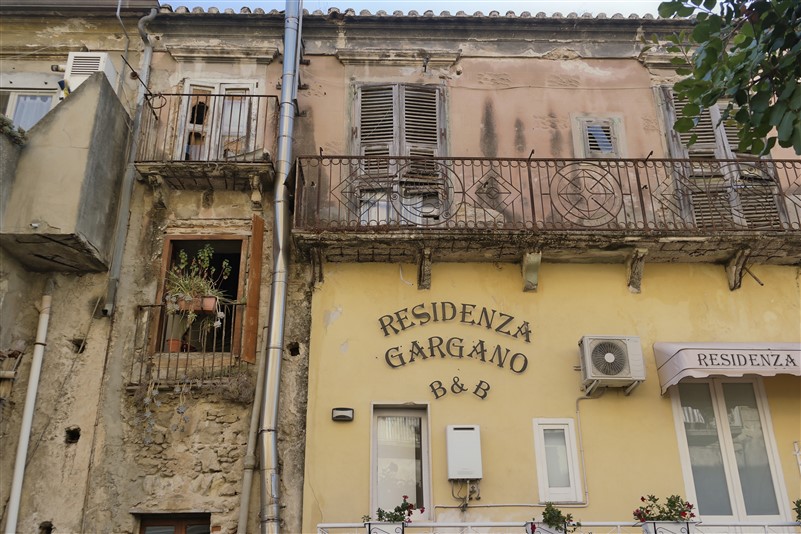 Is Tropea worth visiting?
Tropea is definitely worth it! Despite my mixed feelings after that trip, I highly recommend you take your significant other (or your precious self!) there and have a romantic dinner at a cliff restaurant. Alternatively (or additionally!), you can enjoy the beautiful sea/ beach for hours while old houses are dramatically hanging upon your head. What else to ask for? It was not a surprise that in 2021 Tropea was voted the most beautiful Italian village!
Your turn now! Have you ever heard of Tropea? Have you visited it already or are you planning to add it to your Italian itinerary? Any other things to do in Tropea? The comments are yours!