Heads Up: Our posts may contain affiliate links! If you buy/book something through one of these links, you will not pay an extra penny, but we'll get a small commission, which keeps this blog up & running. Thank you!
Where's San Marino
San Marino is one of the smallest countries (or microstates) in the world and it actually sits only at position no.5 (in comparison the Vatican being the 1st and Malta 10th). As a "state inside a state" or an enclave, San Marino is landlocked by Italy and has around 30,000 inhabitants. Its largest city is Dogana (with a population of approximately 7,000) but the capital is the City of San Marino, being the third largest city of the country (with a population a bit over 4,500) and the main tourist destination. The historic center of San Marino capital (and its cobblestone streets) is inscribed on the Unesco World Heritage List and it's really worth a "bookmark" on your bucket list!
San Marino What to See
The unbeatable and most famous attraction is the 3 Towers: Guaita( or Rocca), Cesta and Montale. The first two are open to the public while the third (and the smallest one) not. They are located on the three peaks of mountain Titano overlooking -and defending- the country. Unexpectedly, the towers are fairly close to each other- mind the stairs/ hills in between them though! There is a combined (reduced) ticket if you wish to visit them both which I highly recommend!
The towers are not big and you need just a couple of hours to visit all of them- including the small museum of Archaic Arms inside Cesta. Their views are utterly spectacular! You can spend hours admiring the beauty of their strategically chosen location which once was selected solely for defence purposes but nowadays it is the most flawless observing point. If you have limited time to visit only one of them, Cesta (the second one) stands on the highest point of the mountain but Guaita (the first one) is said to be the most famous. It is hard to choose, I loved them both!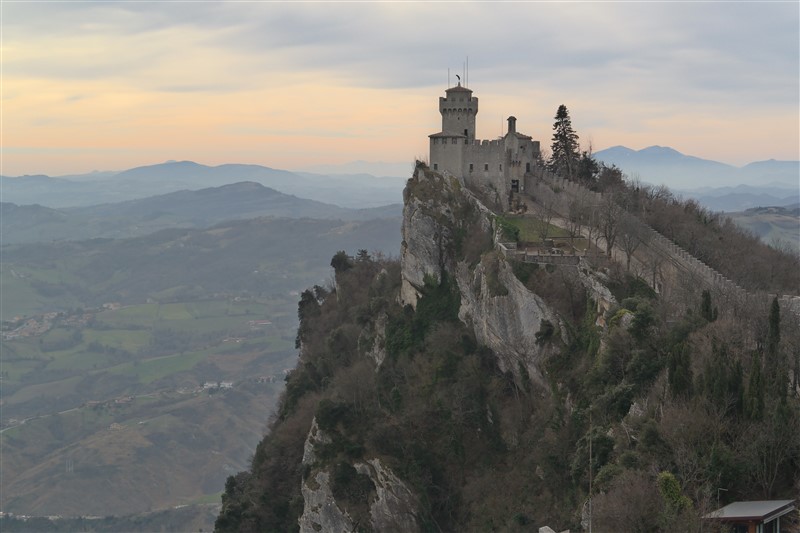 Other San Marino Points of Interest /Landmarks

(please confirm they are open to the public before your visit)
-The main city gate of San Marino Porta San Francesco
-Basilica del Santo
-Public Palace (Pianello)
-Church of San Francesco & Church of San Quirino
-Santa Chiara Monastery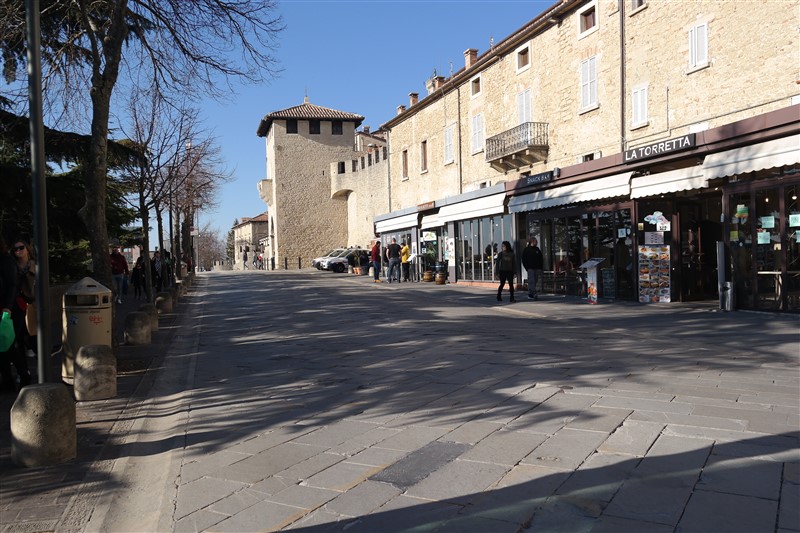 And What about Museums?
-National Museum
-Museum of San Francesco
-Gallery of Modern & Contemporary Art
-Museum of Torture instruments
-Museum of Immigrants
Interesting Facts about San Marino
–It is said to be the oldest continuous republic in the world
-You can use Euros in San Marino even though the country is not part of the EU!
–This tiny country has never denied help to asylum seekers. For example, during World War II about 100.000 Italians were given shelter (the current democracies haven't learnt much though…)
–By the way, Sammarinese people are not Italians!
–No passports will be checked upon entrance. But if you fancy a souvenir-type stamp on your passport you can go for it! You need to pay a small fee of course (around 5€ but I can't really tell since I didn't do it!) but for some people, it's worth it!
–In 2018 San Marino was listed as the "least visited country in Europe"!
–There is no hostel in the historic centre (and this may play an important role in why the nation is the least visited country). However, you can find the one and only in the country just a few kilometres away located in the biggest San Marinese town!
–There is a lift on the public bus terminal level and a cable car starting from the lower terminal, but aside from these, you will need to walk a lot- come prepared!
–Since we are talking about walking… some captivating sculptures can be found around (walk more to discover them!) along with their fascinating stories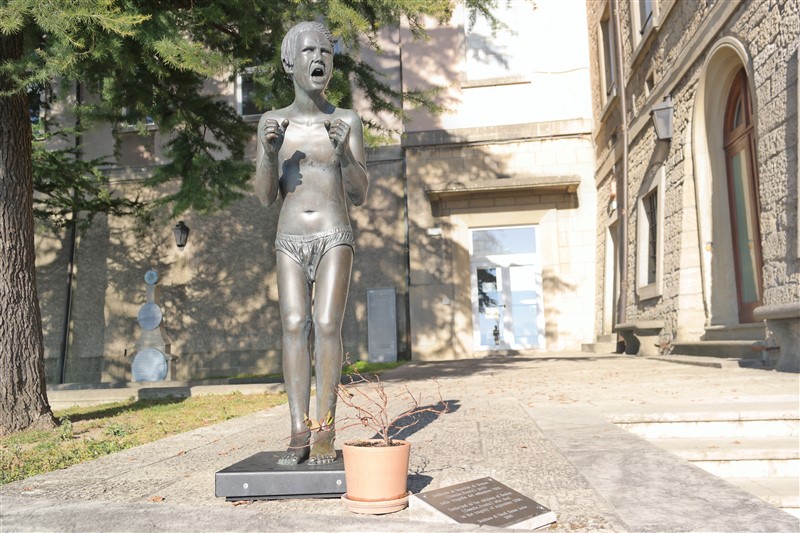 How many days to stay in San Marino?
The majority of travellers (besides the Italians) usually spend only one day in San Marino. While you can see most of the capital in one day indeed, I would highly recommend spending 2 days in this tiny country. The first day can be spent on visiting the towers, walking around the historic centre and ticking off the list the most touristic things to do in San Marino and the next one for hiking mountain Titan (where one can find many marked paths for different fitness levels), nature & people observation, photos, a visit to the National Gallery or other museums, etc.
One more thing to consider is how peaceful and different San Marino seems during the night; I particularly enjoyed a solo stroll all over the empty, dark town after the tourists had left and the shops had closed. I had the entire place almost for myself and the mysterious towers were surrounded by an eerie atmosphere which I gladly experienced at the end of my first, well-spent day here. Consider adding an overnight stay to your San Marino itinerary as well!
An extra perk hotel guests usually get is the San Marino card which offers reduced prices for many attractions and restaurants/shops. Consequently, if you decide to stay overnight in San Marino please go for the check-in before you visit anything else and you might get this card for free to use it for the next days! Besides this, it's a nice souvenir anyway!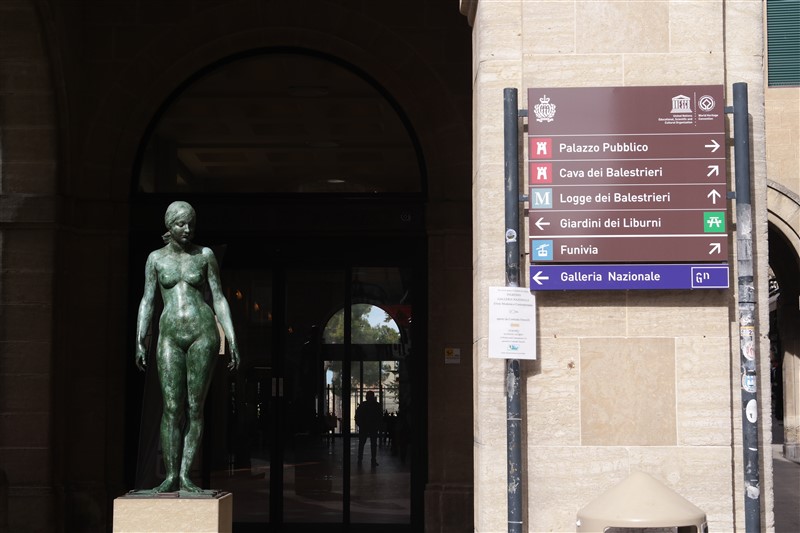 Where to stay in San Marino
Well, no many choices here! There are a few mid-range to expensive hotels in the centre and the outskirts of the town. As stated above, if you prefer to look for a hostel you will need to stay away from the capital and to pay for commuting (take into account the waiting times for the buses too!). I didn't look for Airbnb so I can't comment on this. I stayed at Hotel La Rocca and it was the cheapest option at the time, a bit less than 45€ per night for a single room including breakfast (the last weekend of February). Simple but cute, clean with a nice view and tasty breakfast!
More deals for other San Marino hotels:

How to get to San Marino
The country is entirely built on the hills therefore, there is no seaport. Unsurprisingly, there is no airport in San Marino either, besides a small airfield/ runaway and helipad (named Τorraccia and run by the Aeroclub San Marino) which is not really open to the public- unless you can rent a private jet or you are the Pope. As a result, the closest airport you can fly to is the one in Rimini (an Italian seaside city) situated approximately 25 km away from San Marino capital.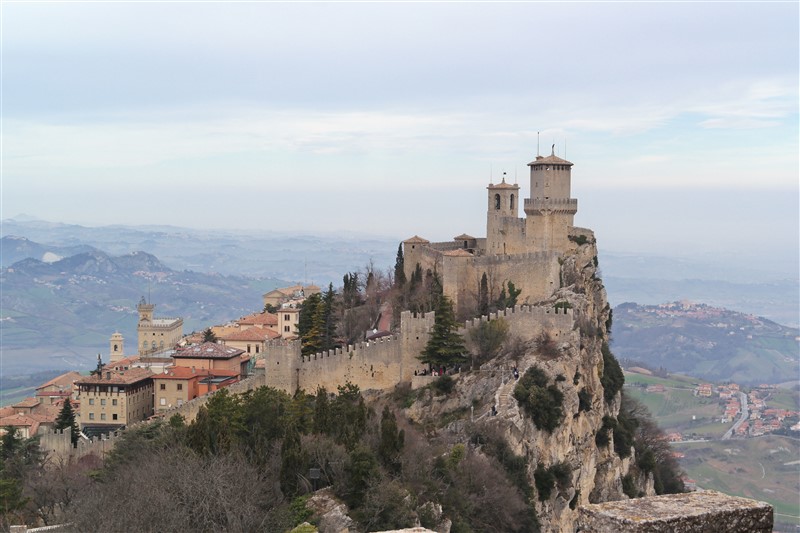 Rimini to San Marino Bus
It is super simple to reach San Marino from Rimini (and vice versa) but it can take longer than you think. The buses depart from Rimini Stazione (the main train station) area and there are located just on the other side of the main entrance. It is important to check the bus timetable in advance so that you can plan accordingly; the buses do not run as frequently as expected (at least that was my initial thought!) especially during wintertime. Checking beforehand is especially crucial should you organise a one day trip to San Marino- as you can see below the last bus can be as early as 6 PM!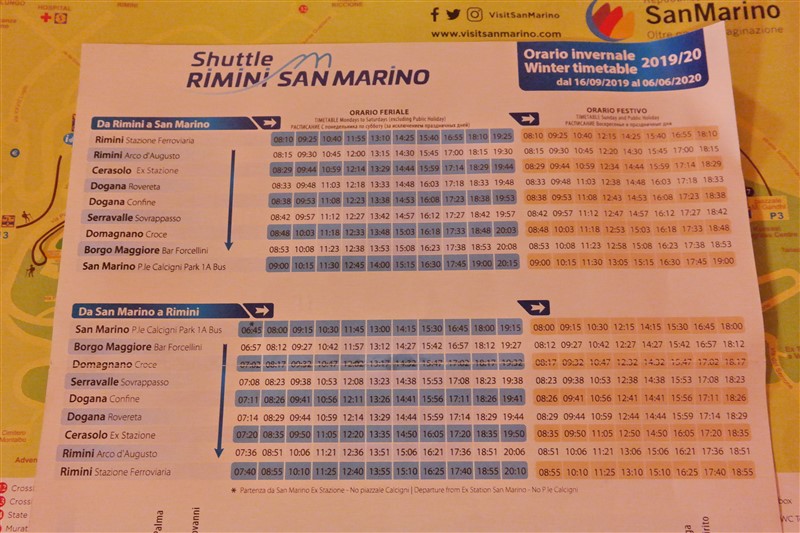 In the summer there are various "San Marino tour" buses running in between Rimini and San Marino regularly but they are definitely more expensive. The local shuttle bus costs 5E one way. You need to purchase the ticket in advance from the nearby "tabaccheria"- you simply cannot miss it! You can also get a return ticket since you are allowed to use it any day/time (you don't have to disclose it at the time of purchase). Then… just head to the bus stop; you are reaching your final destination in about 55 minutes!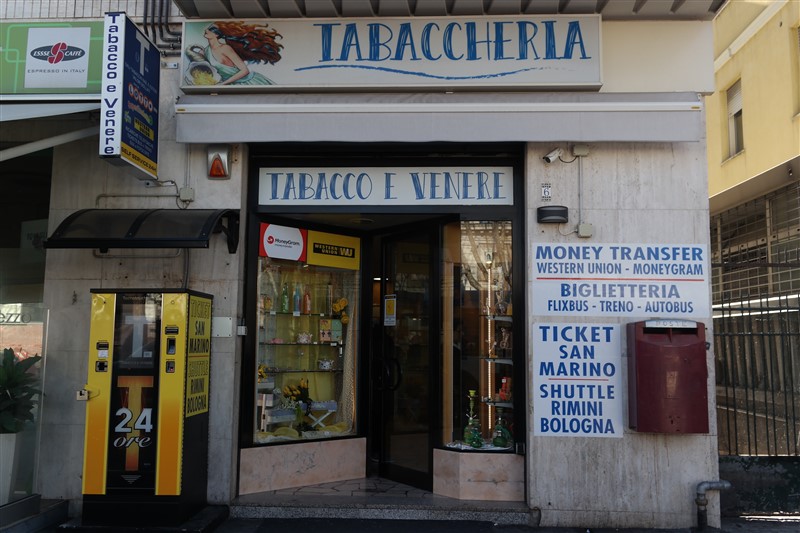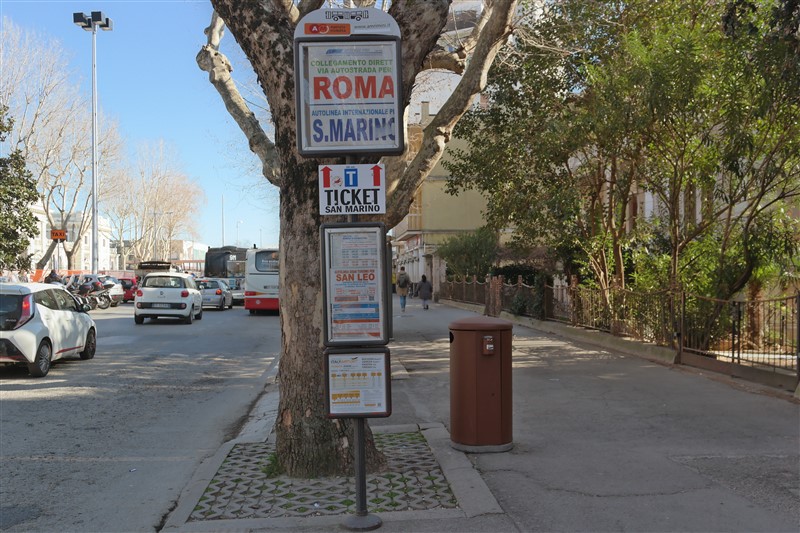 What about

travelling there by car?
This can be tricky due to the lack of parking spots! You may have to leave the car way below the level where the bus terminates. Did I mention that the historical centre is built on different hilltop levels and you have to climb them all to reach the towers? However, some parking lots closer to the centre are reserved for hotels guests or towers visitors so it might worth checking beforehand with your provider, especially during the high season when it is unlikely to find empty spots if you just turn up! There are various police checkpoints along the main road (towards the capital/ towers) and you might be asked to park your car far away if you have no other booking/plans.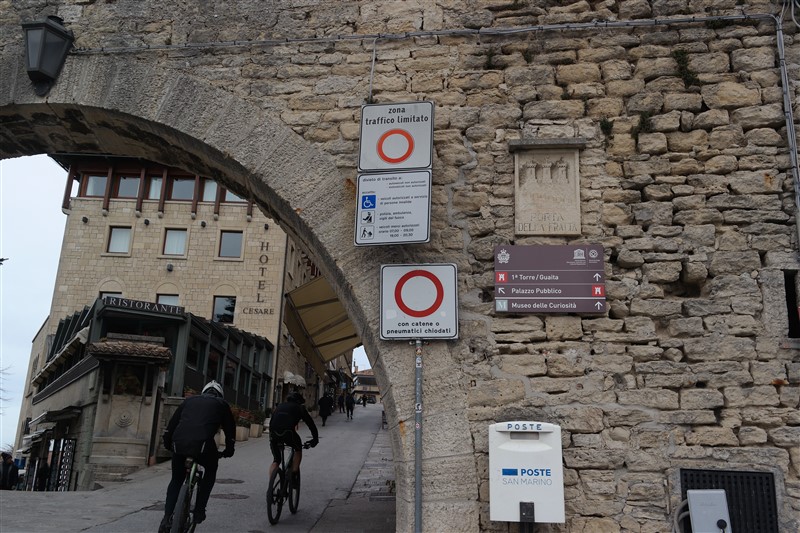 How safe is it?
San Marino is the last country I visited before the Corona outbreak (who knows when we will manage to travel again…) and I was sola. I never felt unsafe or harassed and this was a pleasant surprise since in neighbouring Italy street harassment is present and annoying. Even throughout my relaxed night walk, I felt fine. Nevertheless, some spots were extremely dark or very close to the forest and they could be potentially dangerous. Overall, the crime rate is very low and the main concern is usually pickpocketing but we, as female travellers, have to be extra vigilant as always ? ?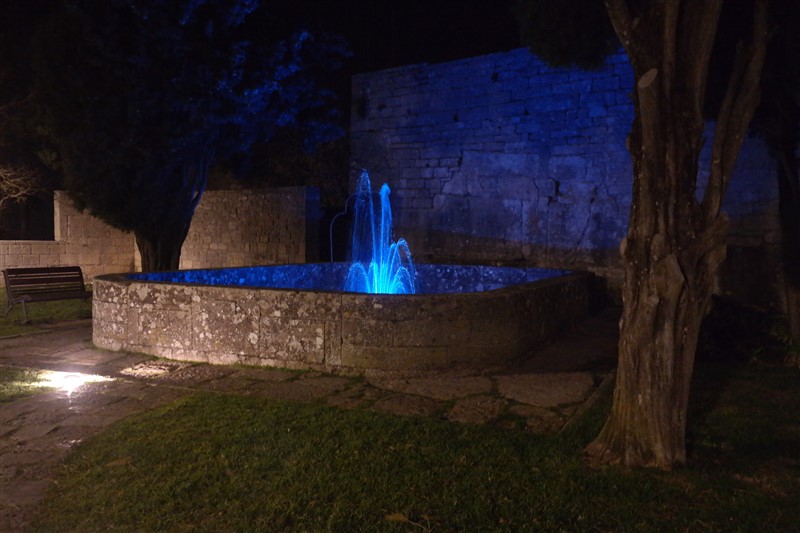 Overall, I feel that San Marino is a bit underrated and an overlooked place. It is usually a quick stop when there are soooo much to do and see especially if one is interested in history, medieval times and nature. Definitely not a destination for nightlife or shopping malls- on the other hand, San Marino looks like the ideal romantic getaway! And what about you? Would you visit San Marino and if so for how long?