Heads Up: Our posts may contain affiliate links! If you buy/book something through one of these links, you will not pay an extra penny, but we'll get a small commission, which keeps this blog up & running. Thank you!
Best beaches of Koh Phangan or Beyond the Full Moon Party
Koh Phangan is an island southeast of Thailand famous for the Full Moon and Half Moon Parties. Apart from the nightlife and the backpackers' crowds, that spend weeks and even months here, the island has a hippie feeling, relaxed beaches and a decent amount of accommodation choices from budget to luxury; in short, Phangan is touristic but not spoiled. This subjective (of course!) post includes 5 (+1 Bonus!) of my favourite best beaches of Koh Phangan along with photos and other tips so you can manage not only to… find but also truly enjoy them as much as possible!
1. Mae Haad Beach and Ko Ma Islet
Ko Ma is a tiny green islet (northwest of Koh Phangan) connected by a narrow sandy stretch with the mainland. It takes 5-10 minutes for one to cross this trail on foot but be prepared as the path is full of broken corals that may hurt your feet! The surrounding beach is nice and in general the place is very unique. We found the least shallow waters here and this beach is suitable for families but you need to watch your steps as there are some black sea cucumbers at the sea bottom.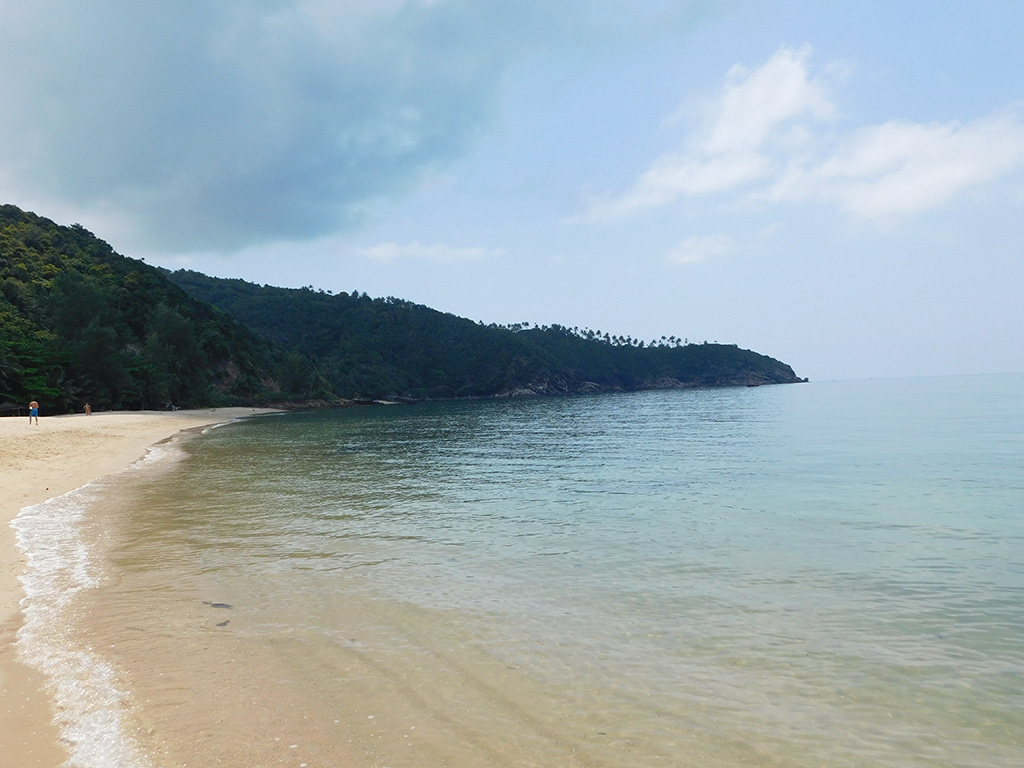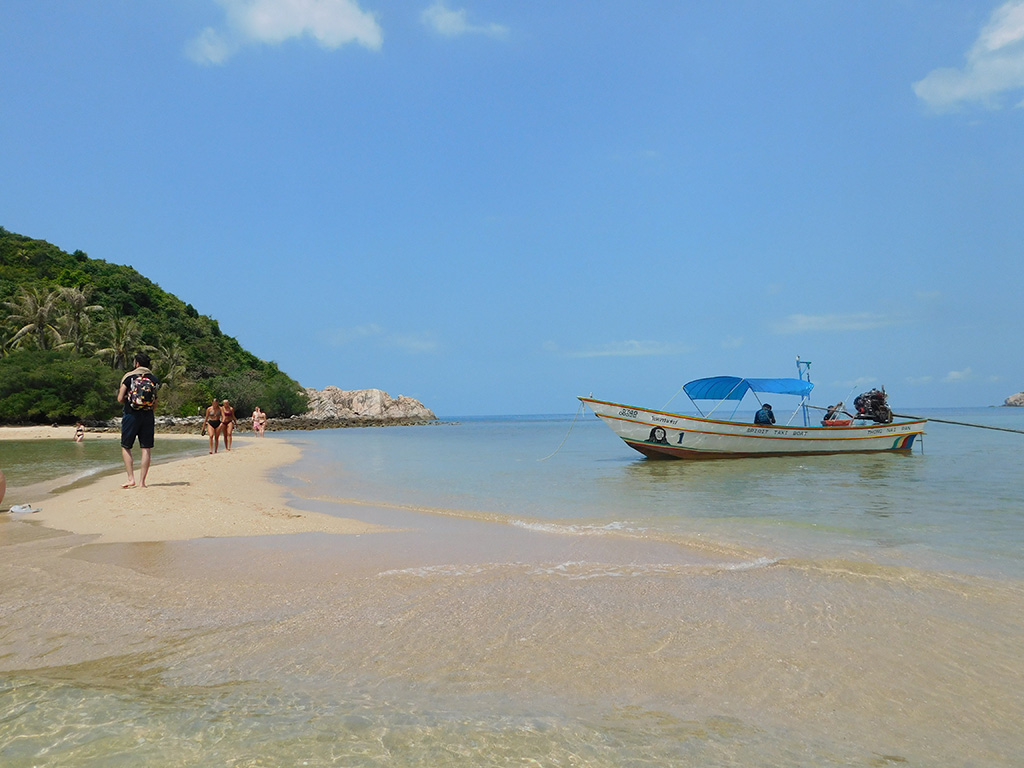 There are 2 resorts in between you (=the main road!) and this beach but do not be discouraged! Thai law requires free-for-everyone access to any beach so you just cross the resorts via the public paths to reach the sea without having to buy anything! Thanks, Thailand!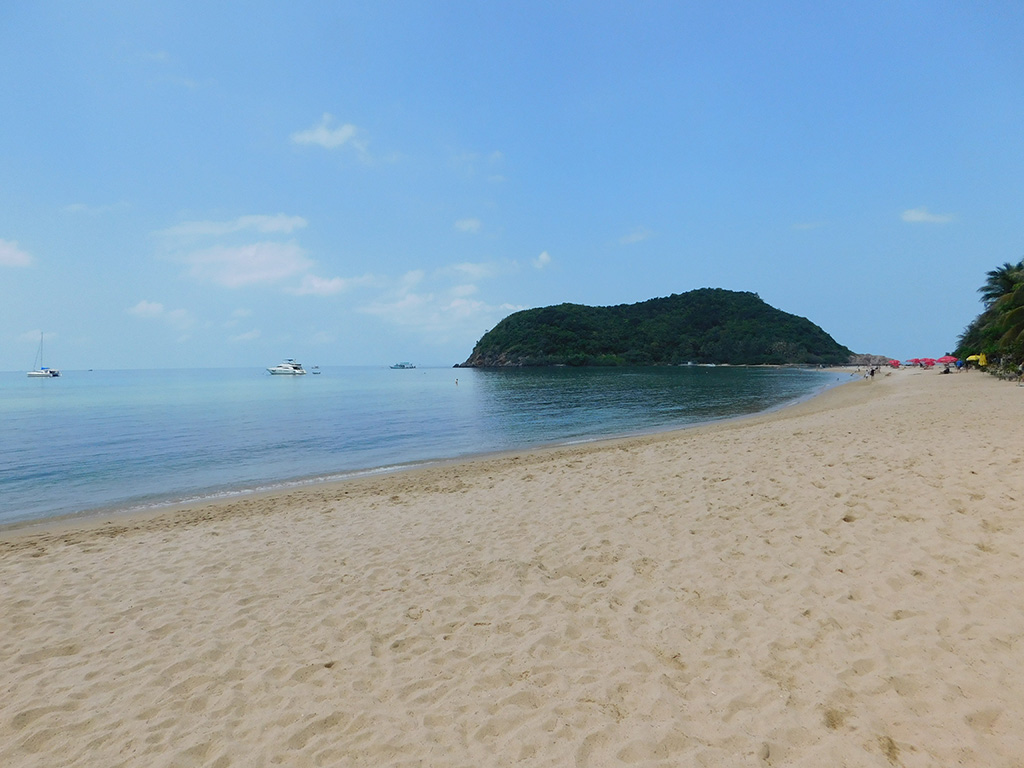 2. Haad Salad
I call this type of beaches «the everyday beach». What does it mean? It is the easily accessible one but, at the same time, not full of people or overdeveloped. It has a few places to eat/ drink without worrying or paying your salary off. It is the first beach that pops into your mind when you need a close by and relaxed place with some facilities and one of the most suitable for the family beach excursions at Phangan. Salad beach is the perfect candidate for this list! With its soft sand and the pleasant waters is also a decent choice for a no-hassle, relaxing day next to the sea.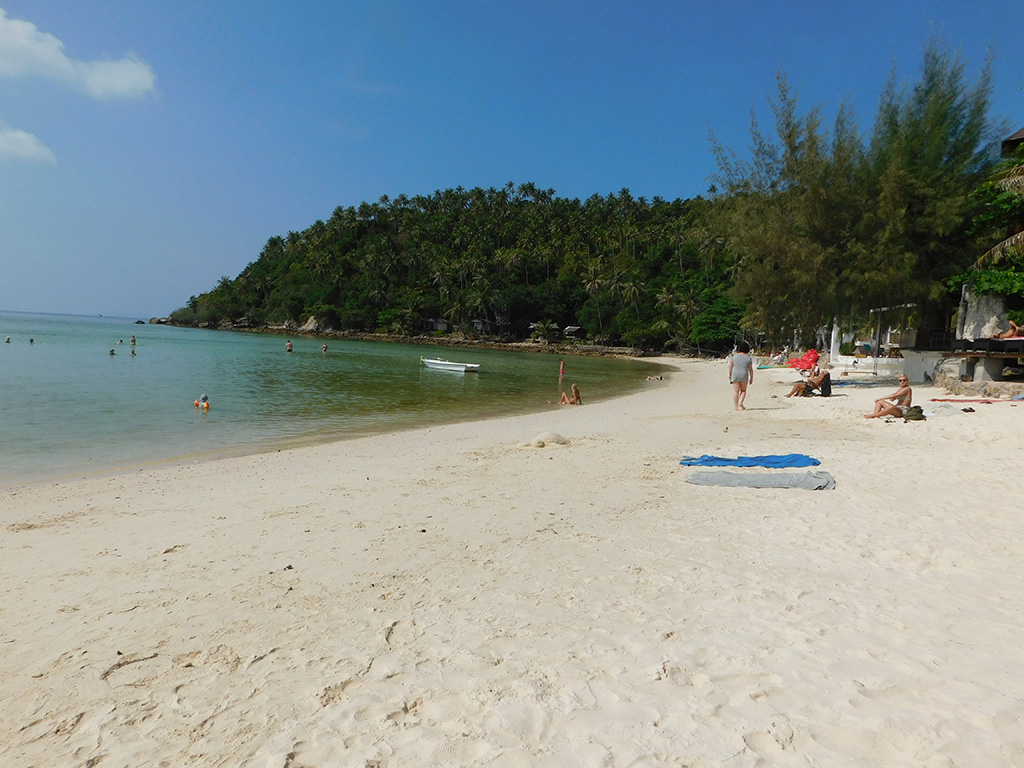 3. Haad Rin Beaches : Nok and Haad Seekantang (Leela)
Haad Rin is the most famous village in Koh Phangan as the Full moon party takes place here. The Nok beach is the main one for the party so it is definitely the most touristic and crowdy. It is considered dirty after the monthly party but the local community makes efforts to return it at an acceptable level of cleanliness as soon as possible. On the other hand, the neighbouring Leela is very quiet with no loud music / jet skis etc. Both have shallow and warm waters and white powder type sand! Not my favourite but definitely two of the best beaches of Koh Phangan.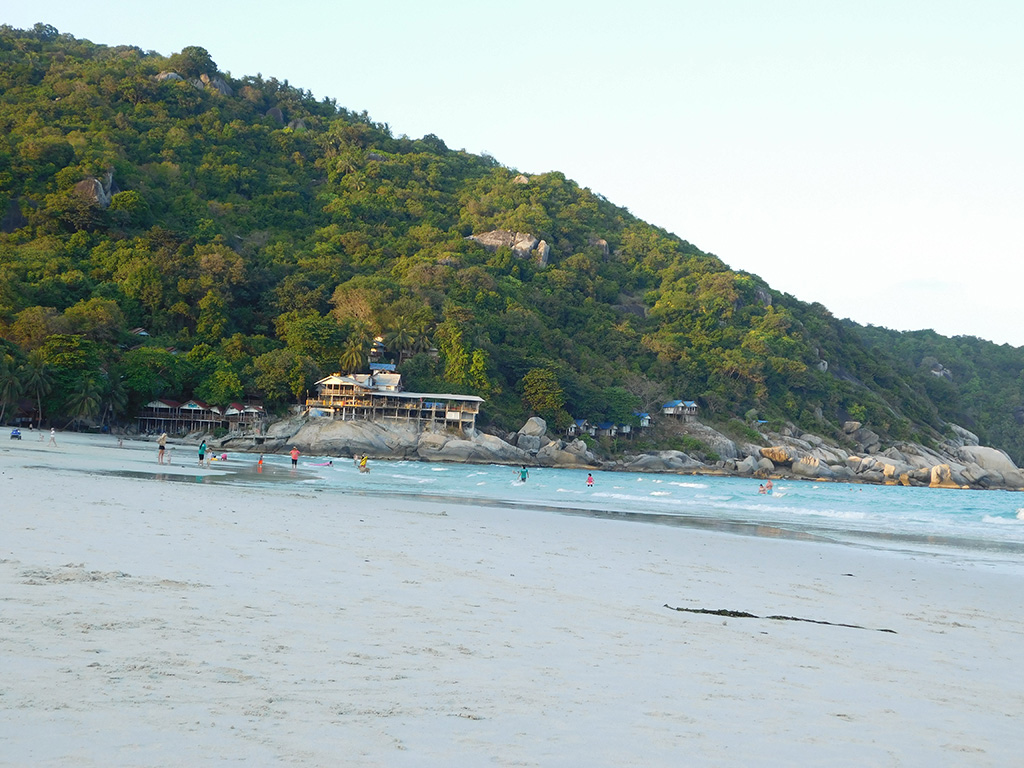 4. Thong Nai Pan Yai
Thong Nai Pan Yai beach is considered the most beautiful beach of the island by many people so it was the first one we visited (actually the second one as the first was a bit disappointing and I don't even mention about it here!). Personally, I liked it but not that much! It is surrounded by palm trees and has a beautiful landscape but it is quite busy. Accessible by land (the road is fairly new) with lots of restaurants / bars / hotels around, it may turns to a very touristic place in few years time as it is very easy to get there- a motorbike needs just a 20-30 minutes drive from the most  parts of the island.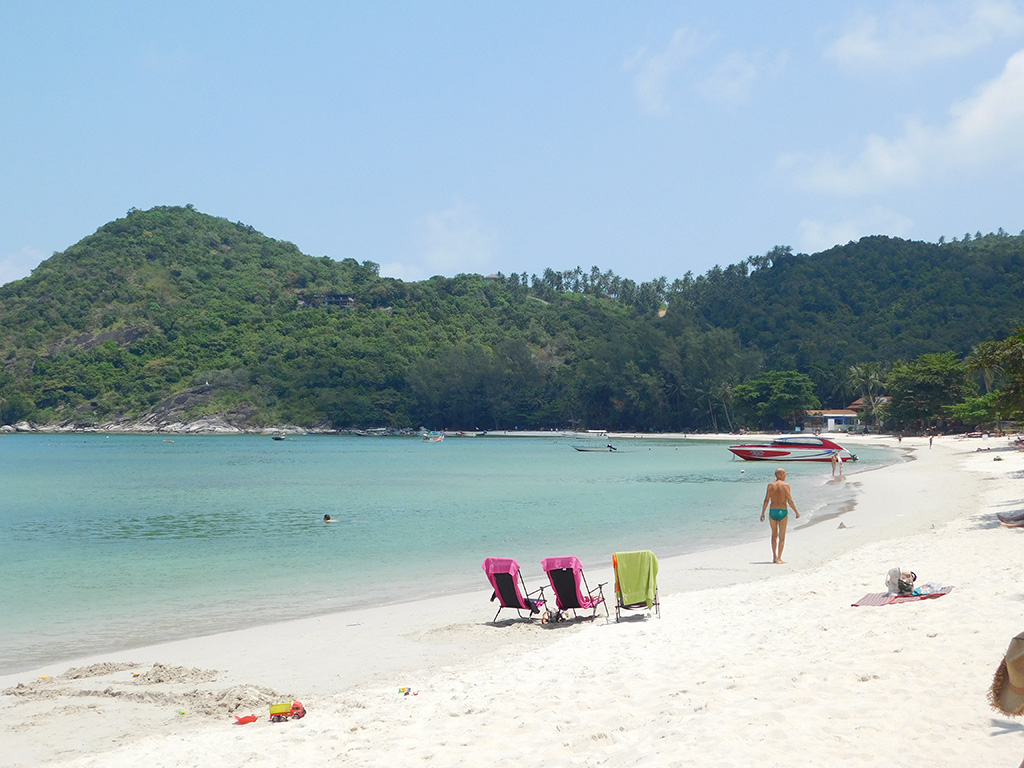 5. Haad Khuat (Bottle Beach 1 & 2)
Quite difficult to be reached by land as the path that leads to the beach is very steep – almost impossible to walk on open shoes, even hiking shoes do not help that much! The problem is that only jeeps or suitable motorcycles can take you there so even if you have rented as a scooter (as we did) it's unlikely for the poor thing to drive you downhill! There is a small "parking" space where people leave their scooters half of the way (good news: the first kilometre up to this point can be done by your scooter!) and then you have only 2km ahead (bad news: this is the steepest part of the path!). However, there are some friendly locals that may carry you on their truck for free on their way up or down but you have to be lucky – we must have been so exhausted and desperate under the hot sun in the middle of the jungle because it happened to us too!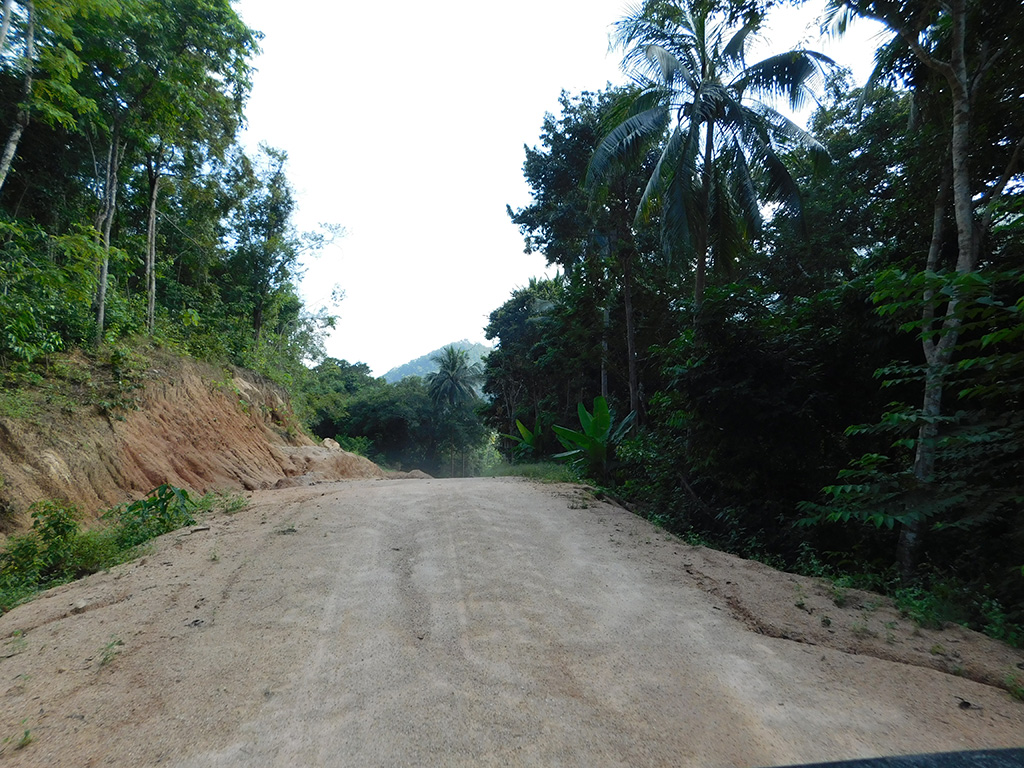 To be frank, there is a second option ( much easier!) if your mentality is not that «adventurous» ! From Ao Chaloklum Bay, a fishing village north of the island (where Dimitris gives information so you can't miss it
), or from the previous Thong Nai Pan Yai beach you just catch a boat taxi – the ticket price is expensive for the Thai standards though!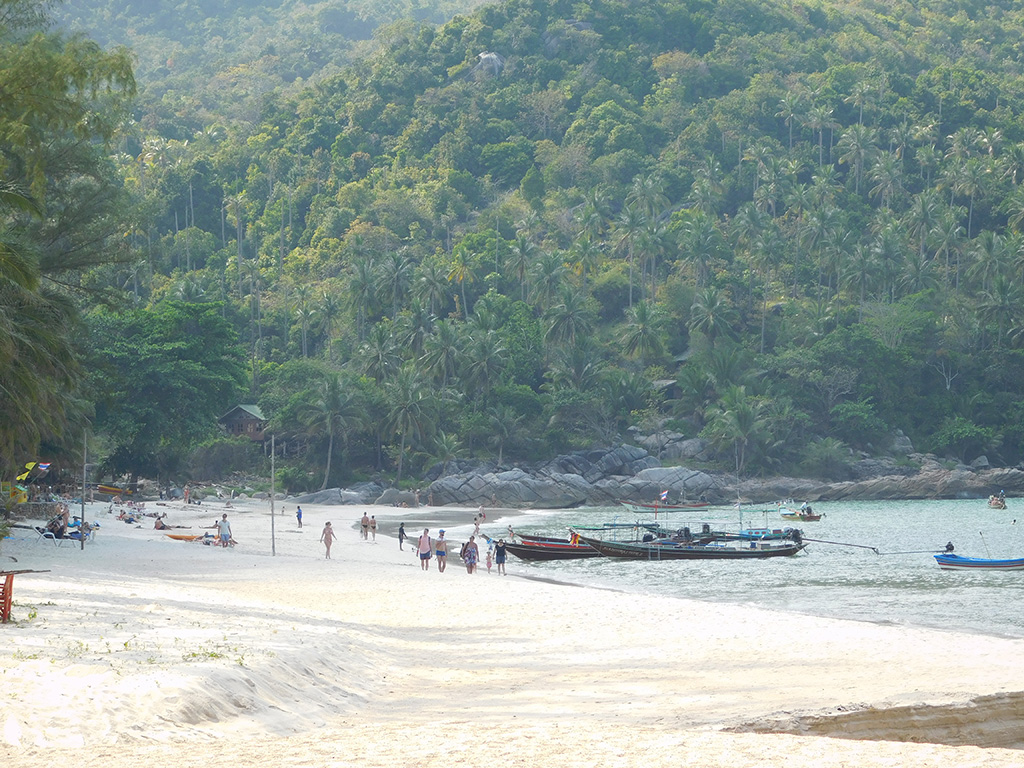 5+1

. Haad Son (Secret Beach; bonus the Sunset-friendly photo spot!

)
One of Phangan's best beaches which, unfortunately, is not that secret anymore… However, it is still very beautiful and you can enjoy a great, mesmerizing sunset here as it is located west of the island. The white soft sand has amazing «waves» but the tide affects the water so much so you may have to walk A LOT to swim properly (not uncommon for Thai beaches though). Accessible by land easily and just 2-3 bars/ restaurants around- not spoiled yet but throughout high season can get overcrowded because of its small size.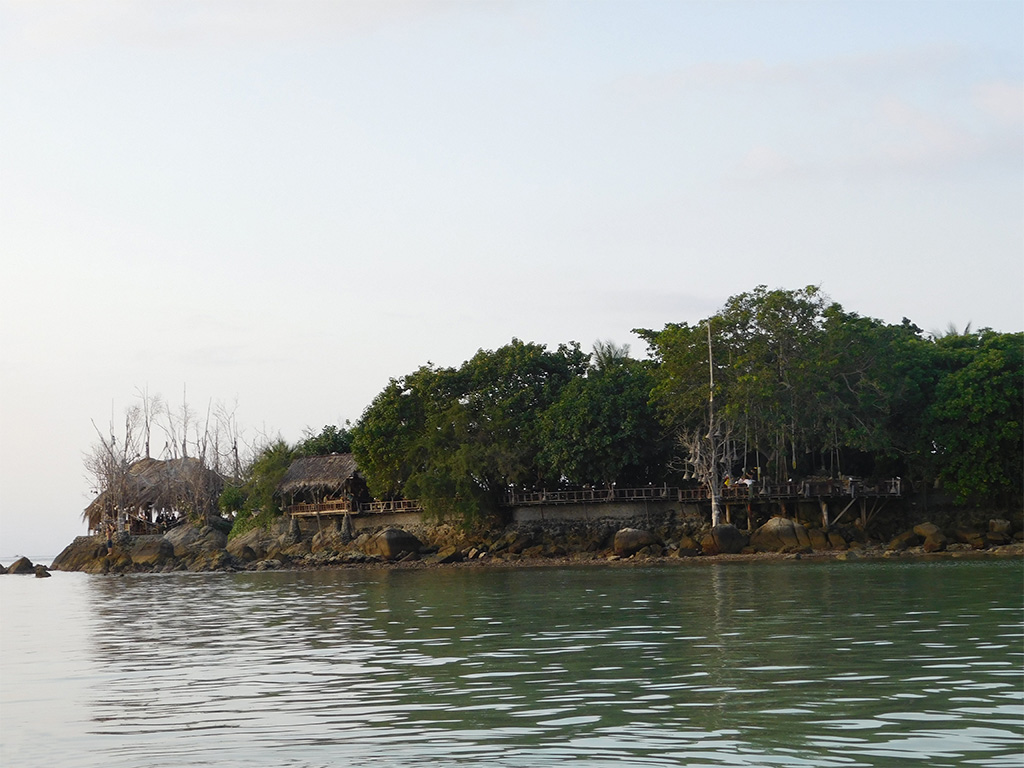 How to reach Koh Phangan
By air: Even if there is no airport at Koh Phangan this is still an option as the nearest airport is at Koh Samui which is a quick ferry-ride away. Ferries run every day but please check which is the right/ most convenient port for you as Samui has more than one!
By coach/ bus: From Bangkok you need to head to the Coach Station- it is easily accessible by local buses from the centre of the capital. However, tickets are sold everywhere, just compare the prices and the journey hours and grab the best bargain! In my point of view, the ideal option is to catch an evening bus and you will wake up next morning at the port (the journey can take a lot of hours depending on the route and on which port you will end up). From the port the ferries usually take 2-3 hours to Phangan.
Dreaming of some flower market? I did't find any at Phangan but I wish I knew about Bangkok Flower Market  beforehand!
Well…back to the gorgeous island… did I mention about the dreamy sunsets?!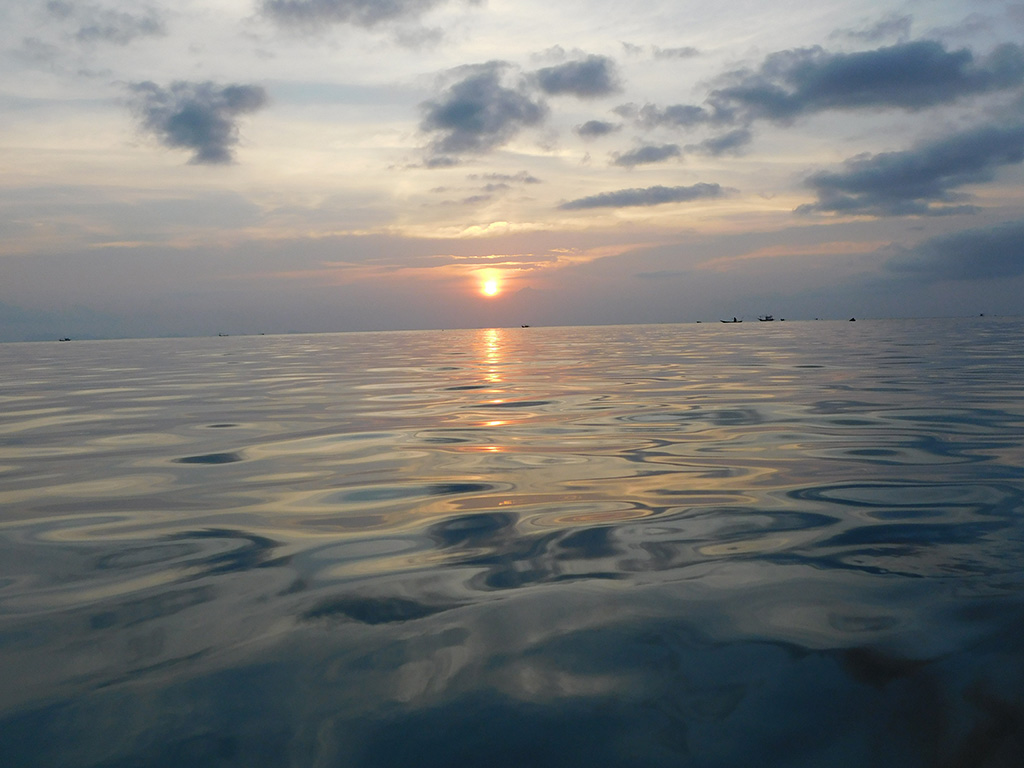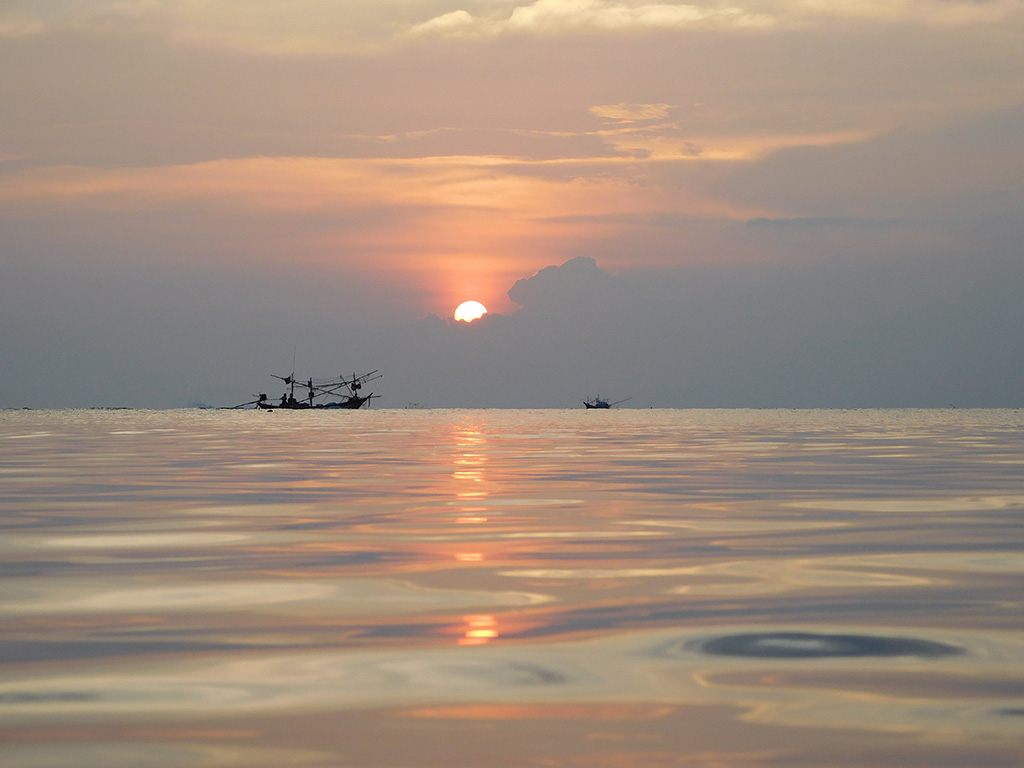 Conclusively, there are many more beaches but these are my favourite ones for the different reasons I described already! Fortunately, in contrast to what's expected, the island keeps its character; there are so many things to do in Koh Phangan beyond the Full and Half Moon parties- for example, you need to pay a visit to the night market Thong Sala! I know that the "party reputation" puts some visitors off but it shouldn't as the island is special and has so much to offer anyway! For me, the biggest problem is the bars with the young Thai girls waiting for (mainly) white older men. I don't want to write down my real thoughts about these disgusting men and of course, this doesn't happen only here… Anyway, if you can't stand the…party animals just skip the Full/Half Moon party days and you are set! The best beaches of Phangan are awaiting for you and Phangan in general is worth visiting!
Fancy a backpacking island hopping  in Thailand and some alternative islands? Look no further! Convinced to visit Phangan and need help ? You have been already and you have recommendations? In any case… please comment below!