Heads Up: Our posts may contain affiliate links! If you buy/book something through one of these links, you will not pay an extra penny, but we'll get a small commission, which keeps this blog up & running. Thank you!
A tiny dot?! What do you mean? Tell me everything about it!
Well, Koh Lipe is a very small tropical island in the Andaman sea close to the Malaysian borders. It belongs to the Tarutao Marine National Park which is in fact the No 1 of the "things to do" here;- add it to your Koh Lipe bucket list! Since you step into a National Park, you need to pay an entrance fee of 220Baht ( roughly £5 valid for 5 days) as soon as you arrive on the island. How many days to spend in Koh Lipe depends actually on what you are looking for so I will try to describe the island as much as possible and you can decide for yourself.
Let's start! How to get to Koh Lipe?
Reaching the island can be a bit uncomfortable as the «port» does not really exist! From Pak Bara Pier there is indeed a ferry to Koh Lipe but, due to the tide conditions, the ferry (or more accurate… the speedboat!) will drop you off on a floating platform 100m away from the coast (just off Pattaya Beach) where you will have to pay 50Baht (a bit more than £1) for a traditional longtail boat to finally take you to the island. One more ferry company (oh yes, this time it is a ferry!!) connects also Langkawi island (Malaysia) with Koh Lipe but it does not usually operate throughout the moon season.
In our case, we arrived at Ko Lipe after our Phi Phi islands stay using a ferry to Krabi town (where we stayed for 3 days but this is a… bad story let's leave it for another time!), then a minivan to Pak Bara Pier and finally the speedboat to that floating platform I mentioned above! It is indeed a bit easier to go directly from the Phi Phi Don or Phuket as there is another daily ferry but it is more expensive – nearly double price, no thank you, we chose the hassle but cheap option!
The highlight of the abovementioned trip was when the speedboat crew decided to stop unexpectedly on an uninhabited islet of the Tarutao Park called Khai or Ta-nga (Egg Island)! Surprise! One hour in a paradise! After almost one month in Thailand…here we found out the clearest and the most beautiful waters!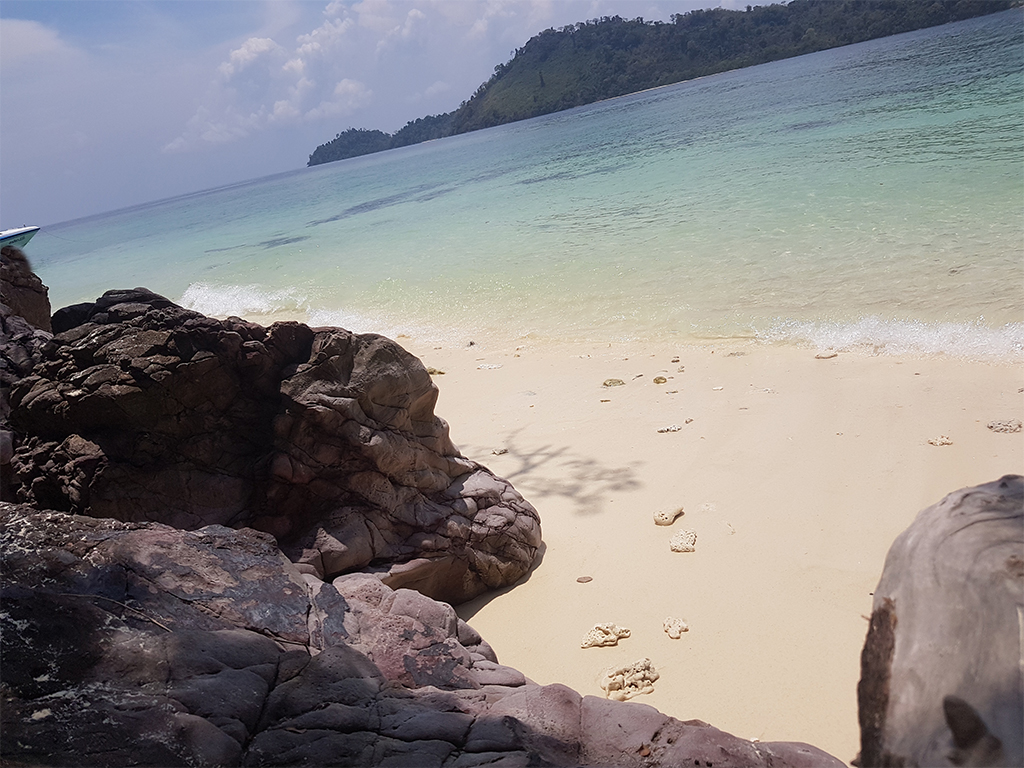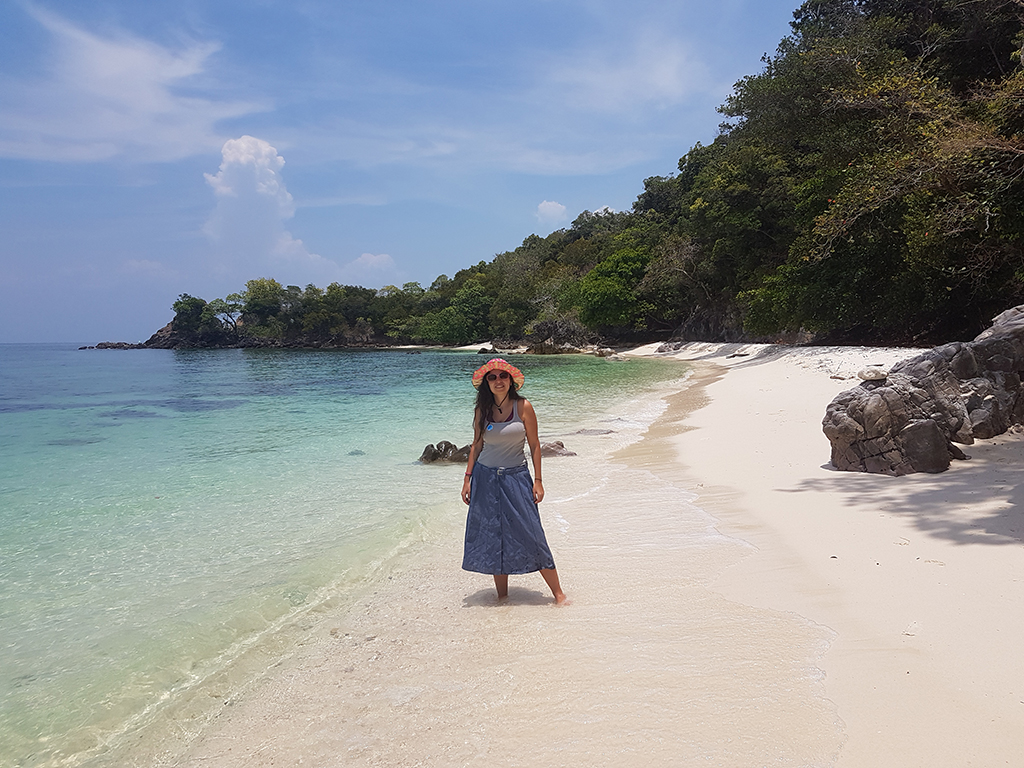 Talking about Ko Lipe Beaches
Basically, the island has 3 main ones :
Pattaya Beach,  the busiest but the most beautiful one with lots of hotels, restaurants, cafes, massage places and few clubs scattered across the shore. It is located at the starting point of the «walking street» of the island (obviously neither tuk-tuk nor motorbikes etc are allowed here!). The «port» and the immigration services can be also found within this 1km-long strip of sand. Clear sea waters and not that shallow- finally suitable for swimming!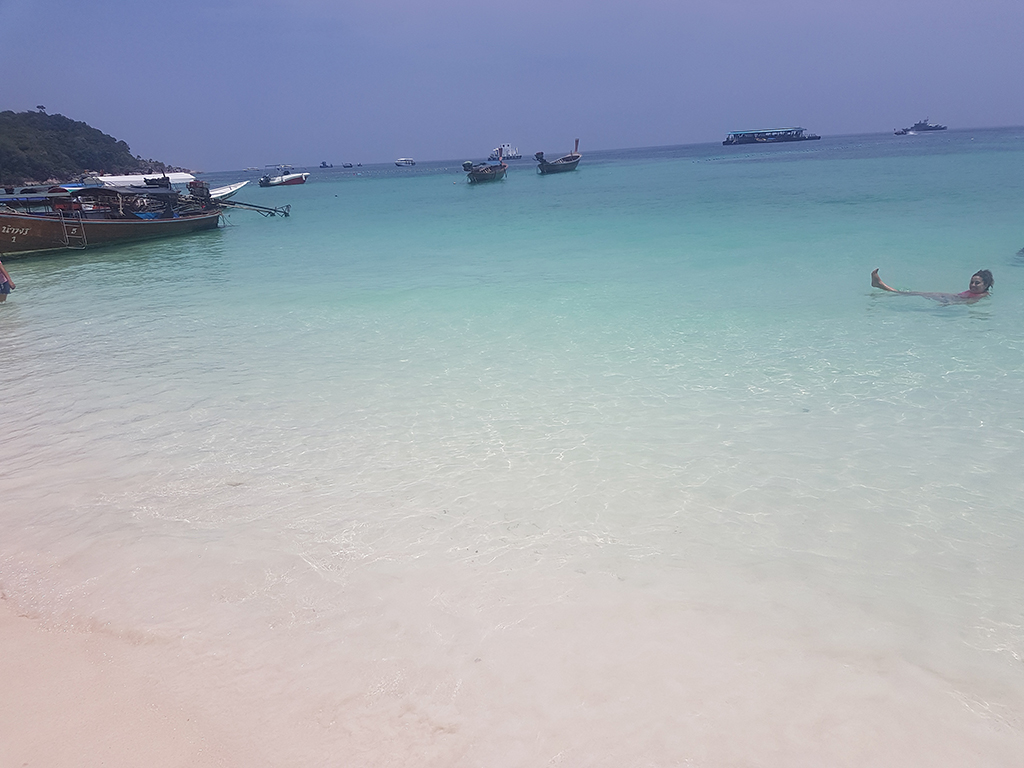 2. Sunrise Beach can be found at the end of the «walking street». The beach is also vivid but with some quieter/more romantic spots along the coast. You have to cross the bungalows area to reach it (or some paths next to locals' homes!) and it is ideal for a long walk next to the sea in the early afternoon because of the sun that falls earlier here (as the name stands for!) than the rest beaches of the island. In some parts of the beach, the sea is full of longtail boats but they are indeed very picturesque!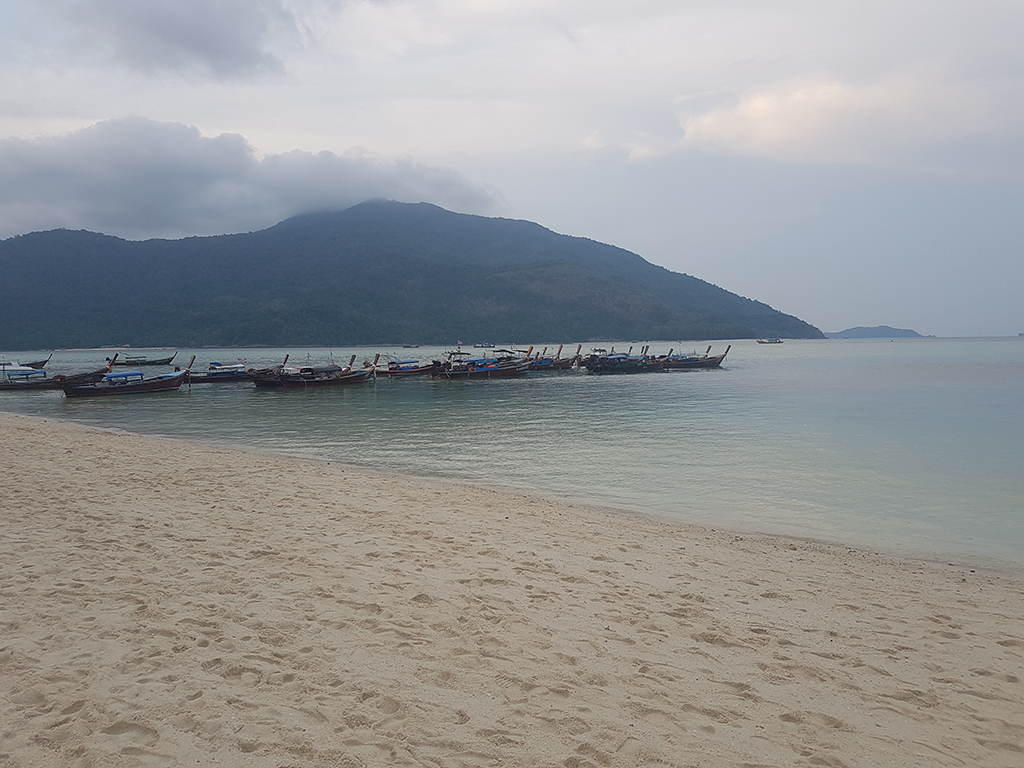 3. Sunset beach– it takes a birt more than 15 minutes from the main walking street to reach one of the quietest beaches of Koh Lipe on foot but if you don't feel like walking there are taxi motorbikes ready to take you there as well (we walked of course!). Just few hotels and bungalows around, nice sand and palm trees! A proper-looking tropical beach but we didn't find the waters as pleasant as of the beforementioned beaches! As the name suggests the beach is famous for its sunset! We arrived at 1 pm and we were the only people around, along with some guests from the hotels on the other side.  By the sunset time, more than 100 people had arrived with any kind of camera equipment in hand! The sunset was indeed gorgeous so it may worth the hassle!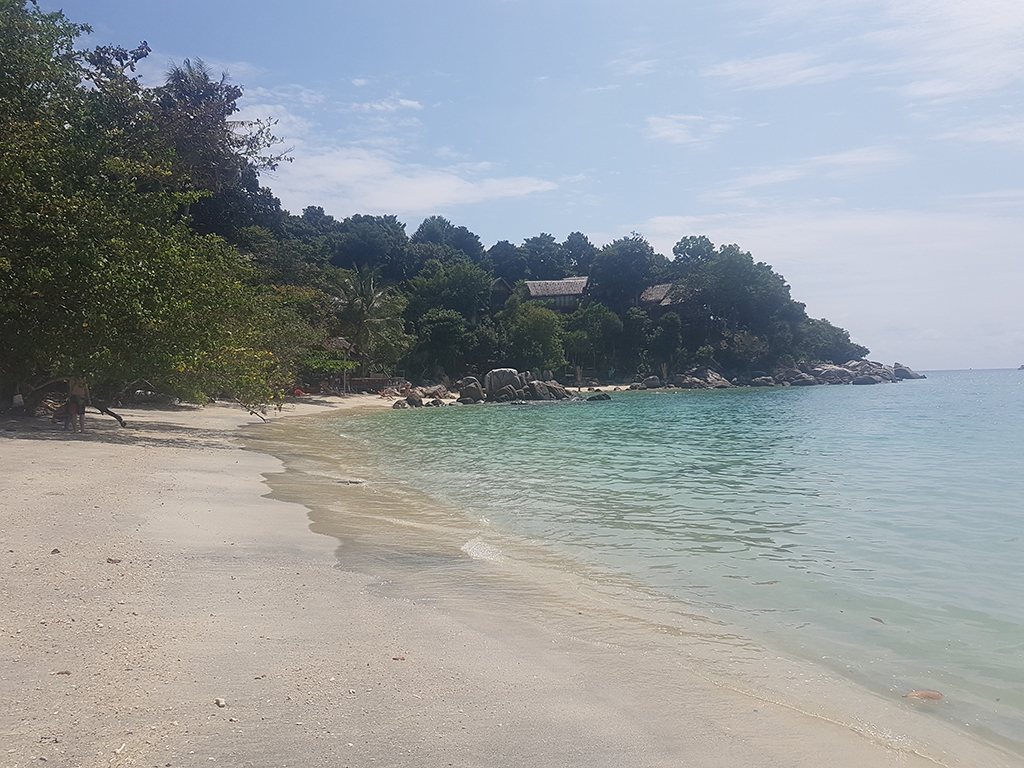 What about the accommodation in Koh Lipe?
The accommodation in Koh Lipe is more expensive than in other places in Thailand – for us it ended up being the most expensive hostel we had on the entire Thai trip! Well worth it though – just in the middle of the Walking Street, brand new (as per 2018), clean, decent Wi-Fi , comfortable and functional dorms, plenty of personal storage lockers and friendly staff! Bloom café & hostel we will come back one day! In case you are not a hostels fan you can check some deals below:
Generally speaking, the central village looks mainly built for serving tourists (is this good or bad? I have no clue! How the island used to be? If you have been here years ago please comment below!) and even if we visited it at the end of the season it was still bustling! I can't (or I don't want to!) imagine how it will be throughout the high and peak season!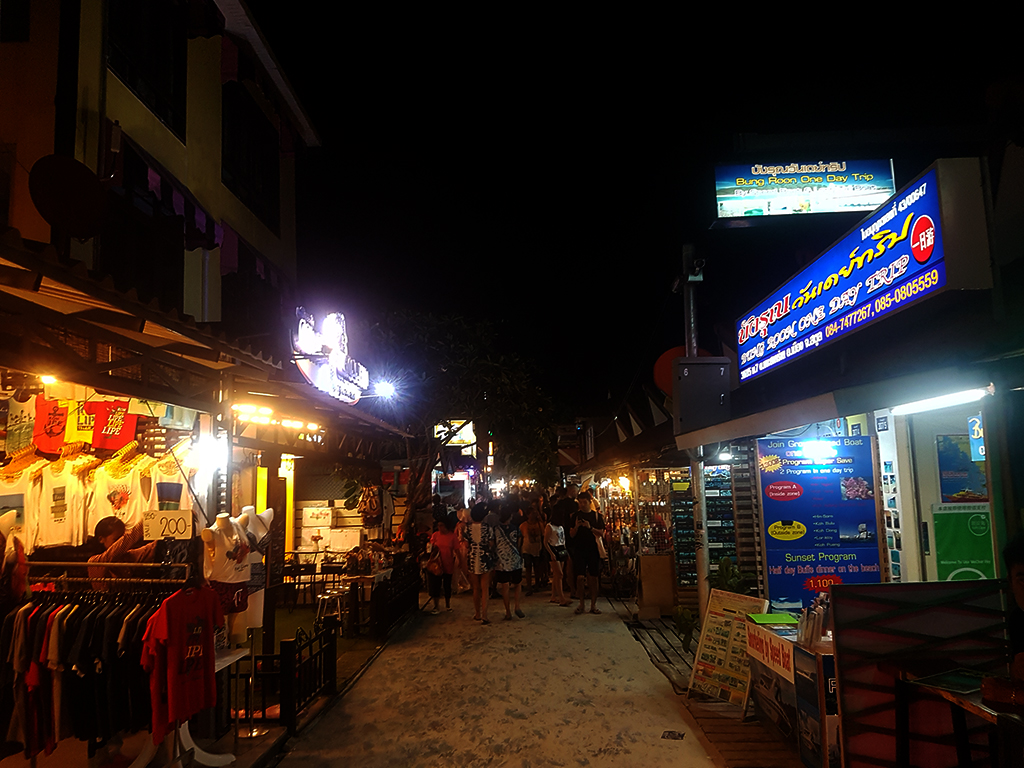 What else to do in Koh Lipe
Things to do in Koh Lipe besides relaxing next to the beach and enjoying the sunset? Taking a boat tour around the National Park (you have already paid the fee anyway!), snorkelling, eating Thai food, bar hopping, diving (there few companies here which offer daily tours and PADI) and walking are only some options! To be frank I was expecting a less busy place as I had imagined it as the peaceful… dots we have in Greece, islands with few citizens and even fewer tourists such as the unknown Irakleia! But nope! This is definitely not the case for Koh Lipe!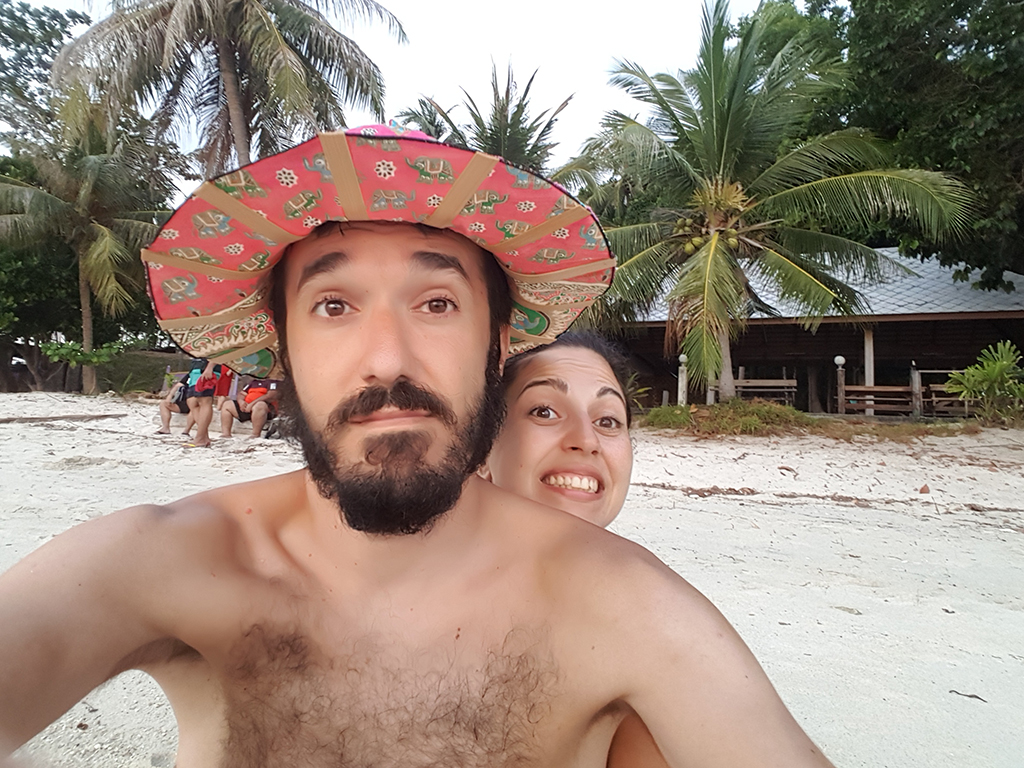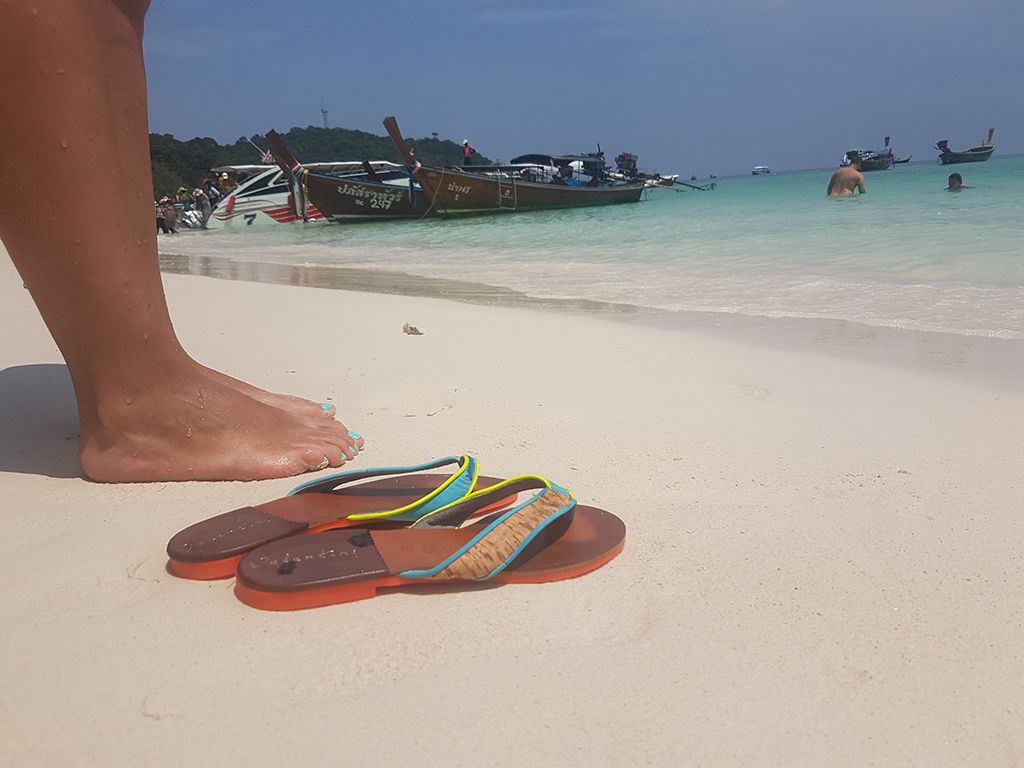 So, How Many Days to stay at Koh Lipe?
Well, I found 4 days to be more than sufficient if you want to gain a decent insight into the island but to not get bored! However, if you are not the kind of person who enjoys the sea/ beach for hours and if you are a fast-pace traveller 2 days would be ideal- the island is indeed a tiny dot I don't exaggerate!
For us, after having stayed a bit more than 3 days in this vibrant island, it is time to move on… Our 30-day visa-free in Thailand has come to an end and our next country is calling! The Malaysian borders in Langkawi Island are just 30km southeast of Koh Lipe aka just a short ferry ride! Malaysia, we are coming!
But what do you think? How many days would you spend at Koh Lipe and what would you do here?